Duke Blue Devils 2012-2013 Game Sneakers
March 20th, 2013 by John Kim | 4 comments
As if we needed another reason to hate on the Duke Blue Devils, Duke guard Tyler Thornton gave us an inside look at the sneaker rotation currently sported by the ACC powerhouse in this great video which features a sea of Royal Blue and White LeBrons, KDs, and Kobes. Thornton himself is rocking some Military IVs, but later shows us his rotation of the Air Foamposite One "Royal", Nike Huarache Free Bball 2012, and Nike Air Flight One, but that might be bested by Senior Forward Mason Plumlee's impressive stash of the Air Zoom Generation, Zoom 2k3, and Air Zoom GP II – three great early-2000′s models. On top of that, we're given a rare look at the Duke sneaker storage closet, which Thornton poignantly describes as a "sneakerhead's dream". Check out some of the highlights as well as the full video below!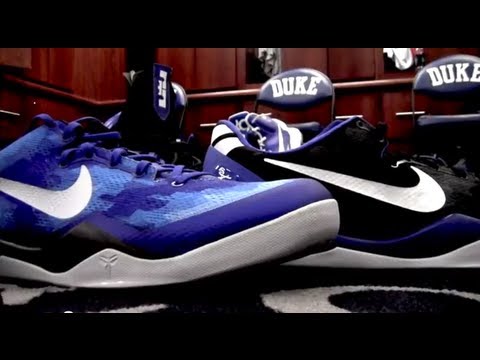 Lmao my butt off no Jordan's lol
Fu*k Puke, CAROLINA TAHEELS all day!!!!!
kobe black and blue dukes look dope! i would cop..nike drop the azg retro asap!! those are ill!