23792
Air Jordan 2.5 – Ray Allen – House of Hoops Exclusive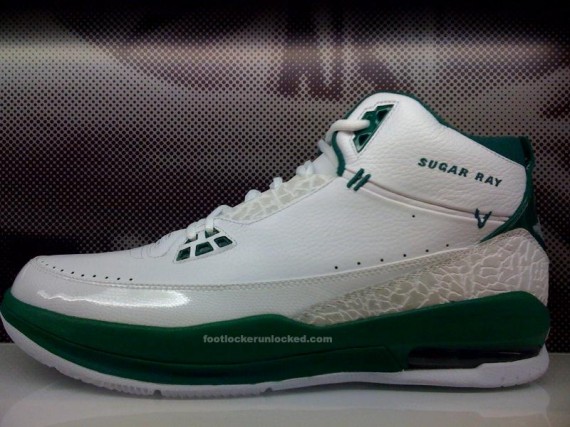 The Nike Air Jordan II was the definition of a sophomore slump: Mike broke his foot and missed all but six games of the 1985-86 season, leaving no chance for him or his shoes to validate the tremendous hype they made during the rookie campaign.  MJ came back in time to drop 49 points on the Celtics in the old Boston Garden, only to have everyone forget that feat by setting the Association's playoff scoring record with 63 in game two.
Ray Allen may have never drawn literally four or five defenders, but he's undoubtedly one of the greatest jump shooters of all time, spreading the court for Bean Town's defending NBA Champs.  As a Jordan Brand athlete, Sugar Ray has seen some PE joints tight enough to live up to the name "Jesus Shuttlesworth."
Appearing in white with a Celtic-green midsole and accents and the iconic elephant print on the rear quarter/heel and eyelets, the Ray Allen edition Air Jordan 2.5 (IIV) makes good on the potential of the II by, of all things, *modernizing* it with the classic Air Jordan III touch.  These are only available at the Footlocker House of Hoops in NYC, Chi-town and LA this Saturday, so you better save a little so you can stuff your stockings into these come the weekend.
More photos below…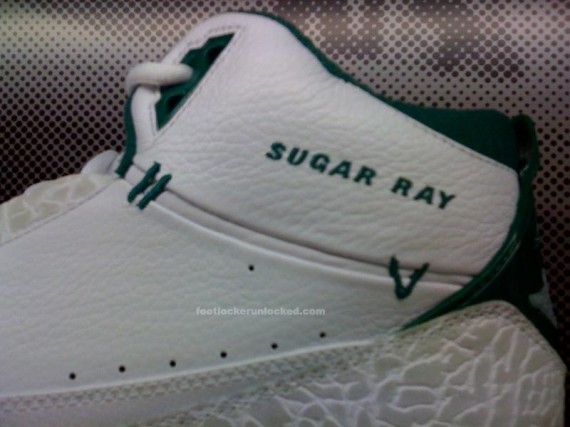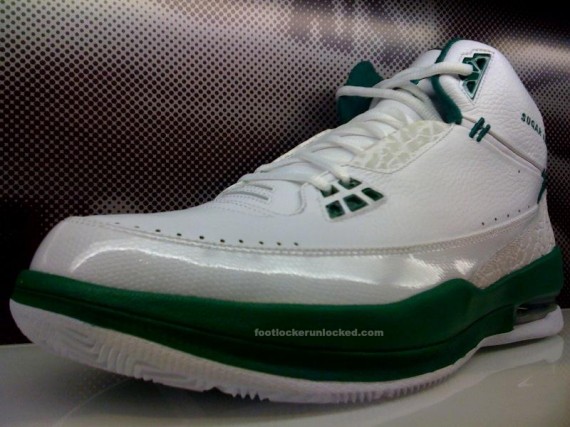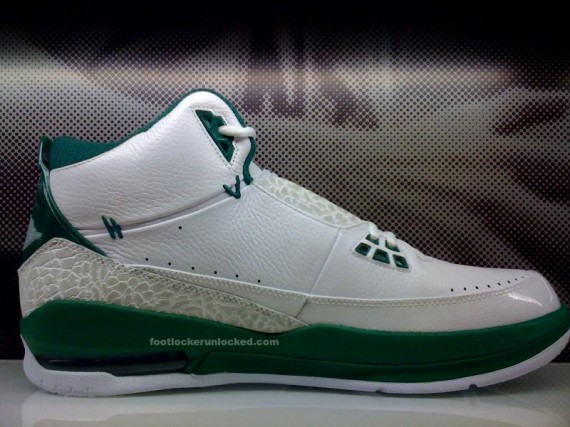 —
BELOW ARE THE CURRENT LISTINGS FOR THESE KICKS ON EBAY:
[If kicks below are a random assortment, desired kicks are not currently available on eBay.]
http://lapi.ebay.com/ws/eBayISAPI.dll?EKServer&ai=pbozg%60%7Bcck&bdrcolor=cacaca&cid=0&eksize=1&encode=UTF-8&endcolor=FF0000&endtime=y&fbgcolor=FFFFFF&fntcolor=292929&fs=0&hdrcolor=eaeaea&hdrimage=1&hdrsrch=n&img=y&lnkcolor=0066cd&logo=2&num=20&numbid=y&paypal=n&popup=y&prvd=9&query=Jordan+2+5+Ray+Allen&r0=4&shipcost=n&sid=SNKD+Jordan+2+5+Ray+Allen&siteid=0&sort=MetaEndSort&sortby=endtime&sortdir=asc&srchdesc=n&tbgcolor=FFFFFF&tlecolor=cacaca&tlefs=0&tlfcolor=292929&toolid=10004&track=5337728825&watchcat=63850&width=570