296778
Jordan CP3.V Media Launch Event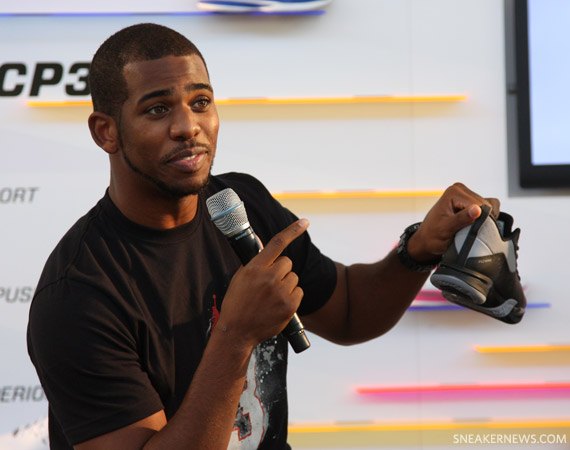 On Thursday, January 5th, Jordan Brand gathered a selective group of the e-influential to witness the official unveiling of the Jordan CP3.V, Chris Paul's fifth signature shoe. The Jordan CP3.V now had Los Angeles as its platform, and a special event space at the top floor in the Cooper Building was reserved for this long-awaited event. The event space was organized to mimic a modern art installment, featuring closed-off spaced detailing various phases of Chris Paul's basketball career. Titled with 'Shake Your Shadow', a metaphorical phrase that focuses on Chris Paul's decorated past, Jordan Brand devised a visually and audio-centric set-up that gave the attendees a look into his early roots, from his backyard hoop and High School court to his legendary tenure at Wake Forest university. With the recent trade to the LA Clippers, Chris Paul has never been in the spotlight any more than he is now, and the launch of the shoe struck at just the right time.
Chris Paul was on hand to discuss his latest sneaker with designer Tom Luedecke, providing an in-depth analysis and structural breakdown of the shoe. An emphasis was made on the foundation of CP3's game, which was described as 'sprint and cut', resulting in an outsole traction that allowed CP3 to sprint and cut with absolute ease – Paul himself feels like he's "cheating" when he wears his signature shoe. Aside from the structural aspects of the shoe, Chris detailed all the personal touches of the CP3.V, like the five-tally detail on the medial outsole, the shoe size engraved on the bottom of the shoe (a call-out to his enjoyment of bowling), and the dots embedded on the heels of the shoe – 5-2-4-9 on the right (birth of his son), and 9-10-1-1 on the left (his wedding).
While Chris is still getting used to the LA ropes, he sure seems to be the talk of the town; after discussing in-depth the creation and of the Jordan CP3.V, he was quickly off and running as he was scheduled to do a taping with Jimmy Kimmel Live. After Wednesday night's drubbing of the Houston Rockets and the Clippers' only two losses coming against the two teams who had the best records last season, the Los Angeles Clippers now have one of the best point guards in the history of game running the helm – all with the supreme-grade support of the Jordan CP3.V at his feet. Sneaker News detailed the Jordan C3P.V 'Jekyll & Hyde' earlier, but continue reading for a detailed look at the rest of the upcoming colorways like the Coaches vs. Cancer, West Forsyth H.S PE, All-Star, and more as well as a first-hand view of the event space, and be sure to stick with Sneaker News for all Jordan Brand updates.