One of the first lessons we are taught in elementary school science class is that Air, one of the three states of matter, has no true shape. It can only be contained by a fixed compartment, but what can be altered is the amount of pressure inside a system. Nike had already experimented with expanding Air into a larger unit with the Air 180 and Air Classic BW, but in 1994, Nike honed in on the true behavior of air and introduced the four-chambered Air Max2 (or Air Max Squared) unit, which featured two different pressure systems (25 psi and 5 psi) within one Air unit. Nike truly believed that the different levels of pressure optimized cushioning on the heel; the exterior chambers were blasted to 25 psi, offering a more solid, firm cushion, while two interior units were softened down to 5 psi, allowing for a cushier bounce. The Air Max2 unit was also used in several other Nike models – particularly in Running and Basketball – but for tonight's Classics Revisited, we'll focus on the flagship running shoe that featured this next wave of Nike technology, the Nike Air Max2.
At the time, the 'Squared' Air Max unit was the prized technological footwear advancement – no other brand could measure up to what Nike was doing with their advancements in cushioning. It was the next logical step in the evolution of a fully-explosed Air unit, which would've been a major improvement on what many brands saw as the biggest weakness in running shoes – the midsole foam material itself. So not only did Nike enlarge the Air Unit, it decreased the amount of midsole foam (the single-density polyurethane used by Nike was already very lightweight). Additional structural cues to the Air Max2 was the inner sleeve that was first introduced in the Air Huarache series, which minimized the amount of stress on the foot, and a forefoot embedded Tensile Air unit (later named 'Zoom'). Alongside the Air Max2 was the Air Max2 Light, which was one ounce lighter than the Air Max2; the Light utilized the same heel cushioning, but the midsole was comprised of Phylon and featured a pronounced wedge (a lack of a footbridge, which some hardcore runners didn't particularly like). As mentioned before, Air Max2 was a big step up in the evolution towards 360 Air, as it served as a precursor to the larger units seen in the Air Max 95 and Tuned Air of '98.
Nike Air Max2
1994
$135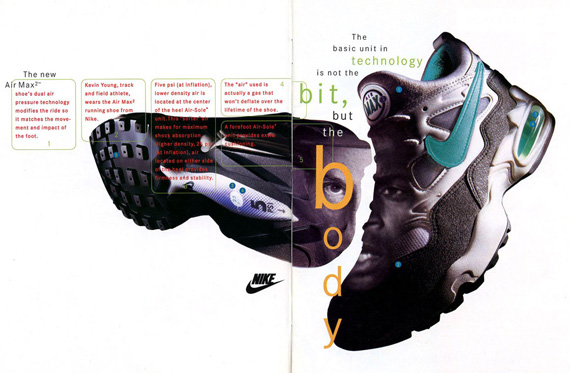 The Nike Air Max2 released in 1994 and 1995 in four colorways – two mens and two womens. It retailed for $135.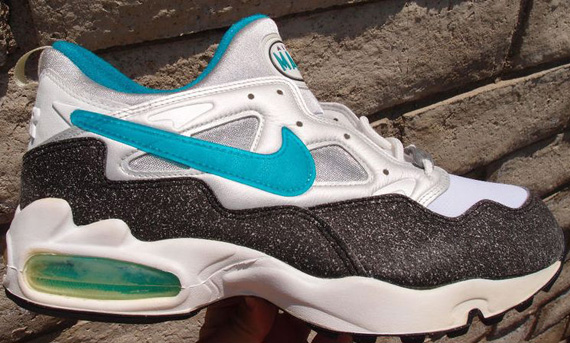 Nike Air Max2
White/Bright Teal-Black
104036-131

White/International Blue
104036-141
White/Solar Red-Wild Berry
105037-161
White/Bahama Blue-Bright Cerise
105037-141
—
The Air Max2 Light was one ounce lighter than the Air Max2 and featured a Phylon midsole with the original Air Max2 unit.
Nike Air Max2 Light
Storm Red/Black-Clear Jade
104042-601
White/Black-Glass Blue-Citrus
104042-101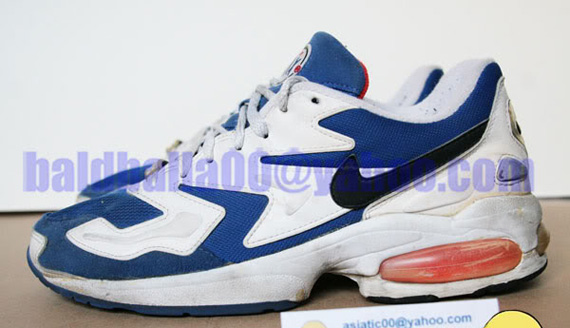 American Blue/Black-White
104042-401
White/Black-Sapphire-Volt-Cherry
105043-101
Radiant Emerald/Industrial Orange-Ultramarine
105043-381
White/Juniper-Aubergine
105043-531
Photos: only-sneakers/tikesales/gooey_wooey/sneakerfreaker