346890
Celebrity Sneaker Collections
The art of collecting and appreciating sneakers is a global concept that sees no limit, but the cold hard truth is that the higher your cash flow, the better your sneaker collection! We've been fortunate to get a look inside a bunch of sneaker collections and closets over the last few years, starting with one of the most respected sneakerheads ever in the late DJ AM to the more recent uprisings of pro athletes and hip-hop stars, so we've compiled a nice feature of some celebrity-owned sneaker collections. Some of those listed here may not surprise you, like the aforementioned DJ AM, but some other fellas, like MLB pitcher Jeremy Guthrie, has one of the sickest sneaker containment rooms period. Of course, this isn't a list of every major celebrity out there with an amazing sneaker collection, but enjoy this nice gathering of Celebrity Sneaker Collections below and let us know whose stash surprises you the most!
Adam Goldstein, aka DJ AM, is long considered to be one of the greatest sneakerheads who have ever lived regardless of his celebrity status. One of the original members of the West Coast-based Air Mack crew, DJ AM became world-renown for his sick stash of laces and his impeccable skills on the 1s and 2s. After his unfortunate passing in 2009, his massive sneaker collection was sold on eBay, with all proceeds going to the DJ AM Memorial Fund. DJ AM also designed a limited edition Nike Dunk High that was released posthumously in January of 2010.
CONTINUE TO:
DJ AM Memorial Fund eBay Sneaker Auction
eBay x DECKSTAR x UNDFTD DJ AM Memorial Fund Auctions
DJ AM's Kicks On Display @ UNDFTD Silverlake
DJ AM x Nike Dunk High Premium – First Look
Joe Johnson has gained a reputation as one of the most prolific Small Forwards of the current generation of NBA , but his status as a sneakerhead can't go overlooked. As a Jordan Brand athlete, Joe Johnson has managed to build up quite a sneaker collection, but a recent in-depth look into one of the classiest sneaker closets we've ever seen just might give him the crown as biggest sneaker in the NBA – unless Gilbert Arenas has something waiting for us.
CONTINUE TO:
Joe Johnson's Sneaker Closet
One of the frequent flyers on the Sneaker News Celebrity Feet airspace is Drake, who has proved his sneakerhead legitimacy time and time again. Being one of the hottest hip-hop acts in the world definitely opens up a channel of the latest Air Jordan Retros, like when he showed us a glimpse of his sneaker stash when he showed us this '45' Sample of the Concord.
CONTINUE TO:
Air Jordan XI Retro Concord – "45″ Sample
Questlove of the The Roots fame has been recognized for his penchant for Nike sneakers so much that he's actually had direct contributions to some of the greatest Nike releases ever. Case in point – the 1World x Air Force 1 Low that he designed a few years back. Not only that, Questlove's sneaker collection is many closets deep and his the fact that puts them to use is rather commendable!
CONTINUE TO:
A Look Inside Questlove's Sneaker Collection
Gilbert Arenas has firmly established himself as the ultimate sneakerhead in the NBA. His on-court selections have been nothing short of amazing, but what really impressed us is when he decided to give away a nice chunk of his sneaker collection to his Twitter followers. What we see here is just a dose of what Gilbert's got hiding in the depths of his sneaker closet, but it's impressive to say the least.
CONTINUE TO:
Gilbert Arenas Begins Sneaker Giveaway

While not a 'celebrity' in the conventional sense, the former Jordan Brand top dog and current head of Nike Sportswear has reached that notable status in sneaker circles. His collection of Air Jordans is seriously unlike any other, because it's filled with one-of-ones and samples galore – some that may never have seen the light of day.
CONTINUE TO:
Gentry Humphrey's Air Jordan Collection
Although it's very much likely that his collection has grown a lot since we first showed you his sneaker collection, Dwyane Wade was also a fan of the Jumpman – even calling the Air Jordan III Black/Cement his favorite Jays of all-time. Now, he's the marquee signature athlete for Jordan Brand and has signatures shoes to call his own!
CONTINUE TO:
Collections: Dwyane Wade's Air Jordan and Nike Collection
Without a doubt the most unexpected of this crop of celeb-sneakerheads is MLB starting pitcher Jeremy Guthrie. While Major League Baseball isn't much of a hotbed of in-game sneaker rotation, he's shown the world that his sneaker game – and sneaker storing method – is on point. Can anyone beat his sneaker vault?
CONTINUE TO:
Collections: Jeremy Guthrie's Sneaker Vault
One of the biggest superstars in Asia just so happens to be the founder of Hong Kong-based CLOT – the streetwear label that has partnered up with Nike on several occasions. While we don't get a piece-by-piece rundown of Chen's entire sneaker collection, he recently gave us a few peeks into his sneaker closet, which can only be describes as a heaping pile of heat, GRs, and samples you may have never seen.
CONTINUE TO:
Inside Edison Chen's Sneaker Closet
CONTINUE TO:
A Look Inside J.R. Smith's Sneaker Closet
Earlier this year, two Chicago Bears teammates embarked on a sneaker e-battle. One of the two warriors was Wide Receiver Earl Bennett, who publicized a great collection of sneakers displaying quite a wide variety of genres. LeBrons, Jordans (some rare OGs that deserves notice), Nike SB – he's got it all!
CONTINUE TO:
Earl Bennett's Sneaker Collection
The first ever Jordan Brand signature athlete's got some stuff you've never seen before. Aside from his personal collection of Melo-branded shoes, he's got a library of Air Jordans and Nikes laying around his crib, and considering his recent affinity for Air Jordan Retros, his collection has likely grown to be one of the best in the entire NBA.
CONTINUE TO:
Carmelo Anthony's Air Jordan & Nike Collection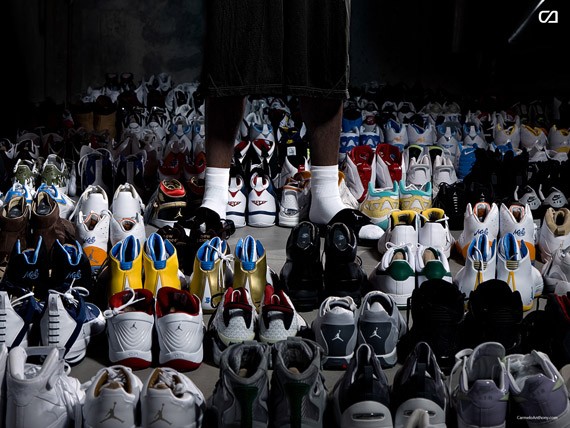 CONTINUE TO:
Collections: Quentin Richardson's Air Jordans
One of the lesser known members of this group is Thomas Decoud of the Atlanta Falcons, who showed us almost a year ago that his sneaker game is on lock! One of his gems? The Air Jordan XI 'Space Jam' with the Jumpman Jam tongue stripe. Clearly, this defensive back is zeroed in on his sneaker targets.
CONTINUE TO:
Collections: Thomas DeCoud Of The Atlanta Falcons
While teammate Earl Bennett might've won the sneaker battle, it was Devin Hester who fired the first shot. Check out his groupings of Air Jordans by model in a simple box-less arrangement.
CONTINUE TO:
Devin Hester's Air Jordan Collection