In early 2011, a series of jaw-dropping sneaker auctions on eBay began circulating around blog headlines, sparking quite a bit of chatter among our readers around the world. Turns out we stumbled upon a sneaker goldmine of sorts, so Sneaker News offered the cure for the itch and took a trip out to San Diego to explore the ShoeZeum and meet Jordan Geller, the owner of the largest sneaker collection on the planet. A year and a half later and the ShoeZeum has evolved from a personal sneaker collection showcase in a warehouse to an open-to-the-public attraction in one of the most historic regions of Las Vegas, and this past Thursday Sneaker News got to partake in the grand opening of what is undeniably a "one-of-one" showcase of over 2,500 pairs of sneaker heat and history.
Much more polished by leaps and bounds and plenty of more exhibits (a ton of heat did in fact release since we last saw Jordan Geller in California) to enjoy, ShoeZeum is a great bang-for-buck experience at just $10, which nets you free range of the entire ShoeZeum as well as a personal tour by Jordan himself. The Grand Opening drew in an impressive crowd of locals, tourists, members of a local sneakerhead community called Vegas Sneaker Heads, and Mayor Carolyn Goodman,who did the honor of 'untying the lace' (a playful rendition of the classic ribbon-cutting). We've got a quick Q&A with Jordan Geller for you in which he takes us step by step through some the amazing events that transpired after our first report on Sneaker News as well as a complete breakdown of all twenty-three ShoeZeum exhibits, so take a look below and be sure to check out ShoeZeum for yourself if you're a local to the area or if you're out in Vegas for vacation!
ShoeZeum
450 Fremont St. Suite 135
Las Vegas, NV 89101
Open 4PM-12AM Daily
Admission: $10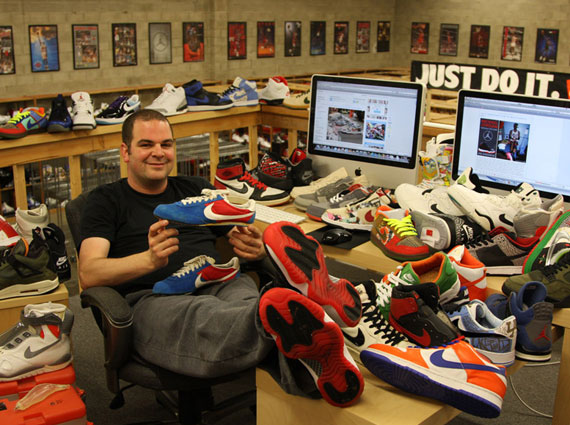 Sneaker News: Let's get to it: Why don't you quickly summarize what happened from the moment Sneaker News published the ShoeZeum feature in February of 2011?
Jordan Geller: Sneaker News came out to San Diego in late February 2011 and published ten stories about the collection. After that, it did not take long for Sneaker Heads to take notice of the collection. Nike took notice too. Seven top level Nike executives visited the ShoeZeum including CEO Mark Parker, Tinker Hatfield, Sandy Bodecker, and Nelson Farris. Nike loved the collection so much that they actually paid the rent for three months for the warehouse that housed the collection.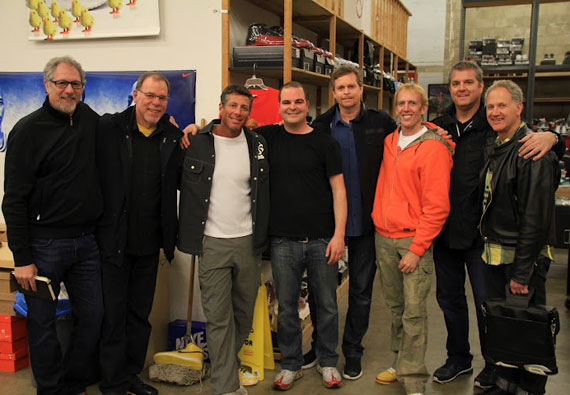 During those three months Nike sent teams of designers and executives down to San Diego to tour the ShoeZeum. I will never forget the way that Mark Parker got so excited about the Air Safari. Or the way that Tinker Hatfield looked when he discovered that Nike made a Messenger Bag out of the Air Jordan VI, a shoe that he designed. I gave the bag to him! Gentry Humphrey lit up when he picked up the Air Force III and Eric Avar gravitated right towards Foamposites, Kobes, and Hyperdunks. Sandy Bodecker, the head of Nike SB, wore a pair of yellow lobsters to test my knowledge of the shoes. He took one step into the warehouse and the first thing I said to him was "nice yellow lobsters." He nodded to me as if I had passed a secret test.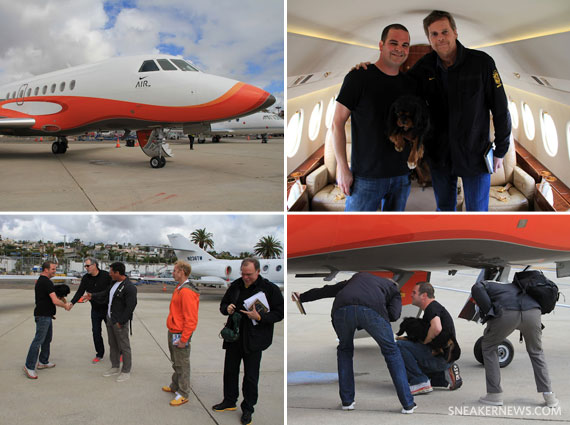 As the first group of Nike executives were about to leave the ShoeZeum to fly back to Beaverton, they asked me if I wanted to see their private jet. I said, "definitely" and i grabbed my dog Guinness and followed them to the airport. Nike's private jet was painted white and orange and was made to look like a shoe. There were even track spikes painted on the bottom. As Mark Parker and I approached the jet, Mark said to me "Jordy, you think you know so much about Nike, tell me the significance of the numbers on the back of our jet." I looked up at the jet which read N6453. I said "6453 is Nike on a phone." Mark gave me a fist bump as I passed another secret Nike test. The ShoeZeum was also open to the general public during the same time that the Nike execs were coming down to visit. Guests of all ages came to visit the collection and everyone had a blast. Then the lease ended. I packed up the collection into three giant storage lockers and moved out to Las Vegas.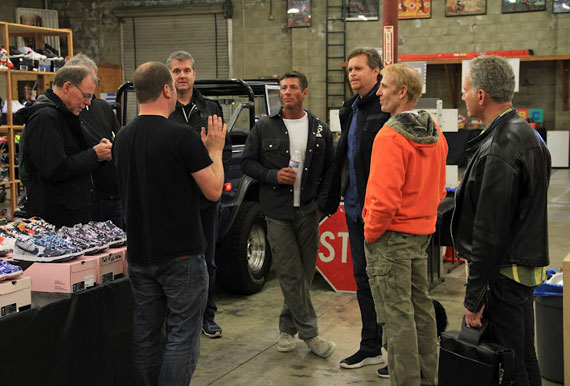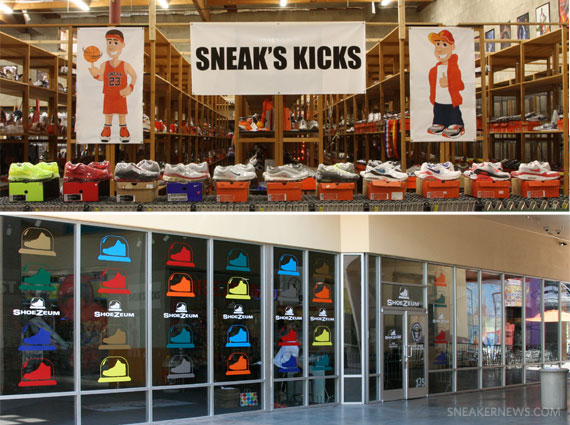 SN: What sort of dedication and persistence did it take for ShoeZeum Las Vegas to happen, amidst all the highs and lows of having Mark Parker and Tinker Hatfield come visit ShoeZeum in person and then having to pack everything up into storage?
JG: I packed up the warehouse at the end of July 2011. It was one of the most difficult things that I ever do. Physically it was tough but emotionally it was even harder. It took me over one year to build the ShoeZeum and just four days to pack it up. The ShoeZeum is my labor of love and packing it up was not easy. But I always knew that I would build it again and that when it was rebuilt it would be even better. As the collection sat in storage, I made it a point to keep adding to it every day. In San Diego, the collection was 2000 pairs. Now it is more than 2500.
SN: When we last left you, the most expensive pair of kicks in ShoeZeum was the original PreMontreals. What's got that beat?
JG: In San Diego, the Pre Montreals were my favorite and most expensive pair. Although they are still one of my favorites, they are no longer the most expensive. In fact, they are the fifth most expensive shoe now. Here are the top 5 in order:
1. Converse Brand Jordan
2. Game Worn Signed Jordan 1s
3. Air Mag
4. Yellow Lobsters
5. Pre Montreal
SN: Where do you envision ShoeZeum being, in terms of a Las Vegas attraction and a sneakerhead 'landmark', a few years down the line?
JG: I envision the ShoeZeum being a real tourist attraction and destination. One that transcends sneakers and sports and appeals to people of all ages. I love when people come to the ShoeZeum and feel a personal connection with the collection. We have been open less than one week and the Mayor dropped off a pair of the former Mayor's Hyper Flights along with two bottles of Gin to put on display in the booze exhibit. A local high schooler named Tom Coury donated a pair of Cheetah Kobes right off of his feet to go in the wild animals section.
SN: It's likely that no other person in the world is capable of putting together something like ShoeZeum and opening it to the public. Being that lone figure, how do you want to be remembered when it's all said and done?
JG: I'd like to be remembered as somebody that pursued his passion, loved his job, inspired others, and elevated the game of sneaker collecting.
Clearly much different than the ShoeZeum in San Diego (which was a warehouse adjacent to an adult film emporium), the new ShoeZeum in Las Vegas features a larger facade with glass panes.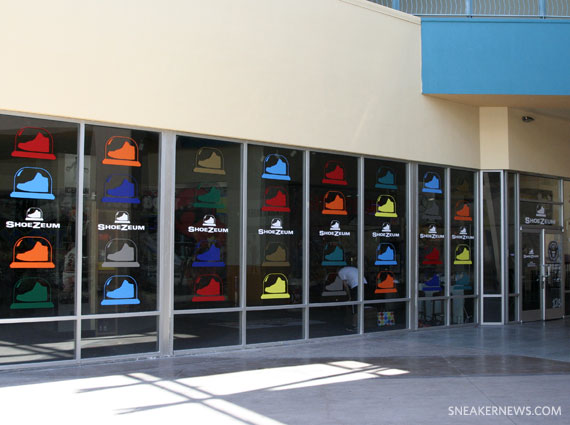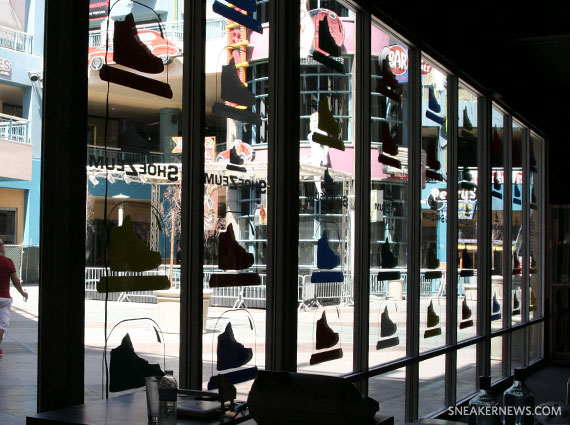 –
EXHIBIT 1: Welcome to Las Vegas. Greeted by the Money Cat SB Dunks and showcasing Vegas-inspired footwear.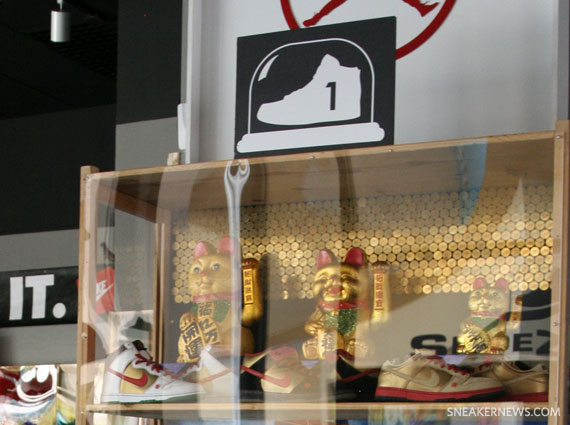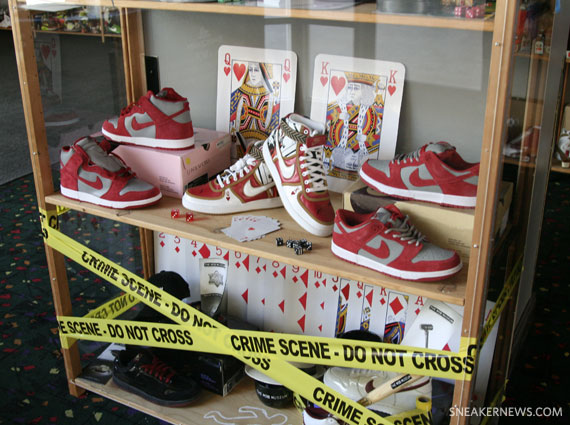 EXHIBIT 2: Vegas means alcohol! More kicks with ties to beer and liquor, with a special insert from former LV Mayor Oscar Goodman, who submitted his favorite Nike sneakers (the Zoom Hyperflight) and his favorite gin spirits.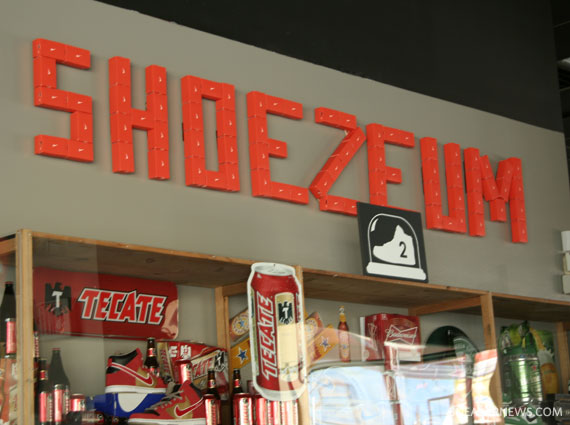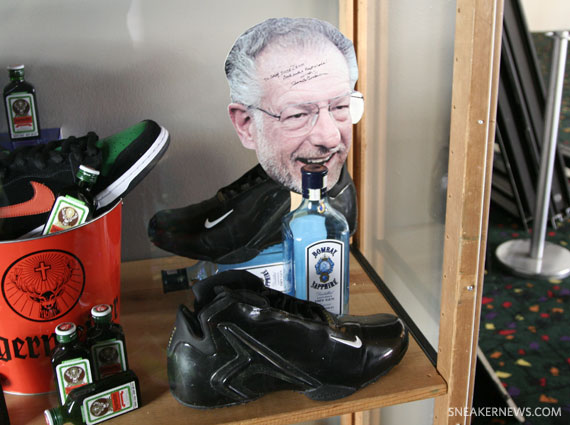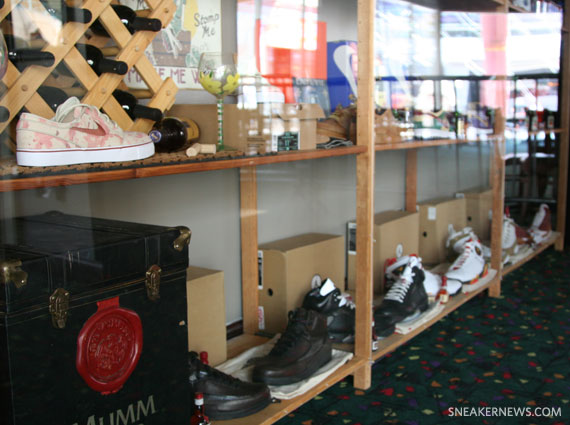 –
EXHIBIT #3: What grabs attention more than our favorite Superheros and Cartoon characters?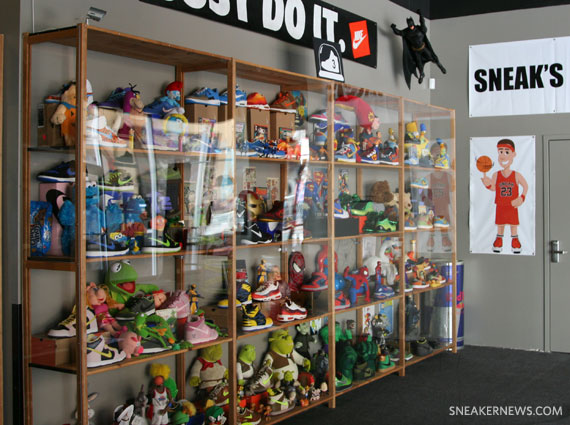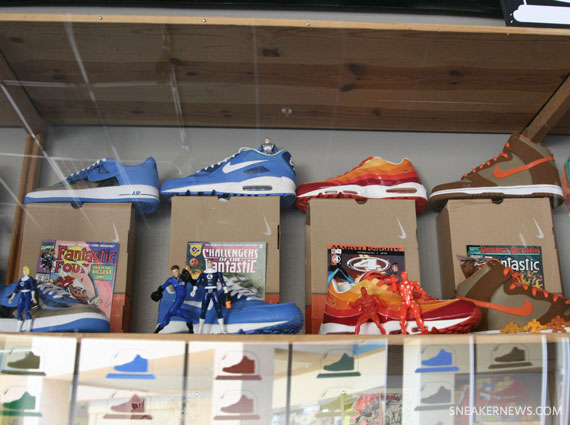 –
EXHIBIT #4: Cartoons remind us of our childhood, so this Back to the Future display with Mags, Hyperdunks, and other BTTF footwear naturally comes next.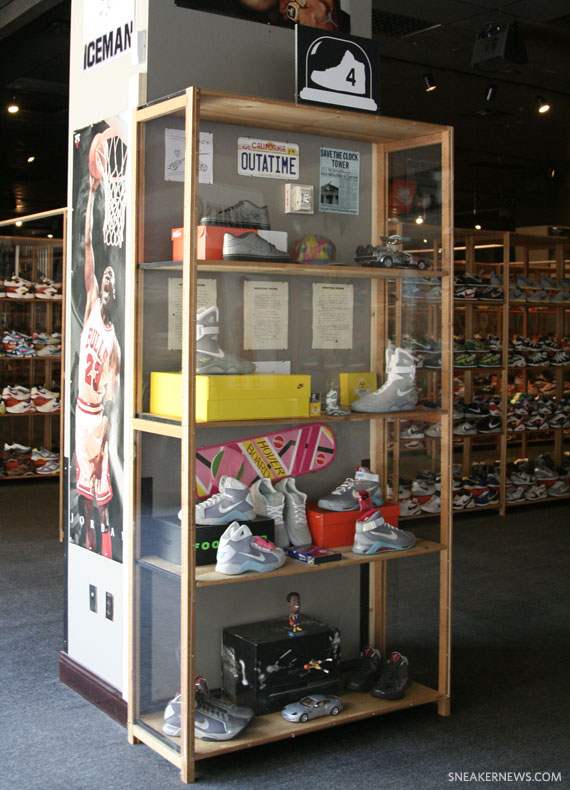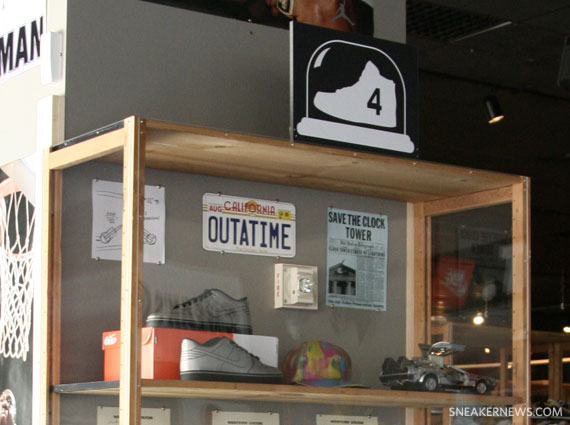 EXHIBIT #5: Go back to the earliest days when animals and plants ruled the world. This exhibit features a the Kobe VII Cheetah submitted by a patron who gave the shoes right off his feet!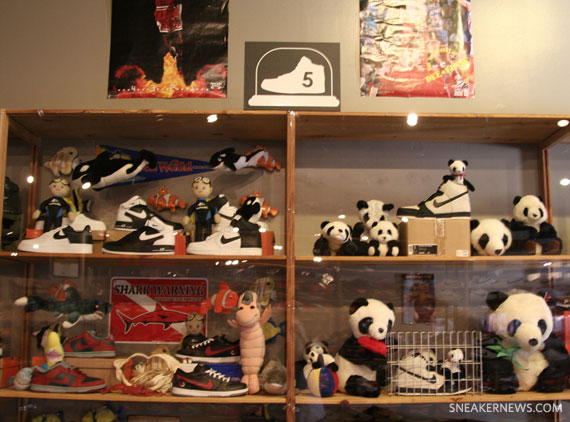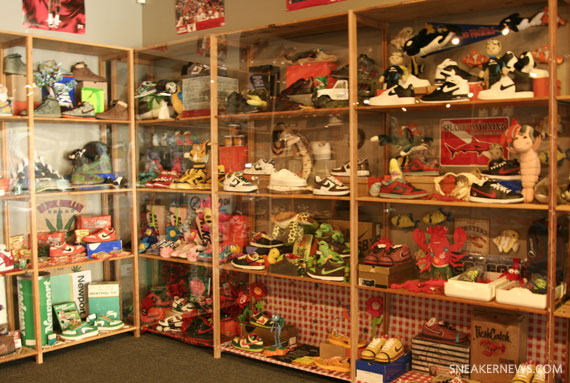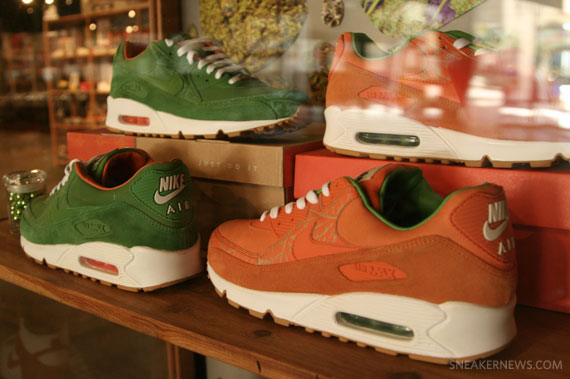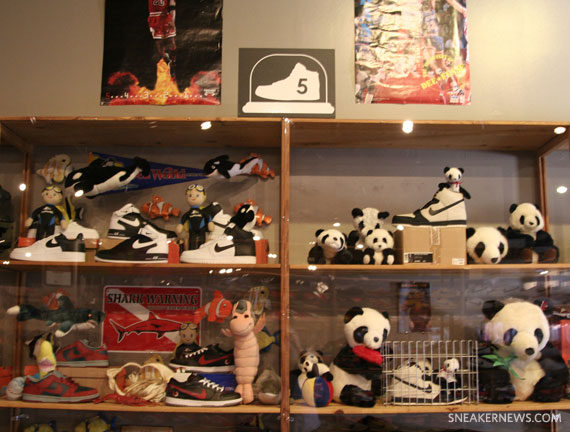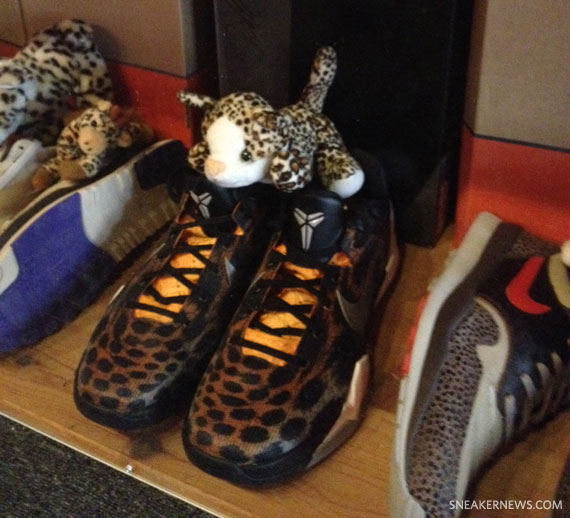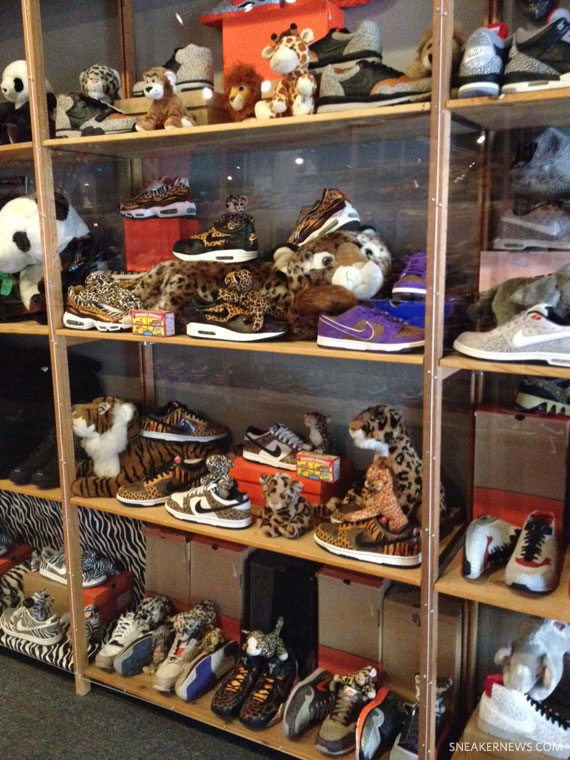 –
EXHIBIT #6: A focus on a larger scale – the Universe. Thunder and Lightning Air Jordan IVs and Galaxy Foamposites make up some of the heat in this set-up.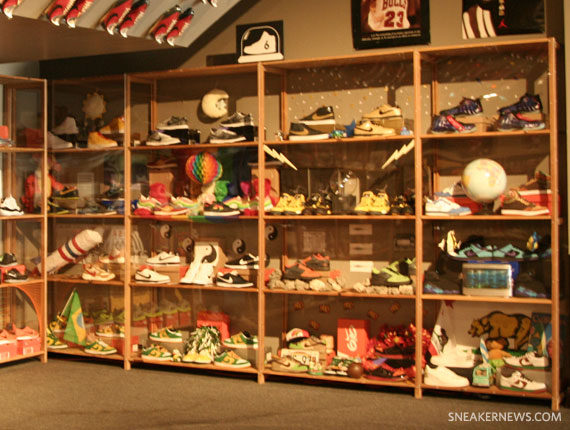 EXHIBIT #7: Nike at it's earliest: the start of Nike, Air Max, and Air Jordan.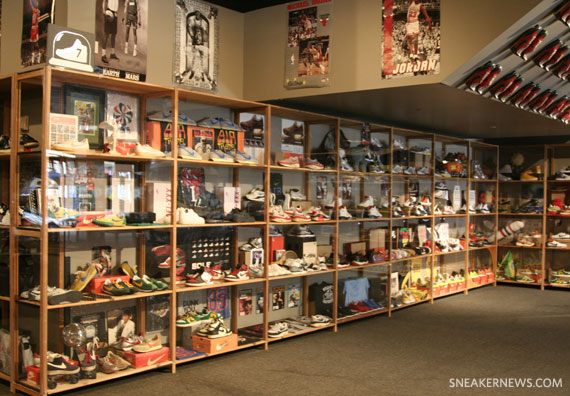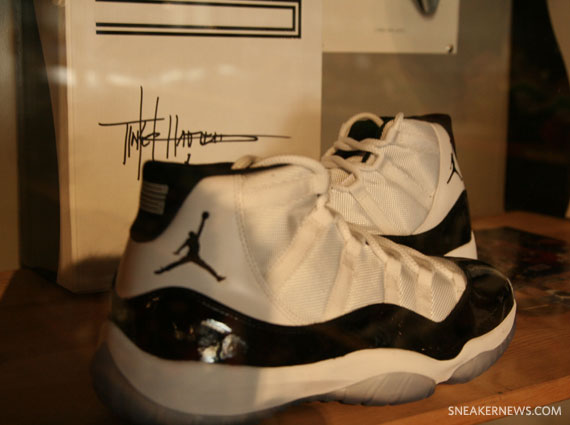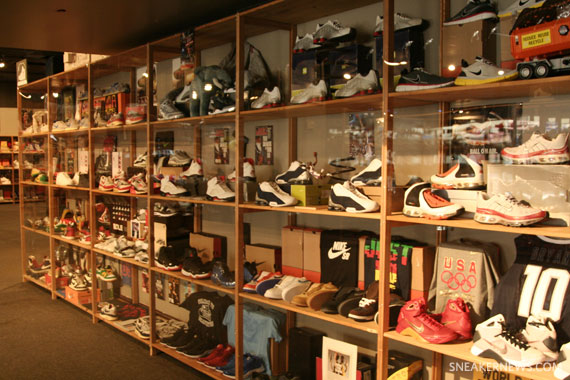 –
EXHIBIT #8: Nike's earliest roots is in running, which makes the Nike Waffle installation on the ceiling the perfect transition into the History of Nike Running and Nike Air.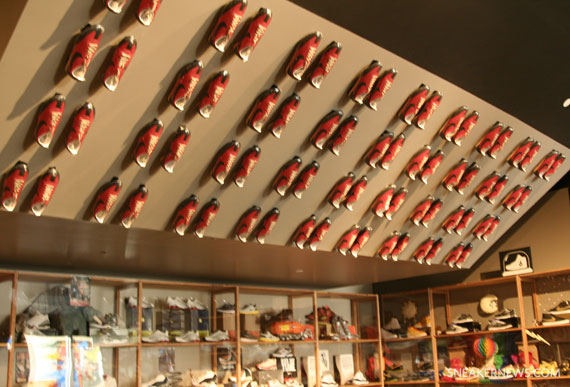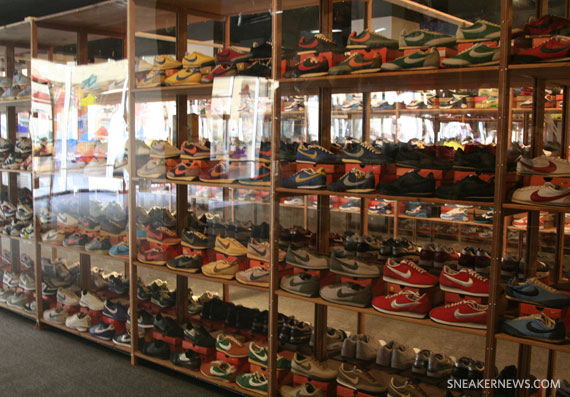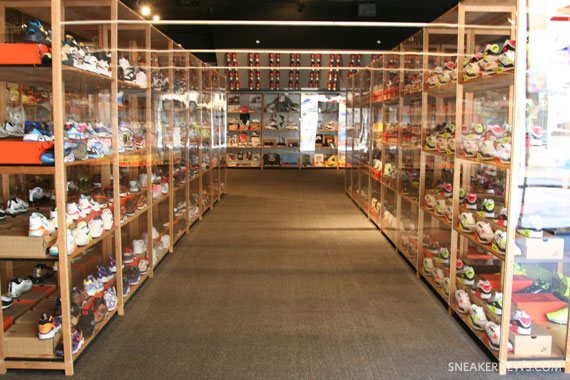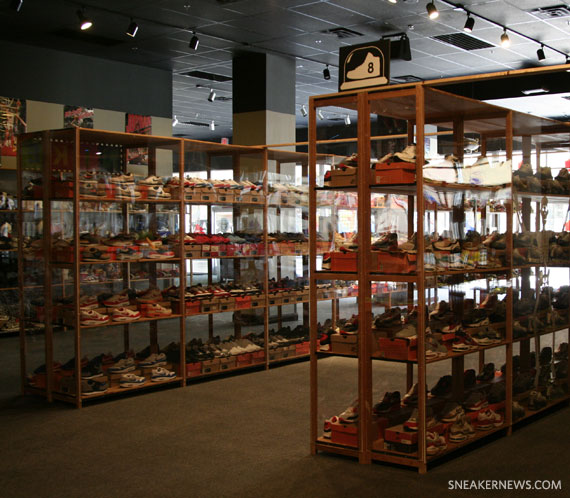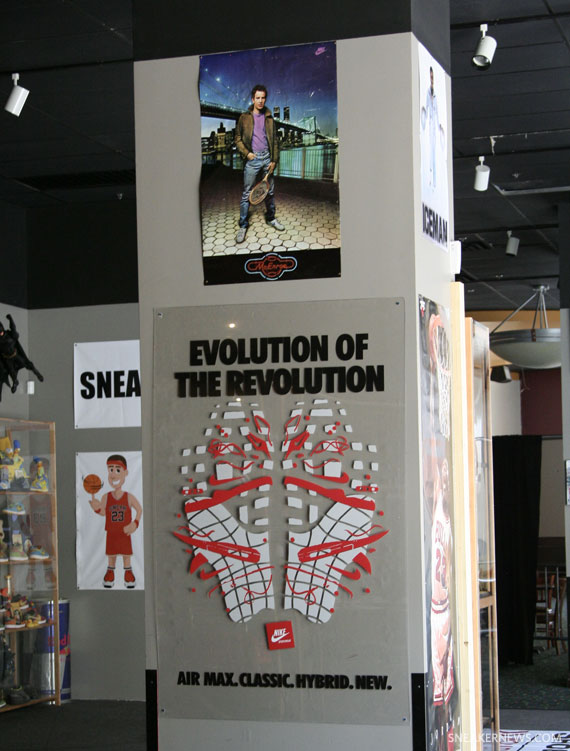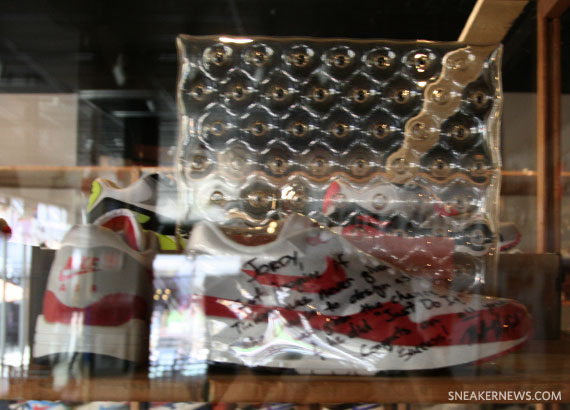 EXHIBIT #9: On to pop culture, with kicks inspired by fallen heroes, TV, video games, and more!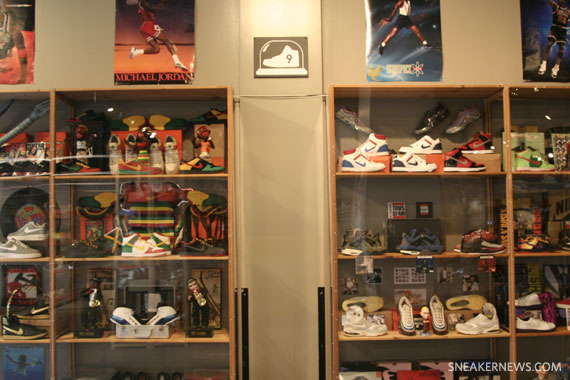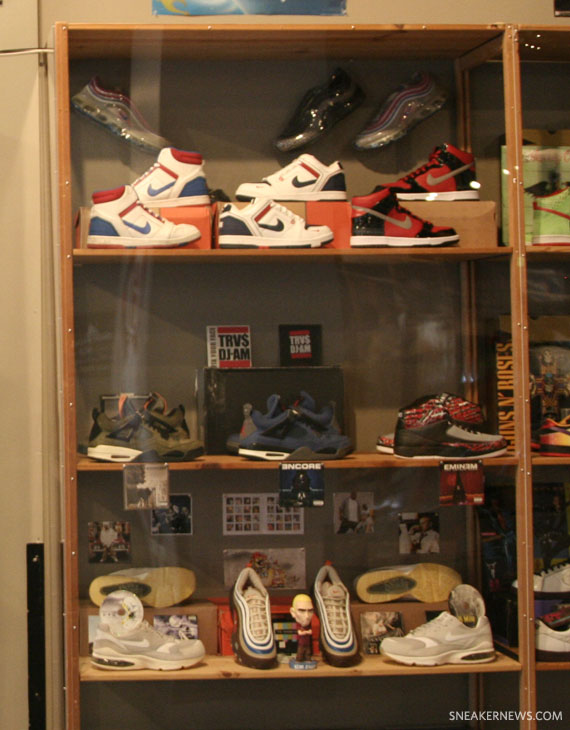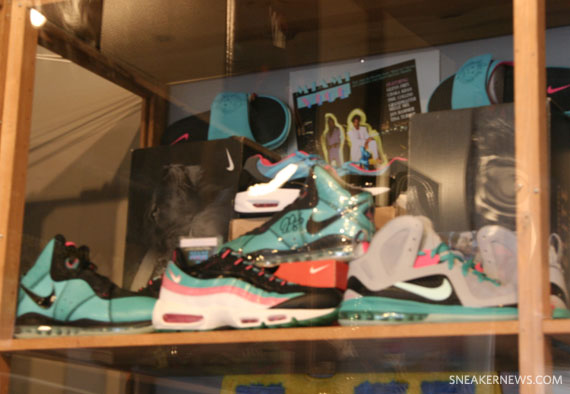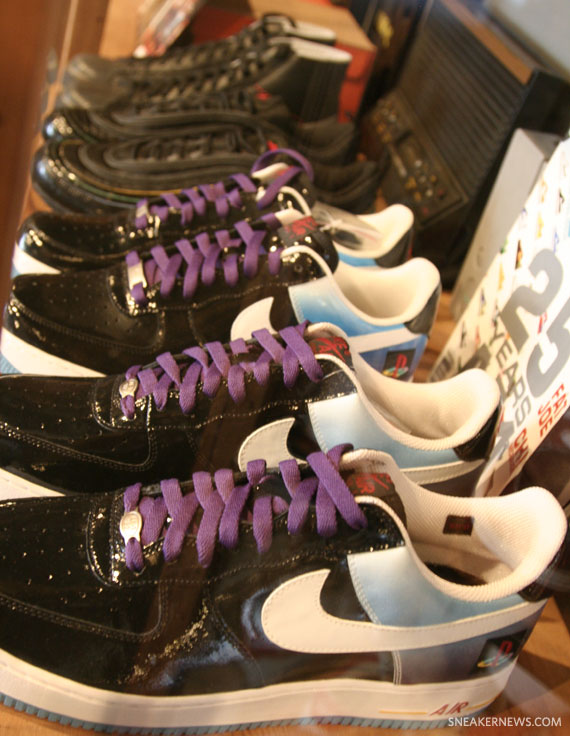 EXHIBIT #10: Perhaps the crown jewel of the ShoeZeum is this Air Jordan OG vs. Retro shrine, which features countless pairs of OG Air Jordan 1s (one autographed and game-worn) and the most expensive sneaker in the ShoeZeum – the Jordan x Converse Pro Leather.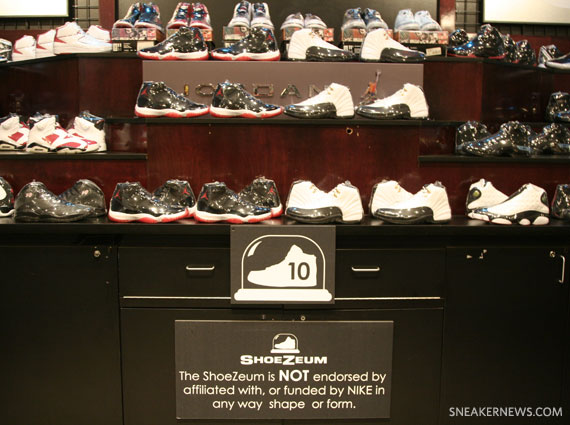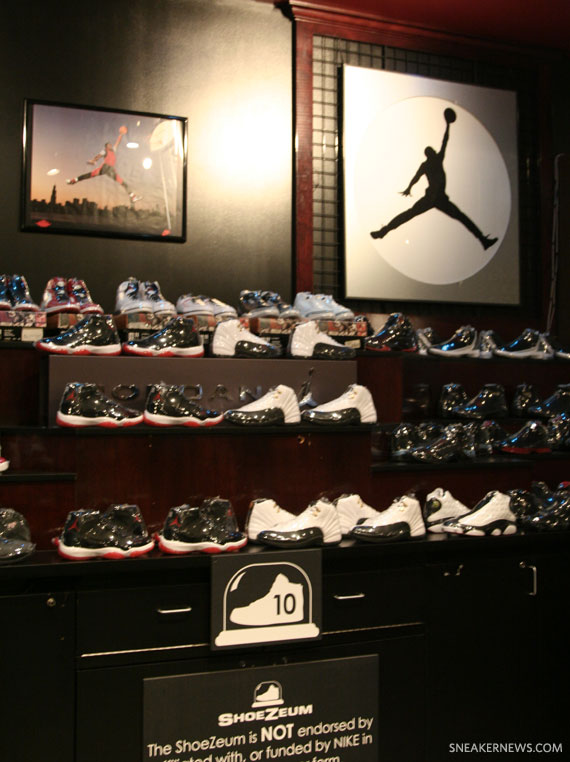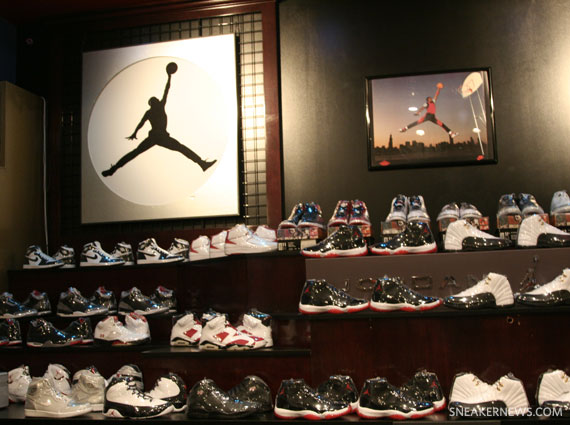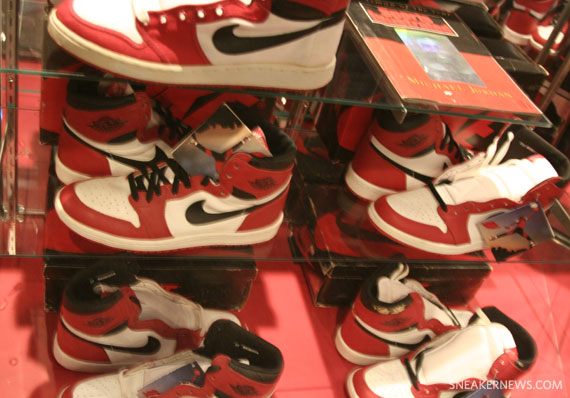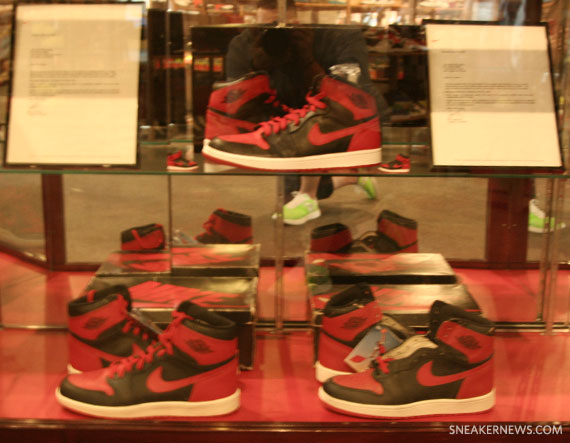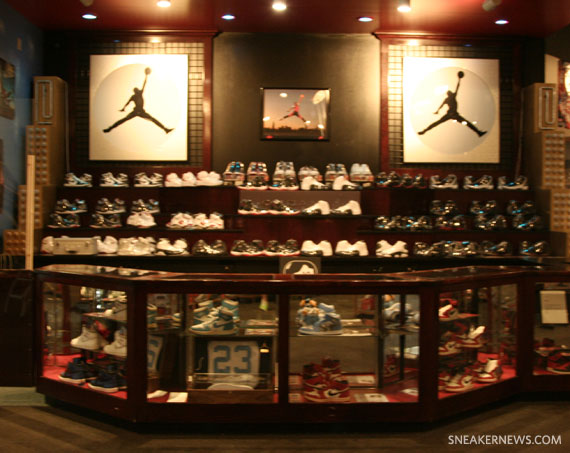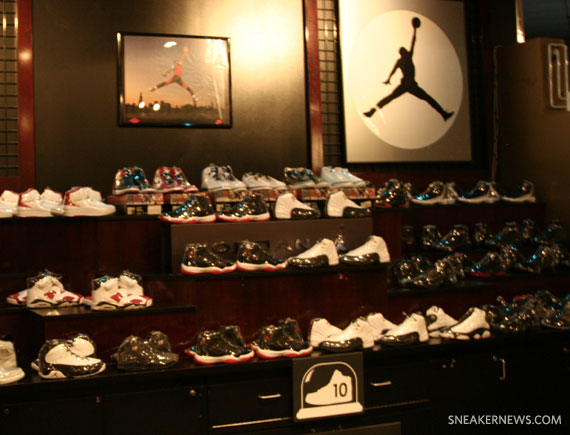 EXHIBIT #11: Move on from Air Jordan to Nike Basketball, like the various Air Penny and Shox classics.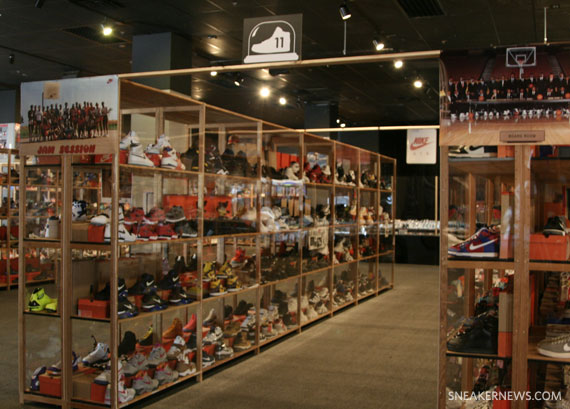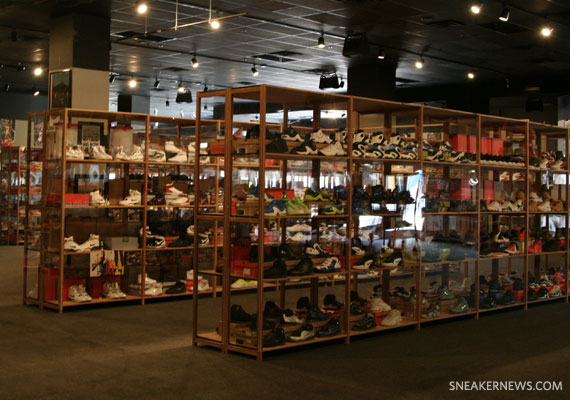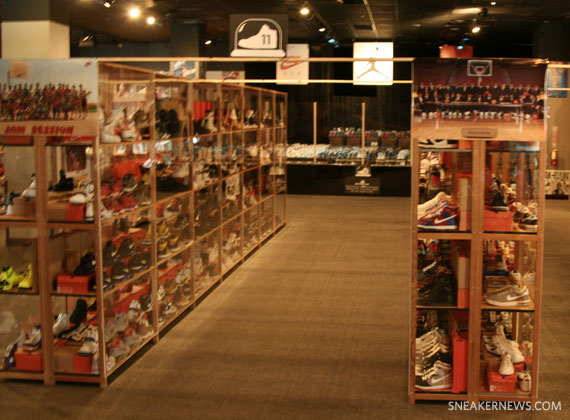 EXHIBIT #12: Like the blue whale model in the American Museum of Natural History, this 500-pair display is a humbling scene.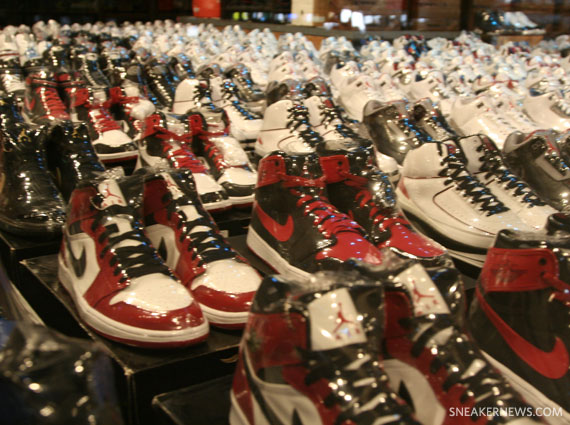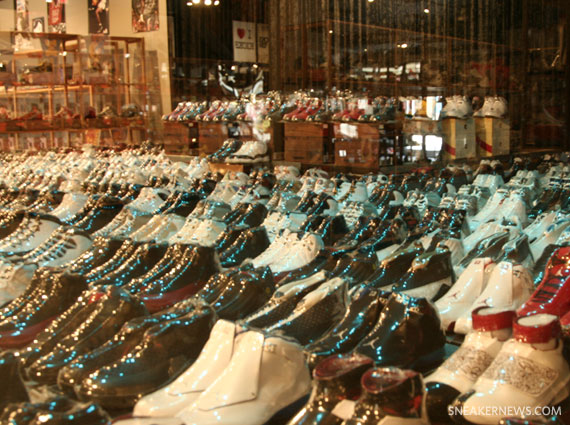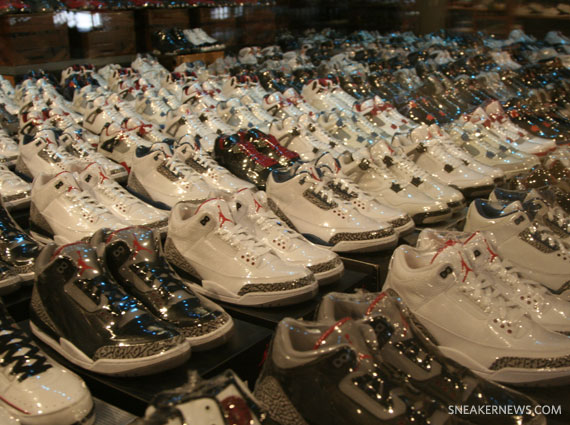 EXHIBIT #13: Turn your head to the right and see '85 and '86 mashed together with the 'JorDunks' collection.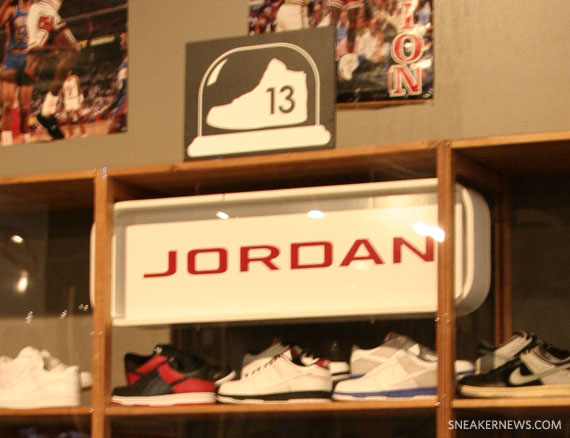 EXHIBIT #14: Hiking shoes were always a hit with Nike, with the Terra Humaras and 'FoamDomes' being some of the most notable.
–
EXHIBIT #15: Foamposite was for basketball, of course. Enjoy the long wall of Foamposite Ones, Pros, and more.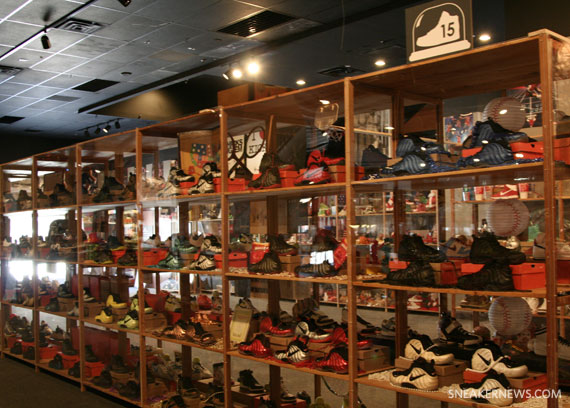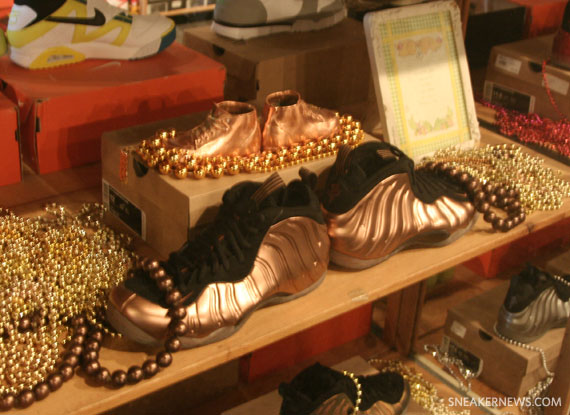 EXHIBIT #16: Dunks the situation right next to the Air Jordan 1 for a perfect chronological transition displaying the Dunk 'Be True' to the Dunk 'SB'.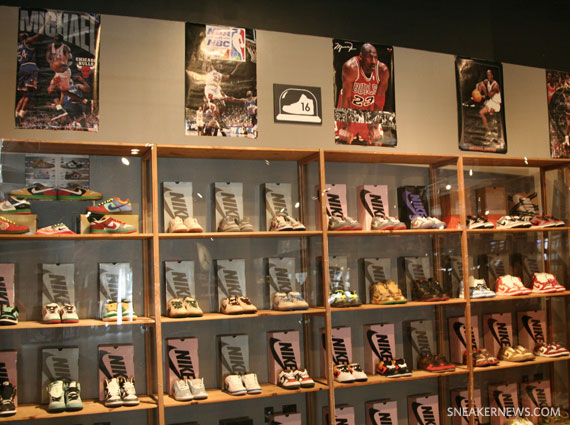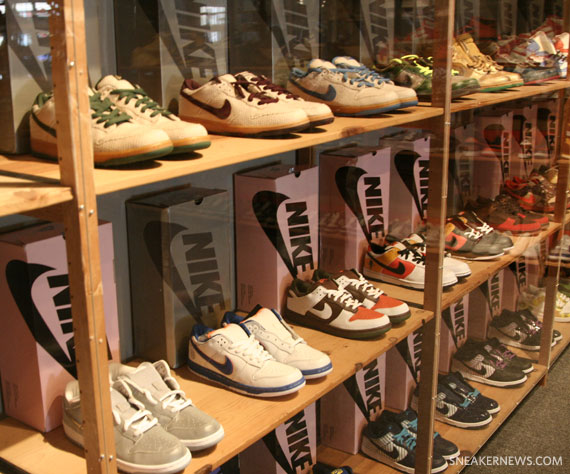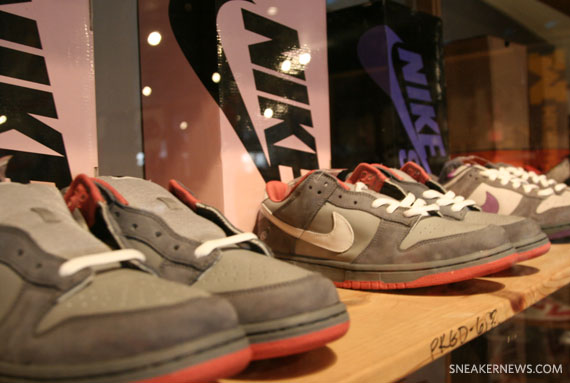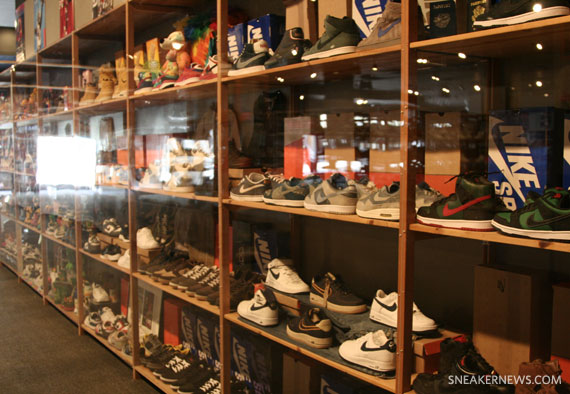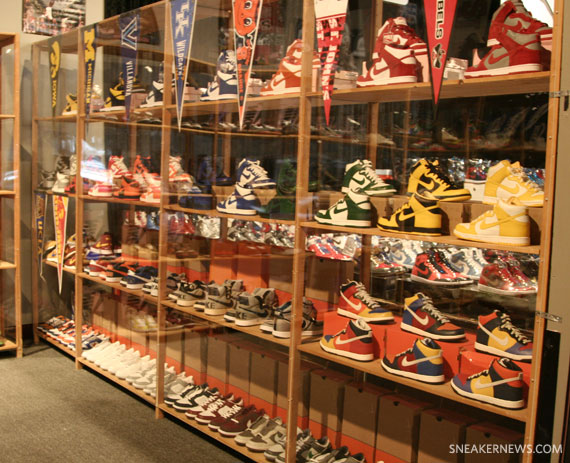 EXHIBIT #17: Jump from '86 to '87 to the Air Trainer 1 and this great display of Trainer icons.
–
EXHIBIT #18: This exhibit focuses on all the special holidays and traditions like the 4th of July and Black Friday.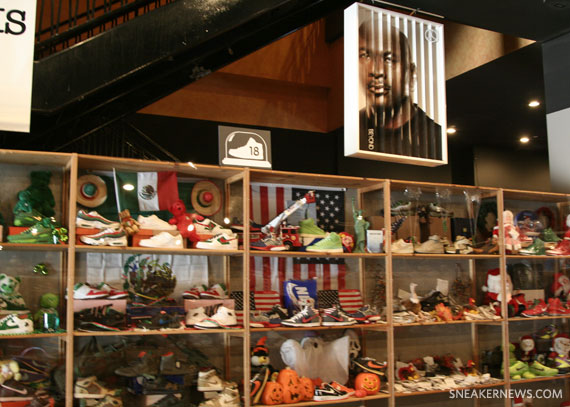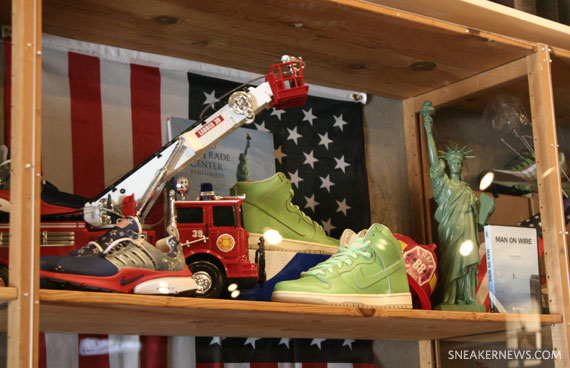 –
EXHIBIT #19: Nike's charitable works with the Doernbecher Children's Hospital has led to some heralded footwear releases.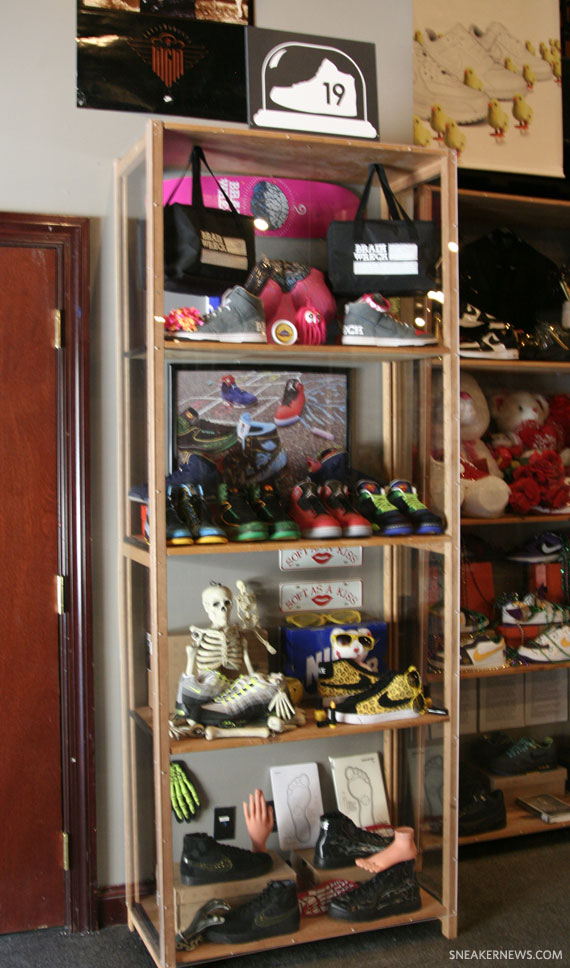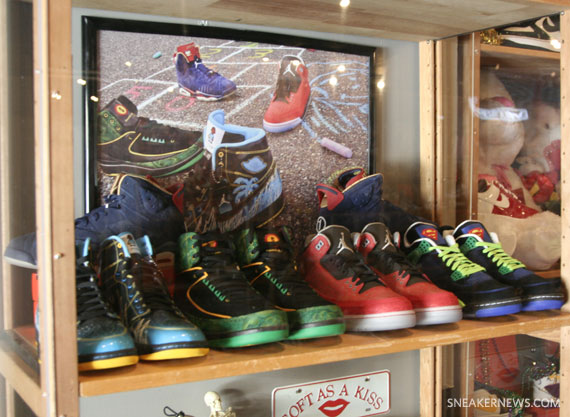 EXHIBIT #20/#21: A tribute to USA and all the USA-themed Nikes and Air Jordans, as well as a special tribute to Steve PreFontaine.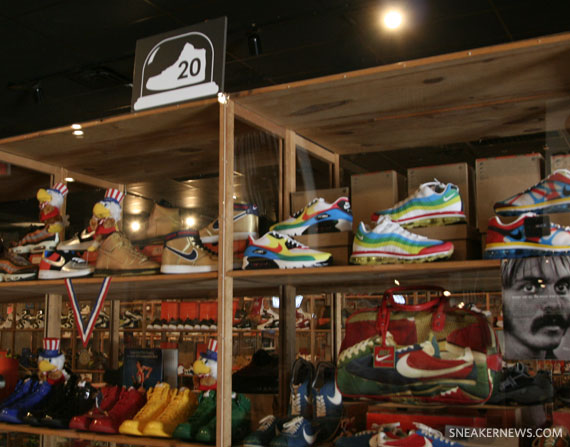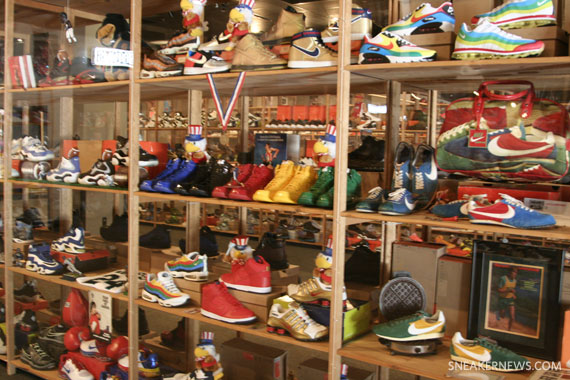 EXHIBIT #22: Art played a major role in the some iconic sneaker releases, but you might remember this multiple-frame installation of a  paint-splatter Dunk Low.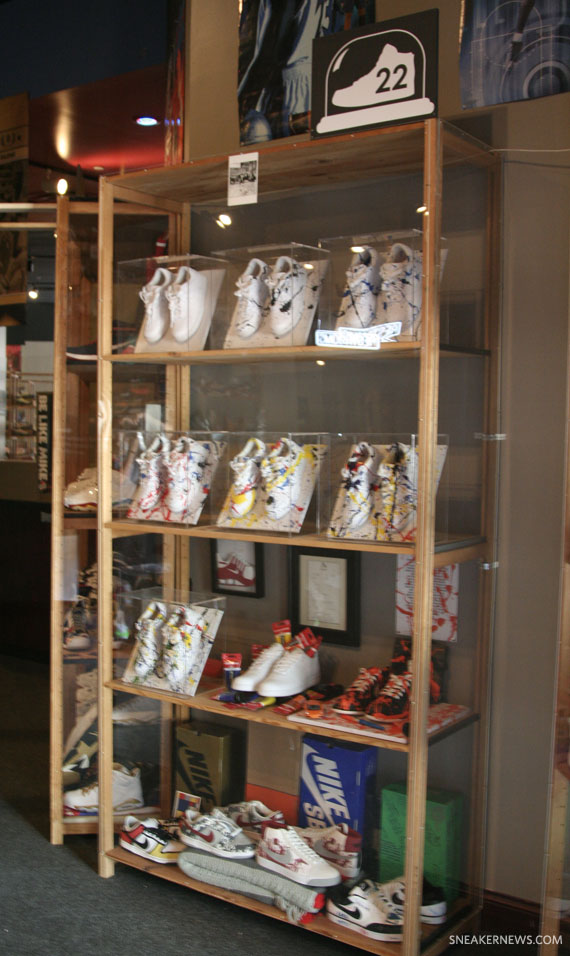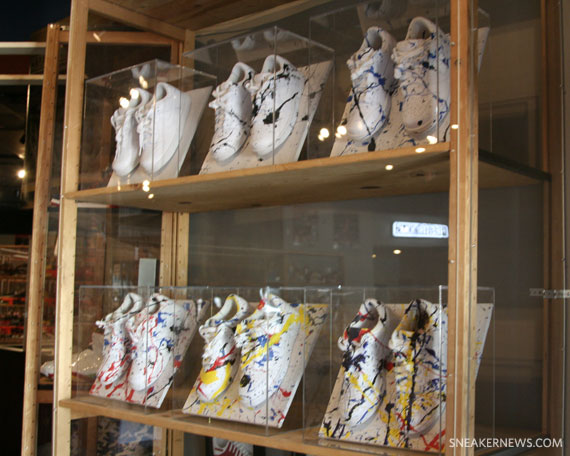 EXHIBIT #23: The final exhibit focuses on school, because by the time you finish the tour, you'd have been schooled on all of the significant Nike releases of the last four+ decades.