514416
"The Game Plan" by Champs Sports: Jordan Carmine Collection
This post contains references to products from one or more of our advertisers. We may receive compensation when you click on links to those products. The opinions and information provided on this site are original editorial content of Sneaker News.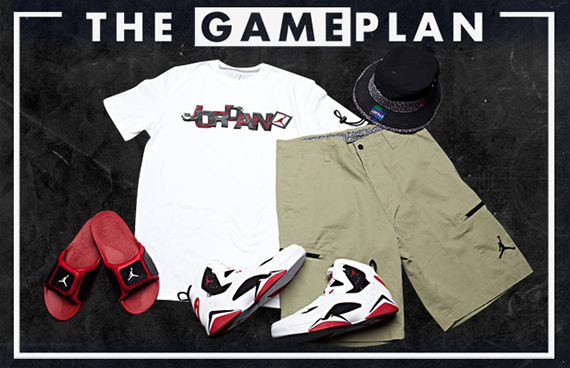 The Game Plan is back and better than ever with a true classic to kick off 2014. It has been a huge year for the Air Jordan 6, and we've already been treated to a handful of colorways original and otherwise. Looming large on the horizon is another of the original combinations: the Air Jordan 6 "Carmine". The Jordan 6 is of course remembered as Michael Jordan's first championship sneaker, but this pair didn't actually hit the court for MJ until the fall following his first title in 1991. The sneakers feature a timeless Chicago Bulls looking mixture of white, red, and black that has actually only been around in retro form once before the 2014 drop. Hopefully you've already got a retro pair of the Air Jordan 6 "Carmine" covered, so now it's time to think about all the matching apparel to go with.
The Game Plan from Champs Sports can help you out with that, as that destination retailer has all sorts of Jordan Carmine gear made to match. If you're already shedding layers in anticipation of the summer then there are items like the Jordan Hydro 3 slides that drop the top but keep the Carmine look, the Jordan Take Flight Short to avoid the heat, and a bucket hat up top. Of course Jordan Brand's performance realm also gets a nod in the collection thanks to the red/white/black sock, shirt, and tank combo that links up with the Jordan True Flight. And let's not forget about the gear that has more direct references to the retro Carmine 6: socks made to look like that Tinker classic, a shirt sporting the "It's Gotta Be The Shoes" motto", and more. Continue reading to get a complete look at the range of items available from the Jordan Carmine Collection presented by Champs Sports' The Game Plan and click here to locate your nearest Champs location so you can go grab yourself some gear.