With the LeBron Soldier series and later with the LeBron 7 PS and LeBron 8 PS, Nike Basketball's concept of the "postseason" sneaker has been in effect for quite a few years now. The idea was to create stripped down, lighter, and strictly utilitarian versions of his signature series, ideal for his predicted long jaunts of playoff basketball. But it wasn't until the Elite series in 2012 containing the LeBron 9 Elite, Kobe 7 Elite, and Zoom Hyperdunk 2011 Elite released that the concept really reached its zenith, expanding the postseason sneaker to be utilized by others than King James.
Since 2012, every year we've been offered the Nike Basketball Elite series, with modified designs of the yearly signature shoes of Nike's big three of LeBron James, Kobe Bryant, and Kevin Durant. Every new Elite design intends to strip weight while also boosting each model's support and protection with the additions of premium materials like carbon fiber. In some cases, additional cushioning is also added to better pad the player's weary playoff feet. Now that the 2015 Elite Series is ready to launch, we thought we'd take a look at some of the most notable models and moments in Nike's postseason-specific sneakers so far.
Elite Series Debuts in 2012
As stated earlier, the Nike Basketball Elite series debuted in 2012 with the LeBron 9 Elite, Kobe 7 Elite, and Zoom Hyperdunk 2011 Elite. Setting the precedent for all Elite sneakers to follow, each shoe was stripped down for lighter weight and also added carbon fiber support in strategic areas for maximum support. Each model debuted in both black and white colorways with metallic gold accents.
KD IV Elite Sample
Even though Kevin Durant was a signature athlete for Nike Basketball on his fourth shoe by then, Nike opted to not release an Elite edition of the KD IV. There was a sample, however, which meant it was apparently planned to release, but was scrapped for reasons unknown. In hindsight, since the KD IV is still considered the most beloved KD model by many, the lack of a KD IV Elite was a bit of a blown opportunity by Nike since they would have most assuredly been gobbled up by collectors.
Blake Griffin Tears His Hyperdunk 2011 Elite
Creating an argument that the Elite series was perhaps a bit too stripped down, Blake Griffin blew out his Hyperdunk Elite in the 2012 Playoffs after having his foot stepped on by Marc Gasol. Not a great look for Nike, but then again, most people who bought a pair probably won't ever have their foot stepped on by a guy of Marc's stature.
LeBron 9 Elite "South Beach Part 2"
Still to this day the most hyped up colorway of a sneaker this side of the "Galaxy" Foamposite, the "South Beach" LeBron 8 caused mass hysteria upon its release in 2011. Sneakerheads expected to see the colorway reprised on the LeBron 9, but much to their dismay it never happened—until the LeBron 9 Elite, that is. It had a lot less teal than the original as it opted for a predominantly grey upper, but the "South Beach" vibes were back and the shoe sold out quickly.
Lebron Wins First Championship in LeBron 9 Elite 2012
After years of scrutiny for coming up short in the playoffs, LeBron finally got his first ring in 2012—albeit with a lot of help from Dwyane Wade and Chris Bosh—while wearing the LeBron 9 Elite. Like the Air Jordan VI for Jordan, will the 9 Elite forever be remembered for being the shoe LeBron wore en route to his first title?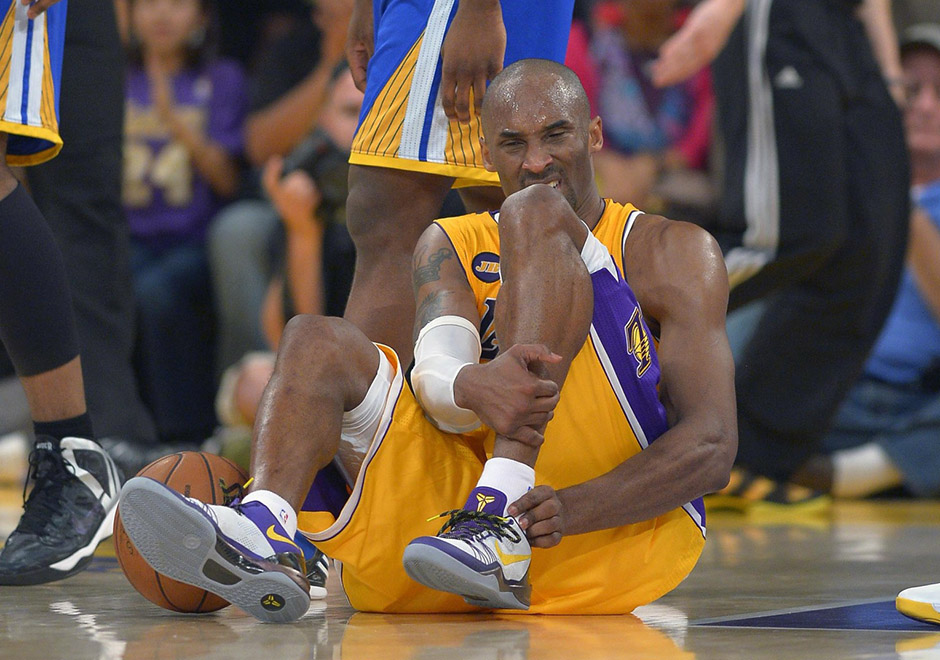 Kobe Tears Achilles in Kobe 8 Elite
In perhaps the lowest point in Nike Basketball Elite history, on April 12, 2012 Kobe Bryant tore his achilles while wearing the Kobe 8 in a PE colorway. The Lakers haven't been the same since.
LeBron 10 Elite Hits Nike iD at Extreme Prices
All of the Elite iterations come with higher price tags, which is expected due to their high-performance designs with the utmost in technology. However, the price tag of the LeBron 10 Elite was a hard pill to swallow for many consumers, clocking in at an exorbitant $275 at retail. Then came the customizable options on Nike iD, which went for $320, or up to $390 with Nike+ Sport Pack, setting the precedent for the highest price basketball shoes on the market.
KD 6 Elite Collab with fragment design
Despite the Elite Series' intentions of providing the highest performance basketball shoes on the market, in an interesting twist the KD 7 released in casual-minded suede editions as collaborations with Hiroshi Fujiwara's fragment design label.
Kobe 9 Elite Debuts Flyknit for Basketball
Not only is the Kobe 9 notable for its extremely high-top design, it also debuted Flyknit in basketball. Another interesting tidbit about the Kobe 9 Elite was the fact that it debuted and released before the regular version of the Kobe 9, which featured a low-top construction in Engineered Mesh.
Absence of Two Out of Three Elite Signature Athletes in 2015
It's going to be an off year for the Elite series, as two of the three athletes with signature Elite models won't be making the playoffs. Those two missing are, of course, Kobe Bryant and Kevin Durant, who are both out with injuries (although the lowly Lakers probably wouldn't have been anywhere near playoff contention this season anyway). We're guessing that Nike will make sure a few other players that are hooping in the playoffs will wear the Kobe or KD Elite models for some shine on the court.