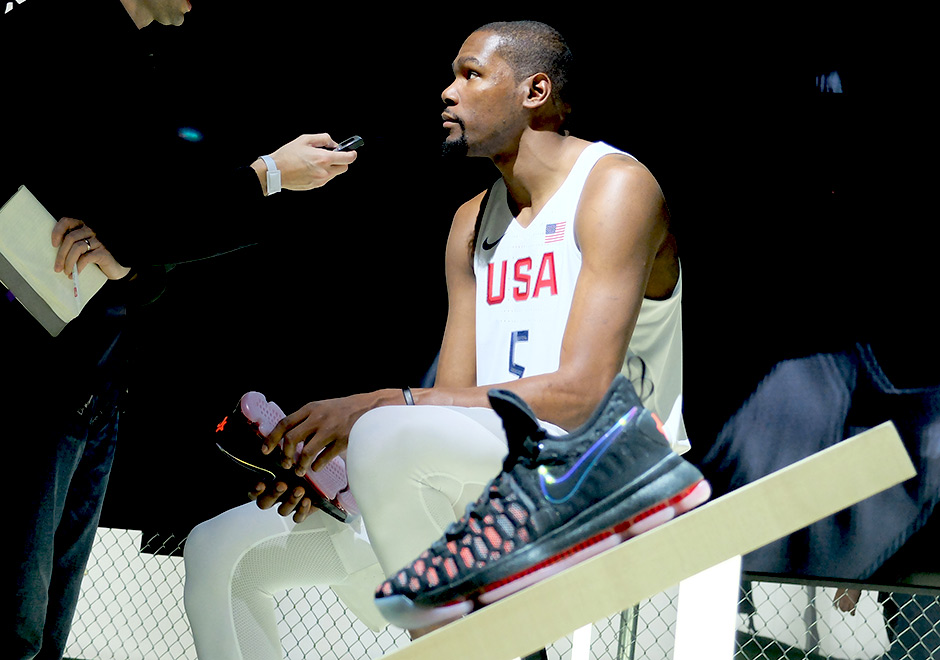 Not even twenty-four hours removed from pulverizing the Boston Celtics, Kevin Durant is back to work. Today, for Day of Nike's Innovation For Everybody event in New York City, KD clocked in some key hours with Nike to debut the new system of dress for Team USA basketball and to speak with media about his new signature shoe, the Nike KD 9. Durant's a veteran of the signature shoe game, and with nine shoes under his belt, there's not many individuals out there who understand the shoe production process as thoroughly as he does. Without further ado, here's a short interview with Kevin Durant with a group of media.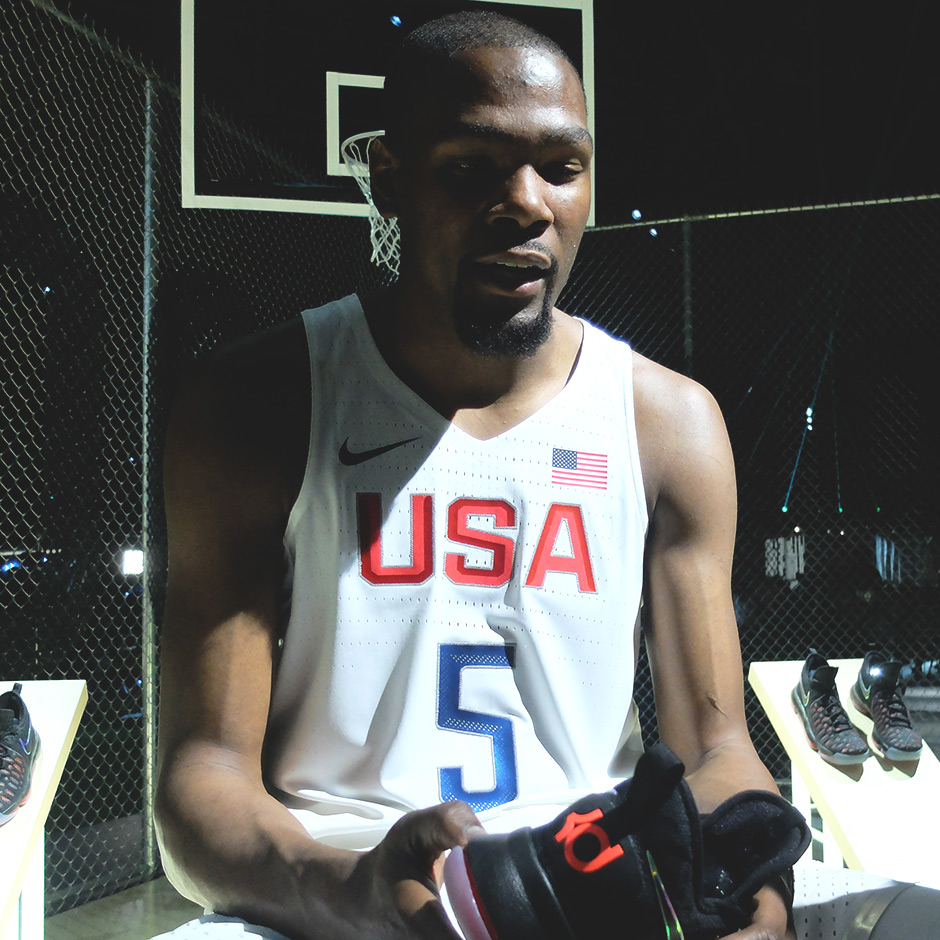 What's your favorite thing about the KD 9?
The Flyknit, man. I saw it on the running shoes and Kobe was first on the Kobe 9, so after I saw that I knew I wanted it with my next shoe. They presented it to me last Summer with the Flyknit and the new Zoom bag so it worked out well.
Leo Chang mentioned that he brings new innovations to you, since you're not typically behind the curtain and Nike. How is it for you to balance what you're looking for in a shoe with the new innovations that the brand develops?
Well first off they know me as a player and as a person – they know what I like. It's been nine long years – has it been nine years? That's crazy. It's just amazing to know that the team that I have know what I like and know what type of shoe I play well in. At the end of the day the shoe has to play well and they've done such a great job at reaching that.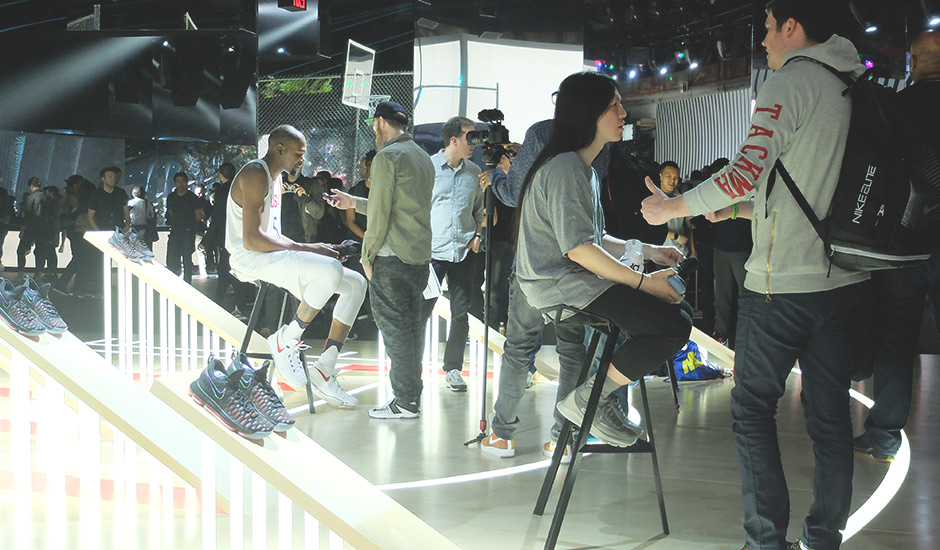 Leo also said part of the shoe was inspired by your love of photography. How did you get into that?
I was hurt last season and I couldn't play ball – I couldn't even walk man. I was rolling around in that scooter for like eight weeks and I just wanted to figure what I like to do since I couldn't play basketball. I was at a crossroads. I've always enjoyed photography and looking at photos and started taking some with my iPhone, then iPhone became a drone, then
the drone turned into a camera and now i'm at the SuperBowl taking pictures. Photography is more than just taking pictures for me – it gives me new perspective on standing in the moment and enjoying where you are. We tend to look forward and backward a lot, but we never really stay in the moment. I know it's a lot, but it keeps me in line.
One interesting aspect of the shoe is that it's now $150, down from $180 on the current model, and early on you always wanted your shoes to be affordable to everyone. Is this price change something you contributed to?
It was a collaborative effort. I always wanted my shoes to be affordable, but as I got older and my game started to change, I knew I needed a shoe to fit my game and there's that compromise of going up in pricepoint. But now as you get into the KD 9, you get a $250 shoe for $150!
That's a great bargain right there. You know last year's shoe was $180 and there was a lot of technology in there, but for this one for $150, you can't beat that. Nike did such a great job of bringing the idea and of course I was like "let's do it", so hopefully people love it.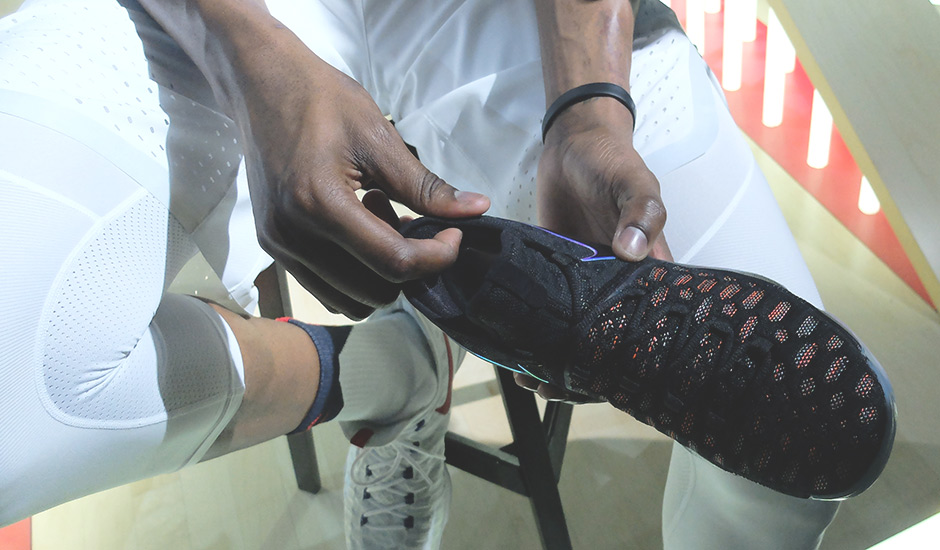 Do you feel like time flies? You're nine shoes in, we see you unveiling the USA uniforms and it feels like it wasn't that long ago you were in London for the 2012 Games. What's it like – nine years with Nike?
I can look at my watch and remember what I was like in ninth grade (laughs). So yeah man time does fly, i'm nine years in, twenty-seven years old, started with Nike at the age of eighteen, playing in the NBA and part of the best brand in the world and it's easy to take that stuff for granted when everything's moving so fast. But to be a part of Nike with all the signature shoes, it's something I dreamt about as a kid and
that's what every kid dreams about – having their own shoe and having people picking them up and wearing them. It's an amazing feeling and sometimes you gotta take some time to really think about what you've done and to know that i'll be doing this for years to come is an amazing feeling.