641841
Nike Bids Farewell To Kobe Bryant With "Black Mamba" Collection
This post contains references to products from one or more of our advertisers. We may receive compensation when you click on links to those products. The opinions and information provided on this site are original editorial content of Sneaker News.
Today, Nike unveils the Kobe Black Mamba Collection, a thirteen-shoe tribute that includes every Nike Kobe signature shoe as well as the famed Huarache 2k4 and original Hyperdunk from 2008. This celebration spans Kobe's entire tenure with Nike, a partnership that began in 2003 after the Lakers star parted ways with rival adidas. It began with groundbreaking performance models like the Huarache 2k4 and 2k5 and led to the debut of the Kobe signature series in early 2006. Since then, Kobe hasn't failed in producing some legendary moments in each silhouette, manifesting in the Kobe Prelude Pack of late 2013/early 2014.
As a final farewell to Kobe Bryant, who exits the NBA roughly a month from now, Nike will release the Black Mamba Collection (previously dubbed the Fade To Black Collection) in successive manner starting with the Huarache 2k4 on March 22nd. The shoes will continue to release throughout the next month and will close out on April 13th, with the release of the Kobe 11 Elite. On that final game, Kobe will wear the Kobe 11 Elite FTB in his last game in the NBA. Get a detailed look at the entire collection below and let us know which of the thirteen models in the Nike Kobe Black Mamba Collection is your personal favorite.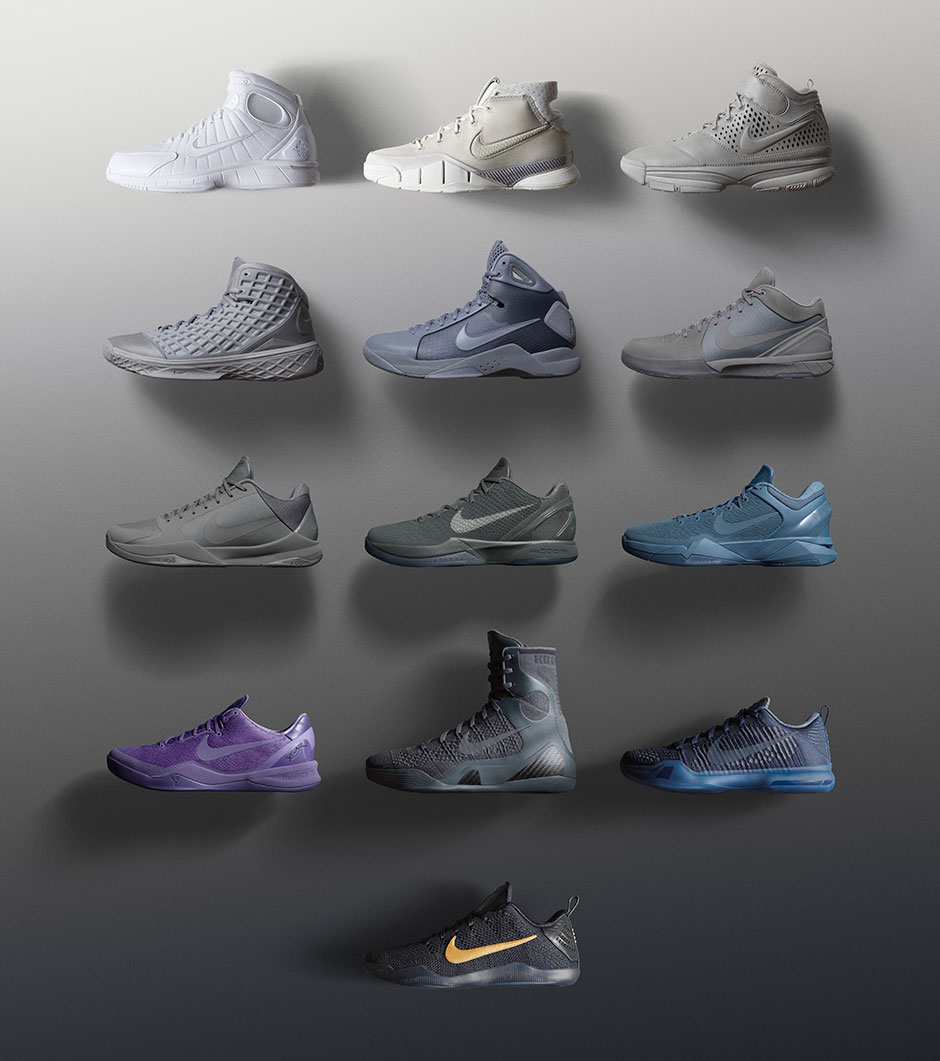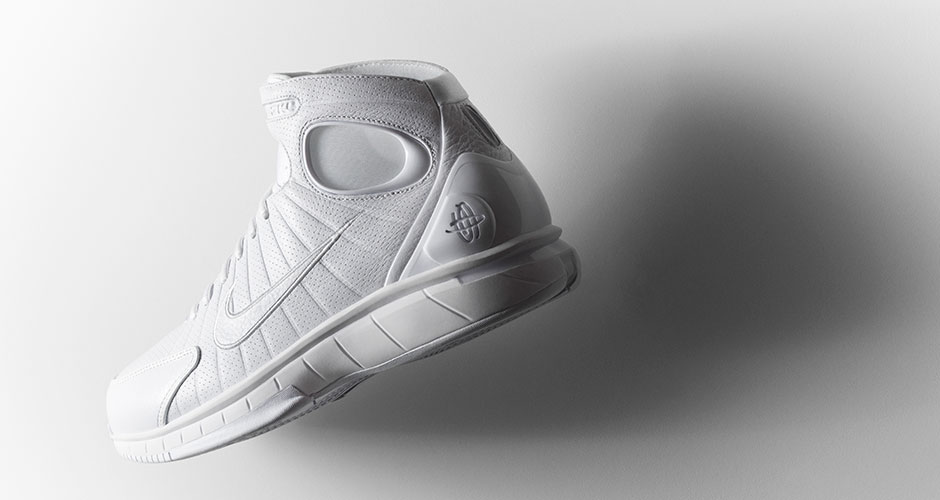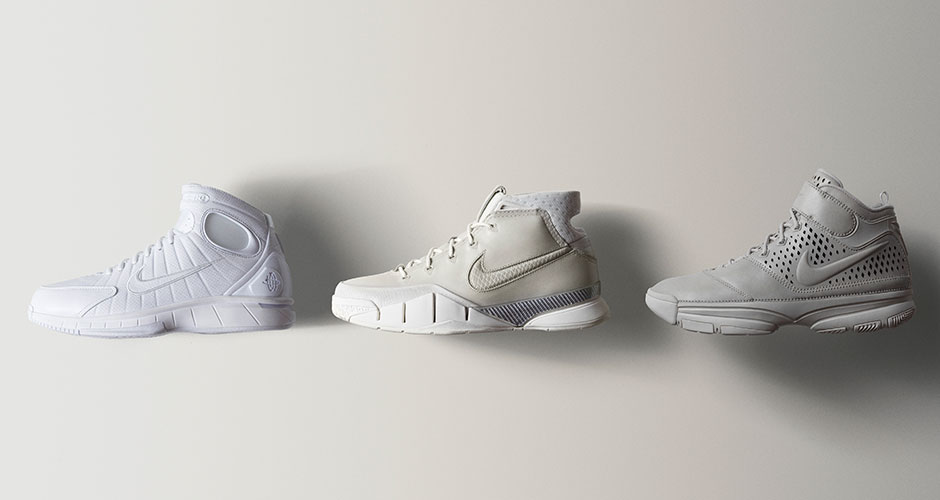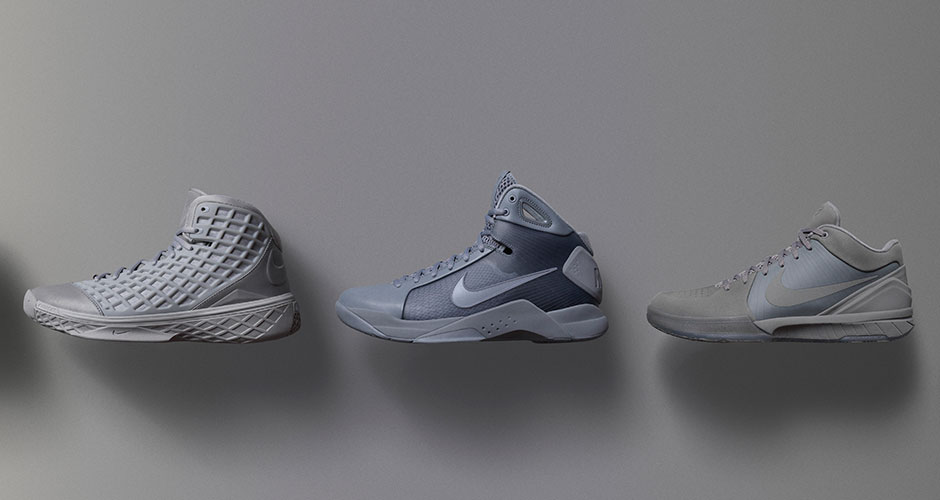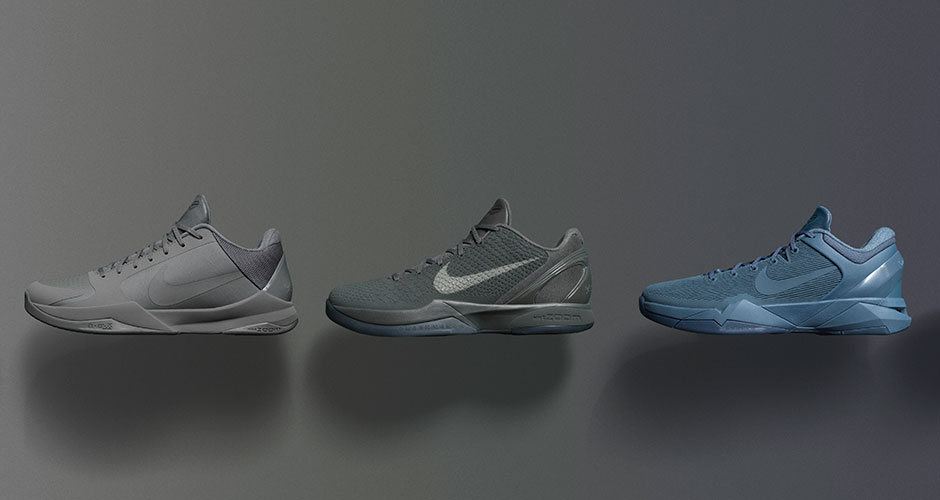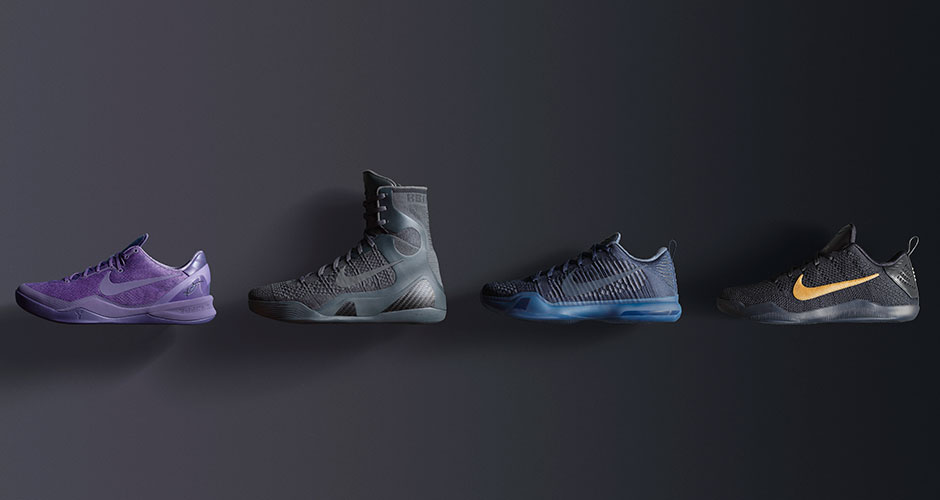 Nike Zoom Huarache 2k4 FTB

Color: White/White-White
Style Code: 869610-111
Release Date: March 22nd, 2016
Price: $200
Nike Zoom Kobe 1 FTB

Color: Sail/Sail
Style Code: 869451-110
Release Date: March 23rd 2016
Price: $200
Nike Zoom Kobe 2 FTB

Color: Light Bone/Light Bone
Style Code: 869452-003
Release Date: March 25th, 2016
Price: $200
Nike Zoom Kobe 3 FTB

Color: Matte Silver/Matte Silver
Style Code: 869453-004
Release Date: March 28th, 2016
Price: $200
Nike Zoom Hyperdunk FTB

Release Date: March 28th, 2016
Price: $200
Nike Zoom Kobe 4 FTB

Color: Dust/Dust
Style Code: 869450-005
Release Date: March 30th, 2016
Price: $200
Nike Zoom Kobe 5 FTB

Color: Tumbled Grey/Tumbled Grey
Style Code: 869454-006
Release Date: April 4th, 2016
Price: $200
Nike Zoom Kobe 6 FTB

Color: River Rock/River Rock
Style Code: 869457-007
Release Date: April 5th, 2016
Price: $200
Nike Zoom Kobe 7 FTB

Color: Blue Fox/Blue Fox
Style Code: 869460-442
Release Date: April 6th, 2016
Price: $200
Nike Kobe 8 FTB

Color: Dark Raisin/Dark Raison
Style Code: 869456-551
Release Date: April 8th, 2016
Price: $200
Nike Kobe 9 Elite FTB

Color: Anthracite/Anthracite
Style Code: 869455-002
Release Date: April 11th, 2016
Price: $200
Nike Kobe 10 Elite Low FTB

Color: Dark Obsidian/Dark Obsidian
Style Code: 869458-441
Release Date: April 11th, 2016
Price: $200
Nike Kobe 11 Elite Low FTB

Color: Black/Black
Style Code: 869459-001
Release Date: April 13th, 2016
Price: $200
Recent Stories