718720
What To Expect From Lonzo Ball's Sneaker "Free Agency"
If Lavar Ball has taught his son anything over the last few months, it's to do whatever it takes to get a response out of anyone listening. Lonzo's methods have certainly been much quieter than those of his father, and he's going about it in the right way – by playing incredible basketball. Granted, it's the Summer League, where outstanding performances and troubling games are equally swept under the rug for the sole reason that "it's the Summer League". Even then, it's not his game that is the most talked-about Lonzo-related topic – it's the shoes. It's always the shoes.
Last Saturday, Lonzo Ball made his NBA debut in his first Summer League game, taking the court in his $495 basketball shoe. As if the Big Baller Brand ZO2 needed to be bashed any more than it had been, Nike Basketball athlete Elena Delle Donne, a former WNBA MVP, criticized the shoes on Twitter, revealing that she'd find it funny if they "blew out" in Lonzo's first game. Not long after, she pointed out what appeared to be a shoe "malfunction", which is probably obvious to those who log heavy miles in basketball shoes. Lonzo ended up having a terrible debut, and his second game wasn't that much better.
How great would it be if @ZO2_ blew out his shoe in his first summer league game? should have gone with @Nike

— Elena Delle Donne (@De11eDonne) July 8, 2017
//platform.twitter.com/widgets.js
In his third game, Lonzo made headlines by ditching the BBB ZO2 for the Nike Kobe A.D., the latest signature shoe for Kobe Bryant. Lavar Ball was quick to address the reactions citing Lonzo's freedom to wear any shoe he wants, which in reality sounds like a sneakerhead's dream so long as millions of dollars aren't left on the table. Coincidentally, Lonzo had his best game yet, tallying a Kobe-like stat-line of 36 points, 11 assists, and 8 rebounds. The biggest reaction to this came from none other than LeBron James, who took to Instagram to post a video of the young Lonzo in the aforementioned Nike shoes with a simple caption of "Just Do It".
Lonzo followed his outstanding game with another impressive performance as he messed around and got a triple double while wearing James Harden's shoes, the adidas Harden Vol.1 LS model. The MVP finalist responded similarly with his own Instagram post, captioning it with adidas' newest slogan "Create for the culture".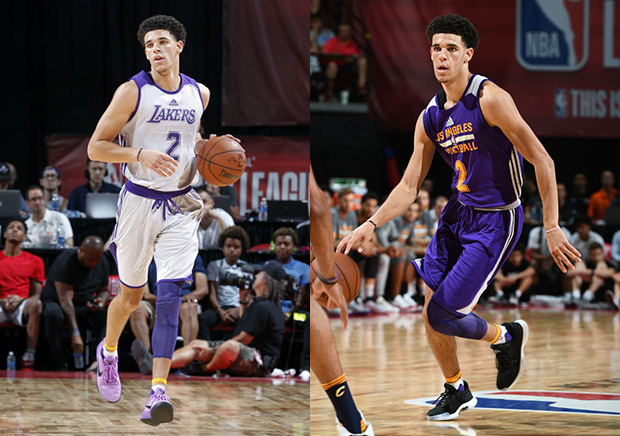 Above: Lonzo Ball in Kobe A.D. and Harden Vol.1 LS
While it is unclear if this rotation of sneaker brands will continue, one can only speculate that Lonzo is wearing Kobes and Hardens because the Big Baller Brand ZO2, a shoe that was hastily designed and devoid of any basketball-specific comfort technology, is not suitable for basketball. We don't blame Lonzo, because he should never wear his own shoe if it's uncomfortable; LeBron himself refused to wear the LeBron 11 for an entire season because he found them unwearable. Regardless of how he performs, Lonzo's decisions will conjure up a response – even this out-of-left-field jab by NFL star J.J. Watt, who took advantage of Lonzo's choices to peddle his own kicks.
400 dollars less than some shoes on the market and 100% more effective.

Available tonight at midnight for $99.https://t.co/sU39iHQfcv pic.twitter.com/tHarE6JIfK

— JJ Watt (@JJWatt) July 13, 2017
//platform.twitter.com/widgets.js
Lavar Ball confirmed that wearing Nike shoes was not an indication that negotations for a shoe deal were back in the mix, and it's likely that adidas isn't re-opening up discussions either. With that established, Lonzo has entered the ever-so-sweet "sneaker free agency" period, which means we might be in for an even juicier rotation of footwear on this year's most talked-about rookie. So what will Lonzo wear next? Will he wear Curry 4, Kyrie 3, Lillard 3, or PG1 and have those guys take to Instagram and post about him too? Will he emulate 2002-2003 Kobe Bryant and rotate some top shelf footwear while trying to fire up shoe contract negotiations? Will he become the self-proclaimed Sneaker Champ, like what Gilbert Arenas did years ago? Or will he resort to wearing his Big Baller Brand ZO2, the grossly overpriced and poorly designed sneaker?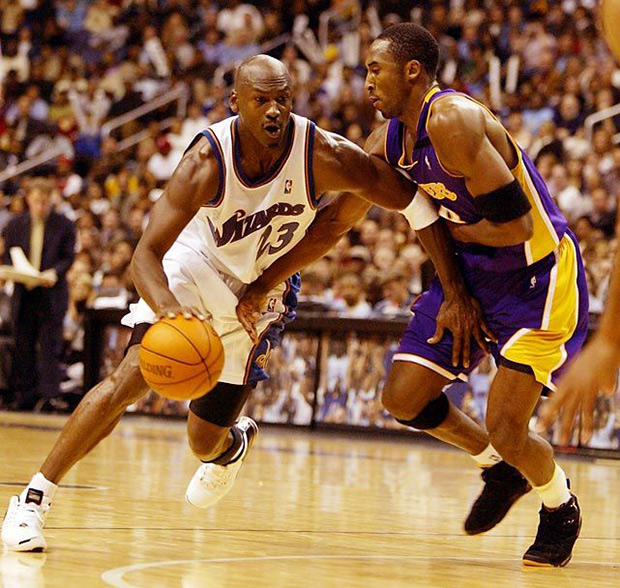 Above: Kobe Bryant in Air Jordan 7 Retro PE
It's interesting to see how this all shapes up for Lonzo, who above all the fumes is showing real signs of being a superstar-caliber talent. In fact, he has the opportunity to raise his value, so one of the Big 3 brands could come back with an even richer deal. At the end of the day, as long as his game speaks for it self, it won't matter what his dad says anymore.