From the Minions to DC, Reebok has designed and produced no shortage of licensed collaborations. And thanks to their ongoing partnership with Warner Bros., this list will only continue to grow.
And grow it soon shall, as Reebok has just announced that they'll be celebrating the wizarding world of Harry Potter not only by way of apparel but also a four-part footwear capsule. The latter, starting with the Club C 85, takes inspiration from the journey of The Boy Who Lived, borrowing cues from the most important moments and items from the series seven books.
The perfect introduction to the collaboration, the Club C 85 comes complete with the crests and symbols of the four Hogwarts houses, allowing the wearer to choose between either Gryffindor, Hufflepuff, Ravenclaw, or Slytherin. Elsewhere, the Classic Leather Hexalite takes after the iconic Patronus spell, featuring an upper clad in what looks to be a silvery blue vapor. "He Who Must Not Be Named" commands the Instapump Fury 95, whose design is akin to Voldemort's Death Eaters, while the Classic Leather rounds out the collection with nods to the fabled Deathly Hallows.
Enjoy a detailed look at the entire Harry Potter x Reebok collection ahead. All four sneakers as well as the accompanying apparel will be available on December 1st via Reebok.com and Amazon.com.
Harry Potter x Reebok

Releasing December 1st
Harry Potter x Reebok

Releasing December 1st
Harry Potter x Reebok

Releasing December 1st
Harry Potter x Reebok

Releasing December 1st
Harry Potter x Reebok

Releasing December 1st
1 of 5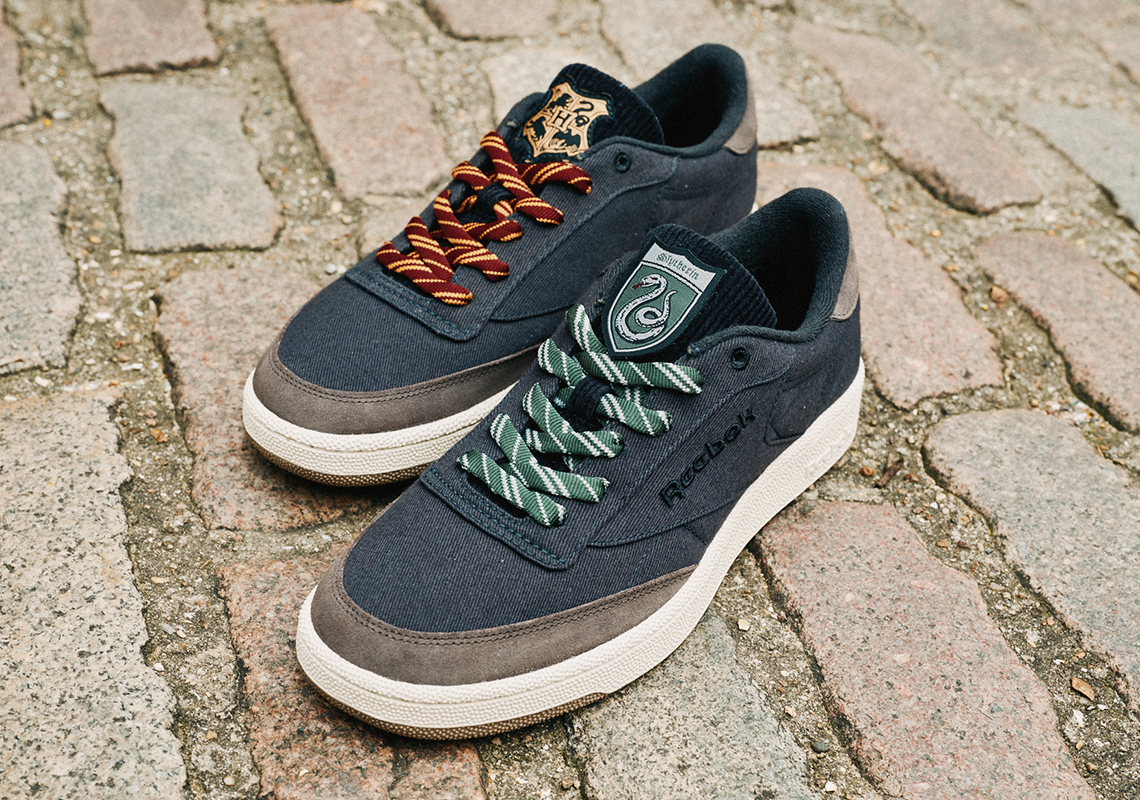 1 of 6
WHERE TO BUY
Harry Potter x Reebok Instapump Fury
RELEASE DATE:
Dec 1, 2023
US
12/01/2023 Friday
| Retailer | Time | Shipping | Release type | Status | Reminder | |
| --- | --- | --- | --- | --- | --- | --- |
| Reebok US | 00:00 | North America Only | Standard | Check Site | - | |
WHERE TO BUY
Harry Potter x Reebok Club C
RELEASE DATE:
Dec 1, 2023
US
12/01/2023 Friday
| Retailer | Time | Shipping | Release type | Status | Reminder | |
| --- | --- | --- | --- | --- | --- | --- |
| Reebok US | 00:00 | North America Only | Standard | Check Site | - | |
WHERE TO BUY
Harry Potter x Reebok Classic Leather
RELEASE DATE:
Dec 1, 2023
US
12/01/2023 Friday
| Retailer | Time | Shipping | Release type | Status | Reminder | |
| --- | --- | --- | --- | --- | --- | --- |
| Reebok US | 00:00 | North America Only | Standard | Check Site | - | |
WHERE TO BUY
Harry Potter x Reebok Classic Leather
RELEASE DATE:
Dec 1, 2023
US
12/01/2023 Friday
| Retailer | Time | Shipping | Release type | Status | Reminder | |
| --- | --- | --- | --- | --- | --- | --- |
| Reebok US | 00:00 | North America Only | Standard | Check Site | - | |
WHERE TO BUY
Harry Potter x Reebok Classic Leather Hexalite
RELEASE DATE:
Dec 1, 2023
US
12/01/2023 Friday
| Retailer | Time | Shipping | Release type | Status | Reminder | |
| --- | --- | --- | --- | --- | --- | --- |
| Reebok US | 00:00 | North America Only | Standard | Check Site | - | |