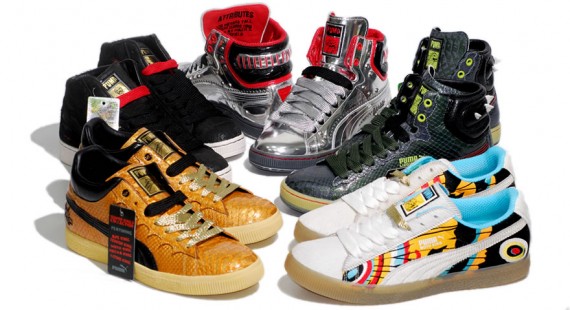 Run for the hills!  The Puma Japanese Monster Pack is set to drop soon, and we have new pictures of the whole bunch.  First up are the First Rounds.  The Lizoid King edition is inspired by Godzilla and features a scaley faux-lizard skin upper along with pointy teeth sticking out of the collar's heel.  The similarly copyright-avoiding Mocha King is a send up of the laser-equipped Mechagodzilla.  Mecha King is made of metallic silver with rivets strewn about the upper and midsole.
The midcut Puma Stepper is called Terror King in honour of King Ghidorah.  Scaley similar to the Lizoid King, these joints find their teeth in the form of triangular tabs hanging off of the eyelets.  Rounding out the pack are perhaps the two most popular Puma models: the Suede and Clyde.  The Suede 'Ape King' features a fuzzy upper that evokes King Kong's furry physique, while parts are torn away to reveal a red underlay.  The Moth King Clyde is also fuzzy, but in a whispier way so as to evoke the horrible symmetry of Mothra (as seen in the colourful underlay).
All five pairs feature the inspiring creature's 'attributes' imprinted inside the tongue, but apparently they share one common characteristic: scarcity.  Set to drop Saturday, March 21, these are all limited to no more than 29 pairs each, with the Lizoid King only appearing 13 times.  You probably have no shot of getting them in Hong Kong, so check eBay and other resellers starting this weekend.  via Kenlu
Update: As of March 21, a limited quantity are available from German sneaker specialists Solebox.
Puma Japanese Monsters Pack – 'King Lizoid' First Round (Godzilla-Inspired)
Puma Japanese Monsters Pack – 'King Lizoid' First Round (Godzilla-Inspired)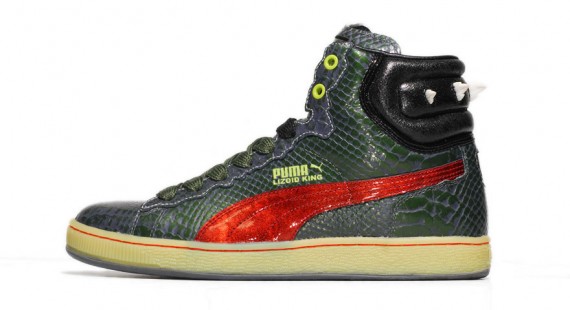 Puma Japanese Monsters Pack – 'King Lizoid' First Round (Godzilla-Inspired)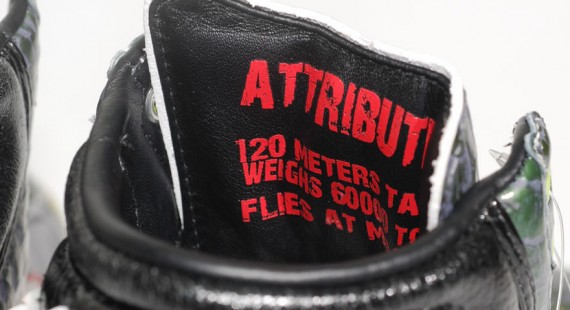 Puma Japanese Monsters Pack – 'King Lizoid' First Round (Godzilla-Inspired)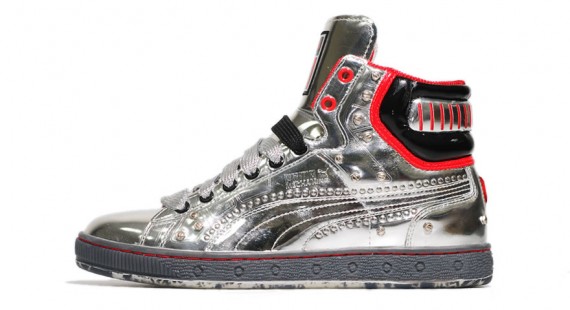 Puma Japanese Monsters Pack – 'King Mecha' First Round (Mechagodzilla-Inspired)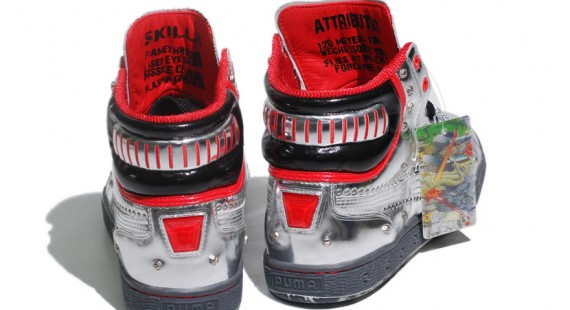 Puma Japanese Monsters Pack – 'King Mecha' First Round (Mechagodzilla-Inspired)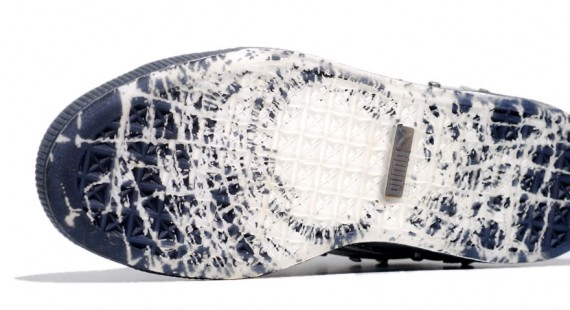 Puma Japanese Monsters Pack – 'King Mecha' First Round (Mechagodzilla-Inspired)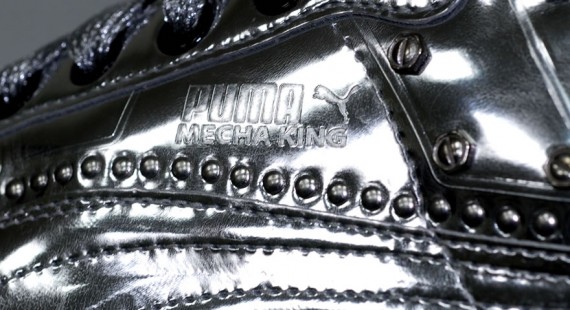 Puma Japanese Monsters Pack – 'King Mecha' First Round (Mechagodzilla-Inspired)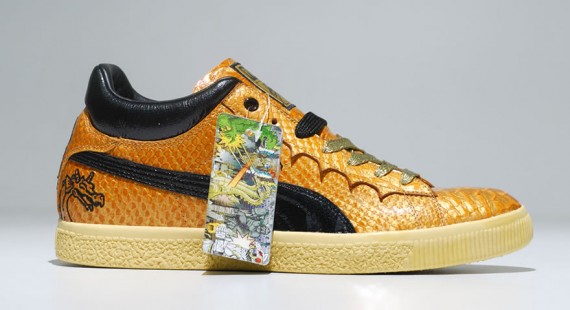 Puma Japanese Monsters Pack – 'Terror King' First Round (King Ghidorah-Inspired)
Puma Japanese Monsters Pack – 'Terror King' First Round (King Ghidorah-Inspired)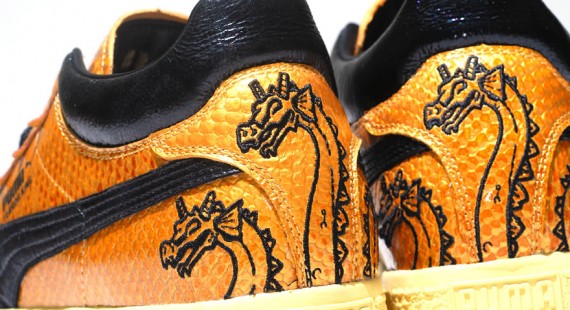 Puma Japanese Monsters Pack – 'Terror King' First Round (King Ghidorah-Inspired)
Puma Japanese Monsters Pack – 'Terror King' First Round (King Ghidorah-Inspired)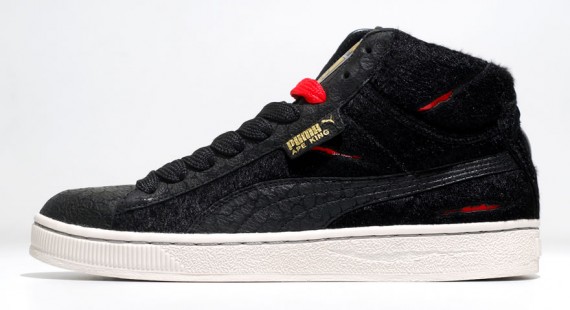 Puma Japanese Monsters Pack – 'King Ape' Suede (King Kong-Inspired)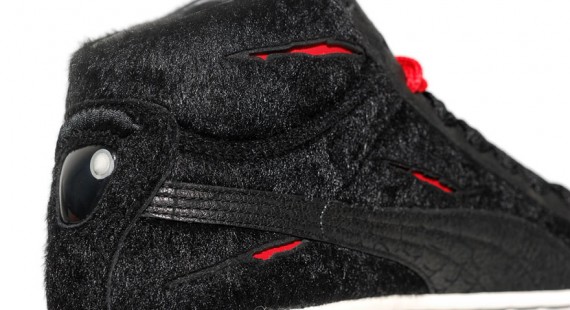 Puma Japanese Monsters Pack – 'King Ape' Suede (King Kong-Inspired)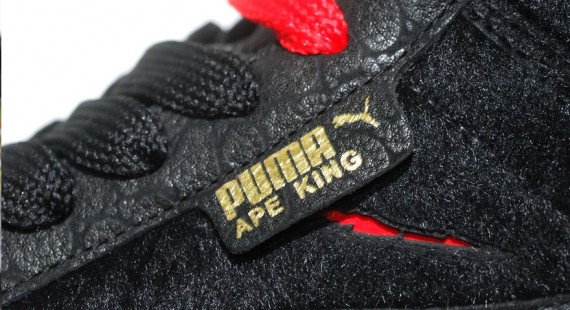 Puma Japanese Monsters Pack – 'King Ape' Suede (King Kong-Inspired)
Puma Japanese Monsters Pack – 'King Ape' Suede (King Kong-Inspired)
Puma Japanese Monsters Pack – 'King Ape' Suede (King Kong-Inspired)
Puma Japanese Monsters Pack – 'King Ape' Suede (King Kong-Inspired)
Puma Japanese Monsters Pack – 'King Moth' Suede (Mothra-Inspired)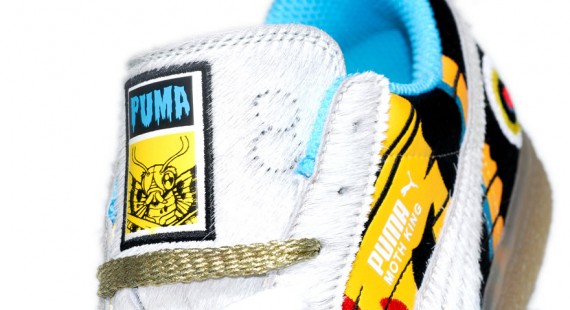 Puma Japanese Monsters Pack – 'King Moth' Suede (Mothra-Inspired)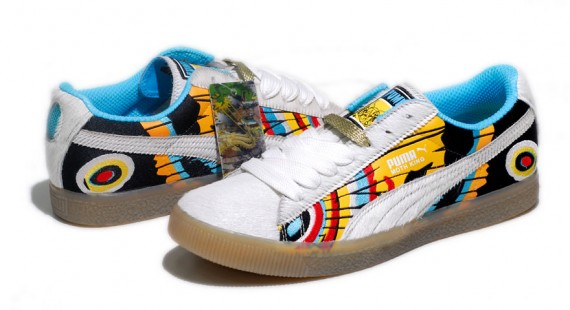 Puma Japanese Monsters Pack – 'King Moth' Suede (Mothra-Inspired)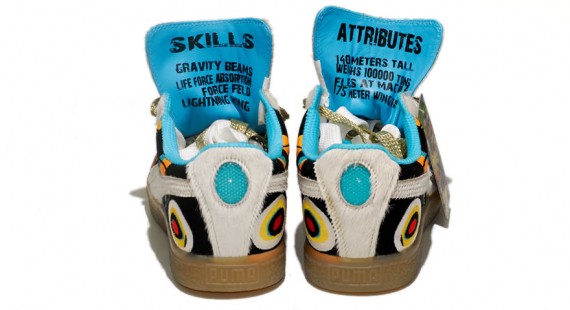 Puma Japanese Monsters Pack – 'King Moth' Suede (Mothra-Inspired)
—
BELOW ARE THE CURRENT LISTINGS FOR THESE KICKS ON EBAY:
[If kicks below are a random assortment, desired kicks are not currently available on eBay.]