429720
Nike KD VI iD Preview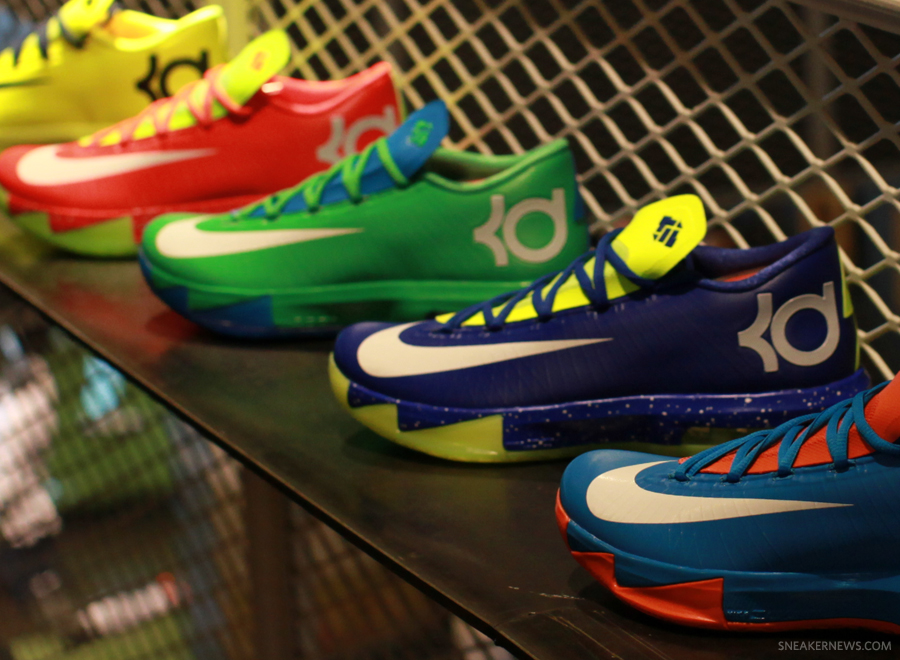 During the Nike KD VI Unveiling Event in Kevin's hometown of Seat Pleasant, MD, several news-worthy sub-plots emerged during the many pit-stops that were made during the two-day event. Just before lunch-time, we took a tour of Nike Georgetown, located in the heart of the city's buzzing shopping district; the top floor of Nike Georgetown is dedicated solely to basketball and Nike iD, and it was there that we were presented with a great info-session on the newest model on the Nike iD library. There are monumental expectations for the KD 6 iD , and the options both currently available and arriving later will ensure the Nike KD line as the best-selling and most dominant Nike Basketball shoe on iD.
Matt Brenner, Global Brand Manager for Nike iD, led the group through the basic details of the newest iD, revealing the upcoming "Chroma" option which is slated to release in August. "Chroma", which features an iridescent-like display, will burst into the scene in six color options, adding to the already impressive palette that boasts sixteen color options, two different Glow outsole colors, and much more. Brenner also revealed that the KD line is the best-selling basketball shoe on iD since the line debuted online, and is second-best overall! To close out this leg of KD VI Event, Nike presented each member of the media with a distinct KD VI iD design (ours is shown in the gallery). For more of the Nike KD VI iD Preview, view the gallery below.
The Nike iD KD VI is available now on Nike.com with an MSRP of $180.