Today marks the ten-year anniversary of the release of The College Droupout, the debut album from Kanye West that would be a precursor to a decade of dominance from the Chicago rapper. Yes, his name was known prior thanks to the stray mixtapes and production credits, but it was Dropout that introduced Kanye the character; the multifaceted music man who was equal parts brilliant and boisterous. As he's been prone to reminding the general public of late, Kanye's aims have always been broader than just music. The sneaker world in particular has felt his force-from that obscure Nike Air 180 that wore his bear logo to the frenzy of yesterday's surprise Red October release.
Gathered here are all of the sneakers that Kanye West has worked on over the years. Mind you we're talking individual silhouettes-so we're not running through every individual obscure Yeezy sample floating around. Also we're sticking to the shoes that he's credited with having a hand in-so his supposed help on the Giuseppe Zanotti line is omitted as well. What remains is a body of work that spans a number of brands and ranges from the luxury heights of his Louis capsule to the comparative everyman appeal of the Yeezy line. Continue reading to check out our College Dropout tribute in the form of this Kanye West sneaker history piece and tell us in the comments which pair you believe to be the most underrated.
Kanye West x Nike Air 180 – 2005-2006
Long before Mr. West was designing his own Nike silhouette he was getting exclusive colorways of one of the brand's classic models. This pair of Nike Air 180s was made after the release of his critically acclaimed first album to commemorate his success. The exact date that these were created remains unknown due to the fact that they were made just for the man himself, but they are believed to have been created some time between 2005 and 2006. Though the shoe was originally only intended to be made in one size 12 for Kanye, a few samples have popped up on eBay over the years.
Kanye West x Bape "Dropout Bear" Bapesta – 2006
In December of 2006, Kanye West saw his first collaboration sneaker release with the "Dropout Bear" Bapestas. Kanye has had a long history of supporting Bape, not only via wearing their apparel and sneakers throughout his career but even by showing up in a Bape look-book or two. The collab saw a very limited release, leaving many fans of the shoe empty handed but, along with the pairs that were floating around the web, quite a few pairs of the sought after Bapesta were available when RSVP Gallery opened in Chicago a few years back.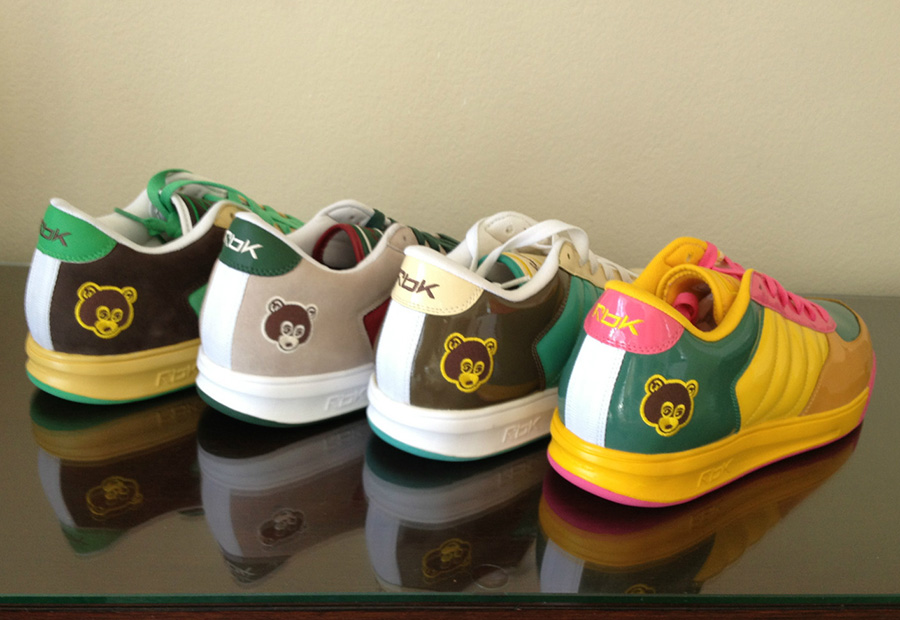 Kanye West x Reebok S. Carter – 2008
This 4 pair collection of S. Carters that featured Kanye's "Dropout Bear" branding on the heel, is almost certainly the collection on this list that flew under the most radars. Most didn't even know that it existed, even in the sample stage, until a promo set of the pack went up on eBay. Though the existence of this pack may have surprised some at first, considering the admiration that Kanye exclaimed for Jay Z on "Big Brother" and their other collaborations, one can understand how and why this collection was created.
Kanye West x Air Jordan 6 "Donda West" Promo Sample – 2008
Not much is known about this 2008 Jordan 6 promo sample. It was made to commemorate Kanye West's beloved mother Donda who passed in 2008, and features a predominantly white upper with a tattoo like design throughout the shoe.  Said design appears to be floral in nature-perhaps a posthumous connection between Donda's passing and the Late Registration track "Roses". These are not ever likely to release, but it is interesting to see what almost was.
Kanye West x Nike Air Huarache 08 "Glow in the Dark Tour"
Another pair that exists only as a sample. This Nike Air Huarache '08 is sort of ambiguous as far as how much input 'Ye actually had on the design process-what's more they don't actually feature any of his logos or markings. What they do feature is a fluorescent colorway made to match with the dazzling display that was his 2008 "Glow in the Dark" tour. Only five pairs are said to exist and believe us, they're not easy to come by.
Nike Air Yeezy – 2009
2009 marked the release of what is arguably Kanye West's most important collaboration to date. When Kanye performed "Stronger" and "Hey Mama" during that year's Grammy Awards, many were curious about the sneakers that Kanye was wearing which, according to the lasered swoosh on the side, was an unseen Nike silhouette. Soon after the performance had finished, it was revealed that Kanye was actually wearing his own signature model, which set the internet into a frenzy. After several months of speculation and rumors that the model would only be for friends and family of Kanye, it was announced that the Yeezys would see a public release. It was the first time Kanye ever crafted his own silhouette, and the limited release was met with hype and pandemonium. With several-day-long camp outs in many cities, and mystery online releases, sneakerheads and music fans alike were doing anything they could to get their hands on the shoes. Though many samples hit the web (both the shoes themselves and photos of them) only three colorways of the coveted shoe released to the public and each colorway sold out almost instantly. Soon after the release, pairs started popping up on almost every celebrity's feet and eBay prices started to sky rocket, moving from around $400 to the several thousand dollar mark. Even today, they are still some of the most highly priced and most sought after sneakers on the online resale market.
Kanye West x Louis Vuitton Don – 2009
Around the same time that the Air Yeezy fiasco was taking place, Louis Vuitton was prepping to drop a collection of their own with Kanye, complete with several models and colorways. Each model was named after someone in Kanye's crew who he thought that the shoe's design reminded him of. This particular model was named the "Don" after Kanye's manager Don C, who has his own legacy in the clothing world with his Just Don hats and RSVP Gallery which he founded. With the two most popular colorways of the shoe being the red and "Patchwork" pairs, the shoes also released in creme, grey, and black (Don't forget about the various additional sample colorways floating around).
Kanye West x Louis Vuitton Jasper – 2009
Named for his friend and barber Ibn Jasper (who has also had his fair share of experience in the apparel business), the Kanye x Louis Vuitton collection also featured this high top model. There were three colorways in the collection, the black suede pair, the creme pair, and the ever-so-coveted "Patchwork" Jaspers. While the black and creme pairs featured two straps on the upper, the "Patchwork" pair had a third, larger strap placed over one of the other straps as well.
Kanye West x Louis Vuitton Hudson – 2009
The final sneaker in the collection, the "Hudson," was named after G.O.O.D. Music artist Mr Hudson. The Hudson sports the most classic silhouette in the collection, looking much like a traditional luxury shoe. Not many Louis Vuitton retailers got the Hudson, and if they did it was usually in the white colorway, and even then they didn't receive many. There was also a "Patchwork" Hudson, of which there are very few pairs, and a black sample popped up on eBay a few months back.
Nike Air Yeezy 2 – Initial Release – 2012
It had been three years since the first Yeezy had released and people were beginning to wonder when, if ever, we would see the sequel to the highly anticipated shoe. One day, out of nowhere, a Nike Basketball "Black Mamba" promo video featured Kanye West wearing what the internet recognized almost immediately as the Yeezy 2. Again, the buzz began to build at an insane rate, with several rumored release dates and even more rumors that the Yeezy 2s would never release. After pictures of Kanye looking at the "Black/Solar Red" pair popped up, and after he wore the "Platinum/Wolf Grey" pair at the Video Music Awards, the release of both pairs was confirmed for the same day. The Yeezy 2 release was met with even more chaos than the first, with accusations that various stores were selling pairs to VIPs and raffles galore. Some Yeezy fans even entered raffles for shops in other cities, won, and then bought a plane ticket and flew to pick them up. Today, the shoes are still incredibly sought after and they are becoming harder and harder to find in deadstock condition.
Nike Air Yeezy 2 – Red October – 2014
This release deserves its own page because, at the end of the day, the "hunt for Red October" was one that was filled with so many twists and turns that it deserves to stand alone. Immediately after the first Yeezy 2 release, there were rumors that more colorways were on the way. After several months of waiting, pictures started to leak of an all red Yeezy 2 sample. More rumors circulated, but after Kanye wore the "Red Octobers" (a nickname given to the sneakers by Kanye himself) on Saturday Night Live, it seemed likely that they would release. Then, in a surprise move, it was announced that several pairs would be given away to people who purchased his album, though they would not ship until February of 2014. After the contest concluded and the winners were announced, Kanye started to voice his troubles with Nike on various radio interviews. Soon after, he announced that he would be leaving Nike for adidas, leading most to believe that the "Red Octobers" would never release. Then in the final twist, Nike yesterday threw an unexpected link on Twitter saying that the Nike Air Yeezy was available on Nikestore. While that was most likely the final Nike x Kanye West release, the story of the Red Octobers has taught us to expect the unexpected when it comes to this collaboration.
Kanye West x adidas – 2014
The most recent addition to the Kanye West sneaker collaboration saga is his announcement that he has teamed up with adidas. In interviews he has been singing adidas' praises, saying that the company has really allowed him to do what he wants and that the first day at adidas headquarters was one of the best days of his creative life. There is very little that has been announced about the collab, and very few rumors about it as well, the word is that we will see the first collection sometime this year. Are you excited to see Kanye continue his legacy with adidas? Let us know in the comments and stay tuned to Sneaker News for more.