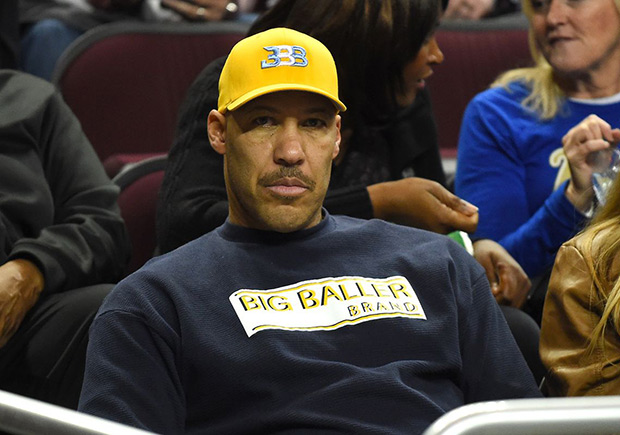 Never in the history of athlete endorsements has a highly-touted prospect like Lonzo Ball been rejected by the big sports apparel brands, and all of that blame lands on his father LaVar Ball. The elder Ball of the family clearly has high hopes for Big Baller Brand, the athletic apparel brand inspired by his three sons Lonzo, LiAngelo, and LaMelo. Nike, adidas, and Under Armour, the three giants in the industry, don't seem to agree. While there is interest in Lonzo as a brand athlete, they want nothing to do with LaVar's delusional business plans.
After it was revealed that Nike, adidas, and Under Armour all passed on signing Lonzo, LaVar was quick to defend his business strategy, comparing his Big Baller Brand to Uber, the multi-billion dollar app that revolutionized the taxi industry. Uber's success stems from the fact that it offered a much-needed user-friendly solution to an antiquated system, and what makes it extremely valuable is that the massive Uber community uses the app over a million times a day. Meanwhile Big Baller Brand offers a product with little to no demand at an inflated price, and the current state of the basketball apparel/footwear business doesn't instill any confidence in Lonzo's name being a huge success. Simply put, Big Baller Brand doesn't solve an obvious problem – it's only creating them for the people behind the name.
However, there is some merit to LaVar's big picture vision. By finding a true business partner instead of a traditional endorsee, LaVar and his sons will have a lot more control over their product and gain equity rather than a paycheck. The big challenge for LaVar is to find a business partner that will handle all the marketing, manufacturing, shipping, and customer service while paying the Ball family a massive fee to use Lonzo, LiAngelo, and LaMelo's likeness for profit. Right now, the Ball name isn't worth much, except as a punchline in a joke.
Above: Ahmad Rashad, Vin Baker, Ray Allen, Eddie Jones, Michael Finley, Michael Jordan, and Derek Anderson in Jordan Brand Press Conference 1997 (Photo via Slam)
As we mentioned in our previous article on how LaVar cost his son Lonzo millions of dollars, the only player worthy of that business model is Michael Jordan. Brand Jordan wasn't created until 1997, and by that time MJ was the greatest basketball player of all-time, winning multiple rings and MVP awards. The outlook on Air Jordans as a standalone brand was extremely promising thanks to MJ's success and the growing sneaker community, and it had Nike Inc. as a whole to act as a foundation. Lonzo might not even be the best player in this year's draft, and the Big Baller Brand business foundation is held up by a man who believed himself to be better than GOAT.
So, what are LaVar's options? He mentioned approaching the Chinese sportswear brands for a potential deal. Currently, the overseas brands represent B-Level NBA athletes and distribution in the United States is largely non-existent. The highest-profile athlete currently signed to a Chinese brand is Dwyane Wade with Li-Ning, and the market for the Way of Wade product line is much smaller compared to that of today's legitimate superstars in LeBron James, Steph Curry, Russell Westbrook, and others. It's possible one of the Chinese brands or even a smaller U.S.-based brand such as Reebok or even BrandBlack could step up and be the partner the Ball family is looking for, but to evaluate the Big Baller Brand business at $1 billion would be absolutely insane.
Above: The Starbury Highstepper, priced at $14.98
Another option is for Big Baller Brand to go the Starbury/Shaq route, a business model unflinchingly dependent on mass production, low price-points, and low profit margin. The only issue is that LaVar's family is far from being an established name as the aforementioned Stephon Marbury and Shaquille O'neal, despite the number of YouTube views the Ball brothers may have. Furthermore, the pricepoints for Big Baller Brand merchandise are currently higher than what Nike, adidas, and Under Armour have in place and the "super-affordable" route is perhaps not what LaVar is looking for. LaVar truly believes a t-shirt with a screen-printed BBB logo is worth $50.
LaVar could forgo partnering up completely and operate the business on their own. But the demand for Big Baller Brand product is insanely low, the prices are insanely high, and anyone inquiring about BBB product is likely doing so out of curiosity rather than purchase opportunity. Redditor princepeter1234 discovered that the bulk of Big Baller Brand's website visits all-time came in the month of February thanks to an article by Bleacher Report, and of the 430,000 site visits that came that month, just 7% led to click-throughs to product check-out. Only a fraction of that 7% likely followed through with a purchase.
Needless to say, this whole LaVar Ball saga is unprecedented. While his support for his sons is admirable, his delusions of grandeur are his worst enemy, likely costing his son Lonzo a multi-million dollar deal. Had Lonzo had a competent agent and/or advisor, he may already be announcing a shoe-deal with one of the big brands out of the gate. Sadly, LaVar believes that his business is, based on his $1 billion evaluation, is neck and neck with Jordan Brand, a label that took decades of unparalleled excellence to build.