100015
adidas Originals – ZX 500 + ZX 700 – March 2010
With this being the Air Jordan 1's 25th birthday, there's quite a bit of celebrating.  With all the hoopla, you probably didn't realize that the adidas ZX 700 is also a quarter-of-a-century old.  Here's a dope new pack of the 700 and its forebear, the adidas Originals ZX 500, both premium editions.  It doesn't get much cleaner than the tonal grey and purple ZX700s, and the 500s show you how a retro runner *should* look.  Jog over to your local adidas Originals retailer and grab em while you can.
ZX 700 – Grey/Purple
The ZX 700 first made an appearance in 1985 as a high mileage runner but quickly made an equally considerable impact in the style stakes.
Arguably one of the less technical silhouettes in the ZX family, this version takes takes the simpler silhouette and drops a  striking colourway that takes this into the realm of must have acquisitions. The upper is a predominantly grey suede with the use of a matching grey mesh on the toe box and behind the 3-Stripes for maximum breathability.
The traditional lacing system and ghilly system are also in matching grey while the whole upper is set off with pops of purple on the Trefoil tongue tag, heel tab and the reflective section of the toe box. The white midsole with sections of grey around the heel serves to keep the shoe in balance and finishes the shoe perfectly.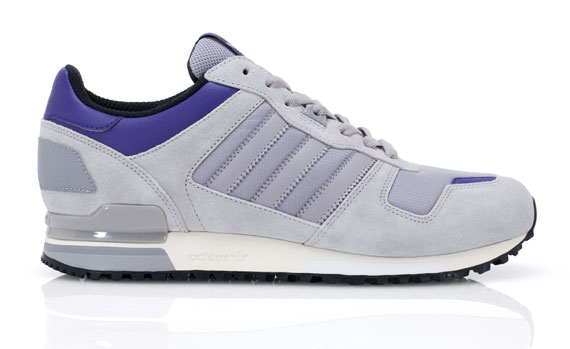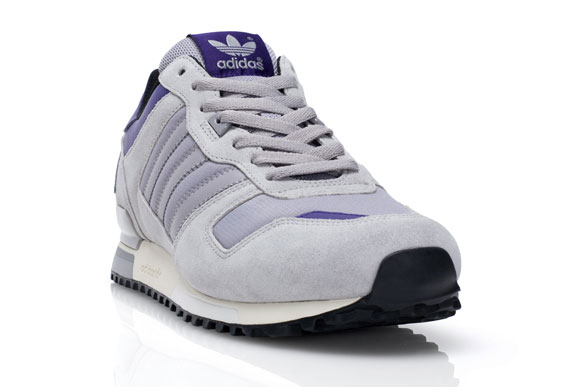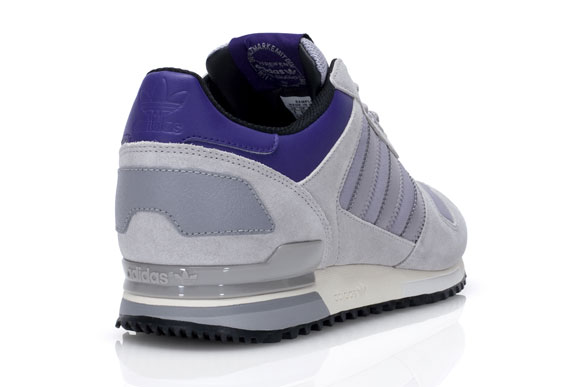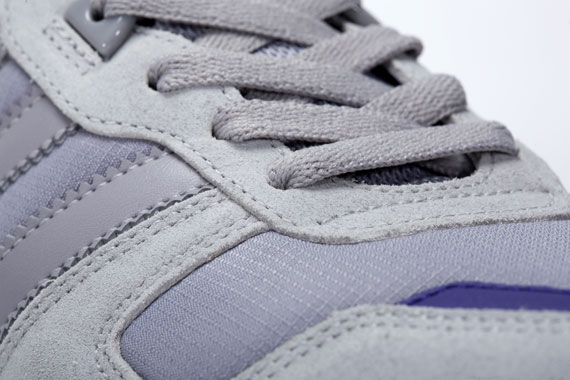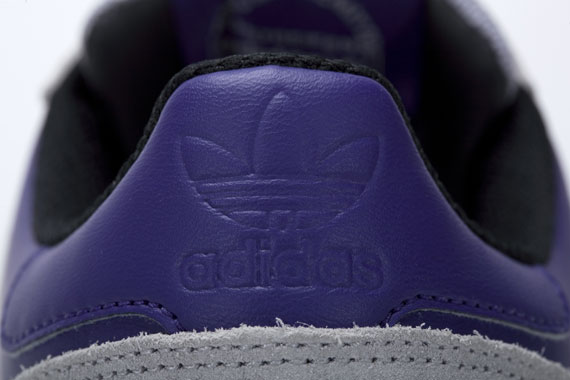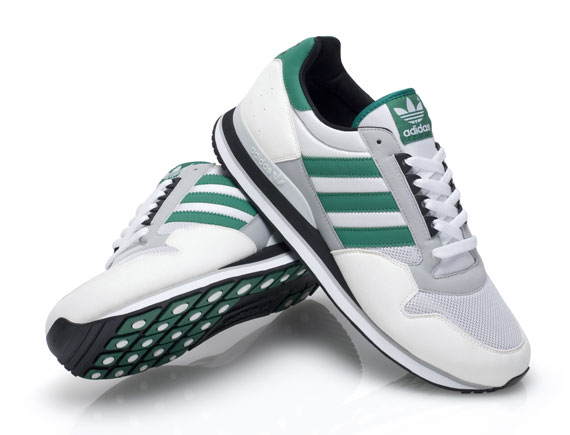 ZX 500 – White/Grey/Green
Originally designed as a high mileage training shoe, the Zx500 released in 1984 and featured a combination of Nylon mesh with suede reinforcements, serving to minimize the weight and maximize the breathability of the shoe. The streamlined silhouette and clean lines of the ZX500 means that it has remained a favourite amongst sneaker aficionados since it first dropped and striking makeups of the shoe still regularly appear more than 25 years after it appeared. This version is no exception and features a predominantly white upper with pops of Spearmint green and grey, a simple colourway that is further accentuated by thinking through the use of materials on the upper. The toe box is in white mesh surrounded with white leather that is also used with perforations on the heel of the shoe. The soft grey suede used on the lace stays matches sections of the midsole as does the associated black ghilly lacing system. The shoe is finished with the Trefoil tongue tag, heel tab with Trefoil and the ubiquitous 3-Stripes all in a cooling Spearmint green that sets off the grey and white perfectly.