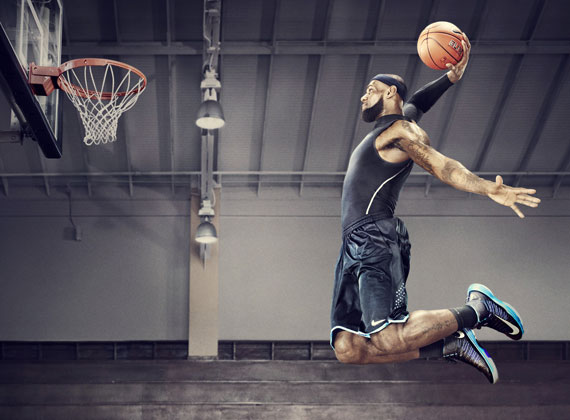 2012 is about making it "count", getting your rear into gear and itemizing every single movement of your body into athletic motion and putting it toward the greater goal of improving your overall self. The Nike+ program began by integrating a data-recording system for running, counting steps and heart rates for the serious runner, but for the serious basketball player, Nike+ now introduces a new technology to zero in on performance and movements specific to the sport by monitoring not only speed, but also vertical elevation and overall intensity of a workout through integrated technology at various data-gathering centers on the sole. Nike+ Training introduces a hardcore workout for the athlete with purpose; with specific programs consisting of a series of short, sharp workouts designed for maximum fitness, speed and strength, each modeled workout is demonstrated on-screen to provide guidance and motivation – like a futuristic virtual personal trainer. The results from each day's workout are then delivered right to your phone where you can keep track of your progress and even share and compare your data with friends and others via social media.
Nike+ Training will be introduced by Mark Parker with some of the world's premier athletes who have succeeded at the highest levels of their sports like all-world boxer Manny Pacquiao, Superbowl Champion Victor Cruz, and world-class sprinter Allyson Felix. The new Nike+ technology was summed up best by LeBron James, who will wear the shoe this summer in the Olympic Games: "Giving every player access to this level of information will have a huge impact on the way players train and play the game." There's nothing like a little motivation through self-improvement to take your game to the next level, so being able to gauge your daily output in tangible numbers provides a revolutionary innovation in the world of sports training that's sure to pay dividends for those who take advantage. The new Nike+ technology will be featured in the entire Nike LunarLon+ Collection, which includes the Nike Hyperdunk+, the Lunar Hyper Workout+ and Lunar TR1+, all of which will release on June 29th. Stay tuned for an event recap of the unveiling of the new Nike+ technology and let us know your thoughts on this new state-of-the-art advancement!
New York (February 22, 2012) – NIKE, Inc. today unveiled Nike+ Basketball and Nike+ Training, two new experiences connecting digitally enabled footwear with interactive mobile applications that together deliver a revolutionary sport experience. First unveiled for running products in 2006, NIKE+ has grown into a community of six million digitally connected athletes and is set to expand with the recent launch of the NIKE+ FuelBand, a wrist-based device designed to track everyday activity.
The new Nike+ Basketball experience breaks down the user's game to deliver information and measurement, which in turn provides motivation. Nike+ Basketball measures how high, how hard and how quick players play each game.
Nike+ Training transforms a daily workout from a necessity to something fun. The experience fuses the appeal of gaming with high-intensity fitness to create the perfect training companion to a 24/7/365 lifestyle.
The technology in both experiences utilizes a new Nike+ Pressure Sensor built into each shoe that collects information about the user's movement and then wirelessly transmits data to their phone. It is then translated into different metrics delivering previously unknown information about either their workout or their game.
NIKE, Inc. President & CEO Mark Parker unveiled the new NIKE+ technology at an event in New York attended by U.S. sprinter Allyson Felix, Super Bowl Champion Victor Cruz, and boxing world champion Manny Pacquiao.
"NIKE+ allows us to connect the physical world of sport with the social elements of digital to create a better sport experience for every athlete," said Parker.  "It's about much more than a shoe.  It represents a shift for NIKE from product, to product + experiences."
Nike+ Basketball measures how high, how hard and how quick players play the game via the 'Track My Game' mode. The NIKE+ enabled basketball shoes track information on every movement during the game and deliver back information to the user, giving them a basis from which to improve. Messages from Nike Basketball players and coaches provide motivation when goals are reached. The experience also offers 'Showcase' mode, a feature that allows players to record a dunk and superimpose their live data on the video, which can then be shared with their friends via social media.
"I think Nike+ Basketball will change the game," said LeBron James. "Giving every player access to this level of information will have a huge impact on the way players train and play the game."
"When you're growing up and playing the game of basketball, your friends are your competition," said James. "Young players will be excited to track their stats to earn bragging rights or showcase their best plays on video.  They'll be anxious to get back out on the court to improve their stats."
Nike+ Training is designed to turn working out into a game. Featuring insights from some of the world's top athletes including Rafa Nadal, Manny Pacquiao, Allyson Felix and Hope Solo, the Nike+ Training experience makes elite level training available to everyone.   
The programs consist of a series of short, sharp workouts, designed to help users get fitter, faster and stronger. Each workout is demonstrated on-screen to provide detailed guidance and motivation. During each drill or challenge data and feedback on the workout is delivered to the user's phone via the Nike+ Training mobile app. Daily programs can be created based on how hard the user wants to train, and the app provides a digital community to share each day's workouts and challenges with.
Workout statistics can be shared and compared with friends via social networks allowing users to challenge each other and compete to top the Leaderboard.
The first NIKE+ enabled Basketball shoe will be the Nike Hyperdunk+ which will be worn by LeBron James this summer.
The first NIKE+ enabled Training shoes will be the Lunar Hyper Workout+ for Women and the Lunar TR 1+ for men.
All three shoes to feature the new NIKE+ technology are part of the Lunarlon collection, which combines advanced NIKE Flywire technology with a sports specific NIKE Lunarlon cushioning system.
All styles of the NIKE+ enabled footwear will be available and at retail June 29, 2012, in the US, UK, France, Germany and Mainland China.