Updated: October 17th, 2012
The Air Jordan XI 'Bred' is getting a retro release in 2012, arriving right around Christmastime as the now-annual Air Jordan XI release. The pair is an OG colorway, originally released in 1995 and having been subsequently retrod in 2001 and 2008. The release marks the first time in over a decade since the sneaker has been available by itself, the aforementioned 2008 release being packaged with an Air Jordan XII as part of the 'Countdown Pack' series. Stay with us after the jump for full photos and info on the Air Jordan XI 'Bred' 2012.
Color: Black/Varsity Red-White
Style: 378037-010
Release Date: 12/2012
Price: $185
—
Updated May 8th, 2012: Air Jordan XI + IV 'Bred' – Increased Prices For Holiday 2012
Reports of an increased retail price of the Air Jordan XI Retro arrive.
Updated May 9th, 2012: Jordan Brand Clears Up Holiday 2012 Retro Price Hike
Official word arrives the the Air Jordan XI 'Bred' 2012 will be sold at an MSRP of $185.
Updated July 23rd, 2012: Air Jordan XI 'Bred'
The first look at the 2012 Air Jordan XI 'Bred' arrives.
Updated September 27th, 2012: Air Jordan XI Black/Red – Detailed Images
Sneaker News gets a first hand look at the Air Jordan XI 'Bred' 2012 and brings back an exclusive photo set.
Updated October 10th, 2012: Air Jordan XI Retro "Bred" – Detailed Images
Our most detailed set yet of Air Jordan XI 'Bred' 2012 images.
—
For the original post from March 8th, 2012, please see the next page.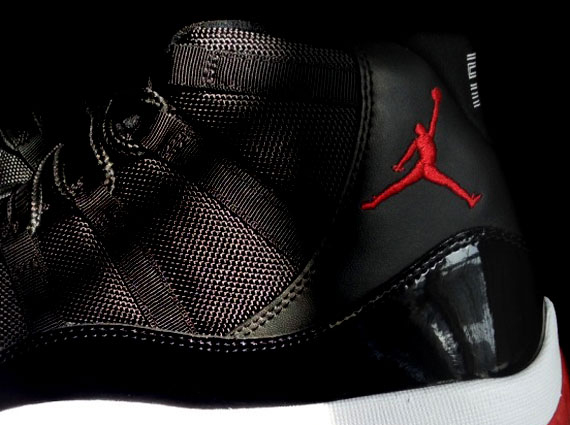 With the trend of December releases of Air Jordan XI Retros, many pointed to the Columbia or the Black/Red as the 2012 Holiday release. Of course, that was just conjecture at the outset, until the 'Columbia' was all but confirmed for a Christmas 2012 release, but it appears things will get a bit more interesting. Also confirmed for a Holiday 2012 release is the Air Jordan XI 'Bred' – the quintessential and indomitable Chicago Bulls colorway that Michael rode to an astounding 72-10 finish and MVP trifecta in the '95-'96 season. The 'Bred' XI was last seen in stores in December of 2008 as part of the Collezione package, but if you're still fishing around for a pair, rest assured that the Bred XI, according to CK, will make a return toward the end of 2012. Does Jordan Brand have some sort of insane schedule or Air Jordan Retro releases for December? Back to back releases of the Columbia and Black/Red? How about a potential Columbia/Bred Pack? We'll keep you updated on the Air Jordan XI 'Bred' 2012 Retro, but if you're still hunting around for a pair, there are plenty of the CDPs available right now, like this crisp pair from 11paypay11 on eBay.
Air Jordan XI
Black/White-Varsity Red
378037-101
Holiday 2012
$180