Did you catch the first installment of Sneaker News: Was It The Shoes? We happily revisited the legendary story of Michael Jordan's first return to Madison Square Garden after his first come-back, scoring an astounding fifty-five points in what would be one of his greatest in-game performances ever – all while wearing the Air Jordan X 'Chicago'. We continue Was It The Shoes? with another scintillating story that doesn't have much to do with in-game performance, but in-game apparel; Michael Jordan, who made #23 a legend and #45 infamous, also wore the #12 jersey for one game. Read up on this latest Michael Jordan moment by finding out when and why he wore this number (as well as the kicks he had on during the time) with tonight's installment of Was It The Shoes? below!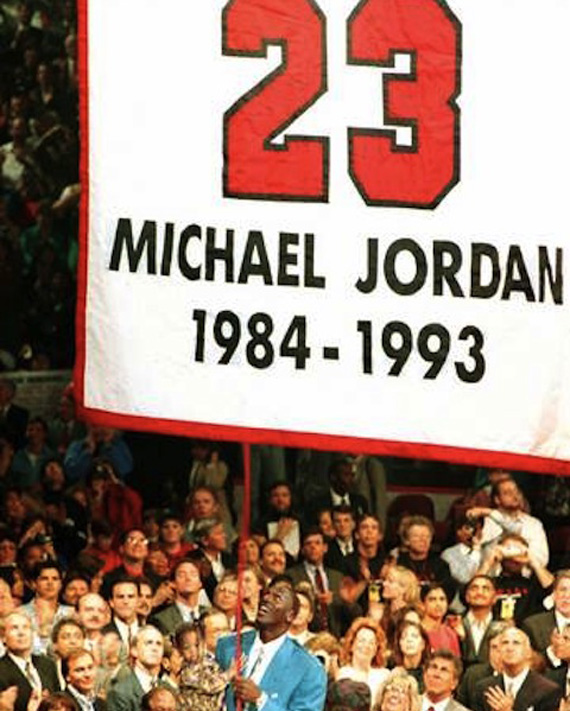 The number 23 has become more than a jersey number. It's a number that became an adjective, used to describe anything spectacular and absolutely perfect and nearly impossible to duplicate. If you're wearing the #23 on your jersey, you better live up to the billing or be prepared for the backlash if your game is anything short of Jordan in Game 6. It's undeniably the holiest of digits in professional basketball and arguably all of sports, and the debate of whether the NBA should implement a league-wide retirement of the #23 still continues today. But before we get into the #12 and how this oddity came to happen, let's take a closer look on why and how '23' came to play.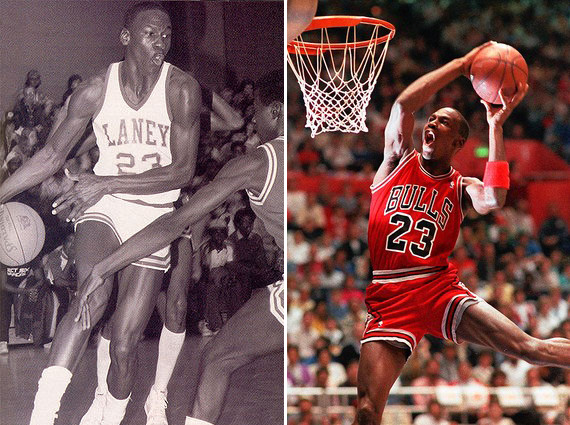 In his youth, Michael Jordan absolutely admired his older brother Larry. He was a basketball standout and Jordan's senior teammate in High School, and Michael believed he had possessed only half the skills of his older brother. Larry wore the number 45, so Michael decided to chop that figure in half and round up, resulting in the number 23. Of course, Michael would go on to cement '23' into the stuff of legends, although he did wear the number 45 when he came back from retirement in the Spring of 1995 as well as the number '9' in International play in 1984 and 1992. However, somewhere in-between, Michael actually wore another number for just one game in an oft-forgotten and wildly entertaining piece of Jordan history.
On February 14th, 1990, the Chicago Bulls were visiting the Orlando Magic for a regular-season matchup that came just a few days after the 1990 NBA All-Star Game. During the All-Star Game, some media attention was grabbed by an apparent theft that transpired in the Eastern Conference All-Star Locker Room, where a crook (yet to be apprehended) swiped Reggie Miller's jersey from the room. Just a few days later, a 'copy cat' of sorts would do the same to Michael Jordan's jersey at Orlando's O-Rena; immediately the security locked the place down, sealing off the building at 6:00 PM and searching all employees. The jersey was never found, so club officials actually searched game attendees in a stand for a jersey for Michael to borrow, but the lone '23' was worn by a kid – too small for Michael to wear.
With no options available, Michael was issued a #12 jersey for the game. The jersey featured no name on the back, and where that 12 jersey came from still remains a mystery as no other player on the Bulls roster at the time donned that number. Perhaps the Bulls had a traveling seamstress with them? It would make some level of sense, as the number 12 is the rounded-up figure of half of 23 (how Jordan arrived at 23 from 45 in the first place), but that's all conjecture (a creepy one at that). The number didn't seem to hinder Michael much because he was still the Michael that was expected – 49 points (not surprisingly, a record for a Bulls player wearing #12) and seven rebounds – but the Bulls would go on to lose that game in OT. Unfortunately for MJ's fans in Orlando, Michael's displeasure spilled over after the game as he vowed to not sign any autographs that day.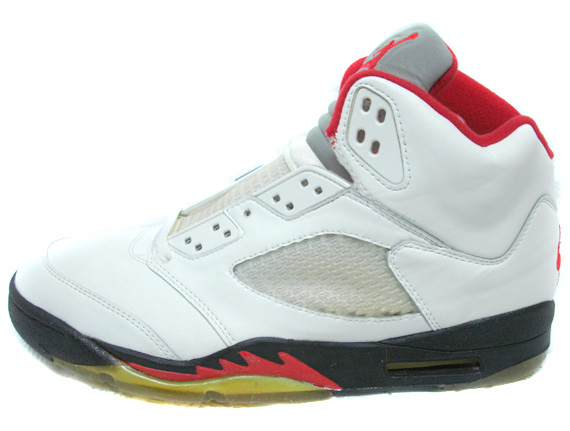 So what was Michael wearing during this memorable night? The Air Jordan V, of course. The Air Jordan V actually made its worldwide debut just days prior when Michael graduated from the Air Jordan IV to the V at the 1990 NBA All-Star Game, and that fateful night in Orlando a few days following was just the second time Michael wore the White/Black/Fire Red colorway. The Air Jordan V 'Fire Red' released once again in 1999 without the '23' stitched on the side, and again in 2008 as part of Collezione Package in its original form (with the Jumpman logo). News of another release in 2013 has also been reported.