348983
Sneaker News Weekly Rewind: 8/18 – 8/24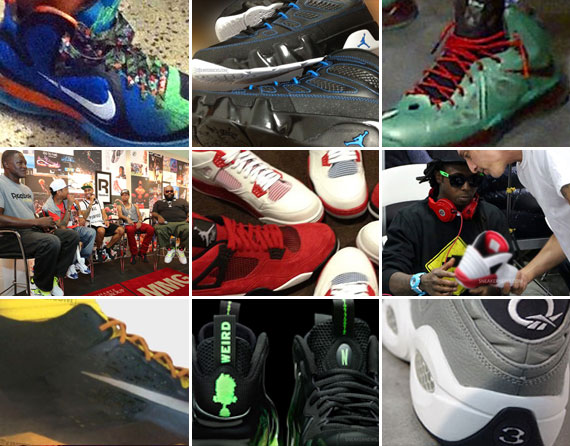 As we push closer to the official re-start of school for students everywhere, the Sneaker News headlines only seem to be getting hotter and hotter! First off, Carmelo Anthony flexed his Jordan Brand connections as he flaunted three sick PE colorways of the Air Jordan IV. The Air Jordan XII got some extra love this week with our special feature on PEs, which included Ray Allen, Gary Payton, and some other players you might've never known had their very own pair. The LeBron X maintains its spot in the headlines as we get a first look at the China/Jade colorway, while sports media outlets begin to debate the $300+ Nike LeBron shoe. The 'Pearlized Pink' Foamposites finally get a release date (Black Friday, y'all), the Zoom Kobe VIII story begins to slowly unfold, and Nike SB brings back the Challenge Court in a great video with Nike SB rider Gino Iannucci and Nike Tennis legend John McEnroe. Gino's fellow Action Sports athlete Danny Kass copped a couple of Bespokes this week, while the 'Gold Medal' Air Force 1 Low was unveiled as the next installment of the AF1-XXX Collection.
One of the biggest events of the year for streetwear and kicks went down this week in Vegas, and Sneaker News brought you all the relevant news from Reebok and Supra as well, like the return of the ES22 and Kamikaze II, and a first look at Lil' Wayne's signature shoe. The NBA Season is nearing a start as the 2012 Rookies dressed up for Media Day 2012. The Ewing 33 Hi has been a popular pick with celebrities as Pusha T rocked both late-August releases during his live performance, while Sneaker News took a look back at Derrick Rose's sneaker history. Vans makes some noise with an incredible advertisement, the Reebok Question continues to gain steam with Iverson-centric releases, and a great video on 'sneaker collectors' rings a familiar bell. Finally, collaborations were in focus for Classics Revisited, as we take a look back at amazing sneaker creations from names like Stash, Stussy, and ESPO. More of Sneaker News Weekly Rewind is just ahead, so take a look!
THIS WEEK IN AIR JORDAN NEWS
Carmelo Anthony gets us green with envy as he shows off some Air Jordan IVs, the XIII is due for a big return next year, and an upcoming Air Jordan IX goes through a major mistake over at the Jordan Brand factories in China!
CONTINUE TO:

—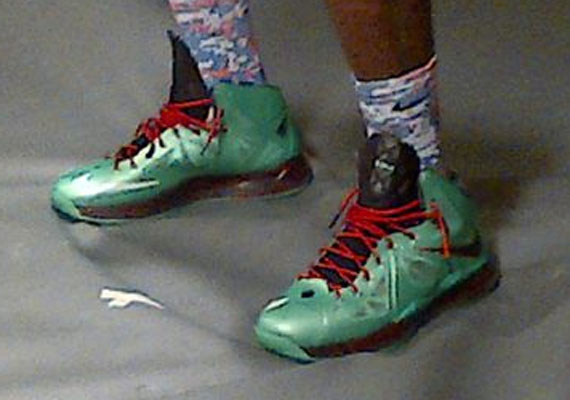 A first look at the LeBron X 'Jade', new shots of the "What The LeBron", and some interesting debate regarding the price of the X+ tops this week's LeBron news.
CONTINUE TO:

—
THIS WEEK IN FOAMPOSITE NEWS
A release date for the "Pearlized Pink" Foams is confirmed while the upcoming Galaxy Rookies have a slight twist to 'em.
CONTINUE TO:

—
Low-cut, System-based. A first look at a Kobe VIII prototype.
CONTINUE TO:

–
LIL WAYNE x SUPRA CHIMERA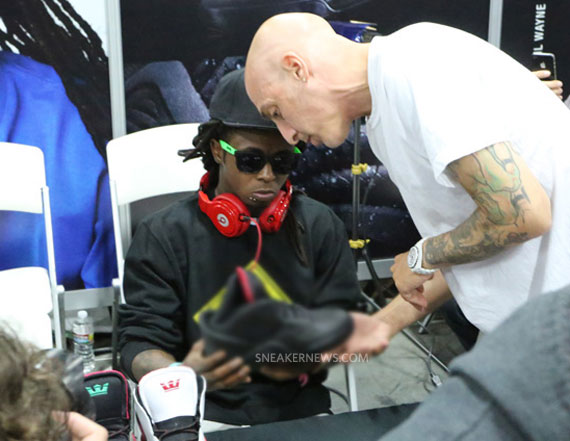 Lil' Wayne representing Supra out at Project Trade Show LV – cop a first look at his upcoming signature shoe!
CONTINUE TO:

–
THIS WEEK IN REEBOK CLASSICS NEWS
Reebok made a heroic splash at the Project Trade Show in Vegas, and Sneaker News brought a detailed look at some upcoming Retro releases.
CONTINUE TO:

–
THIS WEEK IN NIKE SB NEWS
The Challenge Court returns in SB form and the SB Dunk 'Tiffany' gets re-released…sorta.
CONTINUE TO:

—
THIS WEEK IN NBA FEET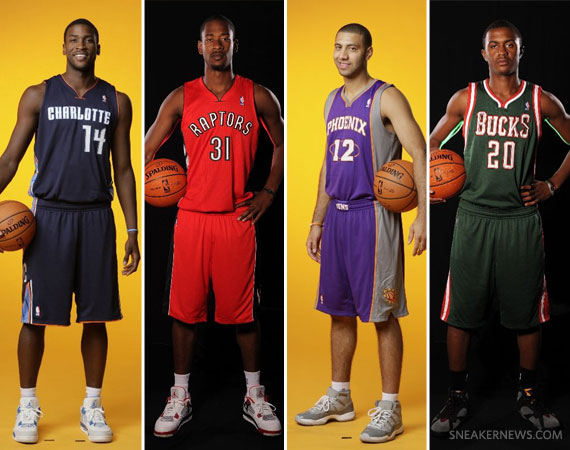 The NBA Season is set for a return soon, as the rookies are outfitted and photographed for Media Day!
CONTINUE TO:

—
THIS WEEK IN CELEBRITY FEET
Pusha T in Ewings, Paul George on a skateboard, and J.R. Smith displaying his Jordans in a strange manner. Check all of Celebrity Feet below!
CONTINUE TO:

—
THIS WEEK IN REEBOK QUESTION NEWS
Several enticing Reebok Questions are due up for a release, but peep the detailed look at the Burn Rubber collaboration.
CONTINUE TO:

—
THIS WEEK IN AIR FORCE 1 NEWS
Nike's action-sports athlete Danny Kass cops two Bespokes while Nike unveils the latest of the AF1-XXX Pearl Collection.
CONTINUE TO:

–
THIS WEEK IN VANS NEWS
Vans puts together an awesome video for its Carhartt collaboration, while the Vault opens up for 3 great Sk8-His in Italian Leather.
CONTINUE TO:

—
SNEAKER COLLECTORS VIDEO
This peek into the life of a sneaker collector might be all too familiar for you!
CONTINUE TO:
Sneaker Collectors Video by The Thrash Lab

—
THIS WEEK IN AIR JORDAN PE'S, OG'S & SAMPLES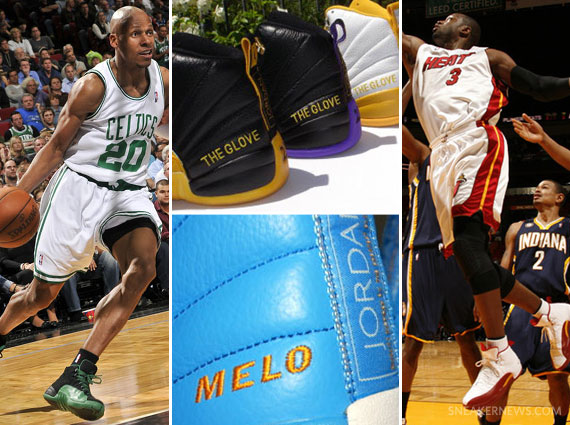 Sneaker News focuses on the Air Jordan XII in this week's major PE spotlight!
CONTINUE TO:

—
CLASSICS REVISITED:  NIKE COLLABORATIONS WEEK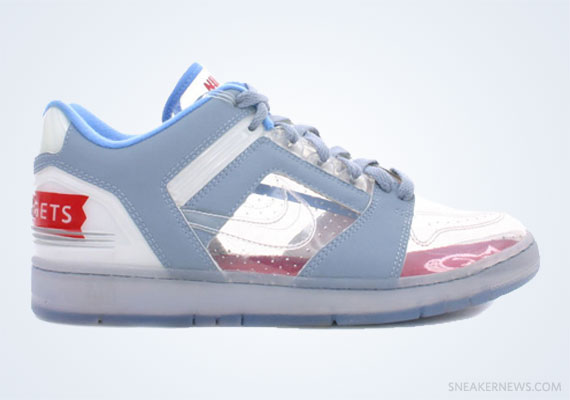 Collaborations galore: check out five awesome team-ups that deserve some nostalgic reminiscing.
CONTINUE TO:

—