359973
Michael Jordan Scores 63 Points Against the Boston Celtics
What sort of emotions run through a man's head when he's sitting on top of a gold mine, but doesn't know it? The answer would simply be "nothing", but the '86 Boston Celtics and the Home crowd at the Boston Garden during Game 2 of the First Round match-up between the Celtics and the Chicago Bulls. For tonight's feature of Sneaker News: Was It The Shoes?, we'll focus on Michael's "coming out" party – a performance that some call the greatest game ever played in NBA history.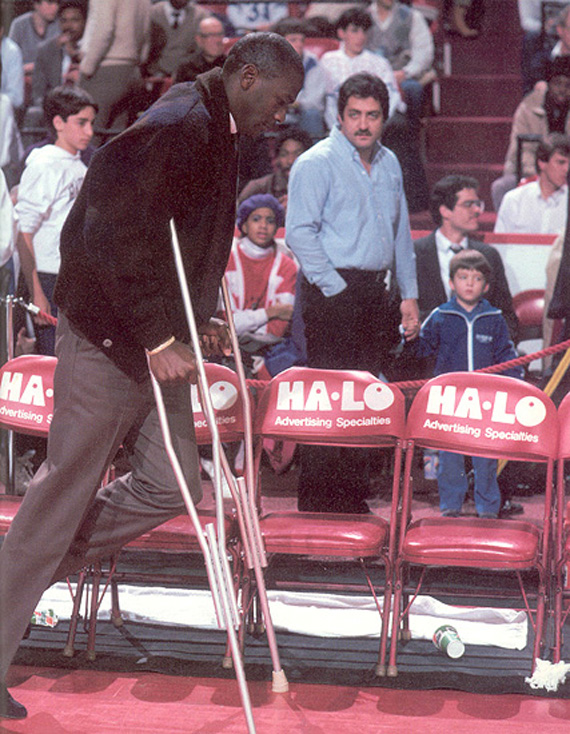 Before we discuss Jordan's Game 2 performance, let's take a quick look at what went down that season. To be brief, there wasn't much to talk about, except a broken foot that forced him out in the middle of the Bulls' 3rd regular season game. A broken foot was the culprit, and Chicago Bulls Front Office executives intended to shut Michael down for the entire season as a precaution. After sixty-four missed games, Jordan returned to the Bulls roster and played limited minutes off the bench, but eventually made it back to the starting line-up with just one week of regular-season games to go.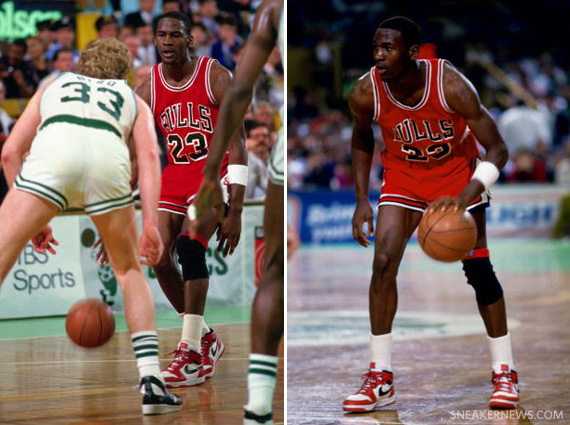 A first-round match-up against the Boston Celtics was what lied ahead for the Bulls. To put it flatly, the Bulls didn't have a shot against that Celtics team, which included Larry Bird, Kevin McHale, Robert Parish, Dennis Johnson, Danny Ainge, Bill Walton. The Celtics eventually won the NBA Finals that season, but perhaps it was Michael's performances that whipped them into shape (the Celtics lost in the Finals the season before). Game 1 was on April 17th, and Michael hit half his shots and missed just two free-throws, totaling an amount of 49 points. That was Michael's second best game of that Series.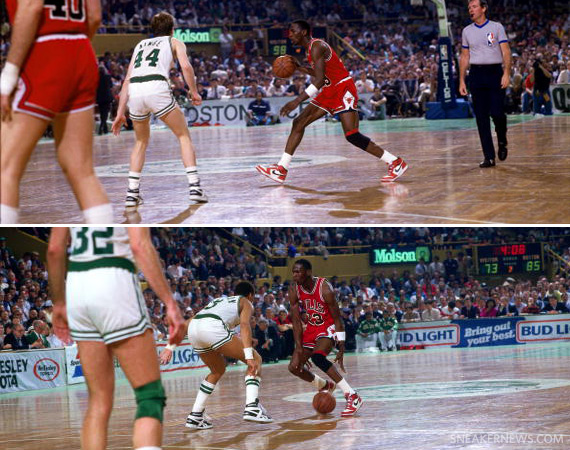 Game 2 rolled around and it was clear that for the Bulls to win, Michael would have to carry the entire load. In a thrilling double-overtime game, Jordan scored 63 points, hitting 22 of 41 shots and 19 of 21 free-throws. Throw in five rebounds, six assists, three steals, and two rebounds, and you have what is likely the greatest Playoff Game ever played. Some will argue that Jordan's Flu Game in '97 or Magic Johnson's Game 6 performance in the 1980 Finals was better, but in terms of carrying an entire team and putting up a relentless fight, Jordan's 63 in '86 can't be beat.
Just take it straight from Larry Bird, who was one of many Celtics who couldn't check Jordan in either of the first two games: "I didn't think anyone was capable of doing what Michael has done to us," Larry Bird said afterward. "He is the most exciting, awesome player in the game today. I think it's just God disguised as Michael Jordan." You heard that correctly; arguably the best player in the game at the time called a second-year player coming back from a major injury God. Of course, Bird was right – Jordan went on to win six titles and a smorgasbord of other accolades.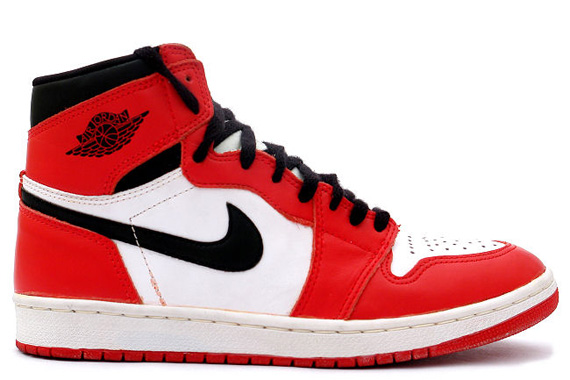 The shoes: the Air Jordan 1. Wherever Michael was maneuvering around the court, the flashes of red and white were seen. In fact, what makes these shoes extra special and perhaps had more of an effect than any other shoe Jordan wore for any other game, is that his Air Jordan 1s featured special harnesses to better protect Jordan's healing foot. Better safe than sorry, but apparently a healing foot isn't much of an obstacle to score 112 points in two games. Nike re-issued this colorway in 1994, and Jordan Brand has plans of re-releasing them in 2013.