373041
Sneaker News and Stefan Janoski Design a Nike Janoski iD
The Nike Stefan Janoski is a wonder-shoe. It has transcended the sport of skateboarding and evolved into arguably the most ubiquitous signature sneaker Nike has ever created, but the best part about this massively successful sneaker is that you probably wouldn't recognize the guy these were made for – even if he skated right by you on the street. That's how the Vacaville, CA native probably likes it; he enjoys hopping to and from the local establishments, dabbling in photography, and honing his craft in Williamsburg, Brooklyn, where he transplanted himself to three years ago to be with a special lady (no worries – they're engaged now). Stefan's amicable and disarming down-to-Earth attitude forced us to forget that he's in fact a member of the most exclusive fraternity of professional athletes in the world and enabled us to spend the evening like it was any other hump-day – catching up on life with friends while filling ourselves with good food and drink. With his passion for his shoes and excitement behind Nike iD, we teamed up to create a Janoski iD design that were both proud of.
Back in July, Nike iD introduced the Janoski pro-model to the line-up of customizable shoes, essentially extending the life-span of the three-year-old model to further depths. The Janoski iD gives consumers the opportunity to DIY the topsider-inspired skate shoe with premium materials and color options; suede and distressed leather are currently the two sole options for the upper (with the ability to mix and match the toe and upper), with a color palette skewed toward street-sensible tones like dark reds and browns.
But with so many outstanding colorways of the sneaker already available at skate-shops and other select Nike footwear retailers, we felt compelled to give this design a twist and bring a personal story to life by choosing a configuration that represented our home city of NYC. Our goal was to show some love to an oft-overlooked landmark of Ellis Island – a signifier of the rapid growth and unmatched diversity of New York City; the simple colorway was based on a tonal Team Red suede upper (a tribute to the brick-red buildings that are scattered on the island), Dark Atomic Teal laces (a nod to the lush trees that cover the area), and a solid gum outsole (a representation of the solid earth beneath the buildings and trees). A quick reference to the Statue of Liberty comes in form of the Mint outsole, finishing off the intricate NYC-inspired composition without fail. Our completed design not only allowed us to tell a personal story through the iD process, but confirmed the Janoski as the next great Nike iD shoe while making the experience entertaining from beginning to end. For a first-hand insight into our evening with Nike and Stefan and our creation of the Nike Stefan Janoski iD "Ellis Island", flip through our gallery below.
The Nike Stefan Janoski iD is available now on Nike iD for $115.
To read our October interview with Stefan Janoski, click HERE.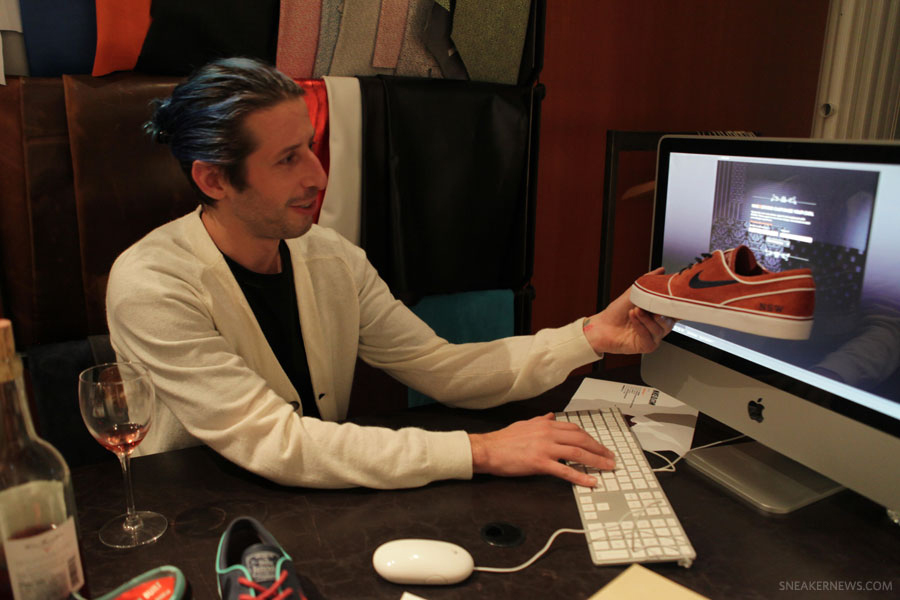 Stefan holds up a pair of sample Janoski iDs as we prepare to run through the design process on Nike iD.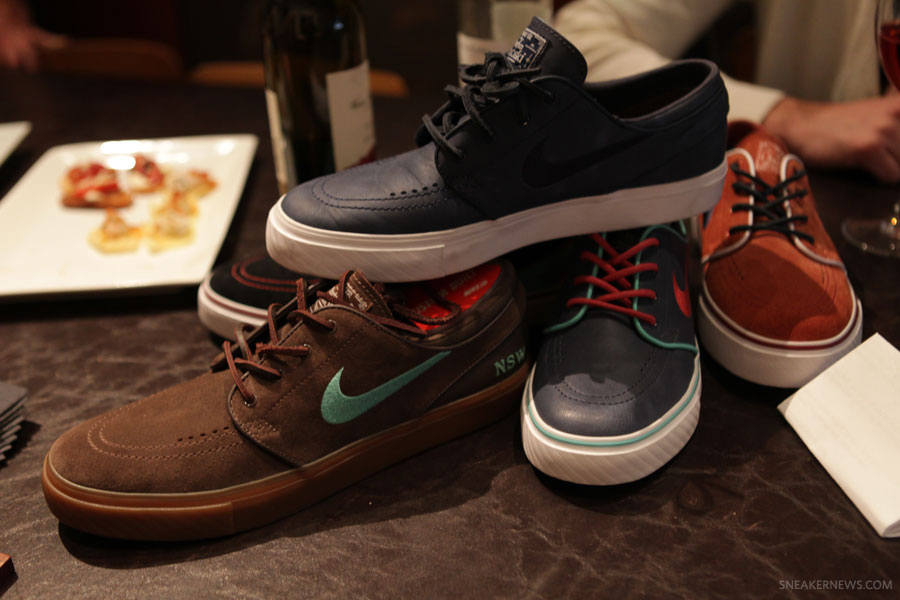 A collection of Nike Janoski iD samples sits above the leather-bound workspace, with Stefan's own design placed on top of the pile.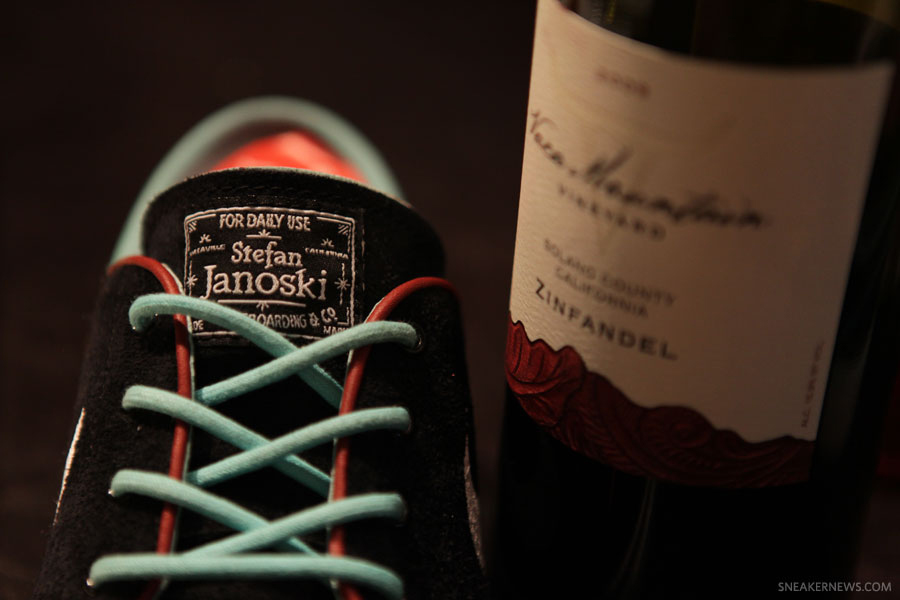 For Daily Use: While catching up since we last met in October, Sneaker News and Stefan sipped on some wine made from grapes grown by Janoski's father.


Brown suede, gum soles, and a hint of mint green: this sample pair of the Nike Janoski iD displays the versatility of the shoe – for skate and lifestyle.


What's in the box? Nike hooks us up with a limited-edition Wino tank-top, stained with actual red wine. A mere six units were handed out.


Wine and sneakers: A perfect way for Sneaker News and a Nike signature athlete to spend a quiet Wednesday evening.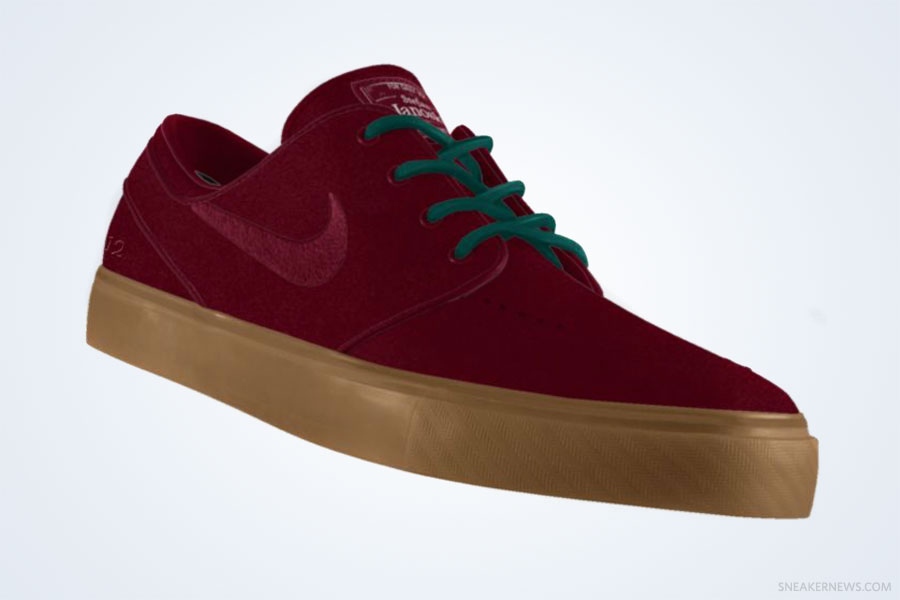 The final result: the Nike Stefan Janoski iD "Ellis Island" by Sneaker News and Stefan Janoski.
Many thanks to Joseph Teegardin.