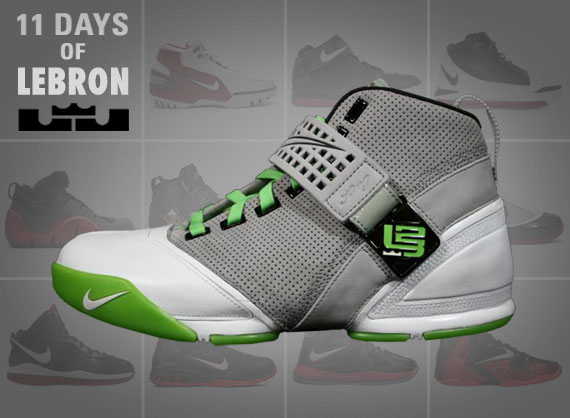 Day 5 of Sneaker News' 11 Days of Nike LeBron series is here, which means it's time to take a look at the Nike Zoom LeBron V that released six years back. The chunky height reached by the likes of the Nike Zoom LeBron IV was dialed back quite a bit-weight was shaved off, the silhouette in total was a bit slimmer, and the the Foamposite sections were gone. The shoe was littered with personal details pointing to the journey of James from the strap across the upper alluding to the militate he utilized for childhood basketball games to the Akron details slid underneath the sneaker. But as much as the shoes pointed to his past, they also referenced his present through the regal gold sections and crown logos.
Read: 11 Days of Nike LeBron
2007's Nike Zoom LeBron 5 was also a sneaker that spread the special colorways out further than ever before. All of a sudden schools were getting blessed with their own colorways; The Chosen One's alma mater of St. Vincent-St. Mary had their own pair, as did his hometown Ohio State – a school that continues to get the special spotlight today. Overall the Nike Zoom LeBron V may not have been a universally loved model, especially in the wake of a design so strong as the Nike Zoom LeBron IV. But nonetheless, it was a crucial stepping stone for LeBron's line and one that helped the Nike Basketball brain trust figure out what did and didn't work with respect to their most promising of athletes. Look below for a collection of the most memorable Nike Zoom LeBron V pairs and check back tomorrow for the next installment from our 11 Days of Nike LeBron series.