The SWEET 16 Round of the Sneaker News March Madness Nike LeBron Tournament continues with the WEST region serving up two great match-ups. The LeBron 10 "Cork" leads the pack as the #1 seed, but there are four big-ticket sneakers here that have plenty of ammo to defeat the competition en route to the Final Four. Vote now to ensure your favorite LeBron gets the recognition it deserves, and remember that voting for the Sweet 16 Round will remain open until Sunday, March 30th at 11:59 PM EST.
CLICK BELOW TO VOTE. VOTING IS OPEN UNTIL MARCH 30, 11:59 PM EST
MATCHUP #1 – Winning the Finals, or celebrating a Birthday? The WEST region begins with this interesting match-up involving the LeBron 10 and LeBron IV.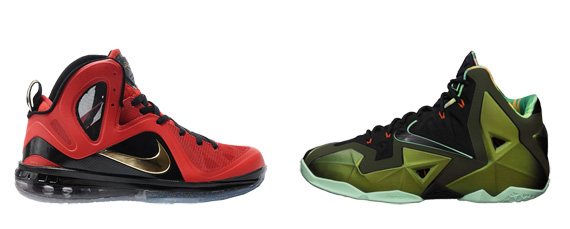 MATCHUP #2 – This battle can go either way, with the super-limited LeBron 9 Elite "Championship" going up against the widely popular "King's Pride".