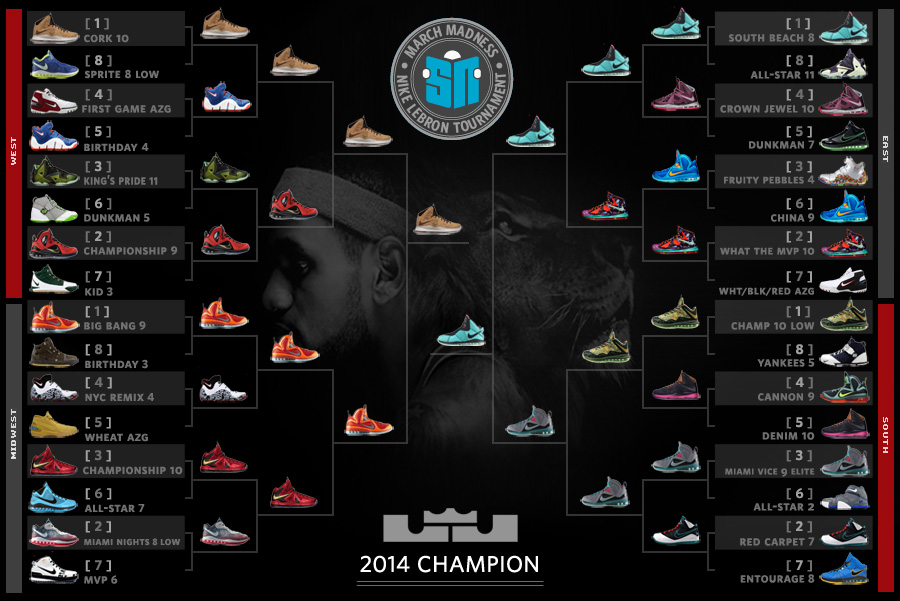 Tonight, the sporting world will crown a new champion in sports as the final game of the NCAA March Madness tournament will go down between Kentucky and UConn. Here at Sneaker News, we've got a significant match-up going on too – the Championship Round of the Sneaker News March Madness Nike LeBron Tournament. In this ultimate battle between two great LeBrons, one victor will arise as the best LeBron to ever do it. So which will it be? The LeBron 10 "Cork", which celebrated LeBron's greatest achievement as a member of the Heat, or the LeBron 8 "South Beach", the shoe that marked the new era for King James? Vote below if you've got an opinion and stay tuned as we will reveal the crowned champ of the 2014 March Madness Tournament on Wednesday.
VOTING IS OPEN UNTIL TUESDAY, APRIL  8th at 11:59 PM EST
CLICK BELOW TO VOTE
CHAMPIONSHIP ROUND – We've reached the final round of the Sneaker News March Madness Nike LeBron Tournament, and we've got a match-up for the ages. On one corner is the Nike LeBron X "Cork", which acted as a tribute to LeBron James' first NBA Title with the Miami Heat, and on the opposing side is the single most notorious LeBron to date – the infamous "South Beach" that signified his departure from Cleveland to warmer pastures in Florida.