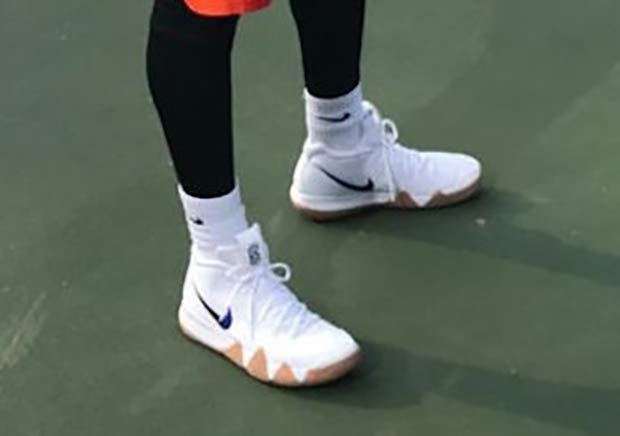 Kyrie Irving is ready to begin the next phase of his career as the alpha dog with the Boston Celtics. The Duke product and former #1 overall pick already has an NBA championship and All-Star accolades under his belt, but his desire for a full body of work has led him to part ways with the Cleveland Cavaliers and start a new chapter of his young career. He's also taking his massively successful Nike signature shoe line with him, and given the robust sales performance of the Kyrie 3, the Kyrie 4 is undoubtedly one of the most important sneakers of the entire Nike company.
While we're far for an official release of the Nike Kyrie 4, Kyrie Irving himself may have given the world a first look on the set of his upcoming Uncle Drew film. The shoe doesn't depart too far from its effective simplicity, and actually looks like a blend of the Kyrie 1 and Kyrie 3 thanks to the exaggerated outsole that wraps up the outrigger.
The Nike Kyrie 4 is likely to debut late 2017 and will be available in several colorways. Don't look too far ahead, because the coveted Kyrie 3 "Bruce Lee" release is just a week away.