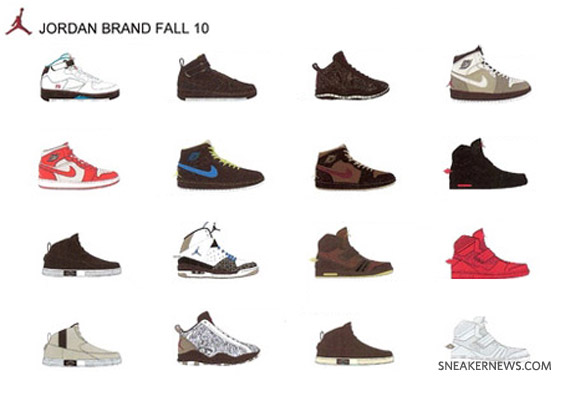 We're all in agreement that 2010 has some quality drops in store from Jordan Brand.  Here's further proof, as taken from the Fall 2010 catalog.  Keep in mind that this doesn't include 'Quickstrike' drops and some of the better LS releases are blacked out for mystery, but here goes:
You already know about the black, white and citrus Air Jordan IX (9) Retros slated for July, and those will be joined by the OG white/red and black/red/charcoal pairs in August and September, respectively.  There's also an AJII retro dropping in August, with a new Six Rings that might be all reflective 3M a la Raging Bull DMP, scheduled for September.
As for Air Jordan Force Fusions, we do see a few sprinkled in, but word is the project is wrapping up.  You're still not going to get too far away from 'hybrid' status, though, given the exceptional and voluminous history of Air Jordan designs.  With this in mind, kicks like the Pro Strong, Jordan Airs and One6 One7 are sure to have you calling out the familiar aspects.
And we're familiar with the Air Jordan 1 Retro's status as Jordan Brand's 'Dunk', which has caused much gnashing of teeth amongst purists.  Cheer up old timers, cos these new colourways are looking better than ever, and there's a lot of cool apparel to match.  Yours truly's personal favourites are the 'The Ones, The Threes, The Fives' shirts in that ever-popular Helvetica '&&&' motif, along with the 'crackle up' elephant (print) shirt.  Check out pictures of these and more from the Jordan Brand Fall 2010 collection, all after the jump.  via NT