317911
Sneaker News Weekly Rewind: 3/31 – 4/6
The champion of our Non-OG Air Jordan Tournament has been crowned, bringing about a heated debate among our readers. But moving on from past Air Jordans to new, we brought you a complete look at all the upcoming Air Jordan IX releases for the Holiday 2012 season, headlined by the eagerly-anticipated Johnny Kilroy edition, while the latest Air Jordan model gets some new spins with the debut the Jordan Brand Classic PEs. Jordan and Converse teamed up for a 23-pair limited edition auction-only release to pay tribute to MJ's National Title-winning shot in '82. The South Beach wave continues as we get a first look at a similar colorway on the LeBron 9 Low, as well as the first real pics of the Varsity Maize Nike LeBron 9 P.S. Elite. Over in SB news, you can see what the 'What the Dunk' might look like as a High and the new 2012 Supreme x SB Dunk collaboration has been confirmed for this month.
An upcoming Camo-uppered Air Force 1 premium releases got our readers in an ecstatic daze, the upcoming Air Max Express in Black/Pine Green raised a discussion regarding the fusion of older designs and new materials and we got a look at some Fall 2012 Air Safari samples that give a new look to the classic design. Nike and the NFL unveiled the new Elite 51 uniform this past Tuesday, which features the classic uniform amped up in a way only Nike knows how. The Michael Jordan Celebrity Invitational Golf Tournament brought a peek at some crazy Jumpman golf gear. Another sole-swapped Foamposite One inspired by the Los Angeles Lakers made a ton of noise, especially when Joe Budden (one of several celebrities mentioned this week) wore them during an interview with Fuse. New Balance had a strong week with a nice blend of classic releases and interesting collaborations. Finally, another helping of Air Jordan samples and PE's kept us glued to online auctions once again. There's plenty more to see, so check out the entire Weekly Rewind below!
SNEAKER NEWS MARCH MADNESS NON-OG AIR JORDAN TOURNAMENT
The champion has been crowned! The Air Jordan V 'Raging Bull' has been voted as the greatest Non-OG Air Jordan of all-time by our readers.
CONTINUE TO:

—
It was Air Jordan IX week, as we got an advanced preview of the Johnny Kilroy colorway as well as some other upcoming Holiday 2012 releases.
CONTINUE TO:

—
JORDAN x CONVERSE COMMEMORATIVE PACK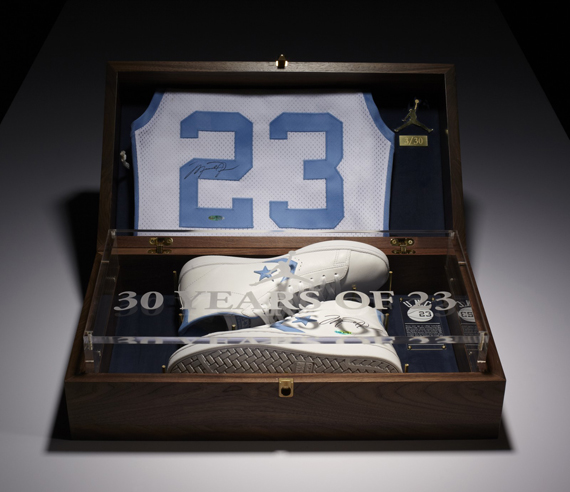 Celebrating the 30th Anniversary of Jordan's Championship-winning shot in the '82 National Title Game, Jordan and Converse hook up for a charity-driven auction-style release.
CONTINUE TO:

—
The Varsity Maize LeBron 9 Elite and a look at a tingly new LeBron 9 Low colorway headlined this week's LeBron stories.
CONTINUE TO:

–
THIS WEEK IN NIKE SB NEWS
It hasn't been a week since we discovered the news, and we already have release info on the 2012 version of the Supreme x SB Dunk!
CONTINUE TO:

–
THIS WEEK IN NCAA FEET
Congratulations to the Kentucky Wildcats, but which team was the sneaker champion of March Madness?
CONTINUE TO:

—
THIS WEEK IN NBA FEET
Monta Ellis in Rising Suns, Jordan Crawford in Raging Bulls, Gilbert Arenas in FTLOTG IXs – just a hint of this week's NBA Feet awesomeness.
CONTINUE TO:

–
THIS WEEK IN CELEBRITY FEET
Another week of rock-solid celebrity sightings – who takes the cake?
CONTINUE TO:

—
NIKE UNVEILS 2012 NFL UNIFORMS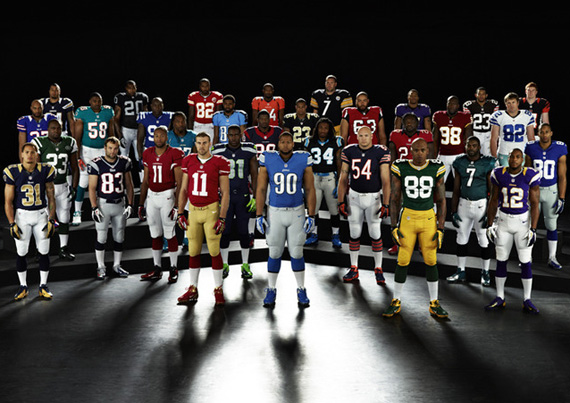 The Swoosh meets the pro gridiron: Check out Nike's new Elite 51 NFL uniforms.
CONTINUE TO:

—
THIS WEEK IN NIKE AIR FORCE 1 NEWS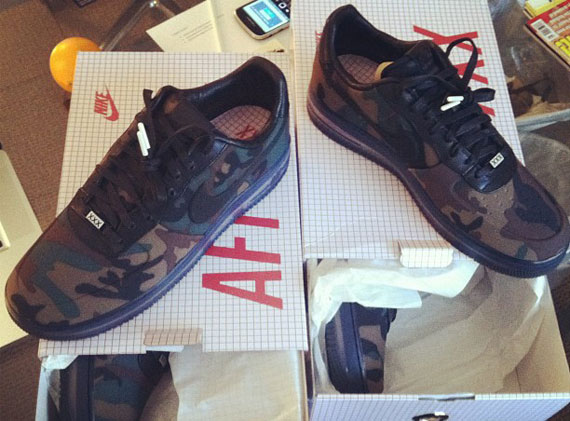 NSFW (Not Safe For Wallet): Check out more XXX content that's suitable for your eyes and feet!
CONTINUE TO:

—
NIKE AIR MAX EXPRESS
A first look at Nike's contemporary view on a 90's-styled Trainer.
CONTINUE TO:

—
NIKE AIR SAFARI – FALL 2012 PREVIEW
Suede and nylon hit the Air Safari for this Fall 2012.
CONTINUE TO:

–
THIS WEEK IN NEW BALANCE NEWS
Whether it be a limited collabo or a basic GR, New Balance never seems to disappoint.
CONTINUE TO:

—
NIKE AIR FOAMPOSITE ONE 'LAKERS' CUSTOMS
A look at one of Jason Negron's most recent Foamposite customs received some major attention!
CONTINUE TO:

–
AIR JORDAN GOLF SHOES & GEAR
Michael Jordan wrapped up his Celebrity Invitational golf tournament last weekend and you won't believe some of the Jordan golf goodies that were on display.
CONTINUE TO:

—
What else could pop up on eBay? Some more Pantone and History of Flight samples, and a pair of autographed Ray Allen PEs!
CONTINUE TO:

—