322426
Sneaker News Weekly Rewind: 4/21 – 4/27
The NBA season has come to an end, but that only marks the beginning of a few things. Nike and Jordan Brand gear up for the Playoffs with the releases of the Elite, while Jordan Brand gave us a look at Playoff colorways of their three signature stars. Sneaker News brought you a first-hand interview with Jason Petrie and Leo Chang, who detailed in full the entire Elite Series mission and concept. Another top story came from the NFL, as the Nike x NFL partnership finally came to sneaker fruition with a special set of footwear releases marking the NFL Draft and the eight divisions of the league. In other sports related news, we gave you a run-down of the best NBA Feet of the year, while handing out awards to the baller/sneakerheads who gave NBA fans a little something extra. LeBron James was definitely popular name in the 'Best of' category, but a look at some upcoming Soldier VI releases might have us more excited of what's to come. Yet another sick KD IV colorway is in books, as the 'Aunt Pearl' Think Pink colorway is set for a release in just two weekends from now, and a first viewing of two upcoming colorways of the Lunar Hyperdunk 2012 rounded out Nike Basketball headlines.
Nike SB continues to regain ground with the latest push of solid releases as we got a look at another Zoom Koston collab – this time hooking up with the Air Max 90 Infrared. adidas launched the sequel to the widely popular Crazy Light this week to a special group of media including a first-hand experience of the  event from Sneaker News. Other adidas news came from the Skate division, as team rider Dennis Busenitz shows us that he's stricken with the Blues. Air Force 1 madness continues in 2012, but this week, we should say it's more accurately described as Air Force 1 'Linsanity'. Ronnie Fieg's latest Asics collaboration officially dropped, and release info for the Packer Shoes x Saucony Grid 9000 was worth jotting down in your memory. We brought you a look at some more Air Jordan goodies from the interwebs, like the DMP 'Eyelet' sample and a pair of OGs manufactured in Italy. The most enthralling news came when Nikestore canceled midnight online releases, which looks to be just the beginning of Nike's attempts to revise the entire horizon of sneaker releases for the future. We've got all the top stories below, so check out the rest of Sneaker News Weekly Rewind below!
THIS WEEK IN AIR JORDAN NEWS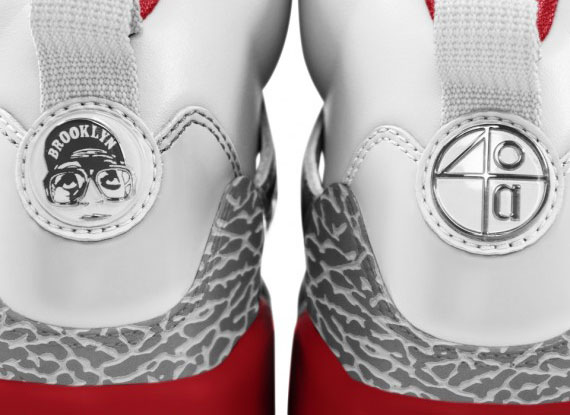 The closest thing to an Air Jordan Retro finally becomes available on Nike iD, while Jordan Brand presents Playoffs colorways of its three signature basketball shoes.
CONTINUE TO:

—
You're on the clock: Cop the NFL x Nike Draft Pack this Sunday!
CONTINUE TO:

—
THIS WEEK IN LEBRON NEWS
The Floridians LeBron 9 Low stirred up some buzz and we got a sneak peek at some Soldier 6's that are on the way.
CONTINUE TO:

—
Nike team rider Eric Koston gets to mesh with one of his favorite sneakers of all-time, while a teaser/preview of the upcoming Jordan x SB collaboration ignited some chatter.
CONTINUE TO:

–
NIKE BASKETBALL ELITE SERIES
Mark your calendars for April 28th. Nike Basketball is about to take it to another level.
CONTINUE TO:

–
THIS WEEK IN NBA FEET
The 2011-12 NBA Season is now over, but NBA Feet certainly ended it with a bang! Check out the best NBA Feet of the year.
CONTINUE TO:

–
THIS WEEK IN CELEBRITY FEET
Yeezy in AJ IIIs, Jay-Z and Fab in South Beaches, Rihanna mixing it up with Jordan and 'Bok. Quite a hefty group of Celeb sightings!
CONTINUE TO:

—
ADIDAS ADIZERO CRAZY LIGHT 2
The newest lightest sneaker of all-time was launched in a special media-only event in Los Angeles, CA.
CONTINUE TO:

—
NIKE ZOOM KD IV 'AUNT PEARL' THINK PINK
The Nike Zoom KD IV saga continues with the upcoming release of a 'Think Pink' colorway that pays tribute to KD's Aunt Pearl.
CONTINUE TO:

—
RONNIE FIEG x ASICS GT-II 'SUPER RED 2.0'
Another pair of Fieg-envisioned Asics drops this weekend.
CONTINUE TO:

—
NIKESTORE TO CANCEL MIDNIGHT RELEASES
Looks like nobody will cop kicks at midnight, at least at Nike locations or with its online store. Read up on the latest update to Nike's battle against midnight madness.
CONTINUE TO:
Nikestore To Cancel Midnight Releases
—
THIS WEEK IN AIR FORCE 1 NEWS
Linsanity continues with a look at a special Air Force 1, while news of the second 'Year of the Dragon' colorway rocked the world of Forces.
CONTINUE TO:
—
PACKER SHOES x SAUCONY GRID 9000 'TRAIL PACK'
The Saucony Grid 9000 comes back in another sick duet of colorways, done in partnership with Packer Shoes.
CONTINUE TO:

—
NIKE LUNAR HYPERDUNK 2012 – UPCOMING COLORWAYS
The most high-tech Nike sneaker ever? Check out the two upcoming colorways of the Nike Lunar Hyperdunk 2012.
CONTINUE TO:

—
ADIDAS SKATEBOARDING BUSENITZ 'BLUSENITZ'
One of adidas' pro models gets the blues. Cheer it up by giving it some attention below!
CONTINUE TO:

—
THIS WEEK IN AIR JORDAN OG'S, PE'S & SAMPLES
Made in Italy and straight to the outlets; check out this week's crop of Air Jordan rarities found on eBay.
CONTINUE TO:

—