333239
Sneaker News Weekly Rewind: 6/9 – 6/15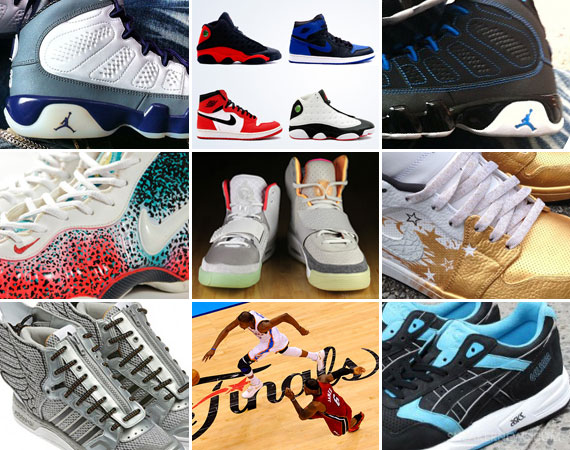 The dust settled on the massive event that was the Nike Air Yeezy 2 release, with varying spots around the globe taking a different approach to bringing the much anticipated sneakers to their customers. Once they did arrive (Kim Kardashian got hers) we gave you a side by side comparison of the 1 and the 2, taking a look at the build up and reception of both. That wasn't the only big event over the weekend, as the 2012 NBA Finals got underway with LeBron and KD both putting their excellence (and excellent sneakers) on display for the world to see. If old school basketball sneaks are more your thing though the Air Jordan category certainly saw some awesome news this week, with a gang of confirmed retro releases for the early part of 2013 that should have your mouth watering. Customizers went crazy painting their kicks up, we got an early sneak peek at what the KD and SB lines will look like in the future, and even showed you what the Nike Zoom Kobe VII still has left in the tank.
The next camo equipped Nike Air Force 1 gets an oddball release date (Sunday anyone?) and Derrelle Revis gets what looks to be his own signature shoe. Speaking of superstars getting their own shoes the Lil Wayne x Supra collab has been officially confirmed. The Three Stripes made some noise with their unorthodox models, from the T-Mac retro the the bonkers Jeremy Scott creations. Trainer makers continue to collaborate with specialty shops around the world, with more shots from the Solebox x Asics project popping up and a big reveal on Urban Outfitters' team up with New Balance. Lastly we kept one Swooshed up classic in our sights all week-the Nike Air Foamposite Pro, paying tribute to the model by running down some of the favorite and forgotten colorways of the past. We've got all that and more tucked away right after the jump so come with us to check out the Sneaker News Weekly Rewind to make sure you're up to date on all of it.
THIS WEEK IN AIR JORDAN NEWS
Spring 2013's going to hurt your wallets. Check out the seven confirmed Retro releases for Jan-Mar of next year.
CONTINUE TO:

—
Yeezy 1 vs. Yeezy 2? Why not. Check out our comparisons of the first two Air Yeezy releases.
CONTINUE TO:

—
THIS WEEK IN SNEAKER CUSTOMS
Possibly the best week of sneaker customs headlined by the Miami Nights Foamposite beauty!
CONTINUE TO:

—
Sub-$100 no more: check out the new Nike Zoom KD V, arriving Spring 2013.
CONTINUE TO:

–
THIS WEEK IN NIKE SB NEWS
Beer Bottles hit the shelves this August! Check out all the Nike SB headlines from the past week.
CONTINUE TO:

–
THIS WEEK IN NBA FINALS FEET
Sneaker News puts the spotlight on LeBron James and Kevin Durant, who are leading their respective teams in the 2012 NBA Finals.
CONTINUE TO:

–
THIS WEEK IN CELEBRITY FEET
We never get sick of Penny in Pennys: Check out his Galaxy Zoom Rookies (not customs!).
CONTINUE TO:

—
NIKE ZOOM KOBE VII – GREY – MAROON – BLUE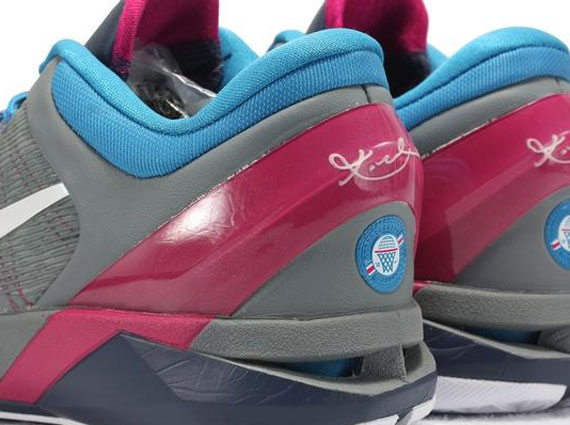 More Kobe VIIs with the hoop-centric '12 logo on the heel continue to surface.
CONTINUE TO:

—
THIS WEEK IN AIR FORCE 1 NEWS
AF1 fiends need not worry: we have all the release dates ready for you just below.
CONTINUE TO:

—
DARRELLE REVIS WEARS POTENTIAL SIGNATURE SHOE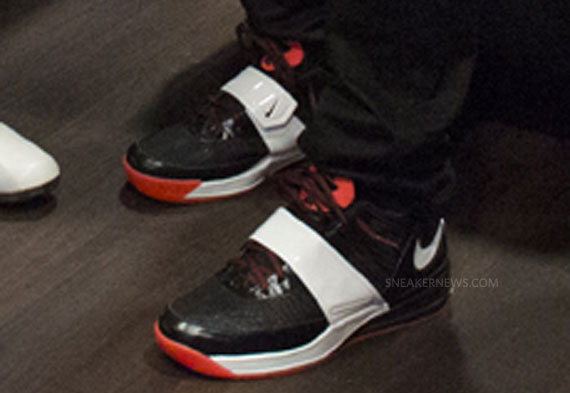 A signature shoe for another NY-based superstar athlete? Check out what might potentially be the Nike Zoom Revis.
—
THIS WEEK IN NIKE BASKETBALL NEWS
Basketball hits Paris, and we're not talkin' Quai 54!
CONTINUE TO:

—
NIKE AIR ZOOM JET RETRO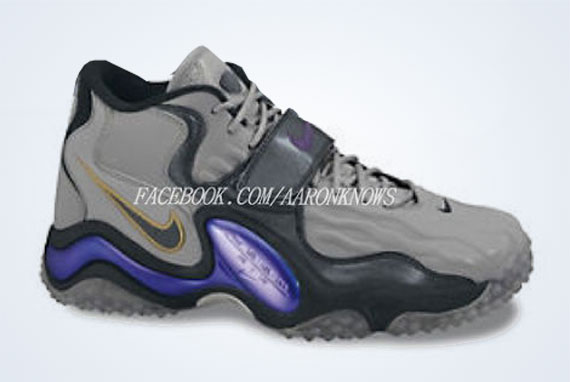 Brett Favre's back. Kinda. Check out the Retro release of the Air Zoom Jet.
CONTINUE TO:
Nike Air Zoom Jet Retro

—
SUPRA ANNOUNCES PARTNERSHIP WITH LIL' WAYNE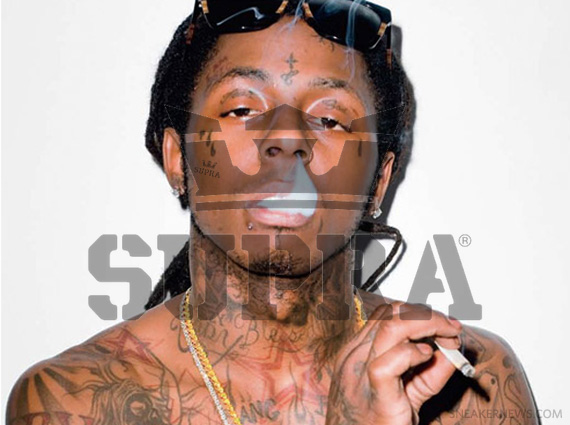 It's official: Lil' Wayne and Supra team up with an ETA of Spring 2013.
CONTINUE TO:

—
THIS WEEK IN ASICS NEWS
A first detailed look at the Solebox x Asics Gel Pack and the return of another classic Gel headlined this week's Asics buzz.
CONTINUE TO:

—
THIS WEEK IN NEW BALANCE NEWS
Some great updates for fans of the slanted-N! Collaborations, unreleased samples, and more!
CONTINUE TO:

—
THIS WEEK IN ADIDAS NEWS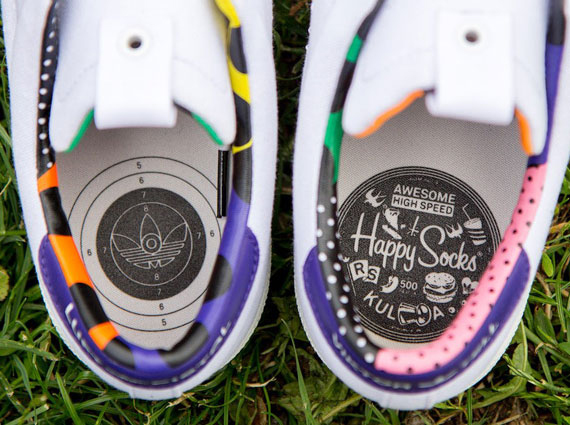 adidas gets on the 'Retro' steez as it aims to bring back a 2000's gem in the T-Mac 1.
CONTINUE TO:

—
THIS WEEK IN VANS NEWS
More Vans goodies for you skate-faithful readers popped up this week!
CONTINUE TO:

—
CLASSICS REVISITED: AIR FOAMPOSITE PRO WEEK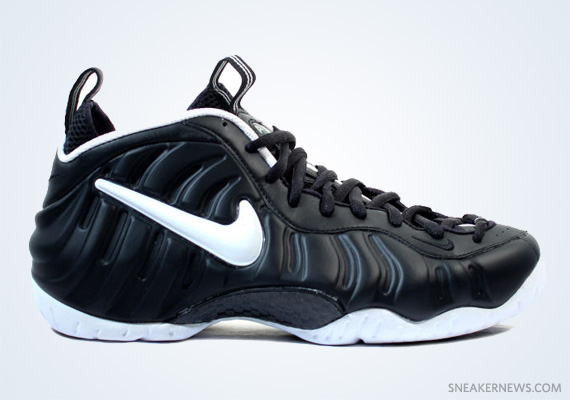 Classics Revisited hits the Foam again by highlighting five awesome Pro releases of the past.
CONTINUE TO:

—