338723
Sneaker News Exclusive P-Rod Interview
Eric Koston, Stefan Janoski, Omar Salazar… the Nike SB line boasts an impressive roster of talent with their current lineup of signature models, but in the beginning, there was only one. Despite having six signature Nike models under his belt and just capturing his 4th X Games gold medal, when it comes to his skateboarding success and high-profile sponsorship endorsements, Paul Rodriguez Jr. still feels like a kid who "hit the lotto." The humble 27 year-old superstar is quite aware of how lucky he is to be living the dream, and there's no question that he has put in the hard work to get where he is – and not just work on his board.
Paul likes to get very hands on with the design of his signature Nike shoes and it's clear that he goes all out to ensure the best performance possible. P-Rod knows his shoes inside and out. He knows what he's looking for and what to ask for, and the results are evident in a solid catalog of shoes that he feels keep getting better and better. We recently had the chance to catch up with Paul to chat about his new shoe, the recently released P-Rod 6, as well as his early days with Nike SB, his all-time favorite sneakers and the eventual legacy of the Nike P-Rod line. For all this and more, continue on for the full Sneaker News interview with Paul Rodriguez after the jump.
SN:  You joined the Nike SB team as the brand was hitting the height of its popularity back in the 04-05. What was it like to be a part of SB at that pivotal time in the brand's history?
PR:  It was great. It was definitely at that point, for me personally, somewhat of a risky decision as it would seem to outsiders looking in at it. I definitely got some flack for it at first. But as far as actually being on the brand, it was unlike anything I had ever experienced. Normal skate brands were just like a big warehouse, a couple offices and that was that. I came over here to the Nike campus and they just took me on a tour and showed me how next level they were from anything I ever understood. Not only just the best product and best gear, but it was the whole presentation they made when they brought me up here – the cool nicknacks they made customized just for me – just next level!
SN:  When you first learned that you would be getting the prestigious honor of the very first Nike SB signature shoe, what kind of stuff goes through your head?
PR:  (laughs) You know, it was one of those situations where it didn't sink in for a while. It was like, I understood that they said yes and they were gonna give me a shoe, and I was like cool, cool, but it didn't really hit me until I saw drawings of it and I had my first shoe design meetings and then I was really like, oh my God, this is real! And when I broke it down, considering all the different sports Nike has, and all the different athletes they have, and all the different signature shoes they have – there's not that many signature shoes, so for me to be one of those guys…
Of course, Michael Jordan is the first name that comes to mind. He's got the most iconic shoes to ever come from here. So for me to be on the same brand where Michael Jordan first got his signature shoes – it was unreal!  It's still unreal. And I was just thinking, how did I get from skateboarding in my backyard to being out in Portland designing my shoe for the company that Michael Jordan helped build. It was just surreal moment. I don't know how to even describe it verbally.
SN:  Like you just said, Nike has long been endorsed by the top athlete or athletes in just about every sport you can name.  What's it like to be the face of Nike Skateboarding and a top ambassador for the brand alongside guys like Jordan, Lebron, Kobe, Federer, Tiger and all these guys that are at the top of their games. Does that give you some extra motivation or pressure to perform at that kind of level?
PR: It's definitely motivation for sure. It's unreal and it's a huge honor. I look back at it and I think, out of all of the millions of skateboarders in this whole world, I was the only one at the time to get a (Nike) shoe. What are the odds of that?! Out of everyone on this planet that rides a skateboard, I happened to be just the one dude to somehow get in this position and become a brand ambassador for my sport. That always went through my head, like, how does that happen?! Millions of skateboarders out there and it just landed on me. It's like hitting the lotto!
And it's definitely motivational, definitely inspirational, and definitely was a lot of hard work and dedication to get to this point, but still, nonetheless, it feels like a guy randomly picked out of a crowd, you know. Like, how did it land on me?
SN:  Now that you've got a string of signature shoes under your belt, when it comes to the design process, how involved do you get and what kind of things do you look for and ask for when you guys start on a new model?
PR:  Well, I like to get pretty involved. The way we work is, the last couple shoes, I've been working with this guy, Shawn Carboy, and I usually just sit down at the beginning of the process and tell him what I'm looking for. How I want the  shoe to function, what kind of foot protection I'm looking for, what kind of board feel I'm looking for – I just tell them how I want it to skate. And then from there, he picks my brain as far as what kind of style and fashion influences I'm into at that point, what other shoes I'm feeling at that point and just keeps picking from all different angles.
And I basically just try to give him as much information as I can about my personality and what I'm about so he can have the best information possible to then go back to the drawing board and create the shoe. And he'll come back with like 10, 12, 15 drawings, and I look through them and I might like one drawing as is or I might be like, I like this upper, but I like the sole on this shoe and try to get him to combine them. And then finally, we end up coming up with one drawing of a shoe that we're really feeling, that we're really like, let's try it! Let's sample this one!
Then it'll go to a sample and I'll wear the shoes to walk around, skate around in them, test them out. From there, I tell them what I do like and don't like, what changes could be made, whether it be style changes or function changes. We narrow it down and we get another round of samples and you just keep doing that process until you finally get a shoe where you're like, alright, I don't wanna change anything! This is it! It takes about a full year for the process.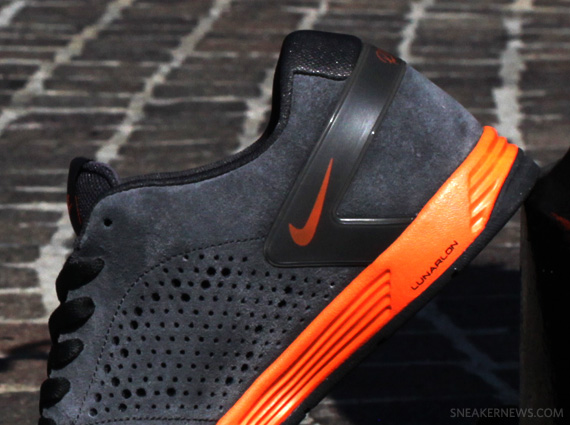 SN: You were talking about how during the design process, you look at some other shoes that you're feeling at the time. One of the most notable features of the P-Rod VI is the Huarache-inspired heel bar. Did it come from your personal appreciation for that shoe or was the idea something that the designers brought to you?
PR:  That one was Shawn Carboy's idea for sure. That was definitely his inspiration.
SN:  Were there any other models in particular that you were looking at when designing your shoe?
PR:  For me growing up, I always liked wearing Jordans, Air Force 1's. I would even wear the Cortez's a lot. I've had Jordan influences in my shoes that you could see, but I don't think I've had too many Air Force 1 or Cortez influences in my shoes. But we've definitely drawn a couple inspirations from Jordans to actually apply to the shoes over the years.
SN:  Lets move over from the aesthetics to the function of the shoe. What are some of your favorite things about your new shoe?
PR:  The lightness and I love that they're getting even better with the Lunarlon. The Lunarlon was a gamechanger, especially for skate shoes, just because it's so lightweight, but so protective and you're still able to get board feel through it. That to me is the key. Also I like how the toe, just like the (P-Rod) V, is seamless, so there's nothing really to rip, and it's gonna take a skater longer to rip through the shoe, so hopefully, in theory, that means they won't have to spend so much money buying so many shoes so frequently. They'll be able to hold up and last.
And it's pretty much just dialed to the way I want it, really in a nutshell. It skates just how I want it. It's got a good heel, where the heel kinda snugs onto your foot, so it's not slipping out of the back of the shoe, because I've had issues with that in the past. The sole is the same as the V. We really felt good about the tread on the bottom of the soles. It just grips real good and it's everything I want in a skate shoe.
SN:  You mentioned Lunarlon being a gamechanger. For people that don't skate or might not have skated yet in a Lunarlon shoe, how have those advancements in cushioning helped to protect your feet against all the harsh impact that comes along with skating?
PR:  I was actually just talking about this with some of the lab guys. With my earlier shoes, we had Zoom Air bags in the heel for protection, which at the time, not knowing any better, I thought it was great. It worked fantastic. But once Lunarlon came onto the scene, it was like night and day. There was no going back. It made me realize that the Zoom Air bag was kinda like another layer between you and the board, and kinda distanced you from the board and inhibited your board feel. And then going onto Lunarlon, I felt my board so much better, so much more clear, but yet I didn't sacrifice any protection. My foot still felt secure. It felt like I could jump down stuff and take impact and not have to worry about my feet feeling vulnerable. And it was super lightweight, so it was just the magical material. (laughs)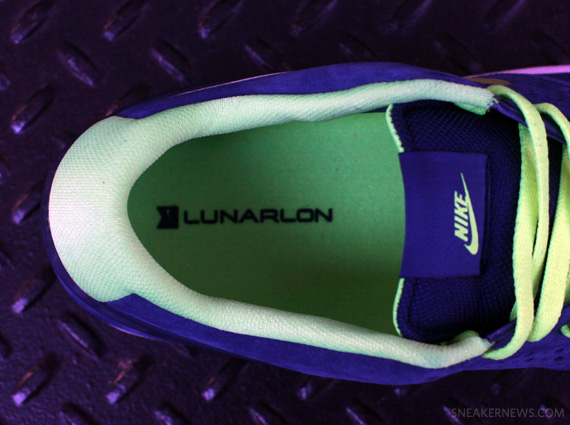 SN:  Aside from your own line, you were talking before about some of the your favorite Nike shoes over the years. What are some of your all time favorites?
PR:  I'm for sure gonna have to go with the all white Air Force 1's. Those are just a staple, a standard. I haven't been wearing them much in the last couple years, but you know, just for nostalgic reasons. And forgive me because I'm bad with all the numbers for the Jordans, but I think it's the Jordan III's?
SN:  Elephant print?
PR:  Yeah, yeah, yeah. I love those!  What else? I love the Cortez, just because I'm Mexican and my father's side of the family especially is like fully, really, extremely Mexican. And I've got this one cousin, Mario, and he's been wearing the Cortez's since as far back as I can remember. He's probably like 5 or 6 years older than me, and ever since I was a little kid, he's worn Cortez's. Even to this day, that's all he wears!
SN:  The Cortez is an L.A. staple for sure.
PR:  Yeah, so for me, that always holds a nostalgic place in my mind, because I just remember seeing my cousin and all my people rockin the Cortez's all over the place. I was a big fan of the Cortez even before I was with Nike. I used to go and pick up all the different colors of the Cortez's and just run 'em just for the love.
I love Air Maxes too. Air Maxes are awesome. I like all the Kobe's. The latest Kobe shoe is great, and the Kobe VI also, I really like.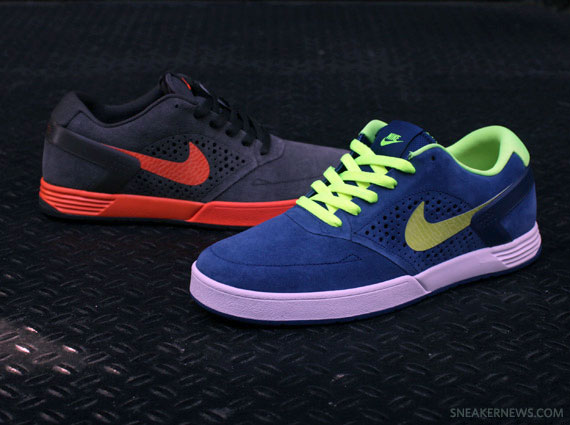 SN:  We recently posted a video of a guy skating in his Yeezy 2s. Have you ever skated in a completely inappropriate shoe and ruined it in the process? Or are you not worried about it and you just skate 'em?
PR:  Umm, not really. When I was younger, I tried skating in some Air Force 1's, but it was better as an idea than it actually was to do it. I tried it, but it didn't work out so good, so I just stopped. I tried it for about a day.
SN:  That Air Force 1 sole was probably not made with board feel in mind.
PR:  No, not at all. Those are thick soles. But, I might have skated in some Dunks that had people freaking out. I used to skate the Heineken Dunks a lot. The Unkle Dunks I skated and also the Tiffany Dunks I would skate a lot. Sometimes, people would be like why are you skating in those?!!
SN: Technically, that's what they were made for right?
PR:  Yeah, that was it.
SN:  Knowing that you're such a big MJ fan, do you think your sneaker has the potential to be seen as "the Air Jordan of the Nike SB line" and how do you think history will remember your shoes?
PR:  Well, that's a hard one to answer man. Literally, those are some tough shoes to fill. It would be amazing and I'd be honored to have that occur, but I don't know that it's could ever be on that level of impact that the Jordans had, by any means. It's something that, if it happened, I'd be completely honored, but I can't make that claim. That's too big of a claim to make that they'd be looked at like that.
Big thanks to Paul and Nike and check out the P-Rod 6 in stores now!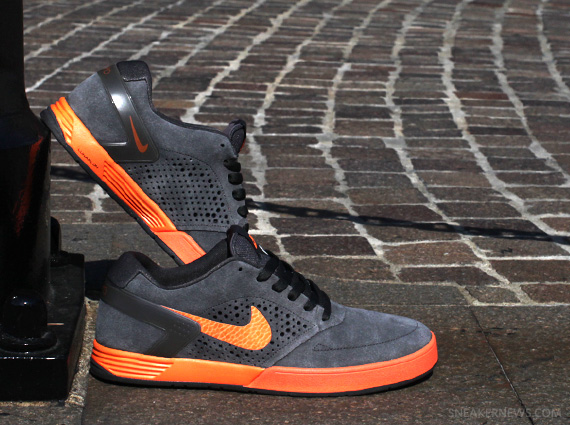 Additional images via prod84/corradini