403696
What Do You Think?: The Next Signature Basketball Athlete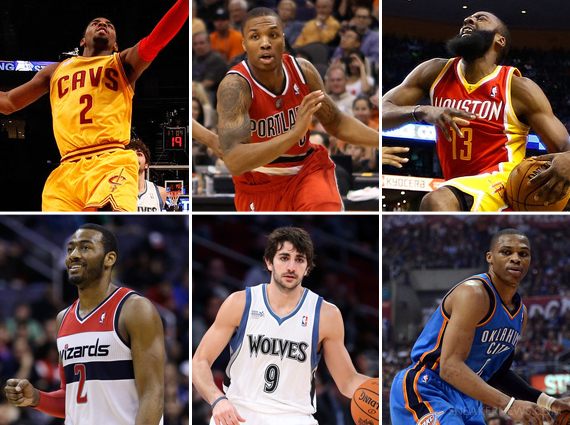 Take a look at the NBA players that have signature shoes today and it's clear that being a signature athlete requires the perfect alignment of skill, charisma, sheer location of employment, and a few other things that make a human into a superstar. LeBron, Kobe, Melo, CP3, Wade, and D-Rose all play in major markets where the opportunity for extensive media coverage is all but guaranteed, with Kevin Durant being the one industry anomaly of being a highly successful signature athlete playing in a small-market city; this seems like a healthy list that should hold us down for a few years, but being content only means one thing –  there is room for more.
The landscape of sneaker brands is unique in that some of these labels have become flexible with who they choose to represent their brands on that "face of the brand" tier. Take up-and-coming Under Armour for example; their lone signature athlete is Brandon Jennings, but with DeAndre Jordan playing in a huge market and his insane dunk placing some added spice to his shoes, the neophytic UA label has experienced some added exposure as the prime "indie" brand. While the responsbility that comes with being a signature athlete is something that can be compromised, Nike, Jordan Brand, adidas, Li-Ning, and Under Armour – the major brands in the basketball category – all have the room to fit in a new guy on the team.
But is it even time to welcome a new name to the sneaker industry? There's no doubt that player names play a large part in shaping consumer tendencies, and with Kobe Bryant nearing retirement every passing year, LeBron well on his way to signature shoe history for Nike, KD well-ingrained in the Nike's historical fibers, and D-Rose sitting prettily with a life-time contract, it's a ripe-enough time for a fresh name to be thrown into the mix. Each brand across the board has a select group of athletes to represent their non-signature models, but is anyone ready to step up? We've narrowed down a list of the top candidates that may be worthy of sig-shoe distinction, so check out our list below and chime in with your opinions on this latest installment of What Do You Think?.
Kyrie Irving – Cleveland Cavaliers
Current affiliation: Nike
The case for: Kyrie is probably the #1 candidate to have a signature shoe for Nike. On the court, he's shown flashes of greatness and looks to be a perennial All-Star type player – with potential to join Team USA in future adventures in the Olympic Games. In the point-guard position, Kyrie Irving is undoubtedly the future, and his recent showboating in the 2013 BBVA Rising Stars game proves that the spotlight is something he's comfortable with. Off the court, Kyrie is slowly elbowing his way into the group of the most marketable NBA athletes today; his Uncle Drew campaign with Pepsi Max has made him a nationwide commercial star – even though he plays for one of the smallest markets in the NBA in Cleveland. His participation with Foot Locker also put his name at the forefront of the marketing campaign by the nationwide footwear retailer. Skill, marketability, charisma – the kid seems to be the whole package that just needs a few loose ends tied in.
The case against: As we mentioned earlier, Kyrie Irving plays for a small market team. Even though LeBron James had a signature line of shoes during his Cleveland days, the popularity of Nike LeBrons didn't take off until he flew to Miami. In addition, Kyrie is prone to injury, missing a chunk of games in both years as professional baller and in his one season at Duke. He also doesn't have that on-court bravado and intimidating presence as a LeBron or a Derrick Rose – but that should come with time. Can Nike strike gold again and bring in the next name in their legendary signature shoe history with Irving, who plays for a bottom-of-the-barrel team?
James Harden – Houston Rockets
Current affiliation: Nike
The case for: His trade from OKC to Houston allowed the Arizona State alumni to run his own show. While he played the role of "third option" rather well and proved to be a valuable piece to the Thunder's run to the Finals, his 2012-2013 campaign has confirmed him to be a superstar for years to come – with some deeming Harden a Top 5 player in the league. More importantly, James Harden plays the same position as Kobe Bryant, who Nike will certainly look to replace once he retires a few years down the line. Shooting guards have always been the prize fighters in the signature-shoe division, and at that position, James Harden seems like the lone wolf.
The case against: It might take him another season of top-level performance for him to shed that lingering reputation of being the third wheel in OKC, and he might be better categorized as an Amare Stoudemire/Paul Pierce type of player – one that doesn't officially have a signature shoe, but has a particular model that we've generally come to accept as his (Amare with the Air Max Sweep Thru, Josh Smith adiZero Ghost, etc.). Harden has the star skills – but does have the star power?
Damian Lillard – Portland Blazers
Current affiliation: adidas
The case for: Damian Lillard has taken the league by storm as the starting Rookie point guard for the Portland Trailblazers. His nightly averages of 19.1 points and 6.5 assists has him atop the rookie class and among the best point guards in the league, and his upside suggests that he, along with Kyrie Irving, will be the point guard class of the future. He's already an adidas athlete and has been rotating their best shoes like the adidas Rose 3, Rose 3.5, and Crazy Light 2 with the occasional Top Ten 2000, so adidas (a company HQ'ed in Portland) definitely has their eyes on this young talent and may have him atop the pecking order.
The case against: Again, it comes down to star power, and it'll take some time for Damian Lillard to have that household name as a top-shelf player in the league. He hasn't had the marketing genius of an "Uncle Drew" just yet, and Portland, despite being home to adidas as well as Nike, has never had a signature athlete of superstar caliber (but that's more on the Blazers organization than it does on the brands). Will he have an impact like Derrick Rose has?
Russell Westbrook – Oklahoma City Thunder
Current affiliation: Jordan Brand
The case for: Russell Westbrook is so highly regarded by Jordan Brand that he was chosen as the successor to the Air Jordan line. He's made the Air Jordan XX8 into a cool-looking sneaker rather than a funky concept that at first seemed hard to grasp, and he's most certainly an elite player in the league – a perennial All-Star player so long as he has two healthy legs under him. Prior to being a Jordan Brand athlete, Westbrook was with Nike, where he was considered to be next in line – or at least near the front.
The case against: Jordan Brand signature sneakers have been mediocre in terms of design and retail performance, and with rumors of the Jordan signature lines (Melo and CP3) being slowly phased out, Russell might be better off as the Air Jordan heir rather than a Jordan Brand signature athlete.
John Wall – Washington Wizards
Current affiliation: adidas
The case for: For one, John Wall already had a signature shoe. However, Reebok's offerings with the Wall name came packaged with the gimmicky Zig technology, and insiders will even confirm that John Wall himself didn't like his own shoes. But once the Reebok Zig John Wall line came to an end, the former #1 pick was swiftly picked up by adidas. He wasn't brought on to the brand for no reason, and we can already see hints of a potential adidas Wall shoe because he's already been appointed as the guy to represent the all-new adidas CrazyQuick. In addition, Wall has proven to be an invaluable member of the Wizards; when he's healthy and not missing games, the Wizards are actually one of the better teams in the East.
The case against: So far, John Wall is known for two things – being pouty and doing an exceptional "Dougie". We're still waiting for Wall to join the ranks of the CP3s, D-Wills, Rondos, etc. and until he does, a signature shoe might not make complete sense. If anything, it seems like he and adidas mate Damian Lillard will be battling for that signature shoe prize – unless Wall is permanently designated as the player to showcase adidas' non-signature models.
Blake Griffin – Los Angeles Clippers
Current affiliation: Jordan Brand
The case for: Although big-men haven't been the best at selling shoes, his style of play isn't exactly that of a prototypical power forward. Nike relished in the image of the Hyperdunk 2011s flying over the Kia during the Dunk Contest, and many pegged Blake to be the next signature guy for the Swoosh brand. His sudden move to Jordan Brand put a stop to that idea, but "Blake Griffin, the signature athlete" is still a valid statement regardless of what brand he represents.
The case against: As mentioned with Russell Westbrook, keeping Blake as a non-signature athlete is more of a brand move. Blake's been wearing the Super.Fly 2 and seems to be the guy to represent their top-shelf non-Retro/non-Air Jordan shoes for years to come. And again, big-men don't sell shoes (see: Amare Stoudemire).
Rajon Rondo – Boston Celtics
Current affiliation: Nike
The case for: Rajon is a bonafide star in the NBA and overseas, and every team in the NBA would love to add Rondo onto the team for the purposes of winning and as a fan attraction. That fact alone might make him eligible to be the next guy up at Nike, and his display of Nike Basketball PEs might be enough to tell us that there are some plans for the guy. He's a guy with distinct taste in shoes as well, and before he went down with injury earlier this season, his on-feet display was one of the best in the league, with a steady diet of Air Foamposite Ones, Air Jordans, Hyperposite PEs, and more. In addition, Nike hasn't had a signature point guard since the days of Gary Payton.
The case against: The one "against" in Rajon Rondo is that if Nike wanted to give him a signature shoe, it should've happened already. Nike rarely offers signature deals to players this far into their careers (with the exception of Kobe Bryant, who Nike chased after before he entered the NBA), and Rondo would be in his eighth NBA season if he returns in time for the 2013-2014 season.
Ricky Rubio – Minnesota Timberwolves
Current affiliation: adidas
The case for: Next to soccer/football, Basketball is the most popular sport in the world. The globalization of the NBA has opened the door for a large number of European ballers to make their presence known in the States, and Ricky Rubio is without question the most recognizable name among young Euro-ballers tearing up the league. His flashy style of play has gotten him onto highlight reels on occasion, and experts' comparisons to Pete Maravich have Rubio poised to be a relevant name to the deep historical icons of the sport. Currently, he represents adidas, which has an incredibly strong connection with European markets, so a signature shoe for a European athlete might be the ground-breaking move that we've all been waiting for.
The case against: Rubio may have the star power, but he's got a ways to go in terms of matching Derrick Rose or even the aforementioned Damian Lillard in terms of on-court performance. Should Rubio be an All-Star type player, a signature Rubio shoe with adidas is a possibility.
Deron Williams – Brooklyn Nets
Current affiliation: Nike
The case for: Deron Williams' pedigree is perhaps among the top three in this list. At some points in his career, D-Will was regarded as the best point guard in the game, and currently, he has the Brooklyn Nets poised to make a deep run in the Playoffs. He plays for a major market in New York City (well, Brooklyn) and his reputation among NBA brass is something that can't be overlooked (two-time Olympian, three-time All-Star).
The case against: Like with Rajon Rondo, D-Will's opportunity for sig-shoe stardom might have passed. Williams is, however, the perfect player to represent the non-signature models, and recently he's been getting our attention with the white/black camo PE of the Nike Hyperdisruptior.
Photos: zimbio