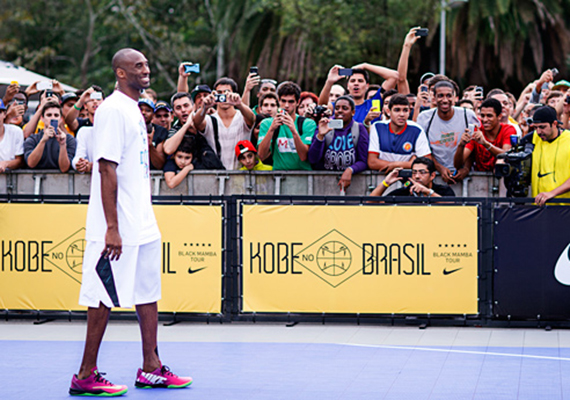 Kobe Bryant recently made his way down to Brazil, heading to the southern hemisphere to further familiarize himself with South America's soccer culture. The Black Mamba visited São Paulo, Salvador and Rio de Janeiro, linking up with soccer superstars like Ronaldo, Neymar and Ronaldinho. What's more he had two sneakers on the whole time-as opposed to a sneaker/medical boot combo. Which sneakers? The Nike Kobe 8 "Mambacurial" and the Nike Kobe 8 "Venice Beach". Continue reading to see shots of Kobe in Brazil, a market that we're likely to see Nike showing more and more interest in over the next ten years, and let's hope this bit of traveling means that his recovery is moving along rapidly.

via Nike INC
Global basketball star Kobe Bryant, a diehard football fan, fulfilled a long-held ambition last weekend to visit Brasil – the spiritual home of football – to immerse himself in the culture of the beautiful game.
The Black Mamba Tour included stops in São Paulo, Salvador and Rio de Janeiro. In São Paulo, Bryant stopped traffic and greeted lines of fans outside the opening of Nike's exclusive "Arena Selecao" store designed to celebrate Brasilian football. During the tour Bryant spent time with football icons Ronaldo, Neymar and Ronaldinho, and with the Brasilian football team fresh off their victory over Italy in South America's premier football tournament.
Bryant joined with Brasilian striker Leandro Damião in greeting young fans at the Arena Selecao opening. Next up was a visit to São Paulo's Ibirapuera Park, where he met basketball hall of famer and family friend Oscar Schmidt along with Brasilian basketball stars Leandro Barbosa and Anderson Varejão. More than 3,000 fans turned out to see the players as Bryant oversaw a basketball clinic and dunk contest.
The Black Mamba tour then departed for Salvador for a memorable day at the Brasil vs. Italy match, where Bryant was hosted by legendary footballer Ronaldo and enjoyed a standout performance and goal from Barcelona-bound striker Neymar.
Finally the tour touched down in Rio de Janeiro where Bryant met yet another icon of the game, Ronaldinho. Both enjoyed a visit to Aterro do Flamingo, a grassroots football space, to watch a football tournament of aspiring young players. The event ended as the tour began — with Bryant enjoying time with a large crowd of Brasilian basketball and football fans.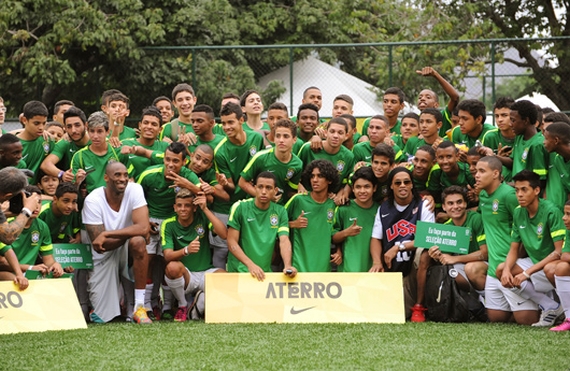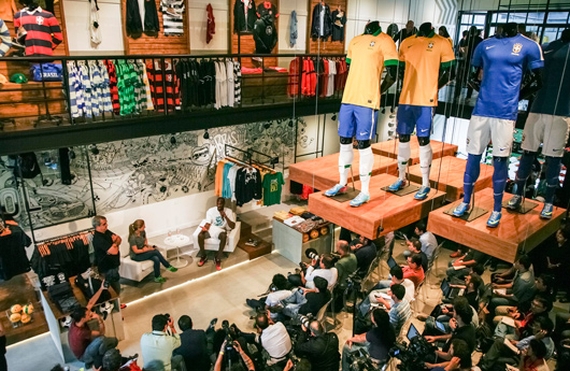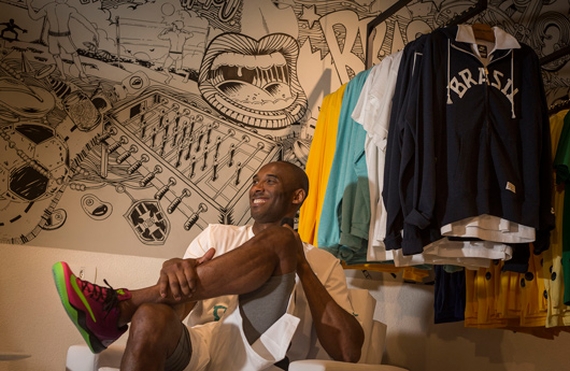 Shop this Article
More like this at ebay