440207
It's a Celebration: A Look Back at Significant Sneaker Packs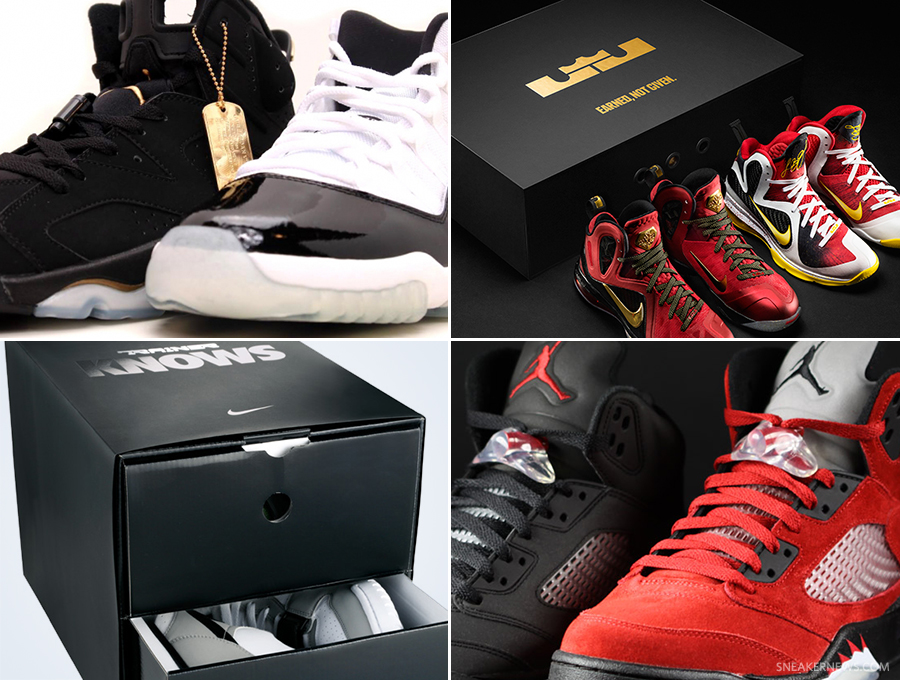 Sneaker Packs – certainly a gift, and unfortunately a curse. We're talking about all the releases comprised of two must-have sneakers attached together by an oversized box and slyly priced higher than if the shoes were individually released, but as they say, a sum is larger than its parts. This weekend's coveted sneaker release by Nike – specifically the Nike LeBron Championship aka Celebration Pack – will be priced at a whopping $500, totaling up to the single most expensive sneaker pack release ever put together by Nike or Jordan Brand. Regardless of the price, you'd better believe that droves of LeBron fans will do what it takes to get their hands on a set (based on Foot Locker and Nike's release procedure, it'll be all luck), but there really was a time when you could walk into a store and pick 'em up without much of a hassle.
The original Sneaker Pack was the 2006 release of the Air Jordan Defining Moments Pack, which honored the Championships that Jordan won in '91 and '96. That started a trend of several more two-pair sets from Jordan and Nike arranged deliberately to recite a significant story, so in light of this week's celebratory Nike LeBron release, let's take a look at some of the more significant releases that continue to be heard today. Some of the volumes listed here might even be beyond your memory or maybe have risen in status since their initial release, so check out what we've detailed below and stay tuned for the official release of the Nike LeBron X Championship/Celebration Pack this Saturday.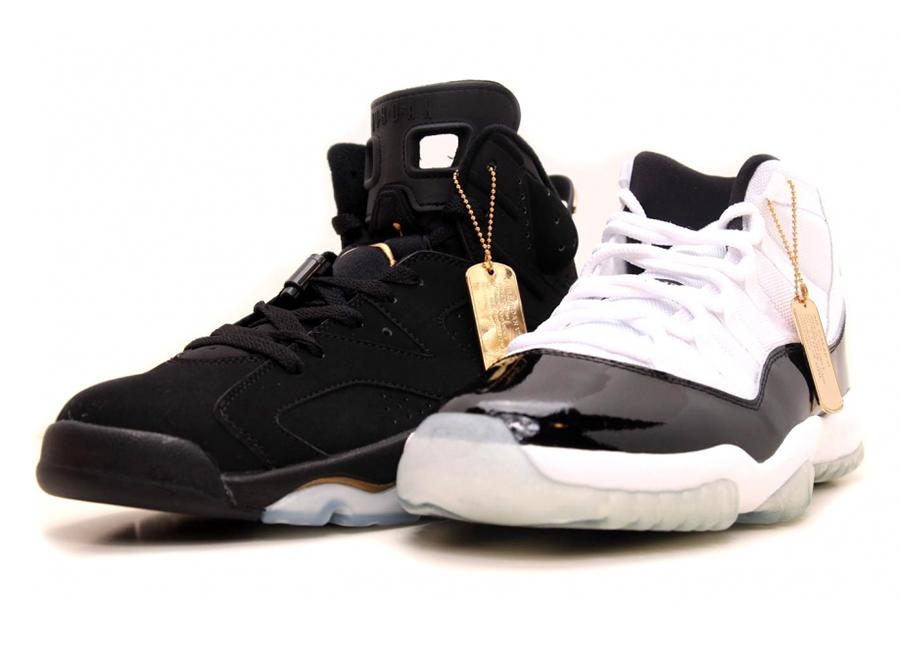 AIR JORDAN DEFINING MOMENTS – 2006
Shoes: Air Jordan VI, Air Jordan XI

This early 2006 release sparked the incredible trend of two-pair packages tied together by significant moments in history. The Air Jordan Defining Moments Package paid homage to Michael Jordan's first NBA Championship in 1991 as well as the '96 Championship that he won during his first full season back from retirement. The luxurious Black/Gold concept took over the entire package as a special booklet, individual box lid covers, and hangtags came accompanied with this monumental release.
AIR JORDAN BEGINNING MOMENTS/OLD LOVE, NEW LOVE – 2007
Shoes: Air Jordan 1 Mid "Black Toe", Air Jordan 1 Mid "Black/Yellow"

The Air Jordan 1 is without question an icon in footwear history. This particular Pack, often summarized as the "Old Love, New Love" Pack, directly connected with Jordan's earliest days in the NBA as well as a hobby that emerged later on in his career – motorsports.
AIR JORDAN COUNTDOWN – 2008
Shoes: Air Jordan VI "Carmine", Air Jordan XVII

In 2008, Jordan Brand embarked on a year-long onslaught of Pack releases called the Jordan Collezione aka Countdown Pack. One of the most sought-after of the entire twelve-volume set was the Air Jordan VI/XVII; it's no secret that Jordan fans purchased the Pack to obtain the Air Jordan VI "Carmine", which was a first-time Retro. Not taking anything away from the Air Jordan XVII either, as it marked the first ever Retro for that model.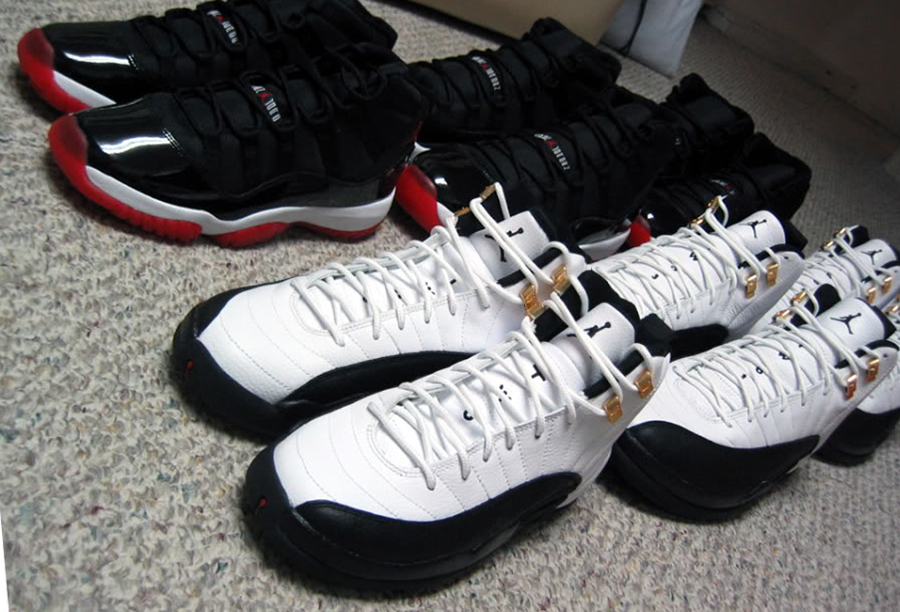 AIR JORDAN COLLEZIONE XI/XII – 2008
Shoes: Air Jordan XI "Bred", Air Jordan XII "Taxi"

It's indisputable that the last hurrah of the Collezione was also the most celebrated of the entire series. In December of 2008, Jordan Brand paired the Air Jordan XI "Bred" and the Air Jordan XII "Taxi" for this set, making for one of the greatest Jordan Retro releases of all-time. Campouts were out in full effect for this Holiday release, and by the end of 2013, both shoes will have been re-released individually.
AIR JORDAN TORO BRAVO RAGING BULL – 2009
Shoes: Air Jordan V "Red Suede", Air Jordan V "3M"

There aren't enough words to describe Michael Jordan. But Strength, Focus, and Agility are three acceptable descriptions of the greatest of all-time, which Jordan Brand likened to a Raging Bull. This two-pair set was focused on the Air Jordan V, made irresistible with the tonal red suede and black reflective upper. The "Red Suede" V grew in popularity over the years, earning the Championship Trophy in our Sneaker News March Madness Tournament of 2012 (non-OG Air Jordan category).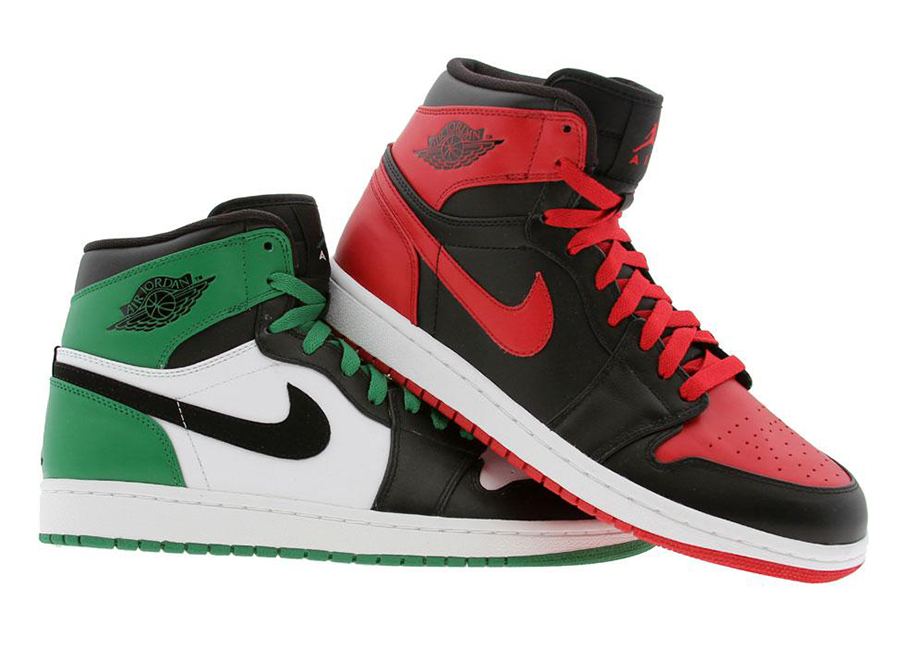 AIR JORDAN 1 DEFINING MOMENTS – 2009
Shoes: Air Jordan 1 "Bulls", Air Jordan 1 "Celtics"

There are too many memorable moments in Jordan's career, but his two sixty-point outings early on in his career deserve some special spotlight. The Air Jordan 1 60+ Defining Moments release paid tribute to Jordan's 60+ point outing against the Boston Celtics – one that Larry Bird himself described as "God disguised as Michael Jordan". Another 60+ Defining Moments Pack with the Air Jordan VII also released. What's ironic is that although the Air Jordan 1 is ridiculously popular right now, this Pack was on sale at many sneaker retailers.
NIKE AIR TRAINER 1 LEGACY – 2009
Shoes: Nike Air Trainer 1, Nike Trainer 1

One of the true icons in Nike footwear history is the Air Trainer 1. In 2009, Nike finally unveiled a revamped version of the game-changing original, utilizing various technological innovations such as visible Max Air, Free, and Flywire. This two-pair set, while not as hotly coveted as the rest on this list, signifies the importance of this release to Nike brass.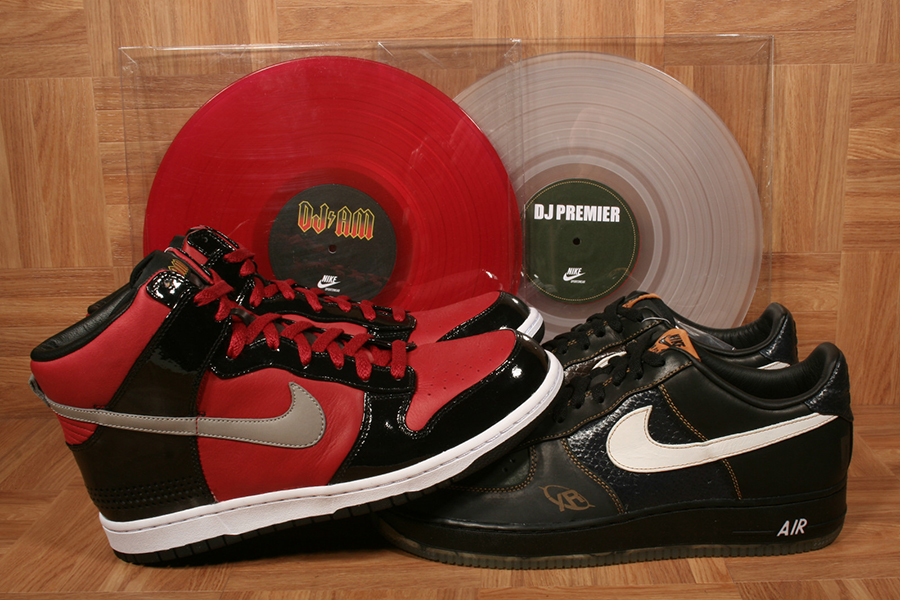 DJ AM & DJ PREMIER x NIKE SPORTSWEAR SERATO – 2010
Shoes: Nike Dunk High, Nike Air Force 1 Low

In early 2010, Nike Sportswear released one of the most clever sneaker Packs ever, paying tribute to two legends in the DJ scene. DJ Premier, recognized for composing some of hip-hops legendary tunes, and DJ AM, one of the pioneers of the celebrity DJ movement in the 21st century, were honored with the Serato Pack, which featured the Air Force 1 Low (Premier) and Dunk High (AM) as well as actual Serato vinyls. It surely was a bittersweet moment, as DJ AM passed away not long before the release of the shoes. Prior to his unfortunate passing, DJ AM expressed his excitement of his own sneaker, letting his Twitter followers in on the upcoming release.
NIKE BASKETBALL ASTON MARTIN – 2010
Shoes: Nike Hyperdunk, Nike Zoom Kobe V

Kobe Bryant was atop the basketball world, winning back-t0-back Championships with the Lakers and entertaining his fans by jumping over a speeding Aston Martin. Of course the latter event was just a Nike advert for the Hyperdunk, but the Aston Martin luxury sports car stuck by Kobe's name – enough so that Nike released an "Aston Martin" Pack in 2010 with the car manufacturer's official logo on the shoes. Included in the Pack was the Nike Hyperdunk and Zoom Kobe V, colored up in gun metal grey and hints of red and luxurious beige tones.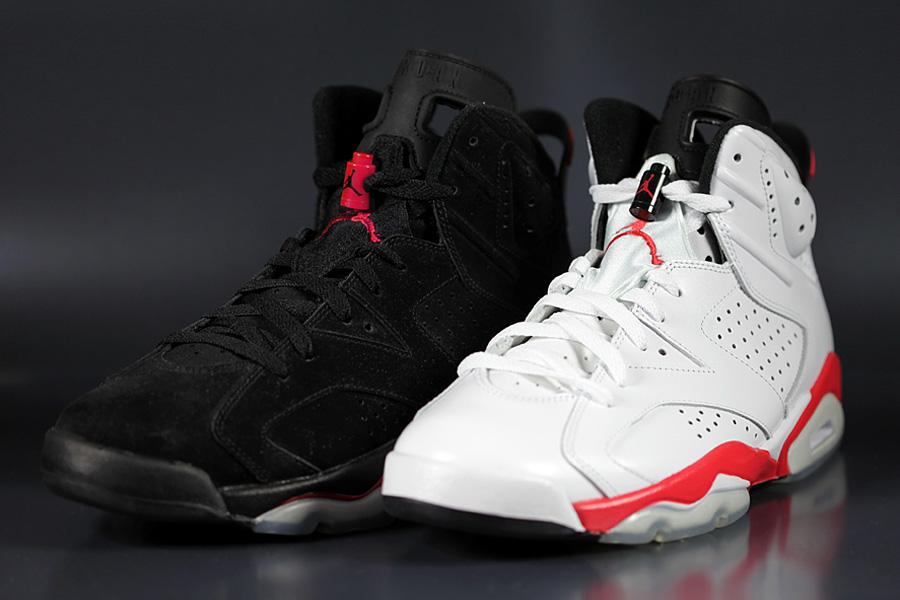 AIR JORDAN VI INFRARED – 2010
Shoes: Air Jordan VI "Black/Infrared", Air Jordan VI "White/Infrared"

The Air Jordan VI is held at an incredibly high regard. It is, in fact, the shoe that MJ wore en route to his first Championship, and up until the release of the Pack (aside from the Doernbechers) the Air Jordan VI was a rarity as the last known Mid Retros were the treasured Nike Air joints from a decade ago. In Summer of 2010 both the original Black and White colorways came together, individually packaged in anti-static bags. With the unofficial "Year of the VI" arriving next year, expect these again.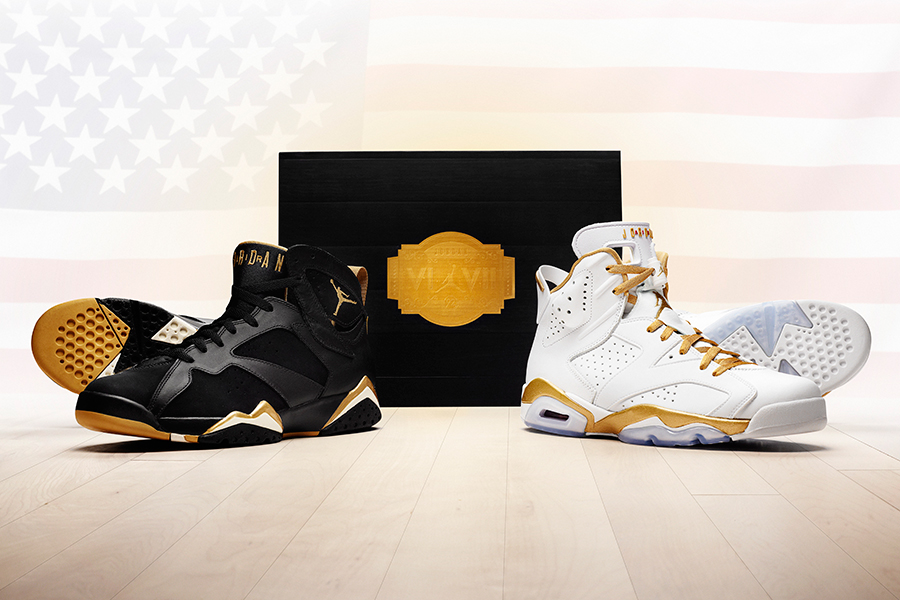 Air Jordan Golden Moments – 2012
Shoes: Air Jordan VI, Air Jordan VII

Jordan Brand converged at the 2012 Olympics, celebrating the brand's two most Olympic-relevant silhouettes with the Golden Moments Package. The two shoes included were the Air Jordan VI, which Jordan Brand athlete Ray Allen wore during the 2000 Games, and the Air Jordan VII, which Michael himself wore in 1992. Both silhouettes featured a original DMP-like Golden influence and came packaged with patriotic details on the insole and accompanying flag banners.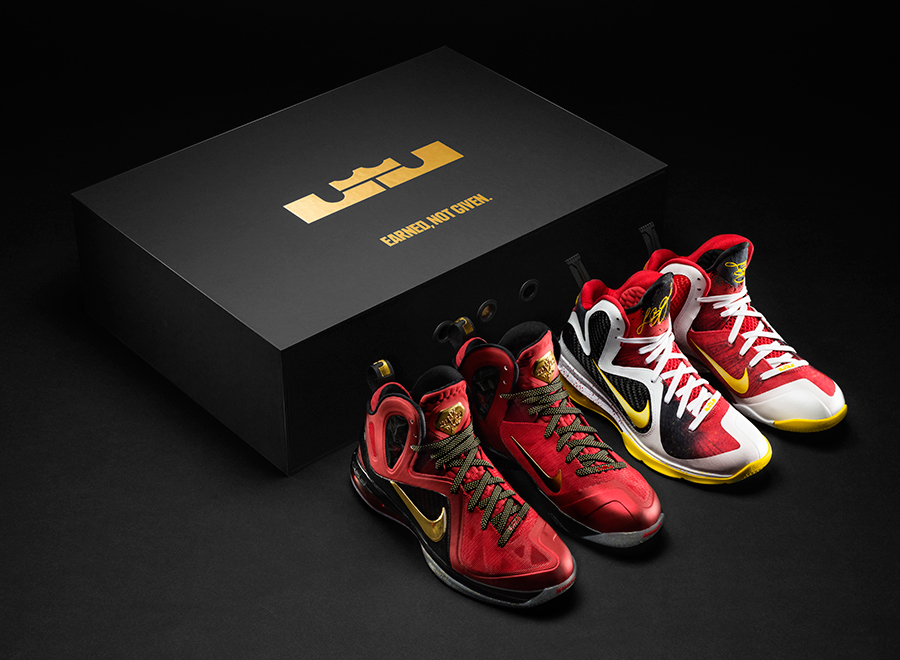 NIKE LEBRON 9 MVP/CHAMPIONSHIP – 2012
Shoes: Nike LeBron 9, Nike LeBron 9 Elite

Like Kanye West stated, LeBron James went from "most hated to champion god flow" in a matter of a few years. His departure to Miami painted him as a villain, but he re-emerged as the hero he once was by winning the MVP and NBA Title in the same year (not to mentioned the Finals MVP and an Olympic Gold). This two pair set is among the most coveted LeBrons ever (released versions, we're not talking PEs).
NIKE LEBRON X TWO-TIME CHAMPION – 2013
Shoes: Nike LeBron X Elite, Nike LeBron X Low

With the popularity of Nike LeBrons at an all-time high, it would only be right for Nike to hit us up with another celebratory release. This time around, the focus is just on his second NBA title, with the Red version of the LeBron X Elite and an outstanding floral-like glow-in-the-dark mash-up on the LeBron X Low comprising this Saturday's release.