This week has been a good one for Star Wars fans with all the news about Episode VII that's been floating around, and they now have more to celebrate thanks to the Star Wars x Vans collection coming for Summer 2014. The sneaker set takes some of Vans most heralded models to a galaxy far far away and outfits them with all sorts of unique prints inspired by the various planets and characters of that world. There's Boba Fett Camo, a Stormtrooper paisley print, Hawaiian Yoda looks, and more. Continue reading to see the full group as well as the release info on them and let us know which of these Star Wars sneakers you're feeling the most.
The Vans x Star Wars collection kicks off with a six-piece offering from Classics. Aligning with the Dark Side, Vans introduces two colorways of the Authentic featuring Boba Fett and Stormtrooper characters. The Boba Fett camo color-up enhances the bounty hunter's disguise alongside the Death Star, Darth Vader and the Stormtrooper to paint a dark scene of the evil Empire. The second style surfaces in the Stormtrooper bandana print that mashes up one of Vans archived patterns with the Galactic Empire's henchmen for a discreet, all-over arrangement. Yoda brings balance to the Force with his special takes on the Authentic and Sk8-Hi Reissue. Blended with Vans' Hawaiian pattern and images of Yoda, the peaceful aloha motif covers the uppers of the low top and hits each quarter panel of the high top. As a tribute to the original film, Vans pairs the Classic Slip-On with the 1977 poster artwork from Star Wars Episode IV: A New Hope and showcases the Era in comic-book style graphics from vintage Star Wars merchandise. Young Padawans and small Sith lords can enjoy the collection as well with kid and toddler-sized shoes featuring the Yoda-inspired art and comic-book graphics as well as two kids-specific Stormtrooper and Darth Vader prints.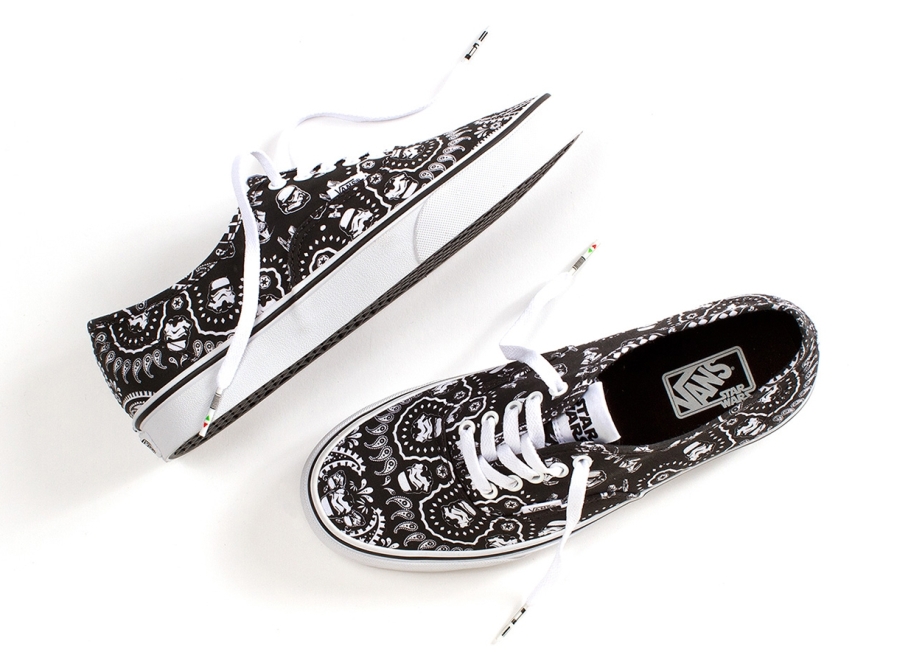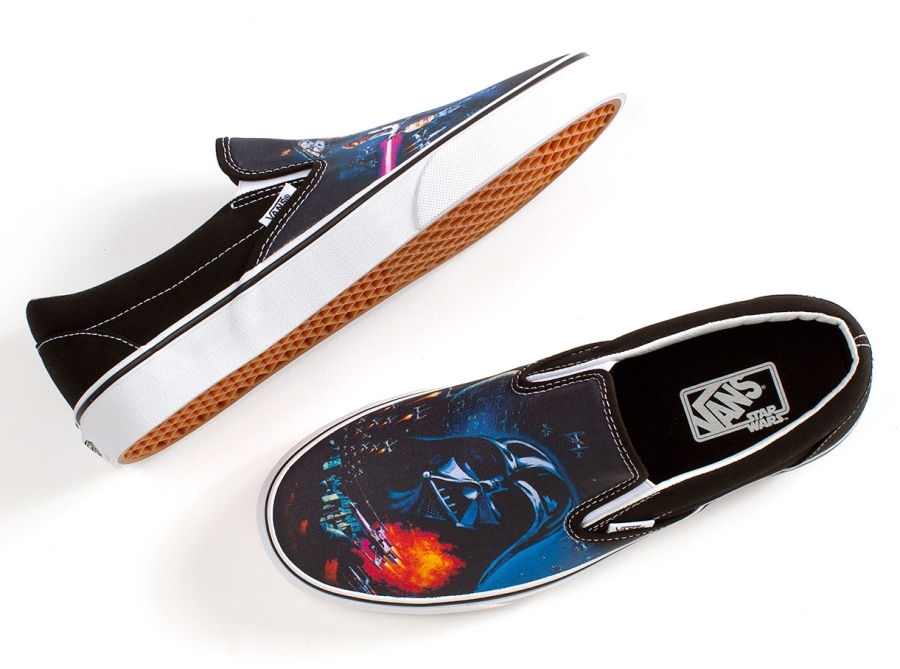 As a tie back to Classics footwear, Vans x Star Wars brings forth an assortment of men's apparel and women's accessories. The men's series highlights the Yoda aloha and Stormtrooper bandana prints across a selection of tees, with an additional cap, backpack and sock pack dedicated to Yoda's special pattern. The women's range of accessories incorporates both sets of imagery into a focused, fashion-forward ensemble of backpacks and hats. The Vans x Star Wars Classics and Apparel collection will be available this June at Vans retail stores and select locations globally.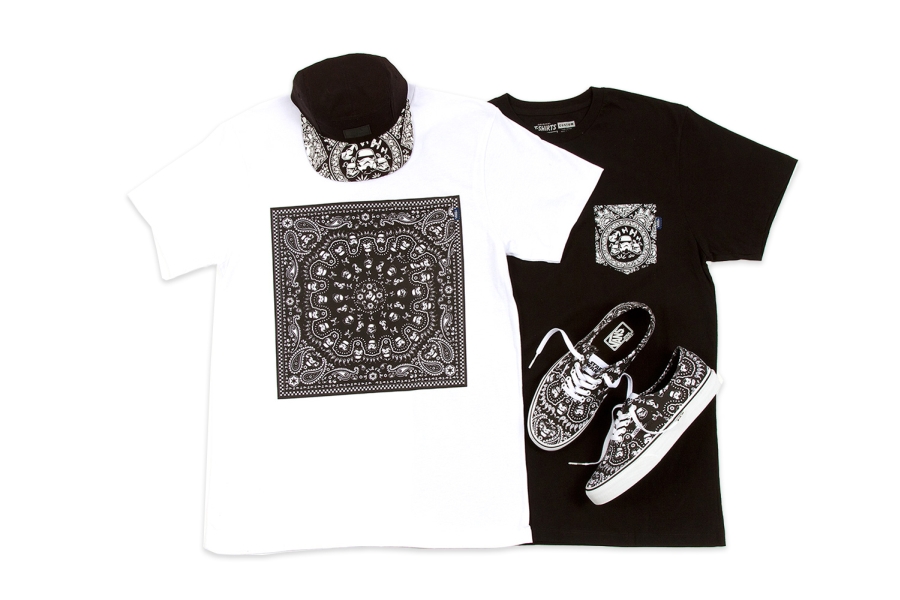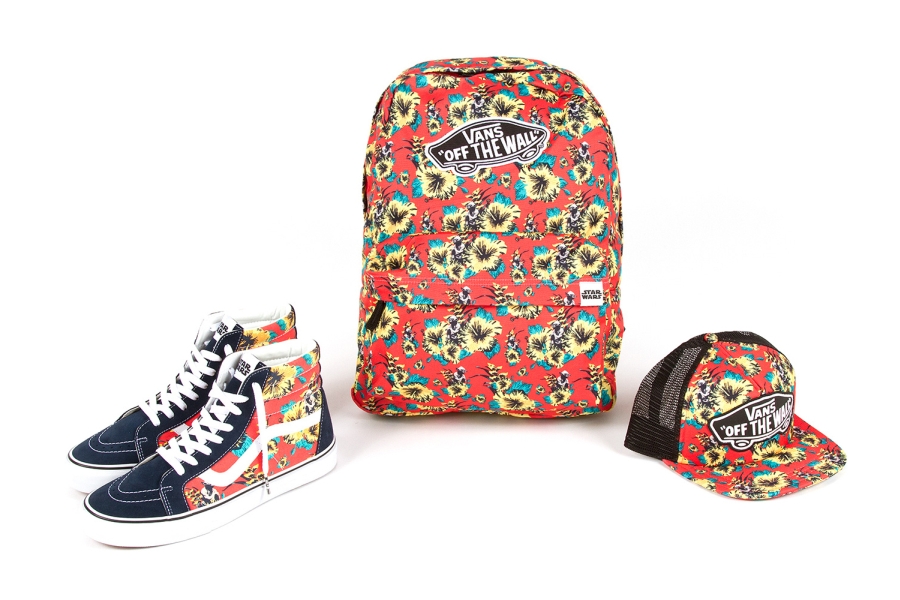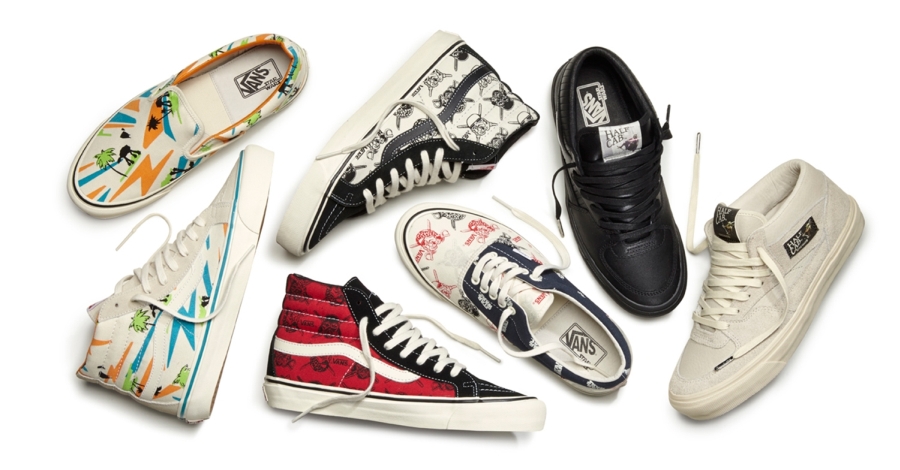 This coveted assortment comes to a close with a limited installment of footwear under Vans' premium label, Vault by Vans. The Vault by Vans x Star Wars collection launches with two rare Vans prints from the '80s that incorporate images of Star Wars villains into Vans original Classic forms. The vibrant Miami print includes the silhouette of Imperial AT-AT Walkers into the aesthetic for a collage pattern across the OG Sk8-Hi LX and OG Slip-On LX. The Pirate print explores the Dark Side with an updated design that replaces the original skull and sword configuration with images of Darth Vader, Stormtrooper helmets and lightsabers for special color-ups of the OG Era LX and OG Sk8-Hi LX. The OG Half Cab LX hosts the ultimate showdown between good and evil with an all-white Yoda colorway going head-to-head with an all-black Darth Vader version. With less than 300 pairs of each style produced, this Vault by Vans special assortment will be available this May exclusively at the Vans DQM General in Boston and New York, Opening Ceremony locations in Los Angeles, London, New York and Ace Hotel New York, Off the Hook in Montreal, Colette in Paris, Firmament in Berlin and Tresbien in Sweden.