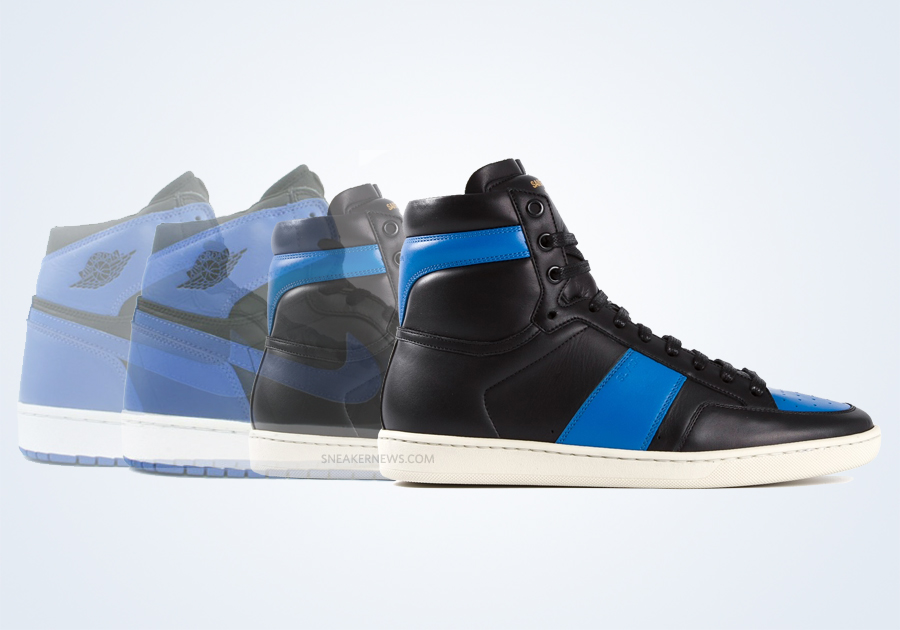 Yesterday, news broke that New Balance is suing Karl Lagerfeld over a sneaker being sold by the German fashion designer that features an awfully NB-looking shape, complete with an "K" across the side in place of the usual "N". That sort of appropriation is nothing new in terms of luxury brands though, and there are plenty of other pairs on the market that owe varying degrees of their DNA to more pedestrian sneaker designs. Legal activity in this realm isn't an entirely new thing either – Jordan Brand previously chased down Gourmet for their tributes and even New Balance had previous a win in this category following their settlement with Louis Vuitton over a 574 ripoff from 2009.
Should these companies be allowed to borrow and interpret these classic designs? That's ultimately up to courts to decide, but it's still an interesting discussion to have if you care about this sort of blending in the footwear world. It certainly makes sense that the brands involved would want to do everything they can to protect their intellectual property. On the other hand, the luxury versions of these models aren't 1:1 ripoffs, in most cases they up things in terms of quality with authentic leathers, European production, and the like (Of course the chunkier price tags reflect this). And let's not forget that the streetwear community at large has given a pass to these sort of brand flips when it comes to clothing. Continue reading for a a handful of of luxury sneaker ripoffs from the past decade and let us know if you approve of the process down in the comments.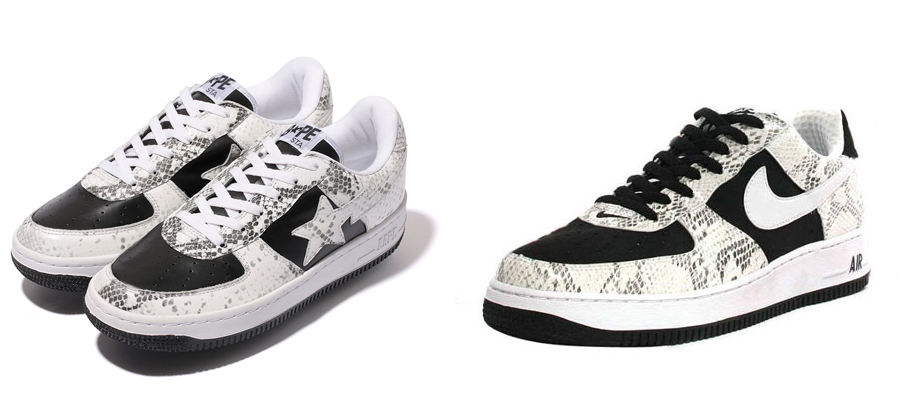 A Bathing Ape Apesta vs Nike Air Force 1
A Bathing Ape isn't a luxury brand per se, but when they really blew up in the sneaker scene in the early 2000s they were definitely on the upper end in terms of price tags. The Nike Air Force 1 isn't the only homage of this sort that they've done, but it was certainly the most popular.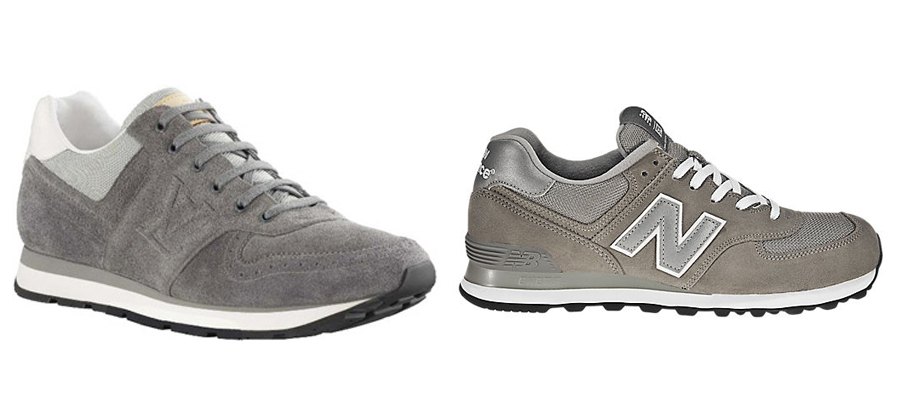 Louis Vuitton Minstrel vs New Balance 574
Yep, New Balance has been through this before. Back in 2009 they reached a settlement with LVMH over the clearly quite derivative "Minstrel" design shown here. LV didn't have quite the brazen logo flip that Lagerfeld would roll with years later, but it was enough to get the shoe pulled from production.
Gourmet vs Air Jordan Retros
Another collection that earned a cease and desist for their creator. Before they transitioned to their current range of original silhouettes, Gourmet came out of the gates with a bunch of pairs that were basically Tinker-era Jordans with lifestyle materials.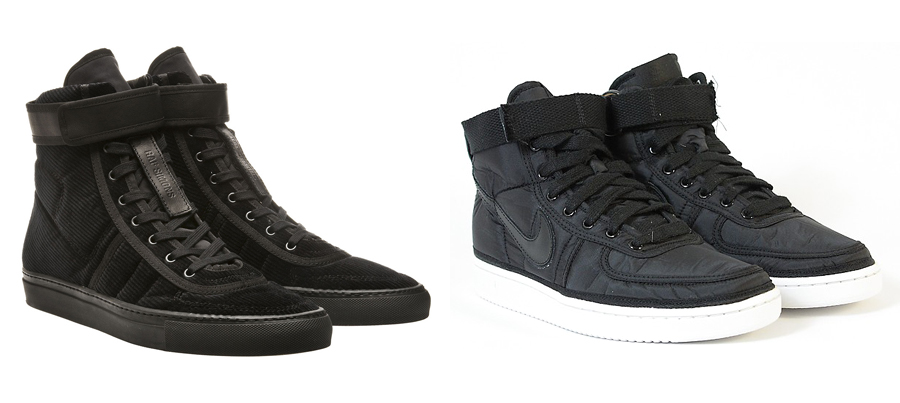 Raf Simons vs Nike Vandal
This just might be the genesis of the current wave of high brow designers obsessing over vintage, high hitting Nike Basketball designs. For this 2009 pair Raf of course draped them in black while borrowing everything from the piping to the strap at the pair's peak.
Saint Laurent Court Classic SL/10H vs Jordan 1
The colorblocking gives this one away. Saint Laurent's take on Michael Jordan's first actually has a little bit in common with his second – that would be the made in Italy construction. You could buy a pair of Jordan 1s on the resell market, or you could spend about the same amount of money and get these.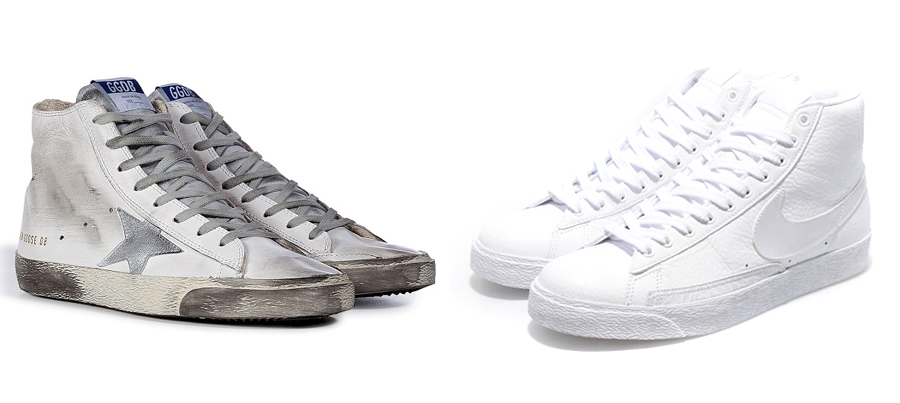 Golden Goose Leather Francy Hi vs Nike Blazer
Golden Goose's whole thing thing seems to be grabbing vintage trainers, covering them with top notch materials, and then thrashing them to achieve their "stylishly distressed" look. This pair owes quite a bit to the Nike Blazer between the kit on bottom and the lace placket, although the distressed vibe and the side zippers have an almost Converse/Varvatos feel.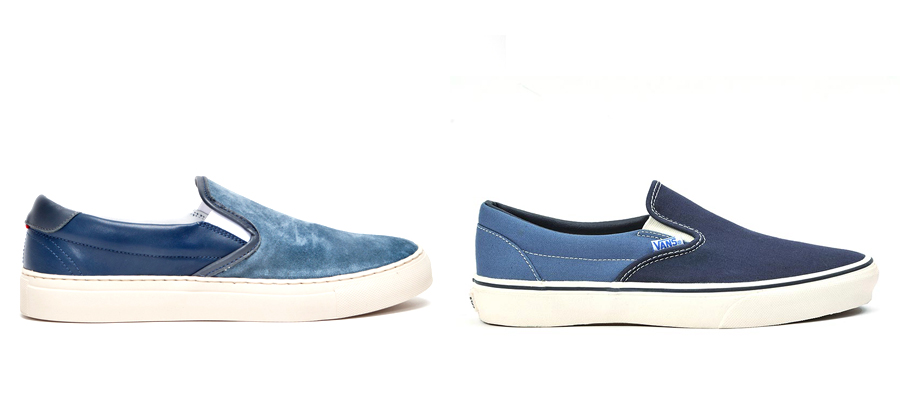 Diemme Garda vs Vans Slip-On
We're assuming that Vans has given this one the OK given that they're still actively producing sneakers with the likes of Italy's Diemme. Their take on the shoe has leather lining on the innards and a rubber cupsole sourced from a family run operation in the heart of Italy. We dare you to skate in them.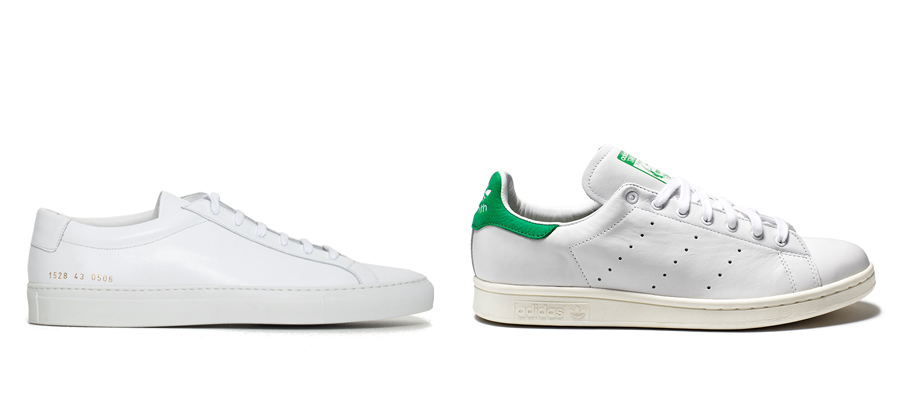 Common Projects Achilles Lo vs adidas Stan Smith
The adidas Stan Smith never had too much branding to begin with, making Common Projects' task all the easier with their Achilles Lo. The sneaker has quickly become a menswear staple – although the 2014 return of the Stan Smith proper has no doubt threatened to take the reins back from this luxury imitator.
Givenchy Tyson vs Nike Air Force 1 High
Riccardo Tisci is a self professed Air Force 1 fanatic – Nike even gave the man some of his own silhouettes to play with. Outside of the Swoosh collab, he also came up with the Tyson design over at Givenchy. The pair mimics the chunky sensibilities of that Uptown classic and brings the strap over as well.
Hender Scheme vs adidas Micropacer
Japan's Hender Scheme has a whole range of "Hommage" models that strip the branding off of treasured sneaker releases from a host of companies and build them back up with a minimal look and some top notch tan leather. Most ironic among them is this ode to the Micropacer, which leaves out the namesake tech but leaves in enough DNA to make the inspiration clear.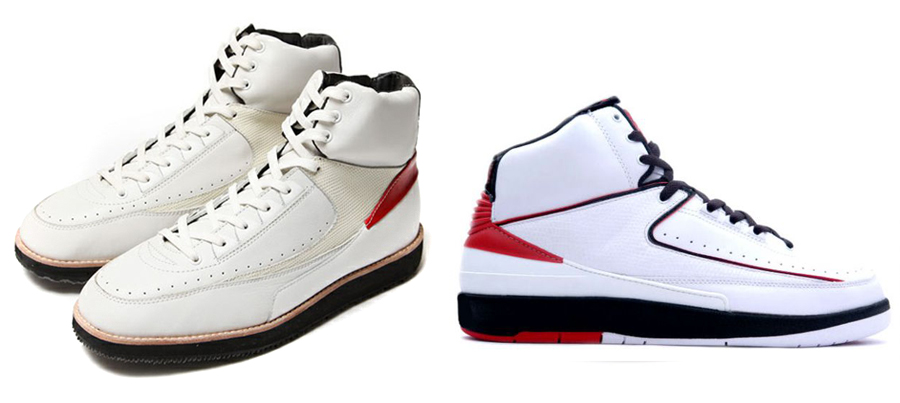 Pivot by diffeducation MJ 2.5 Boot vs Air Jordan 2
No need to strip off the Swoosh on this one, as the Air Jordan 2 was the first of MJ models to break out on its own in terms of branding. The bold Pivot by diffeducation actually turned MJ's second into a boot, complete with a chunky Vibram sole on the bottom.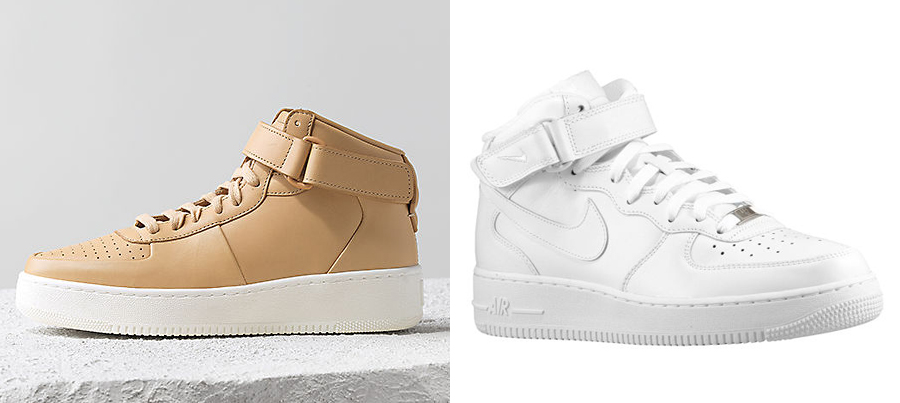 Céline vs Nike Air Force 1 Mid
The Nike Air Force 1 Mid is having a renaissance moment of sorts right now, and even the high end brands are taking notice. Pheobe Philo and co. decided to get in on the fun with this Celine creation, which has a strap set up and height quite similar to the Mid. No all white colorway though?

Karl Lagerfeld vs New Balance
We didn't see a specific shoe mentioned in the New Balance lawsuit, but the New Balance 501 definitely has its similarities with the Karl creation. You'll notice that this pair is set apart from the rest by its attempt to appropriate New Balance's signature side branding – we'll see how it plays out in the courts.