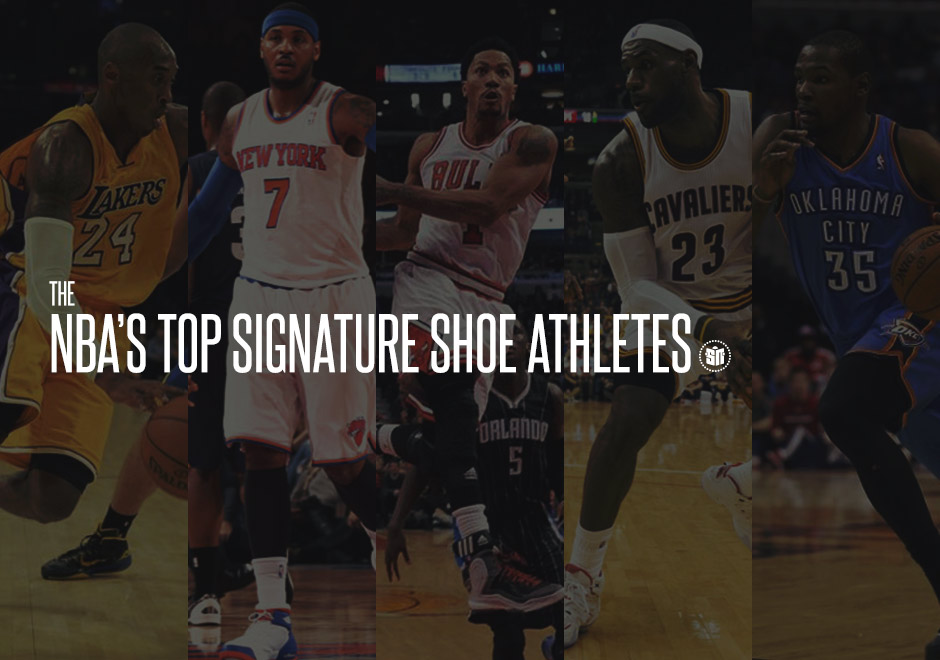 Sneaker sales are doing better than ever, and the reported U.S. sales numbers from 2014 prove that there's no slowing down. The big winner is Nike, the big loser is adidas, and Jordan Brand, again, is in the middle of the pack. Jordan Brand's signature shoe sales don't include any figures for Air Jordans or Jordan Retros, because they aren't signature shoes for active NBA players. In addition, Steph Curry's incredibly popular UA Curry One is not included in this list because the shoes only dropped five weeks ago, and Wade's Li-Nings are not readily available in the States. But with so many new signature sneaker lines debuting in recent months, the reported numbers at the end of this year could be key in projecting brand success over the next few years.
Here, we break down in order (from top the bottom) the signature athletes in the NBA that have pulled in the most dollars in the U.S. market, the reported amount, and the change from 2013. Generally speaking, it appears that sneaker sales continue to grow, with only the Melo line reporting no growth and two adidas signature guys reporting decreases. The biggest jump by number and percentage is Kobe Bryant, whose signature shoes were incredibly popular in 2014 thanks to the Flyknit-based Elite model. The biggest tumble goes to Dwight Howard, but that news isn't even the worst for adidas this week. In any case, check out the list below (info via Forbes) and let us know what numbers surprise you the most.
1. LeBron James | Nike | $340 million | +$40 million
LeBron is King of sneakers once again. He earned an estimated $340 million in shoe sales last year, which is about a $40 million jump from 2013 (an increase of 13%). There were some actual concerns regarding LeBron not wearing the 11 last season as well as the smaller, less glitzy market in Cleveland affecting the sales of the LeBron 12, but it appears that those events have not affected sales.
2. Kevin Durant | Nike | $195 million | +$20 million
Durant comes in at number 2 in this list of signature athlete cash cows. This figure is only about a $20 million jump from 2013, which is rather small compared to the massive $35 million to $175 million leap that we saw in 2012 (but that has more to do with the sheer availability of the KD 5 and KD 6). The $20 bump in the slight price bump as well as the popularity of the KD line to the kids is what caused the increase, but could the numbers be hired if KD wasn't injured and he actually wore the shoes?
3. Kobe Bryant | Nike | $105 million | +$55 million
The Black Mamba made a pretty huge leap, and all credit goes to Flyknit. In 2013, Kobe shoes reportedly sold around $50 million, but the massive popularity of the Kobe 9 Elite was a surefire sign that sales numbers would go up. Did we expect it to more than double itself?
4. Chris Paul | Jordan Brand | $35 million | +$5 million
The CP3 line is tops when it comes to Jordan Brand signature shoes. The popular guard in Los Angeles managed to pull in $35 million, which isn't too much of a surprise given the shoe's popularity among kids. Russell Westbrook isn't technically a signature athlete just yet, but if he was, would Chris be the main man for JB?
5. Derrick Rose | adidas | $35 million | -$4 million
Rose was back in action for half of 2014. Would that mean a boost in sales? Unfortunately, adidas' biggest financial commitment continues to go south because the the D Rose line actually reports a decrease from 2013. This has much to do with the fact that the D Rose 5 was actually $20 cheaper than its predecessor.
6. Carmelo Anthony | Jordan Brand | $30 million | even
The Melo line continues its mediocre existence with a second straight year of a reported $30 million in U.S. sales. The M10 was actually a great performance shoe, but even the awesome Flight Plate and Tinker-penned design wasn't enough to elevate the Melo line.
7. John Wall | adidas | $8 million | +$3 million
Just $8 million? Don't be deceived. Wall shoe sales in 2013 were reported to be around $5 million, but that was under the Reebok label. In just a few short months, the J Wall 1 by adidas as well as other hoops shoes under his name sold about $8 million, and given the Wizards star guard's rise and the generous pricepoint, expect those numbers to grow.
8. Kyrie Irving | Nike | $7 million | n/a
The Kyrie 1 dropped in late December and so far, he's garnered $7 million in sales. Expect Uncle Drew to be much higher on this list, potentially above Kobe, when we report on 2015 numbers. Outlook? $70 million.
9. Damian Lillard | adidas | $1.8 million | n/a
Lillard's another new sig-shoe guy, and in just a short while the D Lillard 1 has pulled in $1.8 million since the sneaker debuted in January. Lillard's another name that can rise the ranks, but we project it to be in the $15-19 million range.
10. Dwight Howard | adidas | $1.5 million | -$3.5 million
Big men don't sell shoes. Big men who seem to be disliked by half of the NBA and its fans definitely don't sell shoes. Who knew that Howard still had a signature line? Still, the D Howard signature pulled in $1.5 million in the United States.