By now you're well aware of the new sneaker that Nike has prepared for Air Max Day 2015 – the Air Max Zero that traces the Air Max lineage back to the time before the Air Max 1 even existed. An unearthed sketch by Tinker Hatfield that dates back to early 1986 was brought to life at the hands of Nike Sportswear's design team, with appropriate updates made to adapt to the current landscape of Air Max footwear. This is new territory for a brand that consistently points its periscope to the future, but the time was "now" for this old concept that was unfortunately too far ahead of its time.
Two weeks ago Sneaker News was invited out to the Nike World Headquarters to experience the history of Air Max design, technology, and evolution with the legendary designer who was responsible for creating this massive stir. The influence of that early sketch is rather obvious in later designs like the Air Max 1 and Air Huarache, and we discovered just how the most innovative footwear architect in history approached his work during a brief chat on that eventful day. Read on below for this exclusive interview with Tinker Hatfield to find out some interesting details about the Air Max Zero production and much more.
The Nike Air Max Zero releases worldwide on March 26th at select Nike retailers. Learn more about the Air Max Zero here.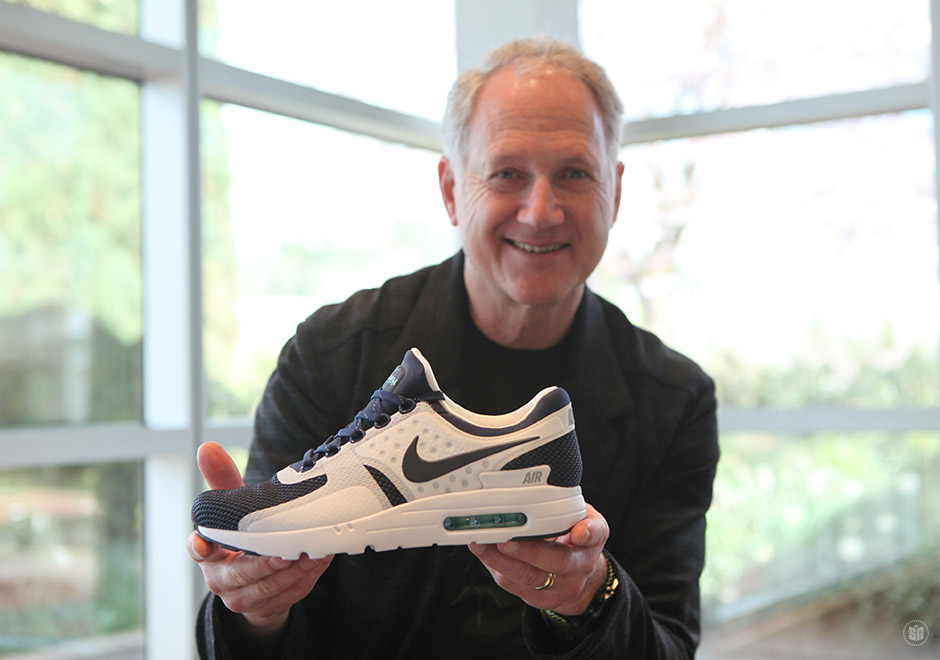 Sneaker News: Nike Air Max has been a global phenomenon for decades. What is it about Air Max that you think has made it so popular?
Tinker Hatfield: Why do you like a shoe? People obviously don't know themselves, but I am surprised by it, and i think it's maybe a little bit of testament to good design and good composition. If you design a shoe somewhat clean and somewhat simple, but still have the right number of pieces where you can go in and colorize it, and the Air Max Zero is a good example of that where it's not too complicated but it has just the right number of pieces. It could look quite different, but still be recognizable as something like a family business. There's a lot of shoes at Nike that's
a little exuberant in their design – lots of pieces lots of plastic and other features that don't take color very well, because once you start applying colors all the pieces get really busy. It's purposeful to simplicity when you look at the lateral side in that one piece of color that runs around on top of the midsole is purposely done to, maybe help the shoe from wearing out or something like that. I really felt like i needed to frame that midsole like a picture frame, and sometimes picture frames can be more elaborate and colorful than the actual picture.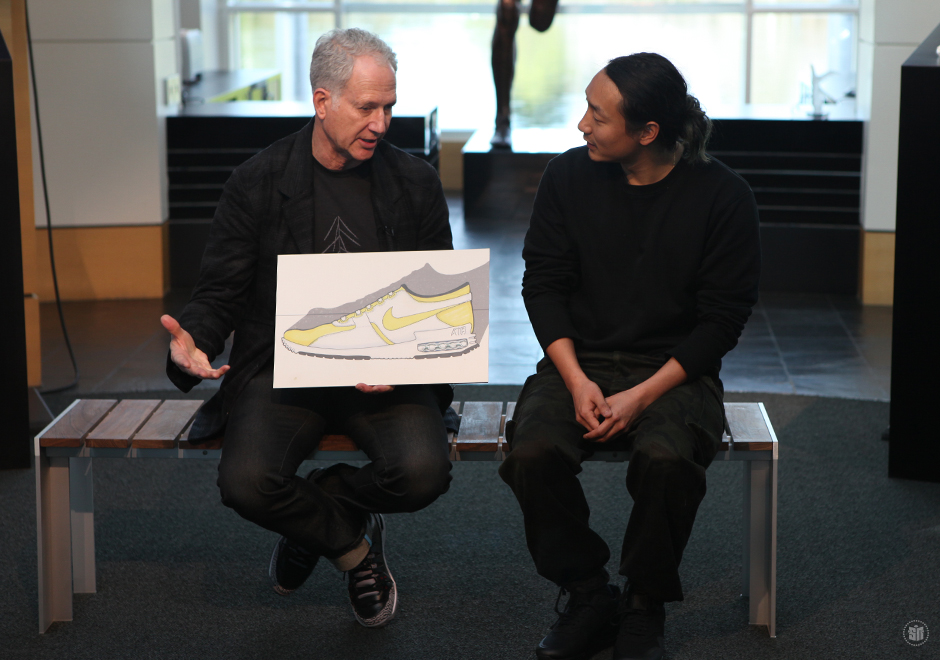 SN: When you're designing new styles, how mindful are you that you might be creating not first for performance or athletes, but as a piece of fashion design?
TH: I'm still designing shoes, but not as many now because we have such great talent here and I don't need to be the one designing all the shoes. I think that for me, if there's a performance kind of story or purpose for a project, it helps me kind of get grounded and sort of set up the architecture of a shoe or apparel. If the shoe has some purpose to it , that makes it Nike. I have a  checklist – performance needs, trying to understand who the customer is – but i'm probably the first designer for nike from 1985 who thinks about performance and trying to improve the way a shoe works, but at the same time the inspiration can come from somewhere else. It could
come from a piece of architecture, a car, or it could be a rock concert, it could be anything. And I often say that, when i sit down to draw something or design something, what i'm designing is really the combination of everything that I've seen and done and experienced during my life up to that point. It kind of leaks back out to the drawing, so there's kind of a method in the madness there. And on top of that i still spend time on the street observing what young people are doing, and some of that ends up influencing the design, but more towards the end.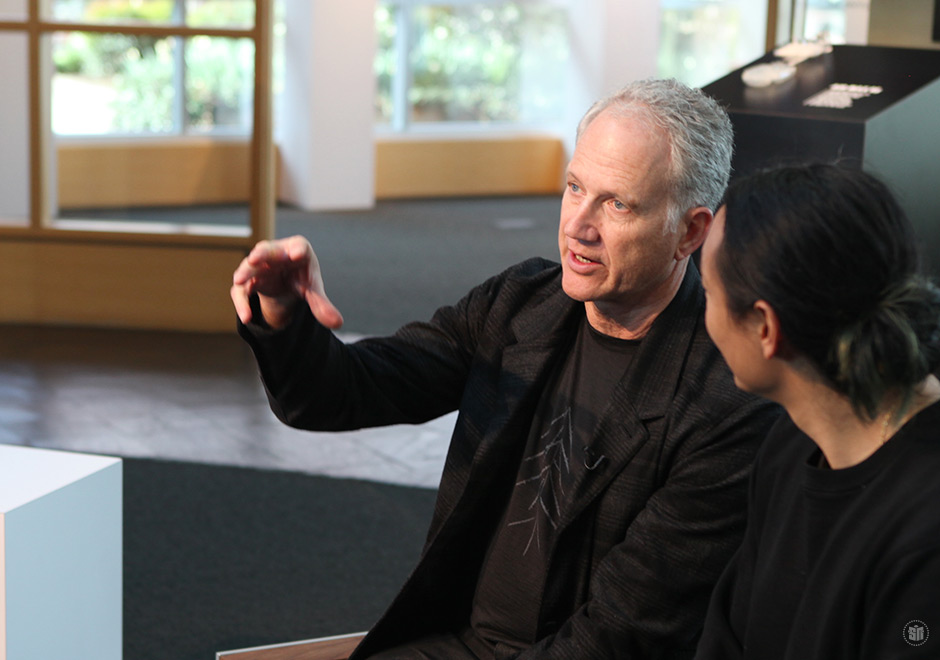 SN: Does the "hype" factor ever influence your work?
TH: I have limited room in my head, it's pretty much like the files are pretty darn full. If I start to think too much about that, i start to wander off track from what my primary purpose at Nike is, which is thinking about
the future and thinking about the performance aspects of the design. I also work on apparel stuff too, and if I start to spend time thinking about the other track, i can get lost. So I don't worry about "hype" pretty much.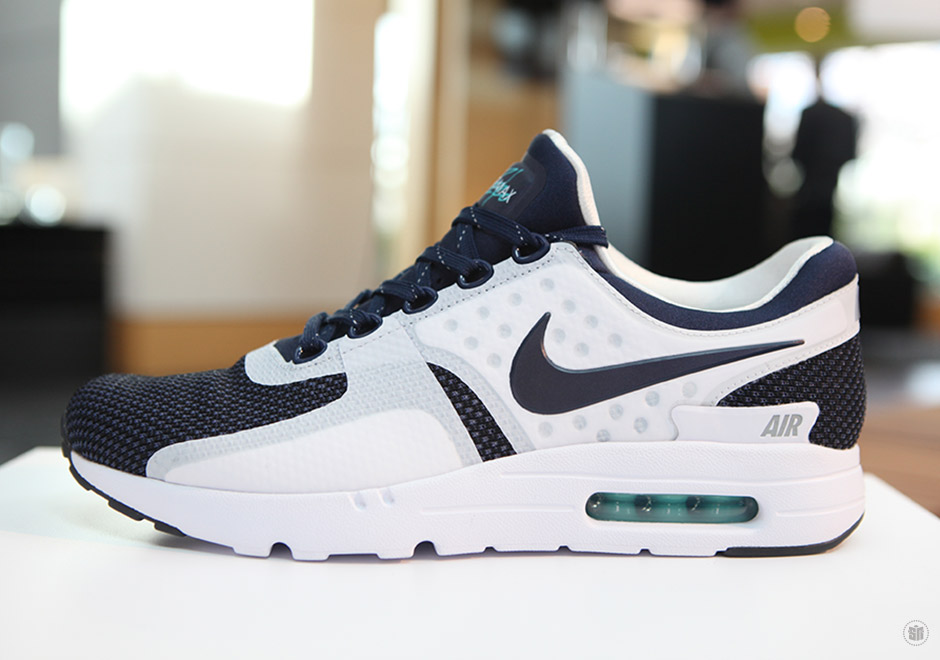 SN: Your job has all to do with the future, but the Air Max Zero is about the past. What qualities or characteristics do you see in this design which is still evident in your work today, or have evolved?
TH: That's a good question because it takes a lot of talent to reinterpret something from the past and make it useful for now or for the future. In this particular case with the Air Max Zero, the design team looked at the old design and they came and showed it to me, as they were working on the prototyping, and i think they were trying to be truthful to the general composition. But there are things in that shoe that we wouldn't have close to being able to do back in 1986 when it was sketched. This shoe has really modern materials and a very lightweight, non-stitched
construction and a much much better foam composition around that iconic air bag, and all of those things are something that we couldn't have done back then. I think they did a really great job. This is probably like a Mini Cooper; think about it, modern Mini Coopers are inspired by original rally cars, which are iconic and really cool, yet, and someone with a lot of talent took that original idea and interpreted to a modern version, which I think is what we did here.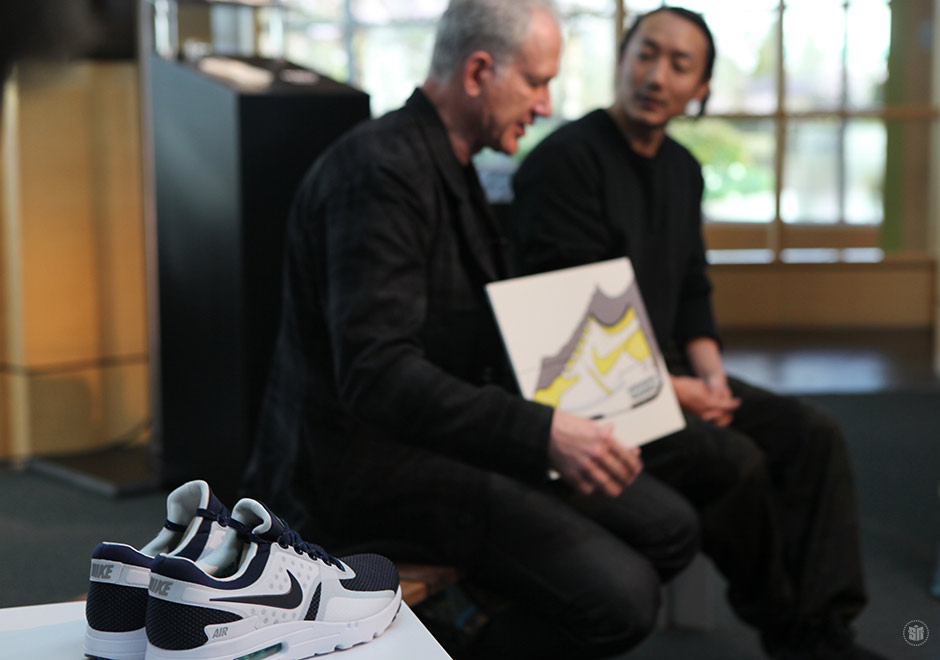 SN: Any brand going back almost thirty years back almost requires a "big hit" so to speak. When you designed the Air Max, it changed the whole culture of the industry in terms of having that one "classic". Has any of the "pressure" to operate at a high level inspire any of your latest designs?
TH: I think I am unique in the point of view where i don't get nervous or flustered by those things very much. I think it might be because I was a pole vaulter, you're at the end of a flexible pole, and fly up in the air. You sort of have to disband your fear of dying almost. I played other sports
as well, and in general I don't feel pressured in general, and maybe if i did, i'd be one of those people where that pressure would be an advantage for me, almost making you live a little harder.