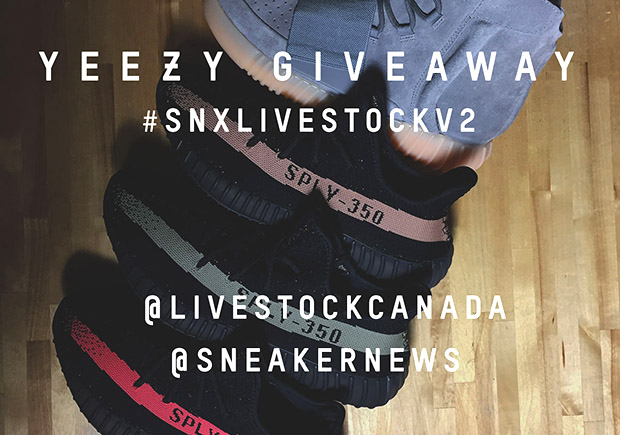 No, you didn't read that headline incorrectly. We're really giving away adidas YEEZY Boosts. And not just one pair, or two pairs, or even three pairs, but four pairs of Yeezys, all totally free! For a special holiday treat for our followers on Facebook and Instagram, what we have up for grabs are all three pairs of the just-released black YEEZY Boost 350 v2, as well as the grey/gum YEEZY Boost 750. We've partnered with Livestock, Canada's premier sneaker retailer, to give away the four pairs, two each via separate Facebook and Instagram giveaways.
Make sure you're following our Instagram and Facebook pages, and follow these easy steps to enter. Good luck!
HOW TO ENTER
FACEBOOK GIVEAWAY (Red and Green v2s)
1. LIKE SneakerNews on Facebook.
2. View the giveaway video on Facebook HERE
3. LIKE and SHARE the Giveaway video on Facebook.
4. In the Facebook comments, tell us your favorite Kanye song.
INSTAGRAM GIVEAWAY (Copper v2s and Grey 750s)
1. LIKE @LivestockCanada and @SneakerNews on Instagram.
2. LIKE & REPOST the photo
3. HASHTAG #SNxLivestockV2
4. TAG @LivestockCanada