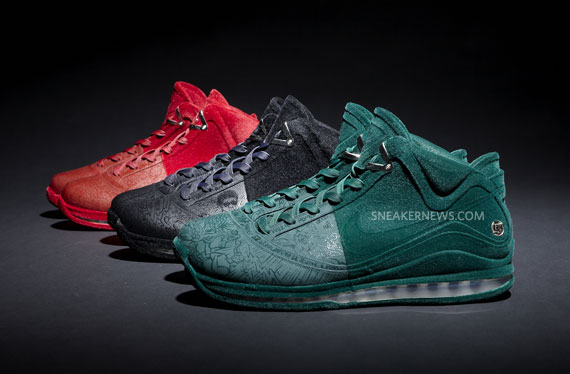 So far, most sneakerheads have found the More Than A Game Artist Series versions of the Air Max LeBron VII to be a little disappointing, but King James's trip to Paris revealed the most creative approach yet. Paris artists Wu "Nyno" Yue and Stephane "The Mayor" Ashpool not only produced three different colorways of their vision, but they also really raised the bar with their design concept, using a variety of materials and media like a velvet coating, matte and gloss paints, as well as areas of pencil drawings. The colors and graphics represent LeBron's six personal credos and of course, Paris's streets and lights. Keep reading for a closer look at all three versions and some additional info on the artists and their inspiration for the Paris Air Max LeBron VII.
Paris Artist Collaboration
At a presentation that took place during Nike's grassroots activities in Paris, Wu "Nyno" Yue and Stephane "The Mayor" Ashpool gave James three uniquely designed pairs of Air Max LeBron VII shoes.
Nyno is a Paris-based freelance artist and animator. Born in Beijing in 1983, Nyno and his parents moved to Paris in 1991, where he has lived and studied ever since. He is famous for his incredibly fast drawing abilities. Additionally, Nyno often uses original Chinese ink for his drawings, which gives them a special touch. This year Nyno became one of the top three most active artists in the Paris scene.
Born and raised in Paris, Stephane Ashpool is the co-owner of ViDA9, a company that produces and choreographs high-fashion events. Ashpool is also the co-founder and Creative Director of the Pain O choKolat crew, an artists' collective. He is the owner of the Pigalle store, a place to organize art openings and cultural happenings in the Ninth District neighborhood of Paris, where Ashpool grew up.
For their collaborative design of the three unique Nike Air Max LeBron VII pairs, the artists were inspired by Paris neighborhoods, particularly the city streets, lights and colors. They chose a color palette they feel truly represents LeBron: his theatrical way of playing is represented by the color red, with black symbolizing his elegance and green paying homage to his youth. The red and black are also symbolic of the Pigalle area and its dark alleyways and neon lights. The green represents the youthful energy of daily life in Paris. The artists used a mixture of media from a special velvet treatment to matte and gloss paints and pencil. The artists were also inspired by all six of LeBron's personal credos.