252558
Nike Air Force 1 Dennis Rodman Hall of Fame PE
There truly will never be another Dennis Rodman. While it's difficult to look past his outlandish attitude, garish appearance, and controversial statements and stunts, Dennis Rodman was one of the greatest rebounders and defenders in the history of the game and served as a valuable tool for not one, not two, but five NBA Championship teams. In addition to being a top-notch rebounder, Rodman wasn't bad on the offensive end either, averaging double-figures in his earlier days as a member of the Detroit Pistons, but as the years went by, he focused more on rebounding, defense, and dying his hair in a rainbow of colors. A seemingly unstable being, Rodman was traded to the Chicago Bulls, joining a Championship-ready team, and although the hair-dying continued, so did the elite level of defense and rebounding. Consider Dennis Rodman as an elite role player; he wasn't exactly needed for scoring, but where he was needed, his performance was unparalleled.
Numerous championships, rebounding titles, All-NBA Defensive Teams is what truly makes up this man, which is why he will officially be inducted into the Basketball Hall of Fame tonight, alongside other basketball greats like Chris Mullin, Tex Winter, and Arvydas Sabonis. In honor of Rodman's latest career achievement, Dennis Rodman, a former Nike athlete, was presented with this Nike Air Force 1; ironically, it lacks any color, but is adorned with a number of significant details from Rodman's career. Check out the extra shot of the Nike Air Force 1 Dennis Rodman Hall of Fame PE below and let us know what you think. via ufbaseball15 on NT.
Update: Dennis Rodman will be wearing this special pair during the Hall of Fame induction ceremony.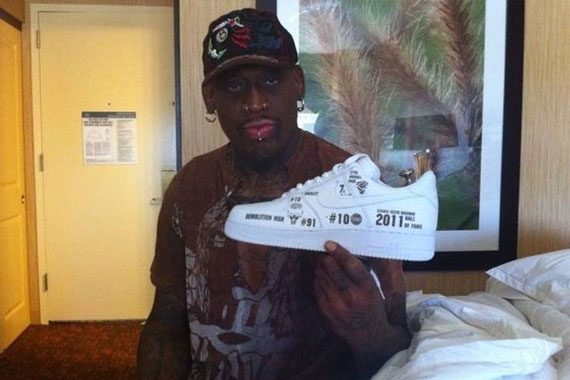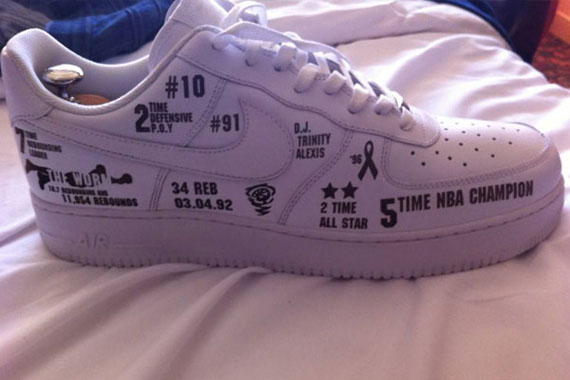 Add'l images via @dennisrodman