345847
Custom Sneaker Of The Week: 8/4 – 8/10
Like them or not, there's no denying that Custom Sneakers are very much a part of the game. Last year, Sneaker News featured the best remixed kicks with our Sneaker News: Battle Of The Customs features in which we selected the best custom sneakers by model and left it up to our readers to vote for the best, but with the quality and quantity of custom kicks increasing by the day, we might as well determine the best custom sneaker of the week! Eleven amazing designs finished off by some of the game's best customizers are featured below, so check them all out and vote for your favorite Custom Sneaker Of The Week!
DeJesus Customs transfers the sublime 'Net' colorway of the Air Yeezy onto the Air Jordan III for this simple yet powerful sneaker custom.
Air Jordan III "Threezy" Customs By DeJesus
–
Mache Customs shows off his latest technique with brush strokes in this 'Dark Knight' affair.
Nike LeBron 9 "The Dark Knight" Customs By Mache
–
Freehand Profit brings patriotic flavor to his iconic gas masks with the Air Jordan VI 'Olympic'
Air Jordan VI "Olympic" Gas Mask By Freehand Profit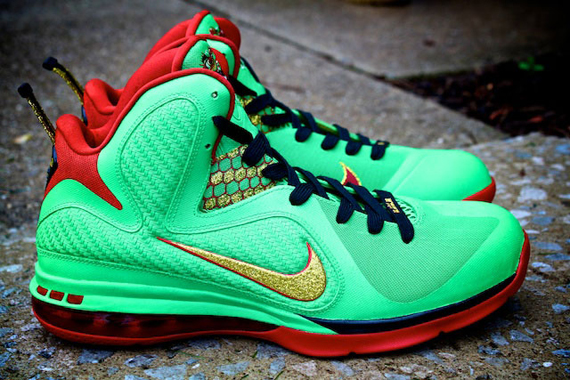 Proof Culture keeps the 'Year of the Dragon' celebration going with this jade green design.
Nike LeBron 9 "Year of the Dragon" Customs By Proof Culture
–
Revive Customs brings a classic Air Jordan together with a Summer-time icon of the streets.
Air Jordan III "Mr. Softee" Customs By Revive
–
El Cappy presents a tribute for those who hold it down for their respective cities.
Air Jordan V "Anchor" Customs By El Cappy
Mache continues his LeBron 9 Custom Superhero capsule with Spawn.
Nike LeBron 9 "Spawn" Customs by Mache
–
JWDanklefs keeps watch over the U.S. Border in these sick Air Jordan III customs.
Air Jordan III "U.S. Border Patrol" Customs By JWDanklefs
–
The Cincinnati Reds get in the sneaker game as they commission PMK to complete this amazing Dunk Low project.
Nike Dunk Low "Cincinnati Reds" Customs By PMK
How does that rhyme go? Oh yeah: "V…VI…Grab your crucifix…"
Air Jordan V "Nightmare on Elm Street" Customs By DeJesus
–
Dunk expert ROM hits us with part 2 of his 'Samurai concept.
Nike Dunk High "Samurai II" Customs By ROM
–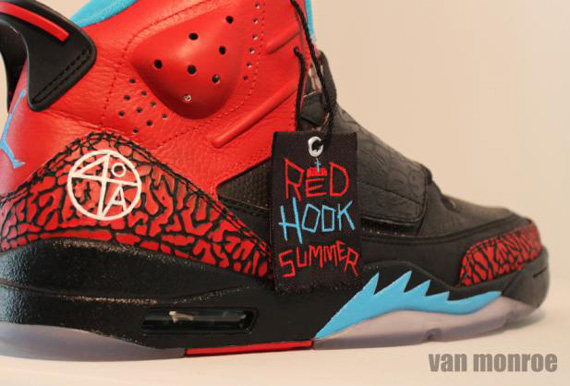 Mookie makes a return in Spike Lee's 'Red Hook Summer' – peep these Son Of Mars tributes by Van Monroe.
Jordan Son of Mars "Red Hook Summer" Customs By Van Monroe
–