490081
A History of Innovative Technology on Kobe Signatures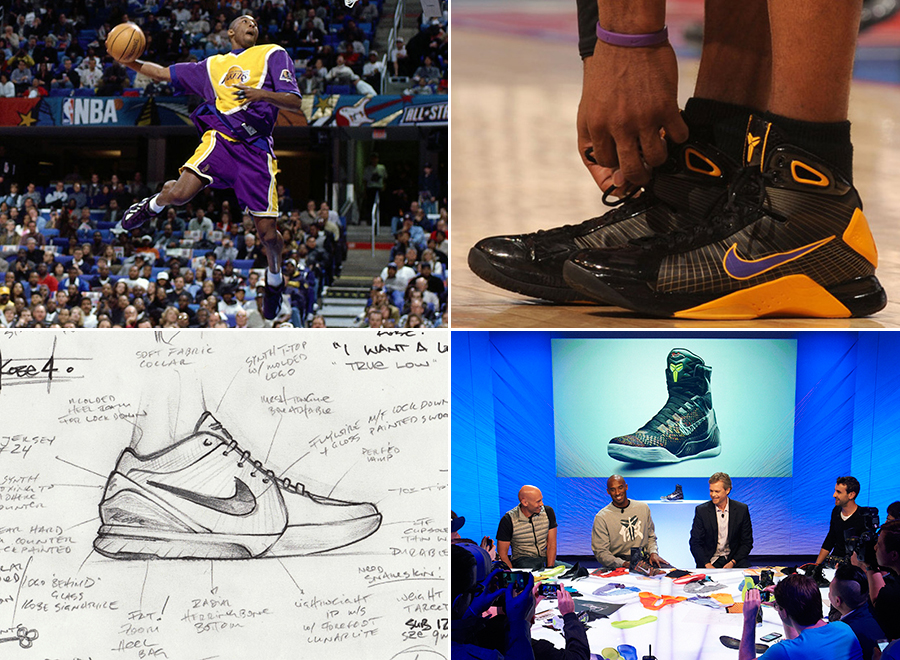 Kobe Bryant has been compared to one of his heroes since he entered the NBA at the tender age of 18.  It has proven entirely valid to debate his achievements alongside Michael Jordan's: titles, points, Olympic golds – you name it, these two of the greatest shooting guards ever are right there at the top of the list.  Jordan's sneaker line is of course unable to be surpassed, but this is another area where Kobe has put himself into that upper echelon.
One thing Air Jordans and Kobes (by both adidas and Nike) have in common is that they represent a scoring assassin so special, companies staked the culmination of their research and development process on a single luminary performer.  Kobe in particular has served as the face of technical innovation across his entire career.  The first ever Flyknit basketball shoe has his initials woven into its heel, so let's look back into each of Kobe's innovations leading up to this point.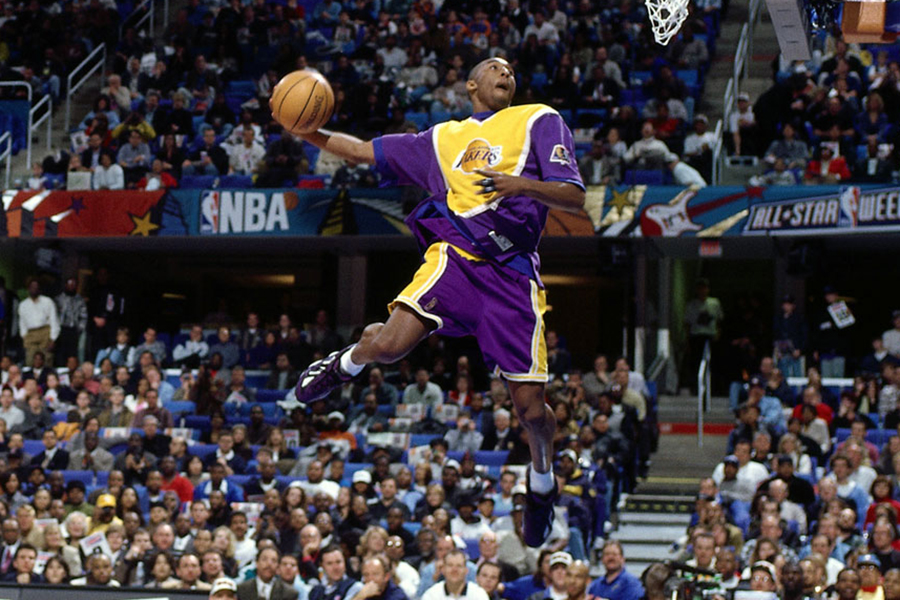 FEET YOU WEAR

adidas introduced the FYW movement in 1996, with Feet You Wear representing a podular approach to sole design. FYW even had a cute little mascot whose bulbous cartoon appearance was echoed by the Atlanta Olympics mascot, Izzy. Kobe didn't play in those Games but he did join the NBA and its trampoline dunkers straight out of high school in '96. His adidas Top Ten 2000, EQT Elevation and KB (now Crazy) 8 established a pod sole trend that even Tinker Hatfield and MJ himself couldn't resist when the Air Jordan XIII hit in '97.
MOLDED UPPERS
adidas answered Nike's late '90s Foamposite charge with a few molded designs of their own. Kobe Bryant was selected as the endorser for the sleek, Euro-influenced design that became the adidas THE KOBE and THE KOBE 2. Inspired by Kobe's own Audi TT, the German luxury automaker got a huge cosign for its ample legroom while Bryant started winning championships in these shoes commonly mentioned in lists with not so nice names.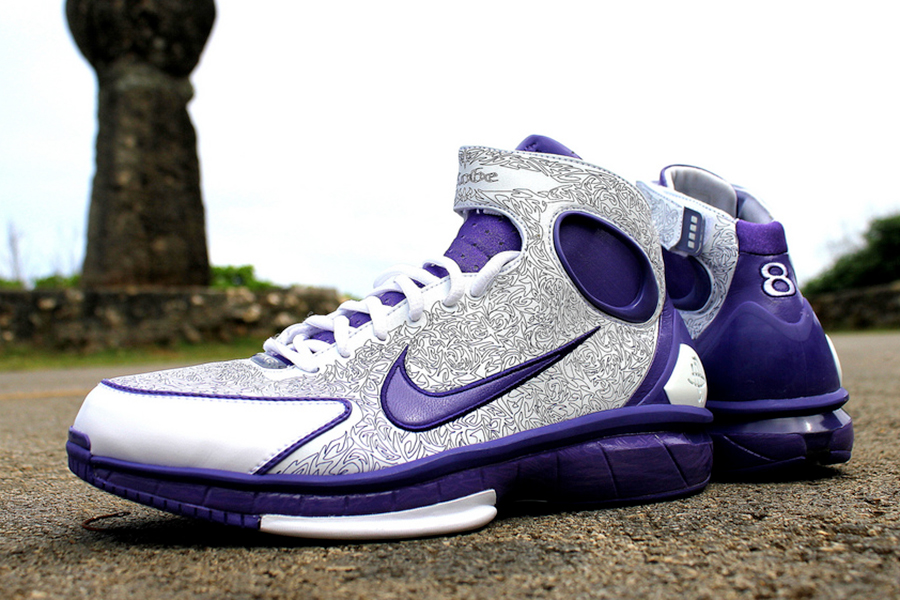 REBIRTH OF THE HUARACHE
Before Kobe began his Nike Basketball signature line in 2006, he wore a variety of different models including a few Air Jordan Retros. His chief selection for the first two seasons of his Nike contract were the Nike Air Zoom Huarache 2K4 and its 2K5 successor, reknown as perhaps the best basketball shoes of the decade. The '90s Huarache line had itself reached into history for its sandal inspiration. When improved and combined with Zoom Air in the 21st century, we got a lesson demonstrating that innovation is not a magical random blessing you might hope to glimpse. It's the emergence of new properties as we increase in complexity, borne out of repeated experience.
CAGE
Kobe was at the center of more established Nike technology made new in 2007. The Nike Zoom Kobe III brought together a polymer reinforcement concept with its roots in the turn of the century Air Presto, with a hint of the Beijing Olympic 'Birdcage' arena where he won second gold medal. Presto turns out to also be an idea that finds itself reinterpreted when Flywire hits the following season. So we might think of the Zoom Kobe III as the relay runner who hands off to Flywire's anchor leg. Speaking of Flywire in the summer of 2008 . . .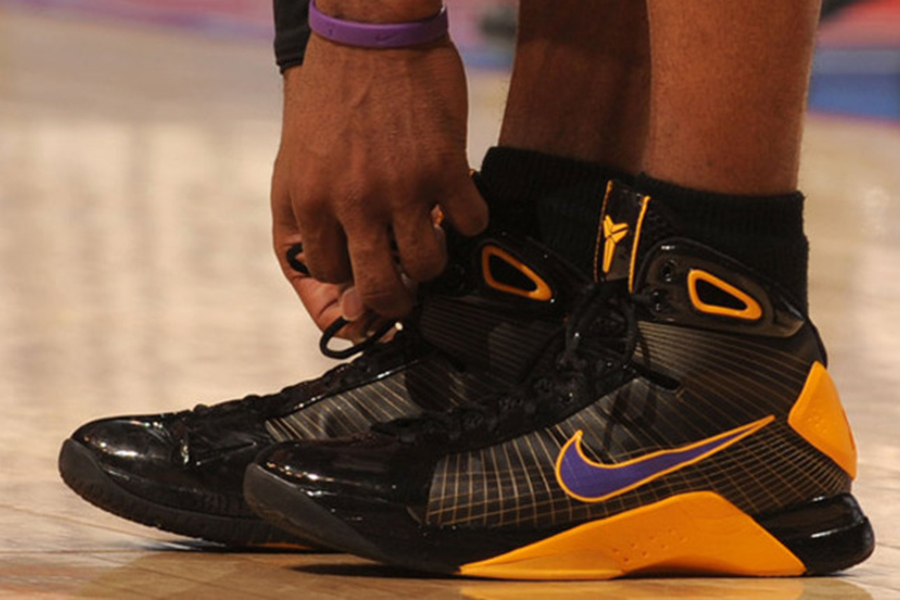 FLYWIRE MEETS BASKETBALL
The Zoom Kobe series was an established hit with Eric Avar at the helm by the time the '08 Games rolled around. But Nike also had a huge new drop on its hands with the Huarache-influenced Nike Zoom Hyperdunk, the first basketball shoe with Flywire and LunarLon. Kobe was at the top of the list of a range of Olympians who donned the Hyperdunk in 2008 as a prelude to the shoe's dominance in 08-09 across all levels. Along with the incredible leaps both literally (over the Aston Martin) and figuratively from his next signature shoe, plus back to back NBA Championships after the gold, Bryant's lofty position in the sneaker world mirrored his on-court dominance.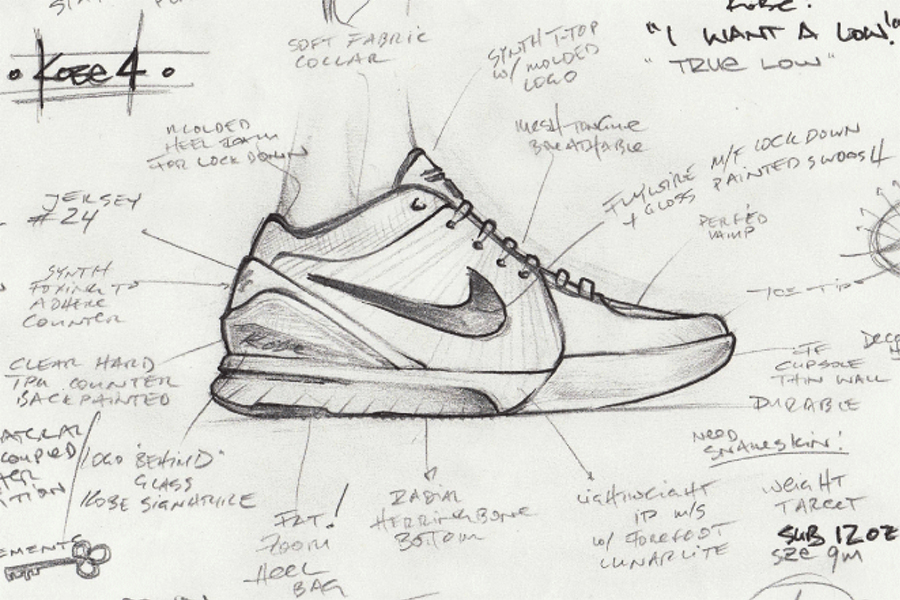 GET LOW
The Nike Zoom Kobe IV was arguably the most important Kobe Bryant Nike shoe to date. Here are a few of the more important points to consider: First lowtop signature basketball shoe. First signature shoe to debut on NIKEiD before retail. First lowtop basketball shoe with Flywire. First in a line of soccer-inspired designs influencing more 'American' sports. First post-Shaq Kobe championship shoe (first of back to back titles and Finals MVPs). The Zoom Kobe IV was another prime example of existing ideas combining in surprising, game-changing new ways.
SNAKE COMES TO LIFE
Every single innovation doesn't have to be solely about technical performance. Remember that the Air Jordan 1 was groundbreaking just for pairing black and red. So when the Nike Zoom Kobe VI introduced a snake scale texture on the Flywire-reinforced TPU upper, it welcomed a new generation of textures that embody player personalities. To date, only Bryant's own 'Kobe Skin' Zoom Kobe VIIs and 'Shedding Skin' Kobe 8 have come close to mastering 3-D space like the VIs, but the precedent has been set.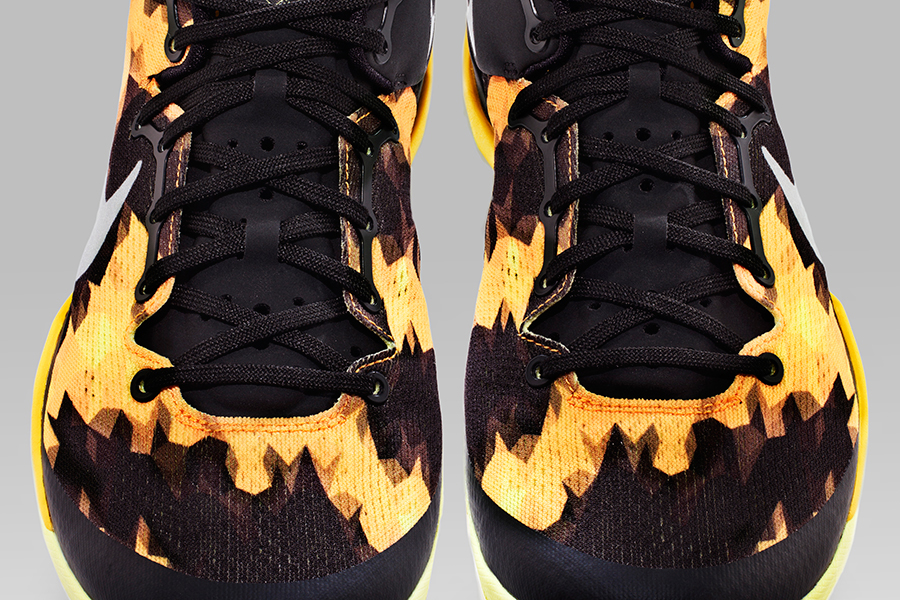 ENGINEERED MESH
The Nike Kobe 8 was the first Engineered Mesh basketball shoe. That featherweight material has the advantage of accommodating nearly any print or pattern imaginable, and with plenty of examples to choose from, the Kobe 8 established itself as one of the most visually stimulating sneakers ever. Numerous themes, myriad graphics and color combinations and tons of NIKEiD options made the Kobe 8's extended retail run fly by.
FLYKNIT MEETS BASKETBALL
The Nike Kobe 9 Elite will be the first Flyknit basketball shoe. It's also the highest cut modern basketball shoe from Nike and has already proven even before a single colorway releases that its visual potential is staggering. Only time will tell if this progressive design has the same impact as the Zoom Kobe IV lowtop-revolution-spurring, and the story shifts from prologue to chapter 1 with the 'Masterpiece' Kobe 9 Elite dropping February 9th.