The simple, team-based colorways will no longer suffice for a signature sneaker line. Sure any given player shoe is going to be equipped with the colors of the player's team at the time, but the hungry market has demanded a load of releases that extend beyond the simple "Home" and "Away" make ups. The Nike LeBron line has always answered that call with creative pairs that speak to LeBron's personal history, his trials, tribulations – even his favorite cereal at times. And ever since he took his talents to South Beach, the Florida-inspired colorways have been a key part of that equation.
LeBron's move to Miami was the beginning of an entirely new chapter in his career and his life, so it only makes sense that Nike would respond with a yearly set of shoes reflecting his new home. That move also coincided with a new era in his sneaker line – LeBrons 1-6 are certainly celebrated amongst dedicated LeBron fans, but it wasn't till the 7, 8, and onward that they started consistently making noise. Gathered here are those shoes, which come with all sorts of colors and graphics, that somehow make a connection to Miami and Florida at large where King James rests his head. Continue reading to see the group and then tell us in the comments which is your favorite Florida Nike LeBron of all time.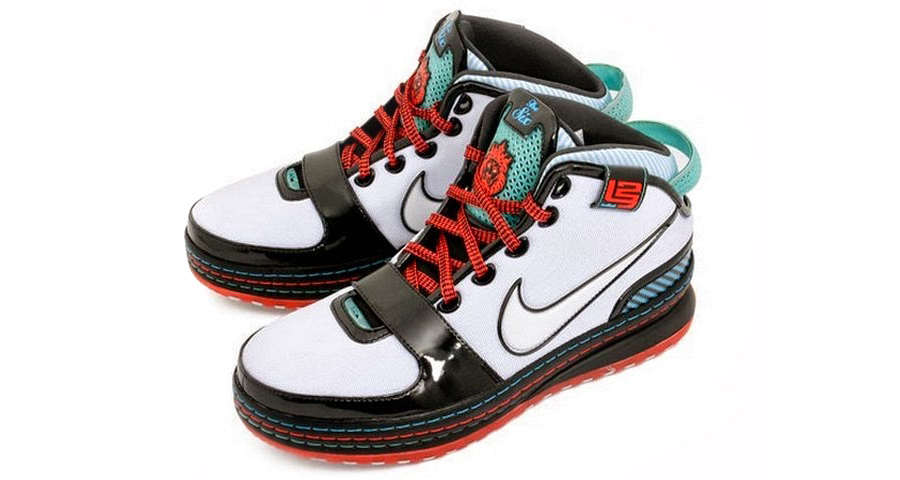 LeBron 6 Miami
A couple of years before anyone had any inkling of a LeBron to the Heat move there was this sneaker, which was part of the "Tale of Three Cities" pack and first introduced LeBron's line to what would later become a key theme for the shoes.
Read More: Nike LeBron 6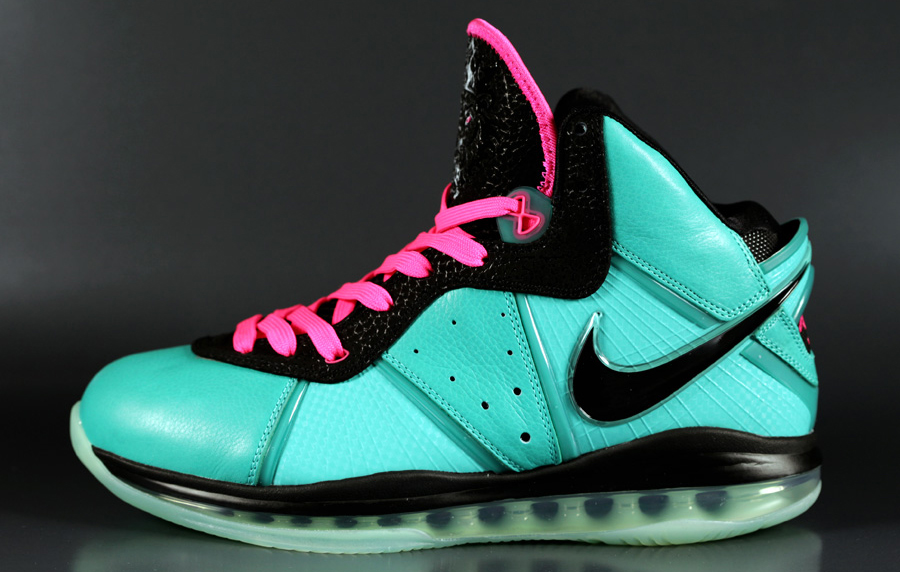 LeBron 8 South Beach
This one's a no-brainer. The first ever "Pre-Heat" edition of the Nike LeBron made a bold statement proclaiming LeBron's new allegiance with the Miami Heat. The "South Beach" 8 was a limited release and is currently considered to be the greatest Nike LeBron of all-time.
Read More: Nike LeBron 8 South Beach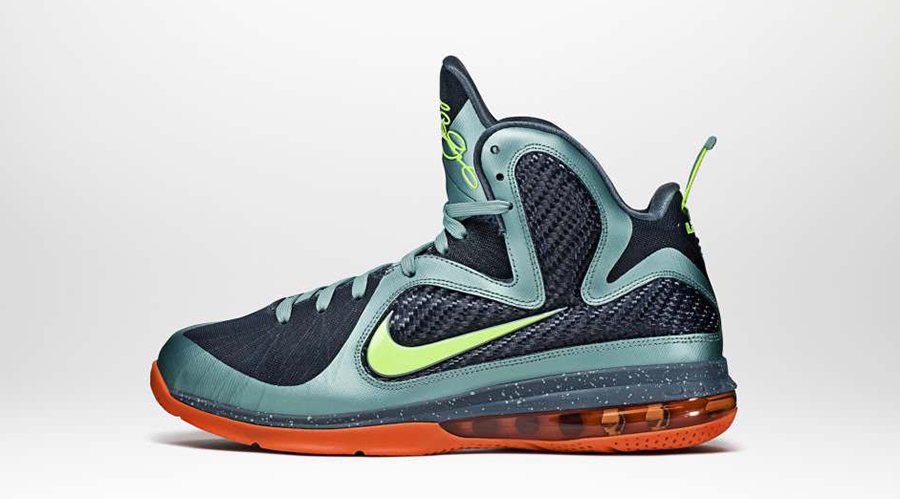 LeBron 9 Cannon
The next "Pre-heat" release in the Nike LeBron saga is this military-inspired colorway that dropped during the lock-out period of the 2011-2012 NBA Season. The colorway takes after an army base located in the state, where the Heat players trained during the off-season.
Read More: Nike LeBron 9 'Cannon'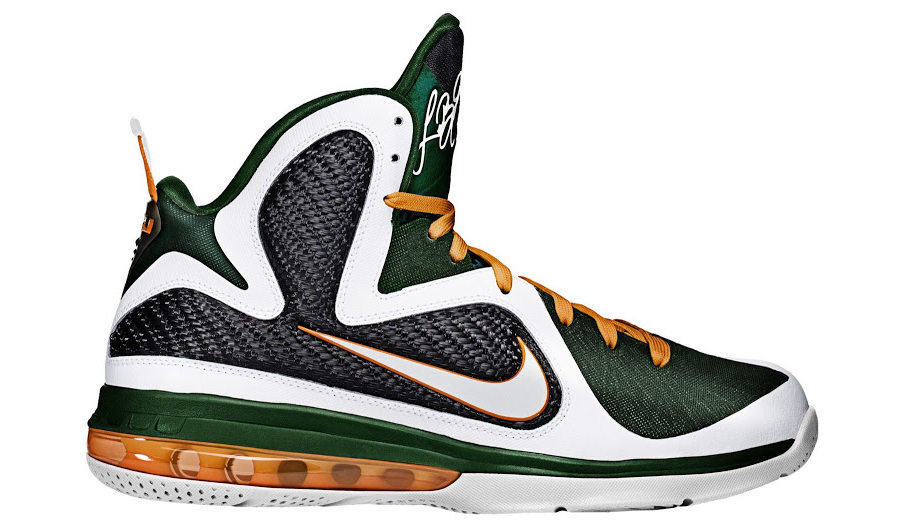 LeBron 9 Miami Hurricanes
Nike released a trio of college-inspired LeBrons – one of which was this White/Green/Orange "Miami Hurricanes" colorway. There was a PE version that featured the actual "The U" logo that was issued to student athletes only.
Read More: Nike LeBron 9 'Miami Hurricanes'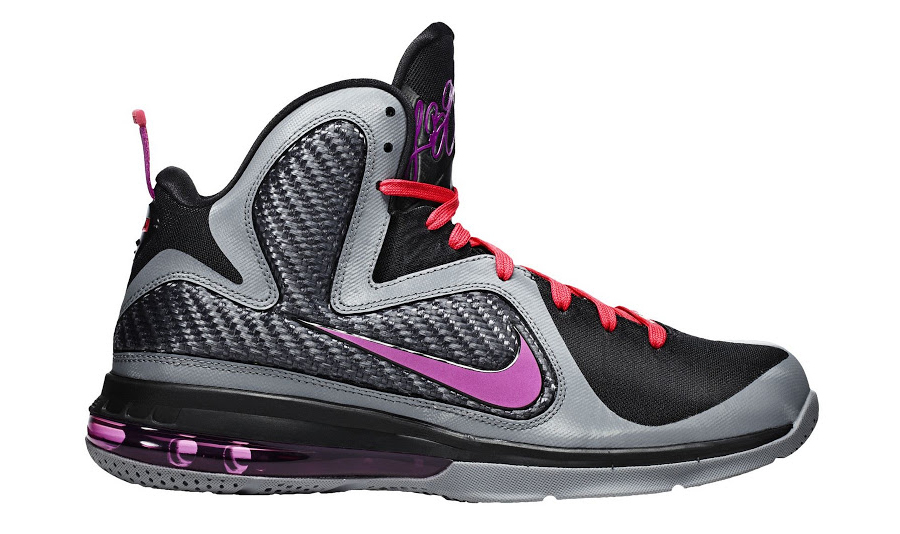 LeBron 9 Miami Nights
This Nike LeBron 9 ended up as one of the darker pairs referencing LeBron's current state of residence. Sure they had the pink and purple sprinkled in, but the base was a cool grey/carbon mixture that represented the night sky that those bright attractions would stand out from.
Read More: Nike LeBron 9 'Miami Nights'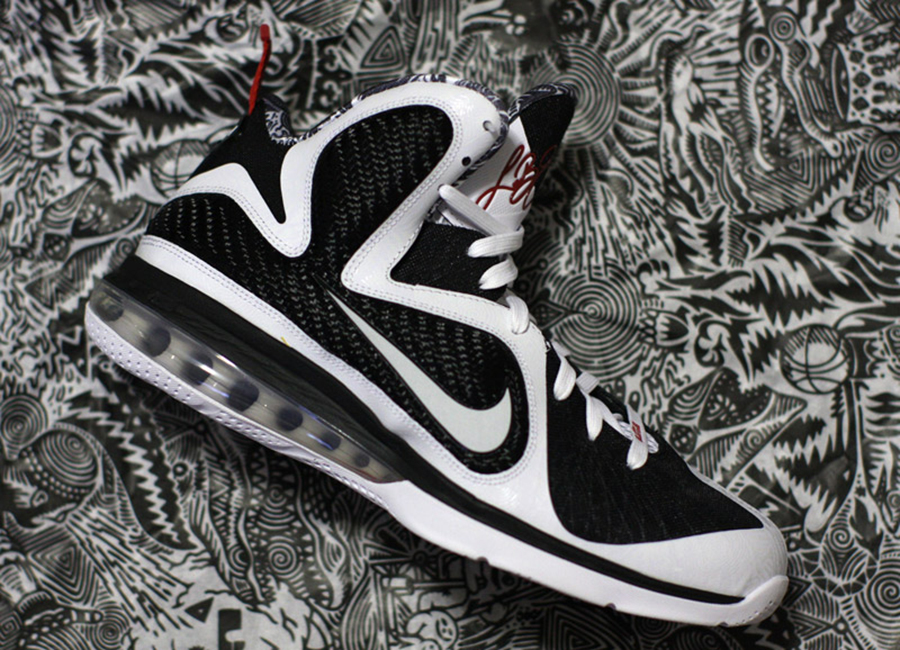 LeBron 9 Freegums
Florida based artist Freegums ignored the typical neon palette for his tribute, and instead gave the Nike LeBron 9 a no-frills black and white colorway that featured all sorts of allusions to local culture poured into the graphic lining.
Read More: Nike LeBron 9 'Freegums'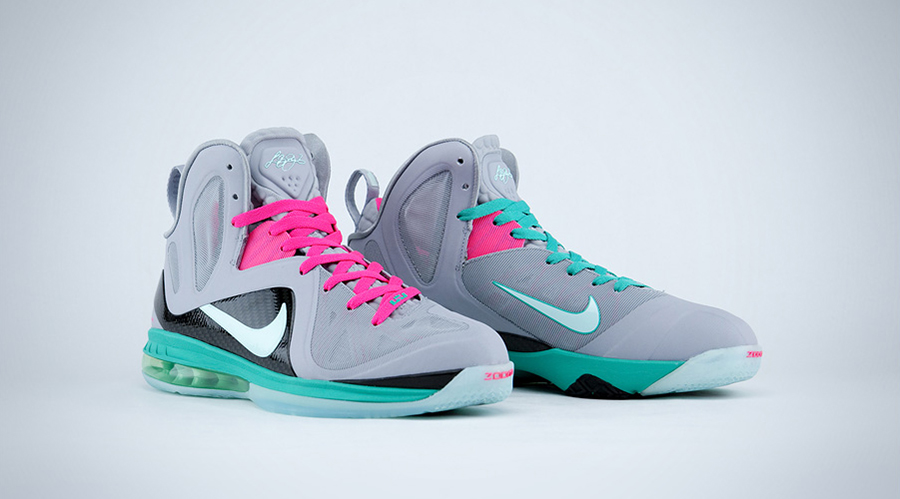 LeBron 9 Elite Miami Vice
An unofficial follow-up to the "South Beach" was the "Miami Vice", which gave fans of the specific palette anther crack at it on a slightly more evolved silhouette. Can't get any more Florida-based than that.
Read More: Nike LeBron 9 'Miami Nights'
LeBron 9 Low Floridians
This special low-top release was an homage to the old-school, short lived Miami Floridians franchise of the ABA. The sneakers featured one of the brightest LeBron colorways that we've ever seen and a cool split-color set up for those translucent outsoles.
Read More: Nike LeBron 9 Low 'Floridians'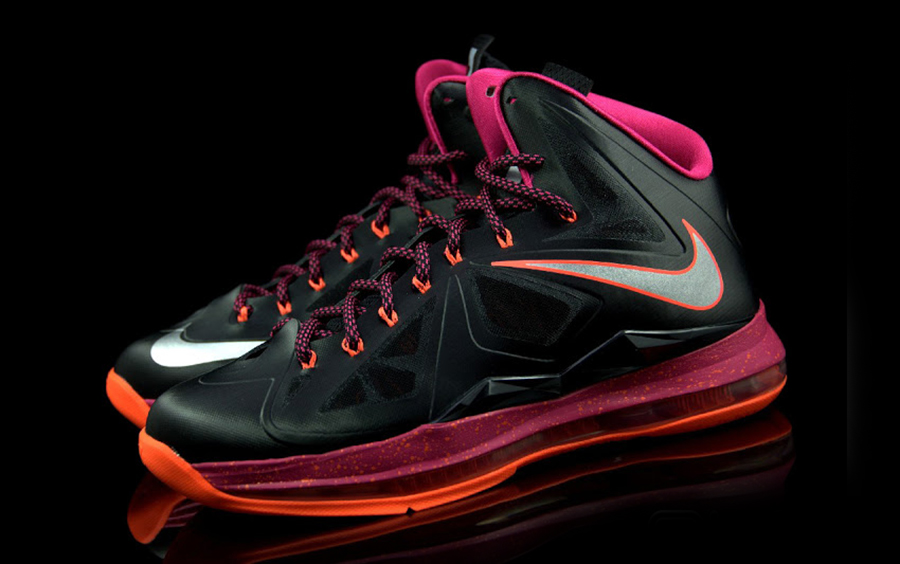 LeBron 10 Floridians
While the last mid-top version of the Floridians were only a PE, this black "Away" colorway indeed hit stores in late 2012. They managed to be more than just a reprisal of previous pairs with the same theme thanks to the black base.
Read More:  Nike LeBron X "Floridians"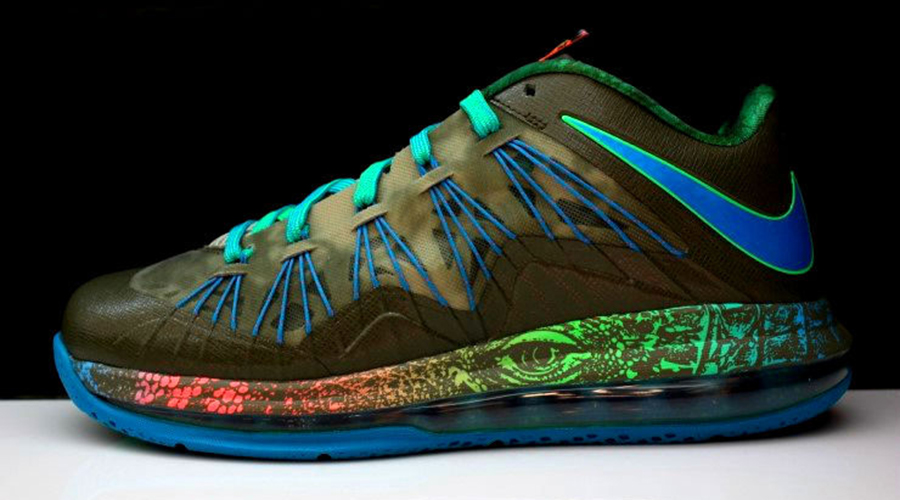 LeBron 10 Low "Reptile"
Yep, Nike LeBron line has been to the swamps once before. This Nike LeBron 10 Low focused on the fauna rather than the flora though, with a reptilian colorway that had an alligator/crocodile eye peeking out.
Read More: Nike LeBron X Low Reptile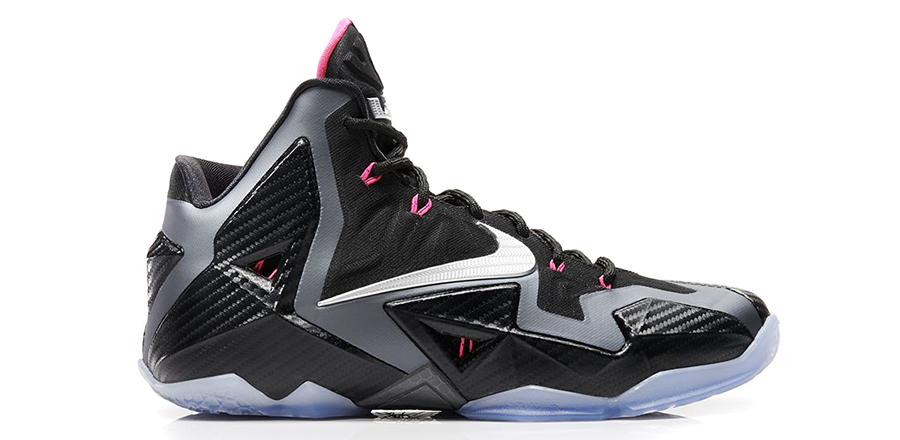 LeBron 11 Miami Nights
It's not too often that you see Nike Basketball bring the exact same theme onto signature releases a couple of years apart. It happened this time though, as the Nike LeBron 11 "Miami Nights" utilized a dark upper with some brightly tinted accents just like its LeBron 9 predecessor.
Read More: LeBron 11 Miami Nights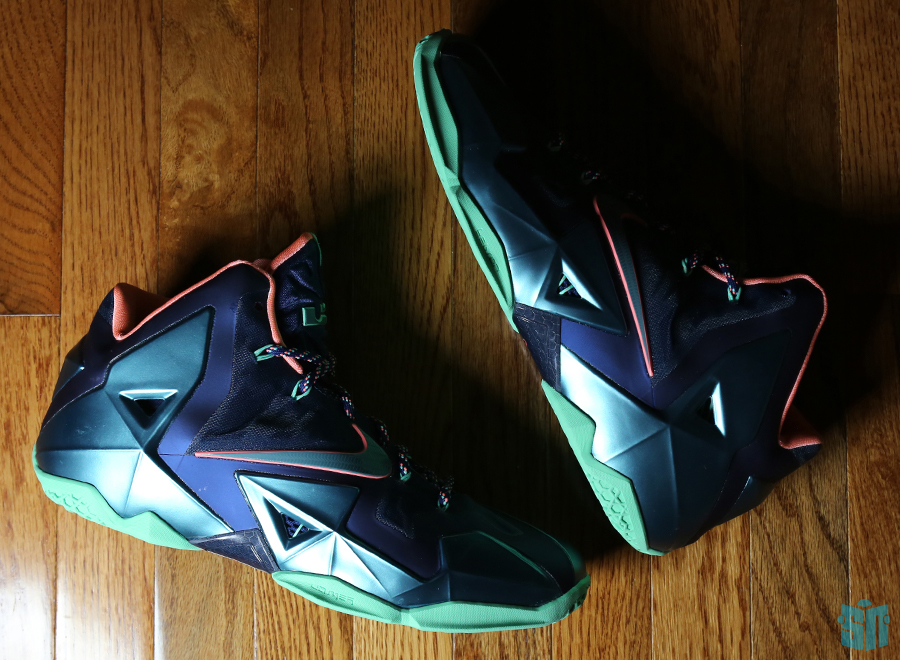 LeBron 11 Miami vs. Akron
This one was part Ohio, part Florida. The shoe told the story of Bron's journey from Akron all the way to Miami, with the blue sections representing the blue collar status of the former and the pinks standing in for the glitzy night life of the latter.
Read More: LeBron 11 Miami vs Akron
LeBron 11 Everglades
2 million acres of wetlands distilled into one singular sneaker. This pair was originally pegged as a "Reverse King's Pride" look when the samples were floating around, but the final word from Nike Basketball has them as another Florida pair of LeBrons, one that evolves ideas of that sort of tribute with its nature aim.
Read More: LeBron 11 Everglades