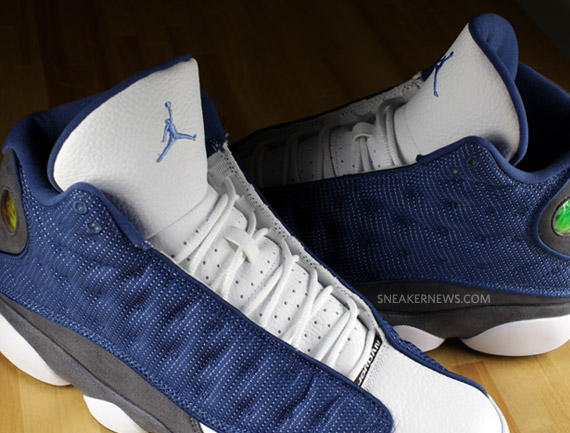 Not only does Sneaker News bring you the most up to date news on the latest kicks, but we GIVE AWAY the latest kicks! The Infrared Air Max 90, Air Jordan VII Olympic, and Pearl Foamposite were the most buzzworthy shoes of the last few weeks, so what could be next? How about a shoe that isn't set to release for another two months? For our latest giveaway, Sneaker News is giving away a crispy pair of the 2010 Retro of the Air Jordan XIII 'Flint' in size 12.0 (as voted by our readers – this is an early pair, so no original box will be included). You'll have your chance to get them on Black Friday – the busiest shopping day of the year – but Sneaker News is giving one lucky reader a pair to call their own two months in advance. Entering the contest is easy as one-two-three and just about anyone can win, so long as you follow the easy instructions. If this isn't your size and can't wait two more months, you can always visit osneaker for an early pair. Continue reading for full details on this latest giveaway and don't forget to enter!
–
CONTEST BEGINS: Monday, September 20th
CONTEST ENDS: Sunday, September 26th at 11:59 PM EST
CONTEST IS OVER.
1. Follow @sneakernews on Twitter HERE. If you already follow @sneakernews, you're halfway there!
2. Tweet this ENTIRE line in red:
Just entered the Air Jordan 13 Flint Grey Giveaway. Follow @sneakernews and retweet to win. http://bit.ly/chlk30 #sngiveawayaj13flint

That's it!
–
RULES
1. You MUST have both steps above completed to enter.
2. The winner will be selected at random and will be announced on Sneakernews.com and on twitter. The winner will also receive a Direct Message from @sneakernews.
3. Upon receiving the shoes, the winner must submit a photo of him/herself with the winning prize!
4. YOU WILL BE DISQUALIFIED IF YOU ENTER MORE THAN ONCE.
–