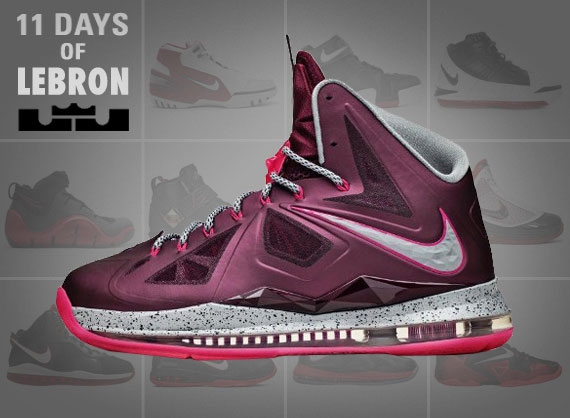 Our 11 Days of Nike LeBron series has brought us all the way here, to the 2012/13 entry the Nike LeBron X. The shoe made its debut on the grandest of stages-the 2012 post-season was no normal one for LeBron as he headed out to London to represent for Team USA in the 2012 Summer Olympics. The eventual gold medal game that the world had anticipated saw him bring out the Nike LeBron X at last, an event that coincided with Nike's official unveil of the shoe in that USA flavored, gold tinted colorway. Of course that wasn't the only momentous occasion that the shoe would be forever attached to-it also took LeBron to his second championship in as many years (An even that resulted in the much lusted over "Championship Pack").
Read: 11 Days of Nike LeBron
The story of the LeBron 10 was one of pressure and time, and the outcome of those forces. This diamond theme manifested itself via both the polygonal shapes cut out on the shoe's upper and the colorways inspired by precious stones (The "Crown Jewel" among them being the first to hit retail). Just as important as those though were the EXT versions of the shoe. These "Extension" designs represented the transition of LeBron's line into the lifestyle realm with high profile releases like the "Cork" and "Hazelnut". Slightly less successful but still an important footnote for this entry into the Nike LeBron line was the Nike LeBron 10 NSW Lifestyle, which further pushed his sneakers toward the off-court realm. See some of the more clamored after LeBron 10 pairs below, plenty of them no doubt still fresh in your memory, and stay tuned for tomorrow's conclusion of our 11 Days of Nike LeBron series here on Sneaker News.