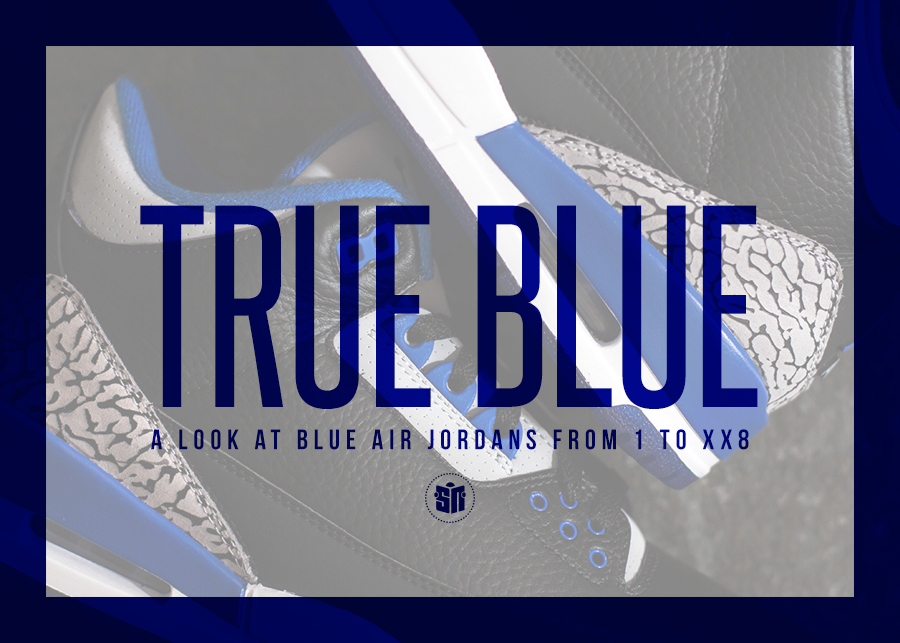 This summer is a big one for blue Air Jordans: the Air Jordan 6 "Sport Blue" is leading the charge as the cherished original colorway sparking the movement and pairs like the Air Jordan 3, Air Jordan 14, and plenty of ancillary Jordan Brand styles have followed suit. Of course if you know your Air Jordan history, you know that there have been blue shoes in the mix since day one, and throughout the years, there have been plenty of different reasons for Jordan Brand's sneakers to sport blue (No pun intended).
Michael Jordan's years at the University of North Carolina have frequently been the source of such styles. So has his time back at Laney High School. Even his last NBA days spent with the Washington Wizards augmented the overall number of blue Jordans that are out there. And then there are of course those that were created to fill in that Lifestyle range with the Jordan "Flight Club" Collections from the 90s. Reflecting back on that rich history is this latest compilation, which comes a couple days ahead of the latest launch: Saturday's Air Jordan 3 "Sport Blue". Continue reading to see selected blue Air Jordans for every shoe in the series so far.
Air Jordan 1 "Royal"
There were blue Air Jordans from the very beginning. The Air Jordan 1 had a couple editions that qualified, but the most memorable was no doubt this black/royal flavor that just recently got the retro treatment in 2013.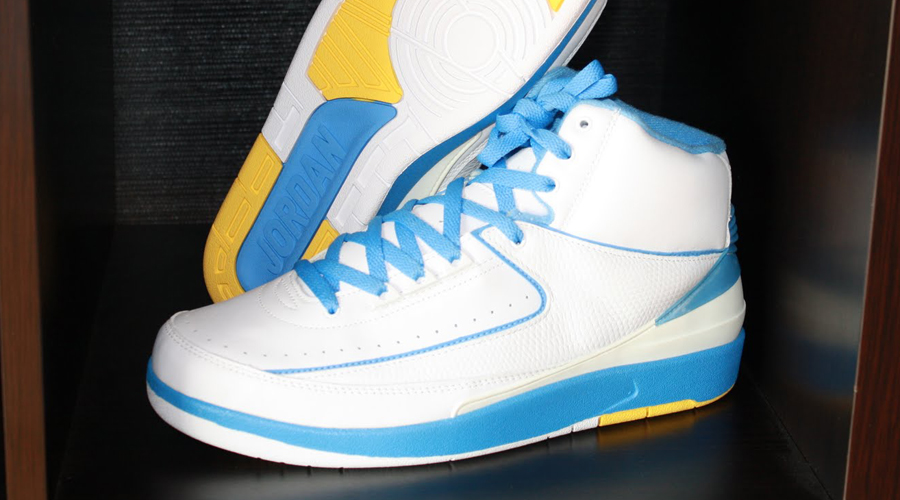 Air Jordan 2 "Melo"
For the duration of Carmelo Anthony's time in Denver, his team scheme was frequently applied to Air Jordan pairs. Most of those blues stuck in the PE realm, but the "Melo" Jordan 2s were given a retail release in 2004.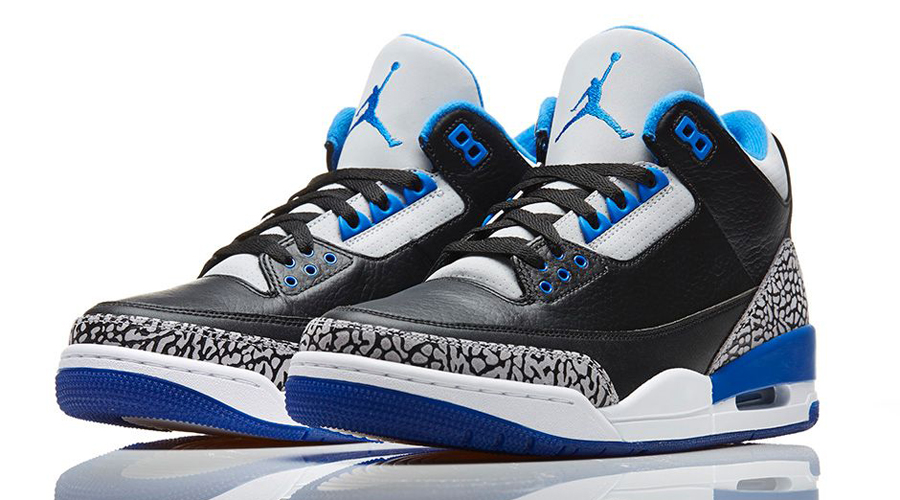 Air Jordan 3 "True Blue"
We know that the "True Blue" is your favorite, but you've already got those under control. The verdict is still out on the upcoming "Sport Blue", which presents an alternate take on some OG-style blocking with its black and blue configuration.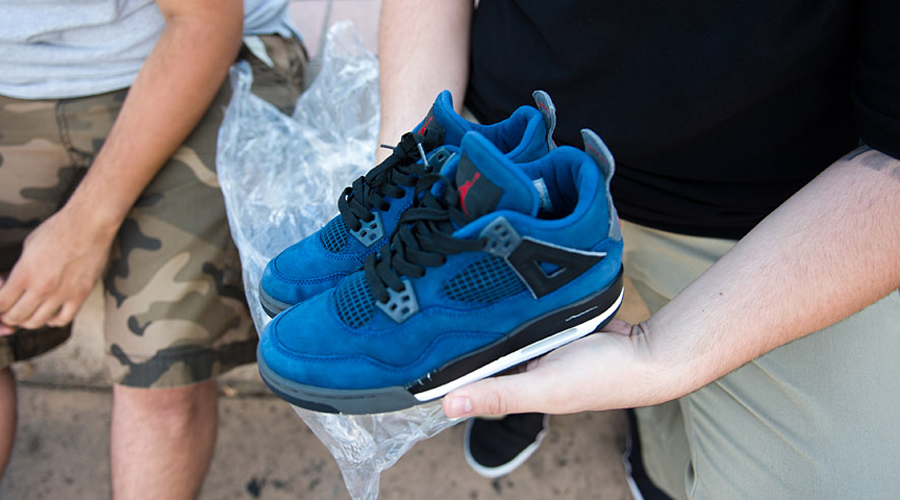 Air Jordan 4 "Eminem"
When Eminem's "Encore" album came out back in 2004, Jordan Brand linked up with the rap star for this special edition of the Jordan 4. Good luck tracking these blues down though – they were a friends and family exclusive and they'll fetch you a few grand minimum these days.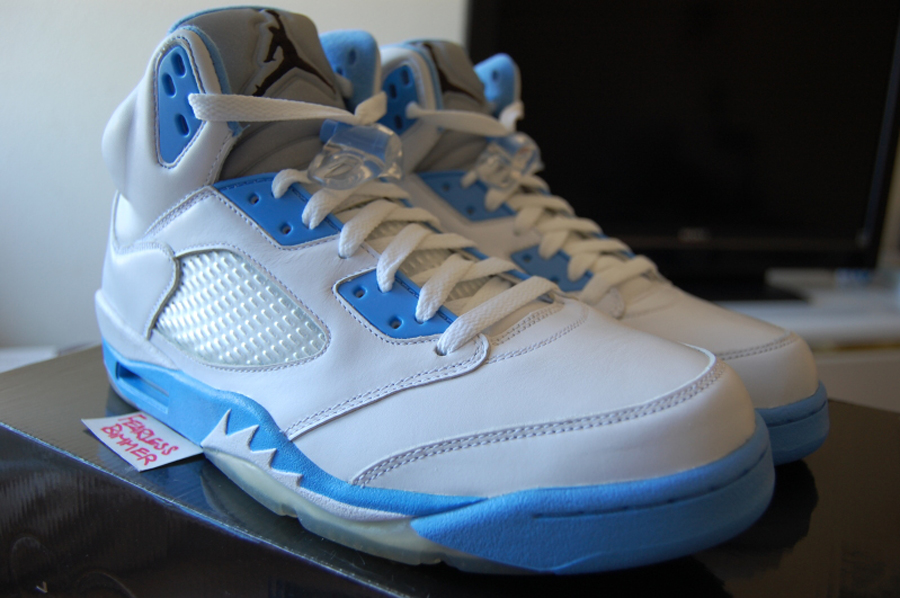 Air Jordan 5 "Motorsports"
The Michael Jordan Motorsports team is sort of in limbo at the moment, but at its peak it was the source of some pretty impressive Air Jordan PEs. You've got to mention the Jordan 5 "Motorsports" among them with its white base and slick sky blue coloring.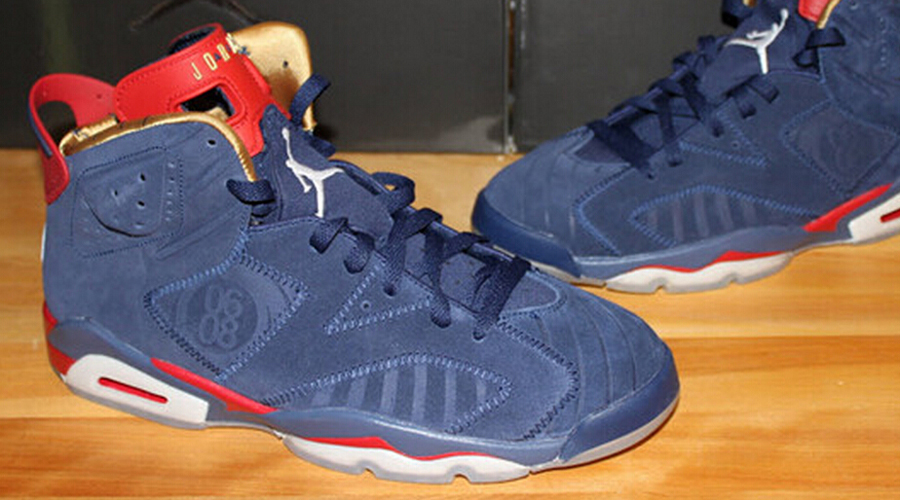 Air Jordan 6 "Doernbecher"
Hats off to Jordan Dark for this charity design. Debuting as a part of the ongoing Doernbecher Freestyle series, these sneakers planted a blue suede onto the upper of the Air Jordan VI and loaded it up with personal details.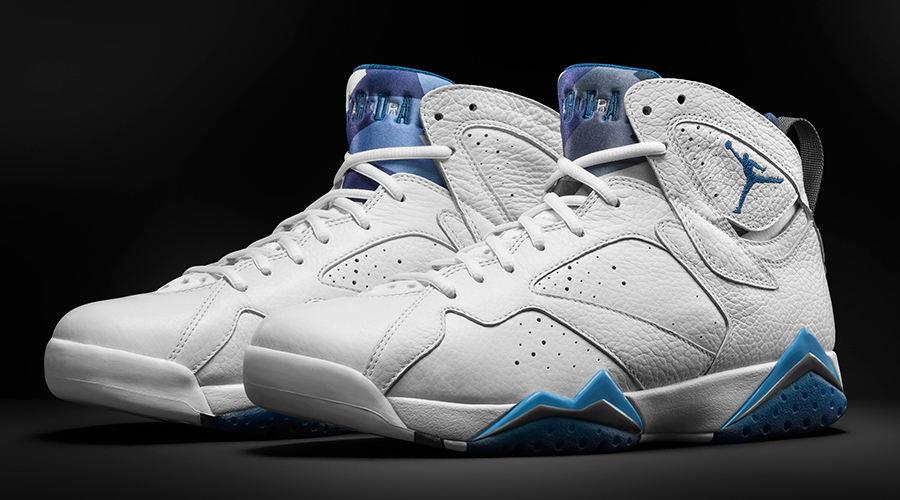 Air Jordan 7 "French Blue"
No detailed story-telling background on this one, just another memorable blue tinted pair of Air Jordans. Did we mention that this retro+ special is coming back next year as part of the Jordan Brand Remastering process?
Air Jordan 8 "Aqua"
When Michael Jordan was still the one debuting new Air Jordans, he had a tendency to bring out new colorways for his guaranteed yearly All-Star appearance. The Air Jordan 8 "Aqua" was one of those pairs, and was hence immediately imprinted into the minds of viewers worldwide.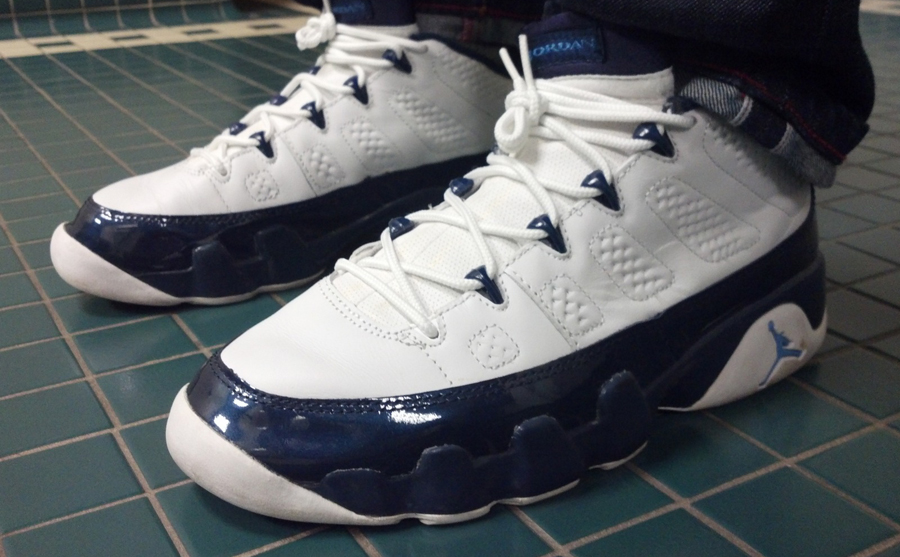 Air Jordan 9 Low "Pearl"
Once Jordan Brand opened the doors to retro+ creations in 1999, there was no telling where they would go in the next couple of years. Part of their creative streak towards the turn of the century was this Jordan 9 Low, which worked with the rare selection of pearl blue.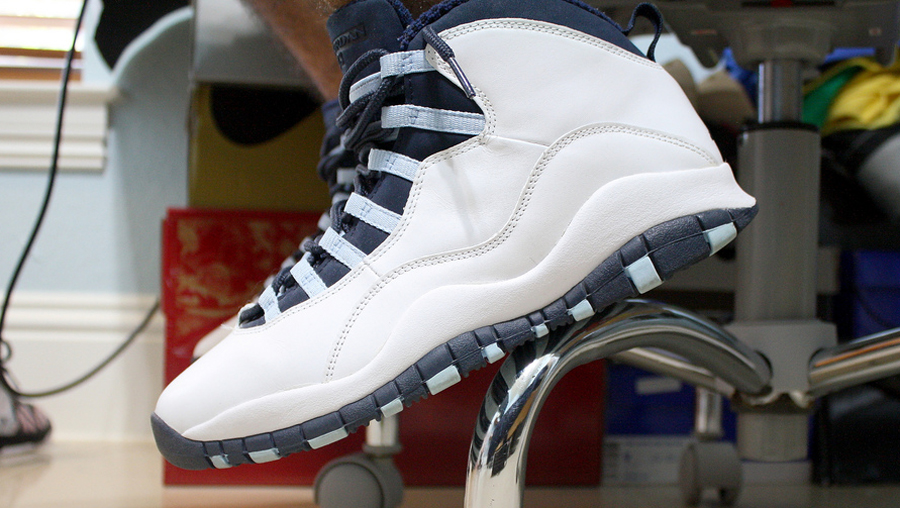 Air Jordan 10 "Ice Blue"
The Air Jordan 10s non-OG colorways haven't really been given the retro spotlight just yet, so this pair is still a one-off in terms of releases. The Air Jordan X "Ice Blue" released back in 2005 and remains one of the more subdued releases for MJ's tenth.
Air Jordan 11 Low "Columbia"
A good number of the blue Air Jordans out there are of course tied into Michael's UNC alma mater. It's hard to imagine that this classic pair of XI Lows wasn't originally concocted as such with its light blue on white makeup.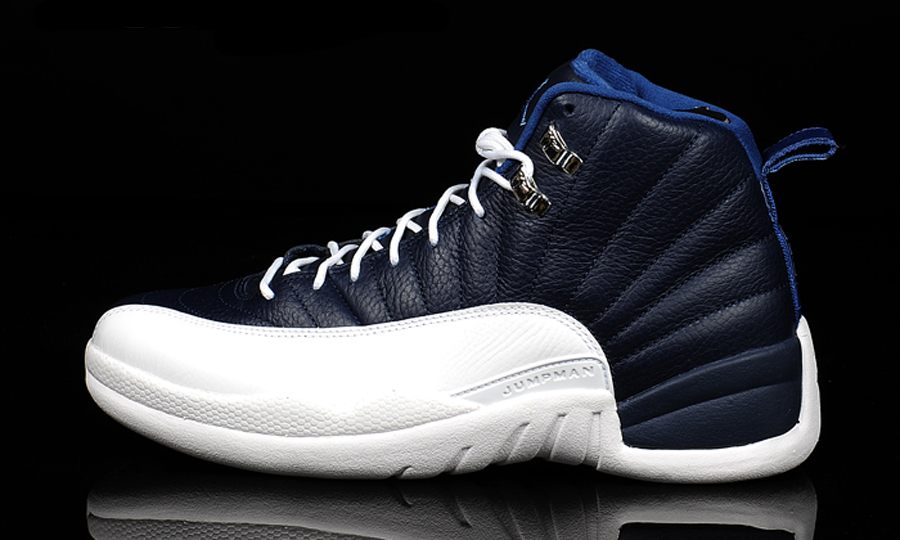 Air Jordan 12 "Obsidian"
The Air Jordan XII "Obsidian" was one of those pairs that was stuck in the vaults for a long, long time. They were first re-released in 2012, although that edition did break from the original with its extra bits of university blue.
Air Jordan 13 "Flint"
One of the more unorthodox pairs of blue Jordans as far as original colorways are concerned. Rather than going with the standard white and blue equation, these slide in a helping of grey and some 3M flash.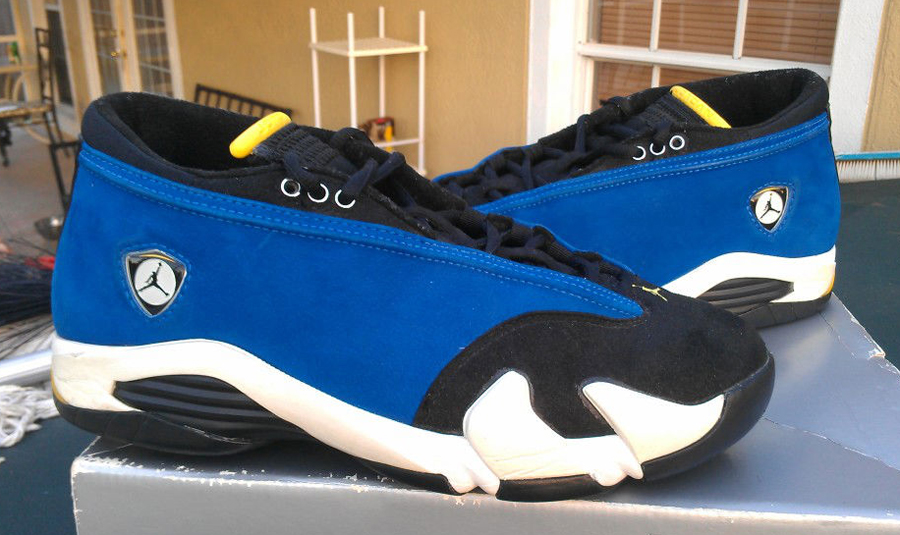 Air Jordan 14 Low "Laney"
His UNC alma mater isn't the only institution MJ spent time at that's ripe for the picking as far as blue colorways go. Just ask this Air Jordan 14 Low, which earned a "Laney" nickname thanks to the blue and yellow palette used.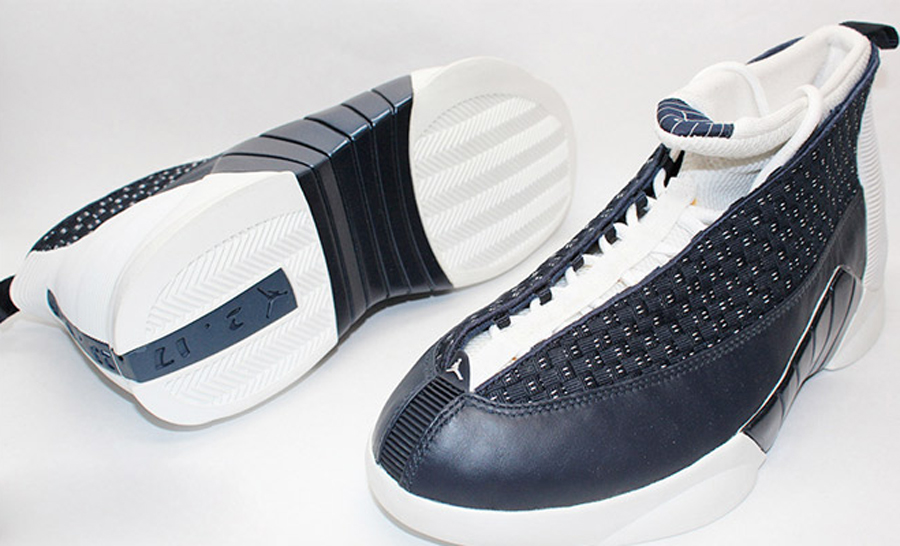 Air Jordan 15 "Obsidian"
Another pair of blue Jordans that ended up on the dark end of the spectrum. The Air Jordan XV "Obsidian" kicked off the post-Michael era with this blue and white version that ended up doing a particularly good job highlighting the woven section with its mixed look.
Air Jordan 16 "Metallic Navy"
We know, you want the Air Jordan XVI back. It doesn't look like it's happening anytime soon though, so you've got no choice but to reminisce. Hopefully you've got memories of this metallic navy pair, which hid a good portion of its blue with the shroud on top.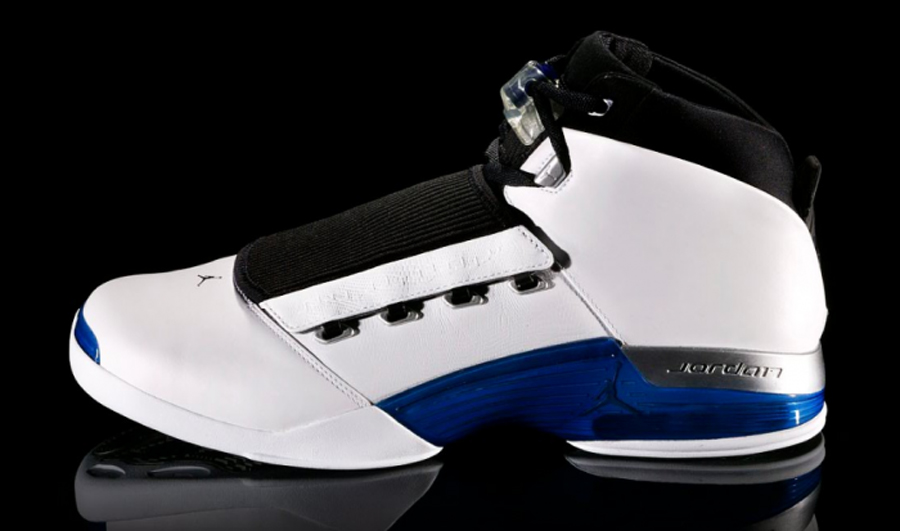 Air Jordan 17 "College Blue"
When Michael Jordan came back for the Wizards era, the blue Jordans suddenly made a lot more sense. The Air Jordan XVII took advantage of his Washington uniform setup with this pair (Props to you if you've still got the briefcase).
Air Jordan 18 "Black/Royal Blue"
Back to the black and blue for the Jordan XVIII. This pair again let the blue rest in the accents – the upper was dominated by a black suede meant to convey a sort of high-end air.
Air Jordan 19 "East"
The Air Jordan 19 showed up with some regional releases, and this midnight navy pair represented for the East Coast (Although they would later end up popping up at spots around the country). Some of you may have had some Air Jordan 11 flashbacks here thanks to the slick patent sections.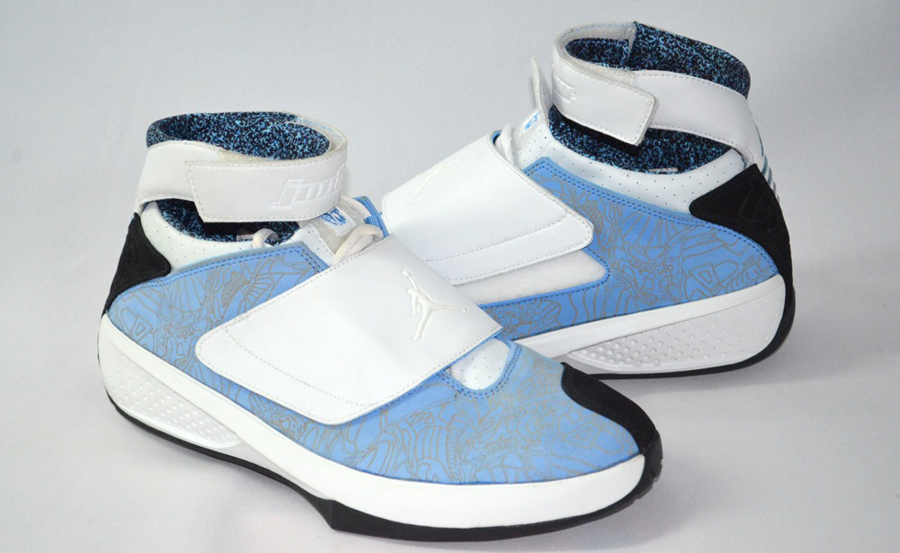 Air Jordan 20 "West"
Coast to coast. Jordan Brand stuck with the regional approach for the Air Jordan XX even if they didn't stick with the same color schemes for the same areas. This pair donned a baby blue that had the standard laser graphics etched in.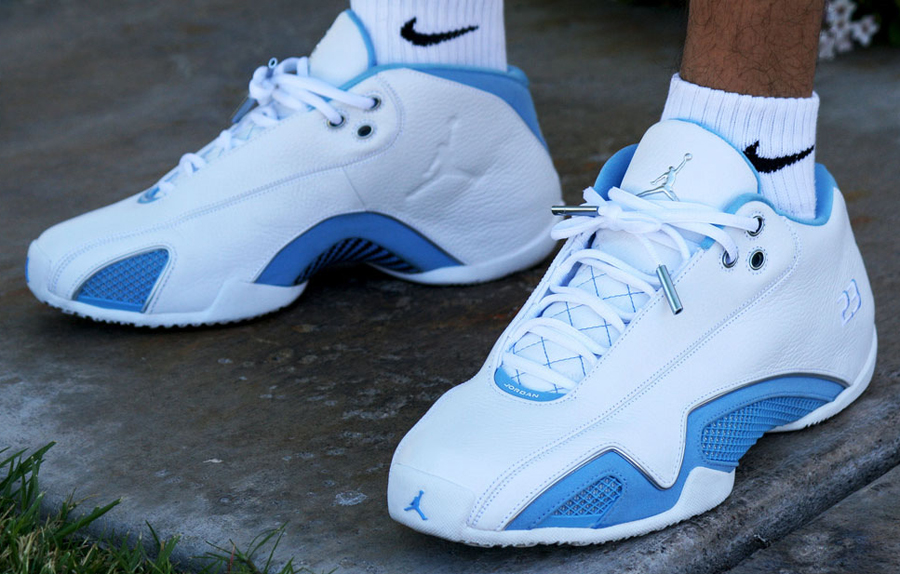 Air Jordan 21 Low "White/University Blue"
Another one of those colorways that immediately conveyed a Tarheels feel. There's no doubt that the Jordan XX1 wasn't the most celebrated of MJ sneakers, but we're sure they won over a couple of extra fans with this classic combination.
Air Jordan 22 "Nuggets"
As we mentioned before, there was a time when Jordan Brand was particularly deep with its blue looks thanks to Carmelo Anthony's Denver Nuggets tenure. This pair hails from that period with its yellow/blue/white match to Melo's attire.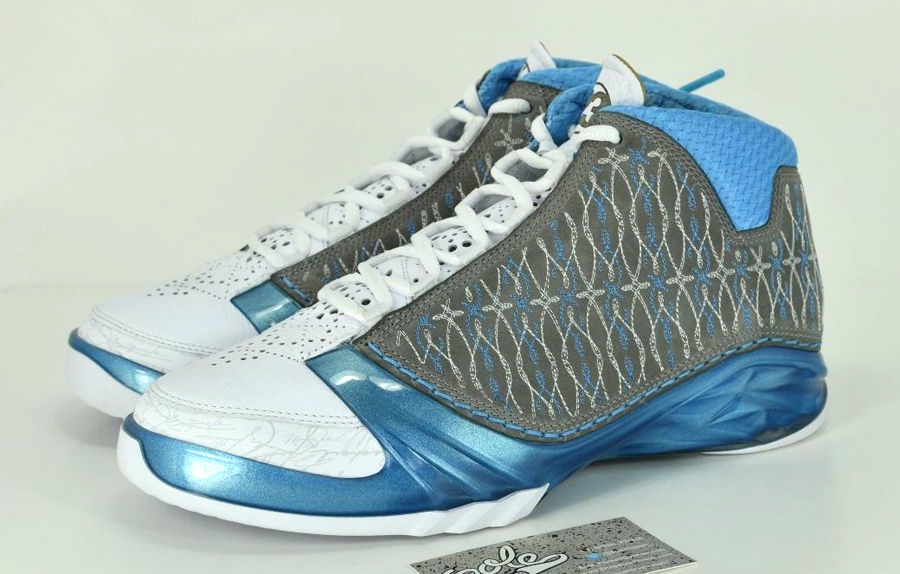 Air Jordan XX3 "Titanium"
There are only 1,058 of these in the world. The Air Jordan XX3 remains a high point of millennial Air Jordan design and the "Titanium" colorway remains a high point of this particular pair.
Air Jordan 2009 "All Star"
Jordan Brand has made sure to always keep a stable of NBA athletes guaranteed for NBA All-Star inclusion. As a result, they've also been able to make sure that their designs are consistently seen during that big game. Let's not forget Ray Allen in 2009 rocking this pair.
Air Jordan 2010 "UNC"
The Air Jordan 2010 was issued in some more direct UNC versions of the player exclusive persuasion, but for those that aren't elite NCAA athletes, these did the trick.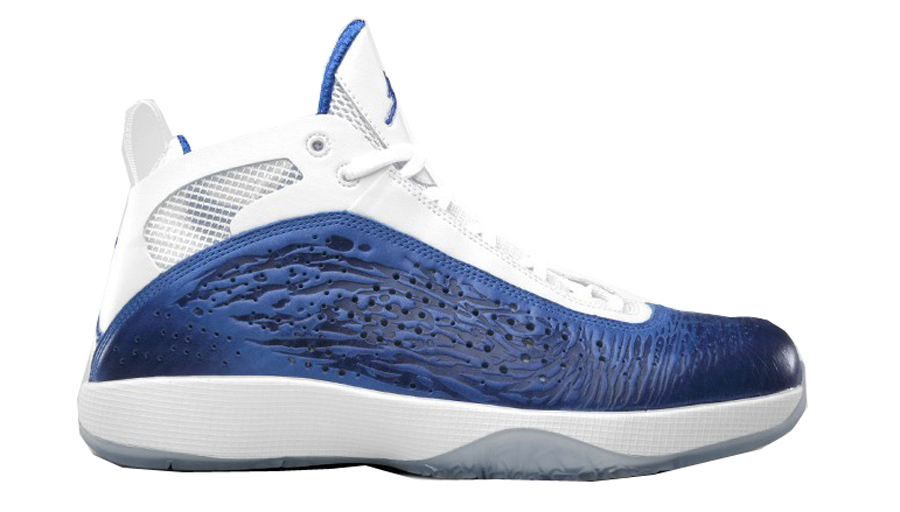 Air Jordan 2011 "All Star East"
Doesn't it seem like just yesterday that Dwyane Wade was a Jordan Brand athlete? Before his signature line really got going he could be seen in the yearly player shoe, like this blue based pair that he brought with him to All-Star weekend.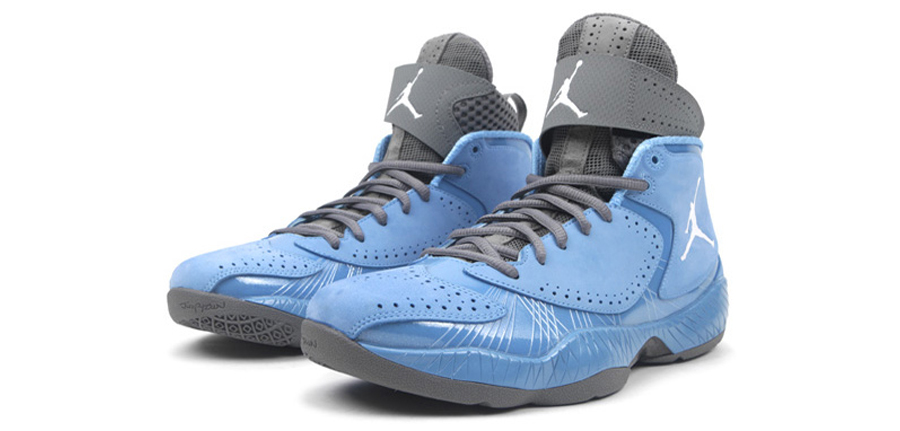 Air Jordan 2012 "UNC"
No, not the PE pair. While this blue and grey colorway was shipped off to some Tarheels players complete with the logo and their names etched into the side, it also showed up at retail sans all the PE touches.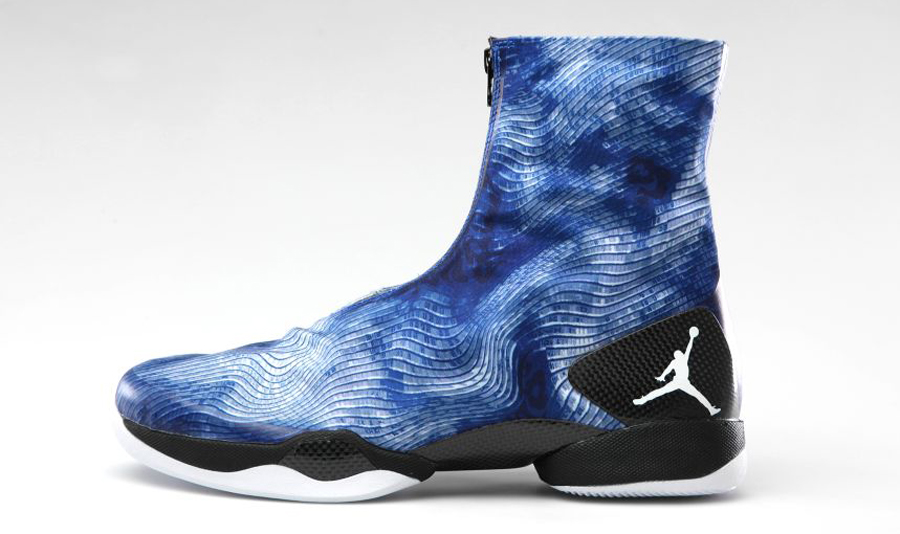 Air Jordan XX8 "Blue Camo"
This pair just might be the most visually striking of all the blue Jordans out there. You can connect that to the printed abilities that the XX8's stealthy shroud offered up, as exercised to the fullest extent on this blue camo pair.