579595
Victor Cruz Talks Air Max Style & Being A Key Face of Nike Sportswear
This post contains references to products from one or more of our advertisers. We may receive compensation when you click on links to those products. The opinions and information provided on this site are original editorial content of Sneaker News.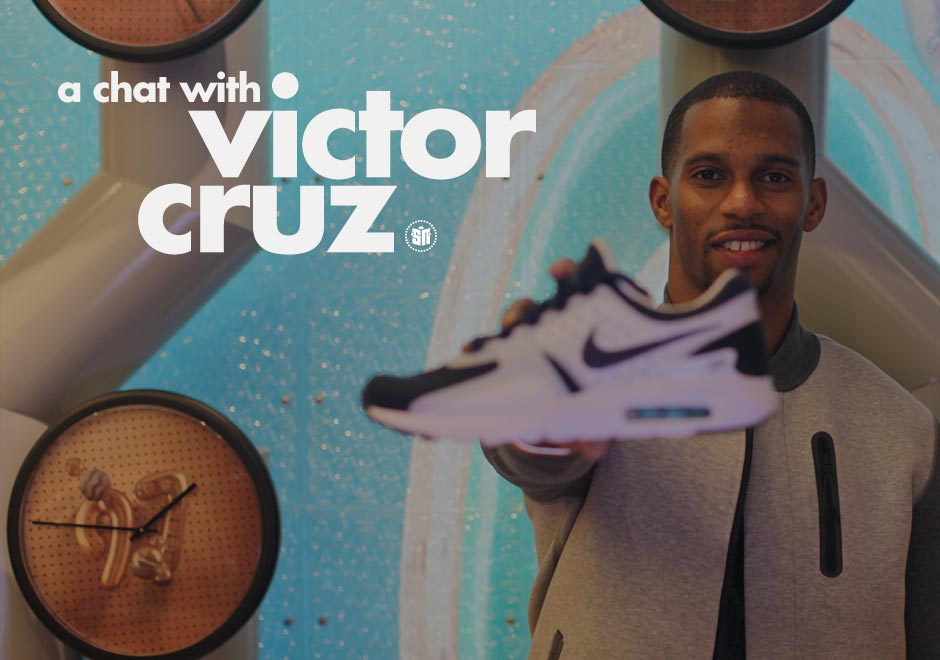 How did your city celebrate Air Max Day? If you're in New York City, you can experience the history of Air Max with the historical exhibit situated on the ground floor of Niketown on 57th St., located in one of New York City's key shopping hotspots. During yesterday's unveiling of the space, Nike brought students from Mott Hall Bridges Academy, a school that had gained incredible notoriety over the last two months for their outstanding efforts towards raising awareness for under-served schools in urban areas. They got a first crack at the spot, but they were in for something even more special – a visit from New York Giants star receive Victor Cruz, who arrived exactly at 3:26 PM EST.
Victor spent time posing for photos and chatting up the students, and later chopped it up with some lucky individuals who were gifted free pair of the Air Max Zero through the generosity of the Nike NYC twitter. In addition, he posed for some photos with casual shoppers/Giants fans who were pleasantly surprised by his presence at the store. During all of yesterday's events, we got a chance to talk with Victor about his love of Air Max, his role as perhaps one of the most personable superstar athletes in the world, his fashion, and much more. Continue on for our interview with Cruz below, and be sure to visit Niketown to see the Air Max exhibit for yourself.
Photography: Nike, Inc. and Sneaker News
Above: Victor poses with two lucky individuals who received free pairs of the Air Max Zero.
Sneaker News: What's good with you lately?
Victor Cruz: My man Ronnie Fieg flew a bunch of us out to Japan for the Tokyo Sakura Project and everything, so it was dope, man.
SN: First time in Japan?
VC: First time there! So on top of being out there to support Ronnie and that whole experience, I was there to visit the city, check out the fashion, see the sights and sounds and everything like that so it was really cool.
SN: You made it back just in time for Air Max Day, for which you're celebrating with Nike New York. Ever since your breakout season and Superbowl 46, you've become one of the prevalent faces of Nike Sportswear and you've been involved with a lot of campaigns. What is it about you that makes you so relatable?
VC: I think it's as simple as my life story. I think a lot of people can relate to the way I came up and kinda how my rise came and the fact that I'm from New Jersey, I'm from the area, so I speak to the people in the area. I know what they go through, and especially on a fashion perspective, I know what people like to wear and what we don't, so I can speak to the things that the tri-state area feeds on because I've lived here all my life. I think that's one of the things that people gravitate towards on top of, you know, my play on the field and what I've accomplished in the NFL.
Above: Victor Cruz takes a "selfie" with Vidal Chastanet, a young student who helped raise hundreds of thousands of dollars for his school
SN: Being from Newark, so close to New York City where sneaker culture was born, obviously Air Max played a big role in your footwork. As early as you can remember, what are some of the Air Maxes that really got you excited?
VC: Definitely 95s, for sure! I remember back in school, like, we didn't have basketball courts where we played ball at and my boys and I played full court basketball on walls! There was a wall with a white stripe on the top so that was like our "goal" or basketball rim. So I remember the first day I got the Air Max 95s, I'm playing in the ball, and to dunk, you had so sorta climb the joint to "dunk" the ball on the stripe. So I'm having fun, dunking on my friends and then the bell rings and I'm ready to go to school, and I looked down at my sneakers, saw some scuff marks, and I said "no way!". So I had to ask my mom for another pair and she got 'em for me because she loves me (laughs). So that's one of the earlier stories I can remember. 97s even, I remember those too, but I've been an Air Max fan forever.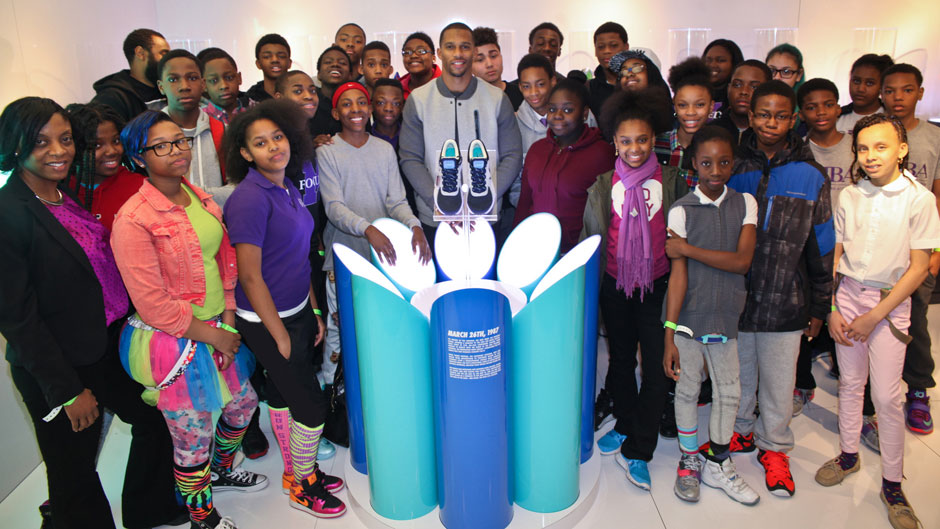 Above: Victor poses with the students of Mott Hall Bridges Academy at Niketown NY
SN: You mentioned fashion earlier and these days there are so many new trends and brands and whatnot – how do you stay on top of all the things that go on with sneakers and fashion?
VC: The internet! I'm on there and I'm searching high and low – well, not really searching, but just going on my normal daily routine, the websites I go to and the Instagram accounts I follow to stay abreast on everything. Sneaker News, all the way down to GQ, I'm checking everything that pertains to fashion. So I do what I can to keep my ear to the streets and it definitely helps. Also when certain brands reach out to me and send certain pieces, that's always a blessing and it definitely helps me keep in tune with what's going on.
SN: You have a reputation for being an avid sneakerhead, for going out and actively shopping for sneakers. What are some of your favorite places to shop for sneakers?
VC: Definitely the homegrown boutique kinda places where you can get to know the workers and owners and you see them in there every day. Like those are my favorite spots, the Sneaker Rooms of the world, like KITH – you go in there, you know you're going to see the same people and build a relationship and repoire with them every time you go. That's what really makes for that sneaker relationship without just coming in, asking for a pair, leaving, going somewhere else and doing the same – I'm all about the relationships that you can make when you shop for sneakers and other things.
Above: Victor Cruz and the Nike Air Max Zero
SN: About the Air Max Zero – how would you, Victor Cruz, style these? What's a typical outfit with the Air Max Zero or retro Nike running shoes in general?
VC: My outfit with the Air Max Zero is kinda how I wore today. Nice sweatpants like the Tech pants, that no-sock action right here because you can't have that sock showing and you gotta show a little ankle, and a white tee or a nice sweatshirt with a good varsity jacket on top. Gotta keep it cool and casual in Air Maxes, you can't really take it too serious with Air Max because it's meant to be comfortable and casual. That's the kind of energy that I would apply to the Air Max Zero.
SN: The Tech pant and Nike retro running shoe combo is the official look of New York City right now.
VC: Haha yeah man, it's the official look, it's the staple. You walk around even in Oregon at the Nike headquarters and all you see is Tech pant/Air Max central. Doesn't hurt to work for a company where you can wear sweats and running shoes to the office, right?
–
Many thanks to Victor Cruz and Nike New York.
Recent Stories