347330
Sneaker News Weekly Rewind: 8/11 – 8/17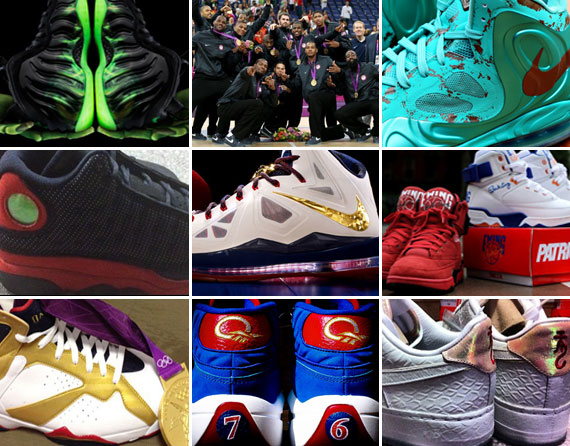 It was another eventful week here on Sneaker News, starting with Team USA rising triumphantly above all nations to bring home basketball gold. Chris Paul gave us a look at a special Gold PE of the Air Jordan VII, but that wasn't all the Air Jordan news as we caught a glimpse of the 2013 Air Jordan XIII 'Bred' and news of a potential split between JB and Wade stirred some debate. LeBron James, one of the stars of Team USA, was a trending topic as we caught a full-throttle viewing of the upcoming LeBron X in a variety of colors. Foamposite mania hit again, with a first look at the 'ParaNorman', a Summer 2013 release update, and two outstanding new Air Max Hyperposite colorways. Kevin Durant revealed the KD V during an NBA 2K13 commercial shoot, giving us a first real-life look at the upcoming shoes. Air Force 1's continue the heavy 2012 push with yet another Year of the Dragon edition as well as a 'Gold Medal' variety.
The Ewing 33 Hi finally has an official release date, while some more Reebok Question samples and collabs were previewed. Custom sneakers were again a popular subject thanks to Revive's Air Max "What The 1", while Air Jordan PEs/OGs/Samples like the original Bordeaux from the All-Star Game (yes, the exact pair MJ wore) popped up for sale. The upcoming Air Force 180 High popped up in multiple angles of the OG colorway, while the original patent drawings from the Nike Air Max bag provided an interesting retrospective on the revolutionary technology. Celebrities like Kanye West and Teyana Taylor were popular reads, as was a list of 50 of the most influential individuals in sneaker history compiled by Jeff Staple. Finally, the Air Max 1 gets another spin as we featured five classic models for Classics Revisited. More of Weekly Rewind below, so take a look and be on top of your Sneaker News game!
THIS WEEK IN AIR JORDAN NEWS
A first look at the Bred XIII of 2013, a special Air Jordan 1 High, and a re-done version of the Olympic VII topped this week's Air Jordan news.
CONTINUE TO:

—
It was absolute LeBron X mania this week – check out all the upcoming colorways that were revealed below.
CONTINUE TO:

—
THIS WEEK IN FOAMPOSITE NEWS
Nike unveils its second collaboration with Phil Knight-owned LAIKA studios, while some updates for Summer 2013 stirred up a ton of excitement.
CONTINUE TO:

—
THIS WEEK IN HYPERPOSITE NEWS
The Hyperposite hits the Big Apple with two insane colorways. Check out all the Hyperposite news below!
CONTINUE TO:
—
Congratulations to Team USA Mens and Womens Basketball for bringing Golden glory to the U.S.A. once again!
CONTINUE TO:

–
KEVIN DURANT DEBUTS THE NIKE ZOOM KD V
It's been a great year for Kevin Durant – will he, and the KD V, live up to the expectations next season?
CONTINUE TO:

–
EWING 33 HI RELEASE DATE
Finally, the release date for the Ewing 33 Hi is confirmed!
CONTINUE TO:

–
THIS WEEK IN CELEBRITY FEET
A ton of celebrities are out and about once again, but Sneaker News took the time to compile some of the best celeb collections showcased over the last few years into one feature.
CONTINUE TO:

—
THIS WEEK IN AIR FORCE 1 NEWS
The Year of the Dragon continues and the Olympic Gold continues to trend. Peep the Force news below.
CONTINUE TO:

—
THIS WEEK IN REEBOK QUESTION NEWS
A bunch of teasers and samples for upcoming Reebok Question releases were featured this week, including an intriguing new 76ers-inspired offering from Packer Shoes.
CONTINUE TO:

—
THIS WEEK IN CUSTOMS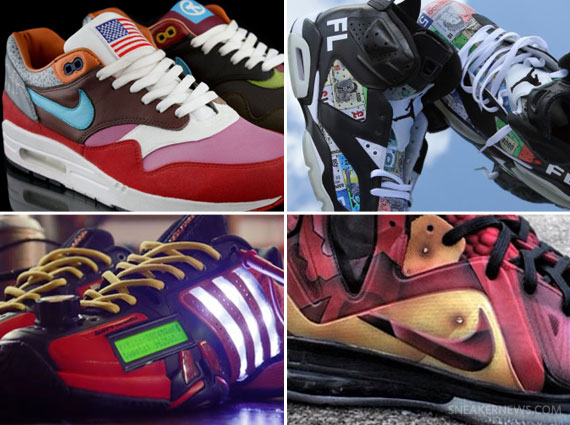 Another great collection of sneaker customs this week – don't forget to vote for your favorite!
CONTINUE TO:
—
NIKE AIR FORCE 180 HIGH RETRO
More detailed angles of the upcoming Air Force 180 High. Thoughts?
CONTINUE TO:
Nike Air Force 180 High – White – Teal – Grey – Black

–
ORIGINAL NIKE AIR BAG PATENT DRAWINGS
See what an Air Max 1 looked like on paper before it debuted in 1987.
CONTINUE TO:
Original Nike Air Bag Patent Drawings

—
JEFF STAPLE x COMPLEX'S 50 MOST INFLUENTIAL PEOPLE IN SNEAKER HISTORY
The 50 most influential people in sneaker history detailed by a likeminded individual. Check out this must-read!
CONTINUE TO:
Jeff Staple x Complex – 50 Most Influential People In Sneaker History

—
NIKE PRESENTS: 20 DESIGNS THAT CHANGED THE GAME
Nike Basketball concludes its 20-year Retrospective with the KD IV and Lunar Hyperdunk+. But of all twenty models featured, which was your favorite?
CONTINUE TO:

—
THIS WEEK IN AIR JORDAN OG'S, PE'S & SAMPLES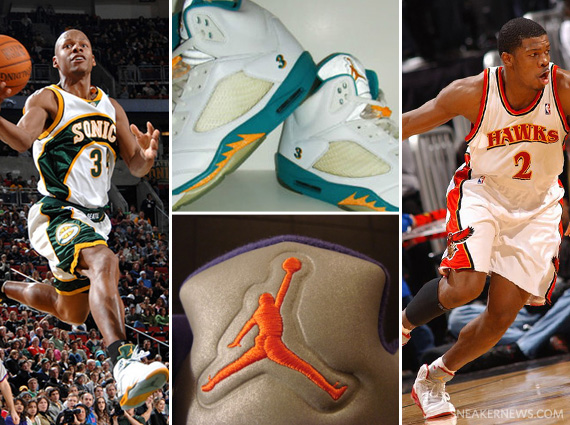 A spotlight on the Air Jordan V provided a nice visual treat for our readers, but some new ones like the OG All-Star Game Bordeaux and an unreleased Air Jordan X sample only added to the bunch.
CONTINUE TO:

—
CLASSICS REVISITED: NIKE AIR MAX 1 WEEK – PART 2
The Air Max 1 got a second helping of love with Classics Revisited. Check out these five additional classics.
CONTINUE TO:

—